9 Best Dog Food For Pitbulls 2023
Although pitbulls are not a dog breed that is too difficult to feed, they need the right diet. Learn about how to appropriately feed your beloved pitbull. Help him thrive with the right dog food. The following article will be discussing the best dog food for pitbulls.
For us, the best dog food for your pitbull is Taste of the Wild Grain-Free Dog Food with Roasted Venison and Bison.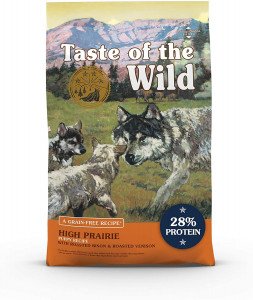 This is a dry food that is most preferred by dogs. It comes with the essential nutrients for the overall health of your pup.
Another thing is the fact that it is free from grain making it available for dogs with allergies and sensitive stomachs.
Here's a quick list of the best foods for pitbulls:
Best Dog Food For Pitbulls See Amazon.com for the best selection and value. #commissionsearned
Pitbull Nutritional Requirement
Although a pitbull's ideal weight depends on his specific breed, a healthy one weighs an average of approximately 45 pounds.
Pitbulls are typically energetic and active, and they need to play and get exercise. They need a significant amount of food daily for their voracious appetite.
A healthy adult pitbull needs 1,100 calories every day. This amount of calorie intake may go higher or lower depending on his activity level.
Such requirements should be split into two meals minimum to prevent overeating. When there's an opportunity, pitbulls tend to eat more, which leads to their weight gain.
Active pitbulls require more food up to 1,700 calories especially for those spending most of their day working or exercising. However, it is highly recommended to lower their caloric intake as they get older to prevent weight gain.
Less active older dogs need 875 calories to do well.
As a pet owner, you have to monitor your dog's activity and his response to food for the adjustment of their day-to-day food intake.
Measure his food and don't free-feed him considering pitbulls' healthy appetites.
Ingredients in a Pitbull Dog Food
Dog food with high quality is imperative with the distinct build of Pitbulls.
Low-cost foods with unnecessary ingredients will just hinder their athletic performance. In addition, this results in weight gain which may lead to possible health issues. 
This breed needs various macronutrients in their diet. Look for these nutrients in the food that you will be buying.
Protein
First thing, first. Every fur parent should look for the protein content of the dog food to purchase. Dogs deserve to receive a diet with protein as the main source. 
Proteins are important to Pitbulls in building strong muscles while giving them fuel to keep active.
Prefer food with high-quality protein sources though it is already found in most dog foods. 
Ideal natural sources are fish, beef, deboned chicken, and lamb. It is good to consider dog food with more than one protein source.
It is found that this breed thrives with food that is made up of at least 40% protein. Good dog food should contain 25% protein and more for your pet to stay healthy. More protein content is always better.
Carbs and Other Nutrients
Oftentimes, carbs make the food more filling. Looking for good carb sources is significantly more than ever. 
Sweet potatoes and other high-quality carbs are excellent sources. They contain added nutrients other than just making the food filling.
Nutrients from natural balance fruits and vegetables and fruits keep a balanced diet in dogs. Dog food formulas rich in natural ingredients provide dogs with everything they need. 
Distinct ingredients such as carrots offer beta-carotene and improve eye health while blueberries boost antioxidants.
Natural Fats
In Pitbulls, healthy fats give them energy while infusing food with flavor. Omega fatty acids are dominant in healthy natural fats. 
These fatty acids are typically found in flaxseed oil or fish oil, which can do wonders to the fur and skin of your pet. They keep his skin supple and free from any skin condition.
Although pit bulls do not need high fat because of their muscles, natural fat in proteins is healthy for them. 
There are also high-quality foods containing supplementary fat high in fatty acids. Moreover, natural fats are already present in fish.
Calorie Count
Dog foods for pit bulls must be high in their calorie count. You will know that no foods are equal when comparing and contrasting various dog food products. 
Some foods contain more than 500 calories per cup. Calorie-rich foods come with more usable calories compared to low-calorie food. 
They are denser with nutrients and have less filler and more beneficial things.
Look at the calorie density of the dog foods in the market. Those with high calories make your dog feel fuller and need not eat much food volume to get its benefits. 
Also, they usually come at a premium. This will assure you that your pup receives bountiful muscle-building animal protein and enough nutrition.
Glucosamine and Chondroitin
Amino sugar glucosamine is a naturally occurring compound that you can find in healthy cartilage. Dog food manufacturers typically get natural glucosamine from shellfish.
On the other hand, chondroitin is a compound that is made by your dog's body. 
It typically comes from bovine or shark cartilage although some brands utilize a lab-based supplement chondroitin sulfate. The levels of this compound begin to lower once he becomes older.
Both compounds are great for joint health to keep joint issues at bay. Consider food with higher concentrations of these substances as he grows older.
Probiotics and Fiber
These two supplements are the last things you need to look into when buying dog food. Usually, dietary fiber is sourced from natural ingredients such as barley, carrots, oats, apples, and more. 
Fiber adds more bulk to his stool. This is beneficial for pit bulls as the bulky stool is easier to pass, which increases constipation. Also, fiber prevents health problems such as soft stool and diarrhea.
Meanwhile, probiotics boost the health of the pitbull's stomach. They restore significant bacteria to make sure that his gut is in good health. It helps digest foods and takes advantage of their macronutrients and micronutrients.
Ingredients to Prevent
While there are ingredients to consider when buying dog food, there are also those which you need to avoid. These substances may pose risk to your dog's health. Some cheaper foods use them to cut down on their production costs. Be mindful of the following ingredients:
Bad Protein Sources
Cheaper dog food formulas have bad protein sources, which can only harm your pet. Unlike natural sources, poultry by-products and meat are heavily processed and do not have significant amino acids. These sources may cause health problems to pit bulls.
Be aware that byproducts consist of different ingredients such as slaughterhouse leftovers and random dead animals. Choosing meat meals or natural sources remains the best option.
Additives
Flavor and color additives are common among manufacturers. They are infused in foods to make them more appealing for your pitbull. 
However, they originate from lab-concocted chemical ingredients. They are not natural and may only result in allergic reactions in pets. 
Foods with natural high-quality ingredients do not need additional chemicals to get dogs' attention.
Grain and Corn
Inexpensive grains and corn are fillers that pit bulls can go without. They are considered the cheapest available fillers. Keep looking if both are listed as the first ingredients of the dog food.
Both ingredients may upset the stomach of your pooch leading to weight gain and digestive issues. Your dog may show signs of malnutrition since it is usually used as a replacement for high-quality proteins and carbs.
Best Dog Food for Pitbulls
Since you already have an idea about Pitbulls and their nutritional needs, here are some of the best dogs we narrowed down for you:
1. Taste of the Wild Grain-Free Dry Dog Food with Roasted Venison and Bison
Give your pitbull a grain-free formula from being a pitbull puppy until he grows old with Taste of the Wild Grain-Free Dog Food with Roasted Venison and Bison.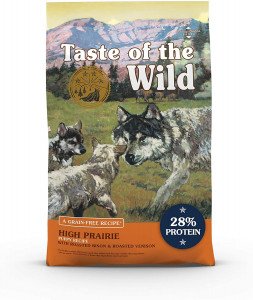 The dog food comes from real roasted meat and a mixture of animal protein sources.
This best dry dog food pitbulls love offers excellent nutrition and digestible energy with an exceptional taste sensation. 
Its fruit and vegetable content offers natural antioxidants supporting a healthy lifestyle.
Also, this hearty formula is rich in protein for your dog's muscle development. 
Its k9 probiotic mixture is proven great for his digestive system. It is suitable for pit bulls of all ages, sizes, and breeds making it the best overall dog food.
Specific Features:
Mainly a dry dog food
Primary ingredients include lamb meal, sweet potatoes, buffalo
Comes from real meat
Grain-free
Contains proprietary probiotics
Available for all dogs of all sizes, breeds, and ages
Pros
Contains prebiotics and probiotics that support a healthy immune system, digestion, and overall dog health and wellness
Offers healthy coat and skin
Supports joints, lean, bones, and strong muscles
Offers different flavor choices for picky eaters
Ideal for pitbulls with grain and other food allergies and digestive issues
Cons
It may not be suitable for dogs that prefer wet food
2. Purina One Plus Natural Puppy Dog Food
Give your little furry friend something easy-to-digest formula Purina One Plus Natural Puppy Dog Food.
This is the best dog food for pit bulls puppy and this healthy eat contains DHA and is rich in protein.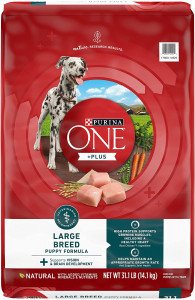 Its ingredients like fat, minerals, vitamins, and calories are the substances much needed by puppies. It has zero filler allowing him to easily digest.
The DHA nutrient found in this formula supports his brain development and vision. Its phosphorus and calcium ingredients guarantee strong bones. 
Other contributors to his overall health are the food's vitamins, antioxidants, nutrients, and minerals.
Specific Features:
Comes in the form of dry and semi-moist formula
Made from a natural source
The main ingredient is real chicken
Rich in protein
Available for puppies
Pros
Supports muscle growth
Strengthens brain development and vision
No artificial flavoring, preservatives, and by-products
Suitable for all breeds
Cons
Might turn some choosy eaters off
3. Royal Canin's Adult 5+ Dog Food for Large Breeds
Feed your pitbull right with Royal Canin's Dry Dog Food for Large Breeds.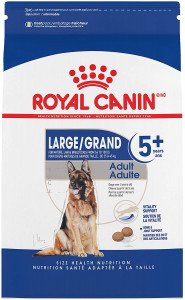 This food is specially formulated for older and large breed dogs to meet their changing dietary needs. 
The formula is intended for dogs weighing at least 56 pounds. It comprises high-quality fiber and proteins that make it easy to digest.
DHA, antioxidants, and EPA are expected to strengthen their joints and bones. Blend it with water for kibble rehydration in case your pitbull has trouble chewing.
Special Features:
Manufactured in dry formula
Comes in easy-to-digest proteins and vegetable flavor
Formulated for dogs of large size and breeds
Available for dogs aging 5-7 years
Pros
Offers precise nutrition for dogs
Contains antioxidants for vitality and long life
Promotes healthy digestion
Supports joint health and bones
Cons
It may not be ideal for puppy food and small breeds
4. Victor's Classic Hi-Pro Plus Dry Dog Food
Provide your pitbull food with many proteins he needs for great nutrition with Victor's Classic Hi-Pro Plus Dry Dog Food.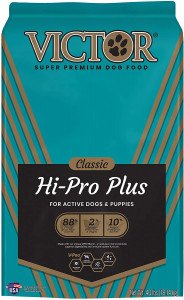 The formula promises a unique VPRO Blend that aims to promote superior immune system function and digestibility. 
It is a mixture of mineral complexes, probiotics, prebiotics, and selenium yeast.
This recipe is high in its meat protein content. Proteins help support a strong digestive and immune system. 
Although it does not contain fruits, it has a sparse amount of vegetables.
The main ingredients of dog food include grain sorghum, beef meal, and chicken fat. 
The formula is dense with nutrients for all dogs including lactating mothers, high-performing dogs, and puppies. 
It promotes metabolic function and cellular regeneration. Also, it strengthens your dog's immune system.
Specific Features:
Formulated scientifically advanced VICTOR Core ingredients
Includes gluten-free grains
Rich in a protein recipe
Available for all life stages
No artificial flavors, colors, or preservatives
Pros
Abundant in protein
Suitable for lactating and pregnant females as well as the developing puppies
Promote healthy digestive and immune systems
Promises superior digestibility
Free from gluten
Cons
It may not be fit for dogs with digestive issues and food allergies
Not the best for those suffering or prone to weight problems and joint conditions
5. Nulo Grain-Free, All-Natural Adult Dry Dog Food
Never give your pitbull scraps, feed him Nulo Grain-Free, All-Natural Adult Dry Dog Food instead.
This food features the planet's healthiest fishes salmon and trout. It comes from alternative carbs to slow down its burning energy.
The addition of turkey makes the kibble more meaningful and tastier. Its glucosamine and chondroitin help retain his joints' range of motion and functionality.
Every kibble comes with ingredients like vitamins, minerals, and essential fatty acids. 
These substances provide easier digestion enabling your pooch to enjoy its food. If he is one of the picky eaters, pair it with probiotic-rich wet food for a good digestive system.
Specific Features:
Dry dog food
Comes with all-natural ingredients
Top ingredients include turkey meal, deboned turkey, and salmon meal
Turkey flavor
Specifically made for muscle, skin, and brain development
Pros
High in protein
Low glycemic content
Gluten and grain-free
Suitable for all dog breeds
Lower in carbs
Cons
6. Blue Buffalo Wilderness High Protein Adult Dry Dog Food with Chicken
Satisfy the inner wolf spirit of your furry pal with Blue Buffalo Wilderness High Protein Adult Dry Dog Food with Chicken.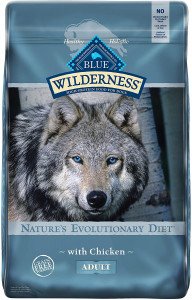 The kibble formulation primarily contains real chicken alongside peas. It is abundant in healthy and hearty protein and carbs giving him enough energy to accompany you in a distant walk.
The abundance of its protein content is crafted with real chicken to boost and maintain his lean muscle mass. 
It also has antioxidant-rich LifeSource Bits, minerals, vitamins, and other nutrients. 
Its complex carbohydrates come from vegetables and fruits providing him the necessary energy.
The healthy carb of this chicken meal is sourced from peas and sweet potatoes enough to fuel his hyperactivity. 
With its omega-3 and omega-6 fatty acids, rest assured that he will have a lustrous coat and healthy skin.
Meanwhile, the LifeSource Bits yields a precise amount of vitamins, minerals, and antioxidants to support healthy oxidative balance and immune system as well as life stage requirements.
Specific Features:
A natural dog food
Contains real chicken
Grain-free dog food
Comes with LifeSource Bits rich in antioxidants
High in protein
Good for adult dogs of all life stages
Pros
Fortified with essential vitamins and minerals
Suitable for dogs of all ages
Grain-free
Poultry free
Supports healthy immune system
Cons
It may not fit for puppies and those allergic to chicken
7. Cesar Home Delights and Canine Cuisine Soft Wet Dog Food
Treat your furry best friend with a savory balanced meal with Cesar Home Delights and Canine Cuisine Soft Wet Dog Food.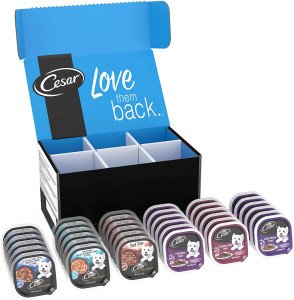 The gourmet wet dog food comes with nutrition-formulated ingredients meeting the AAFCO dog food nutrient levels.
Your pooch will surely love the taste of veggies, beef, and chicken meals with this variety of packs. 
The packs are filled with the nutrition required for his healthy diet.
With its peel-away seals served in trays, mealtime for him is made very easy. 
It may serve as a great meal alone or as a food topper blended with dry food. Available in varieties such as Home Delights, Simply Crafted, and Classics.
Specific Features:
A gourmet dog food
Comes in the form of wet food
Contains fortified minerals and vitamins
Available in 36-count and 60-count variety packs
Available in six flavors
Available for dogs no matter their age and breed
Pros
Rich in vitamins and minerals
Natural dog food
Flavorful
Classic cuisines containing real protein
Fresh
Has veggies
No artificial flavors, preservatives, or fillers
Can be mixed with dry food
Cons
It may not be appealing to picky eaters in some of its flavors
8. Purina Moist and Meaty Wet Dog Food in Steak Flavor
Allow your pitbull to enjoy both dry and wet dog food benefits with Purina Moist and Meaty Wet Dog Food in Steak Flavor.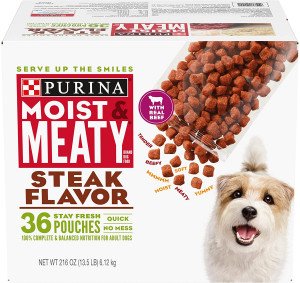 This savory goodness is formulated for adult dogs' specific needs. It comes from real meat that comes with a hearty taste that dogs will love. 
The bacon and egg or cheddar cheese accents of this food bring extra yum to its taste.
The real chicken and beef ingredients of this food are a great source of protein giving it a meatier flavor.
This supports the muscle strength of your pet. Its calorie content is majority carbs, followed by protein and fat. 
You may give it to your pup as either an occasional treat or normal food.
Specific Features:
Sourced from real meat and other sources of protein
Available in various recipes with different tasty accents
Packed in fresh pouches
Contains vitamins and minerals
Suitable for adult dogs and large breed dogs
Pros
Meaty and flavorful
Soft in texture
Available in individual, pre-portioned pouches
Use as a treat, meal, or topper
Various high-quality flavor choices
Provides balanced and complete nutrition for senior dogs
Cons
Contains high fructose corn syrup
Abundant in soy which can be harmful to some pitbulls
Low in its moisture content
It may not be a good option for dogs predisposed to obesity or diabetes
9. Purina Beneful Real Chicken Dry Dog Food
Your pooch deserves a bowlful of tasty Purina Beneful Real Chicken Dry Dog Food.
This chicken meal features real meat of farm-raised chicken. It has accents of pumpkin, spinach, and blueberries. The grain-free recipe is rich in nutrition while being tasty.
This healthy and appetizing kibble formula does not contain ingredients like wheat, gluten, or corn. 
For this, serving it every day to your best friend is a good idea.
He will love its delicious flavor while receiving balanced and complete nutrition. Its wholesome formula guarantees a delightful meal. 
No fillers can be found denoting a good food with high-quality protein. The minerals and vitamins of this grain-free dry dog formula provide support to the health of his whole body.
Specific Features:
A dry food formula
The main ingredient is farm-raised chicken
Has accents of pumpkin, spinach, and blueberries
Natural and grain-free dry dog recipe
Includes 23 vitamins and minerals
Comes from wholesome nutrition
Available for dogs in various sizes from small to medium to large
Pros
Offers abundant nutrition
Crunchy in texture
No fillers, gluten, wheat, or corn
Promises whole-body health
Guarantees balanced nutrition for the adult dogs
Cons
 It may not be suitable for dogs with sensitive stomachs and allergies
FAQs About the Best Dog Food for Pitbulls
Here are the frequently asked questions associated with the best dog foods for pitbulls and their diet:
1. What form of food should you give your pitbull (wet food, homemade, raw diet, kibbles)?
The kind of food to feed your pittie depends on his lifestyle. Foods in dry kibbles are more convenient as per veterinarians and pet owners. Find a diet appropriate for him.
2. Is a grain-free diet preferable for pitbulls?
Grain-free diet options are preferable for allergic dogs and pitbulls are breeds predisposed to allergies. However, no need to give this formula to your pet if it's unnecessary.
3. Are supplements important for pitbulls?
Supplement provision will not be necessary if your dog is healthy and fed with a well-balanced diet. 
Give him the essential supplements if his diet lacks specific components. Unless he is severely malnourished or you are straining him to work, supplements are unnecessary.
4. Can you give table scraps to your dog?
Giving your pitbull table scraps is not advisable. You may, however, give him a piece if you are eating safe vegetables.
5. How to determine if you are feeding your pitbull the right food?
The best and clear indicator is that your dog receives an appropriate diet through his stools. He is on the wrong diet if his stools look shriveled or if the food causes constipation.
6. How often and how much should a pitbull be fed?
Generally, no two dogs no matter the breed are exactly alike. The amount of dog food to provide every dog depends on their age, health considerations, activity level, and size. 
Larger breeds should eat more in their meal. On the other hand, small breeds require several small meals to keep up and maintain their metabolisms.
An average adult dog needs over 1,100 calories daily. If your pitbull is hyperactive, you can feed him twice a day.
7. How to know if the dog food is good for your pitbull?
Consult your veterinarian first before switching to a specific food. Get the vet's opinion first especially if he is susceptible to allergies or sensitive to some food ingredients. 
You might have fed your sensitive pup the wrong food if he scratches or licks his paws excessively. If you want to transition his diet, do it slowly.
8. What foods are bad for pitbulls?
As mentioned above, avoid feeding your pitbull with the best dog foods containing specific ingredients. These substances include grapes and raisins, cinnamon, avocado, citrus fruits, nuts, cherries, and coconut products.
9. What to feed to grow and strengthen the muscles of pitbulls?
Buy a dog food that provides high protein to your pooch's diet. A 40 percent protein content in dog food is enough to increase his size. 
Add 20% healthy fats and 40% carbs to complete the required macronutrients in his diet. See to it that he receives a minimum of 1000 calories daily in two meals.
10. Is a chicken ingredient in dog foods bad for pitbulls?
Although some pitbulls are sensitive to chicken, it is not bad for all pitbulls. There is no problem when feeding your pittie with unseasoned cooked chicken for some protein shots. 
Be mindful of his health conditions though. Make sure that he is not allergic to chicken otherwise, you will just risk his overall health and wellbeing. Always consider the best dog foods for your dog.
Final Word
The above information about the best healthy dog food for pit bulls will guide you on how to feed your dog right. Use this as your reference the next time you shop for his diet's natural balance.
Our Top Pick
For us, the best dog food for your pitbull is Taste of the Wild Grain-Free Dog Food with Roasted Venison and Bison.
Many consider it the best dog food for pitbulls with allergies. It is available for all dogs no matter their age, size, and breed. Also, it is sold at a reasonable price in the market.
Now I am certain you know how to feed your pitbull properly with the best dog food. Let us know which one from the list fits your furry pal then.
Related article: 
11 Best dog food containers of 2022 Reviewed
Best dog food for sensitive stomach
Best Dog Food For Shedding – 7 Top Brand And Tips On How To Help Reduce Dog Shedding
Featured images source: Unsplash.com