Humans alike, our dogs also develop stomach sensitivity. You need to be very careful about what you are feeding them. Make sure that you are giving your furry friend the best dog food for sensitive stomach. This article will be your guide on what to feed him to stay healthy and fully nourished.
Let's have a quick mention of the best dog food for dogs with sensitive stomachs first.
Best Dog Food for Sensitive Stomach List

Best Dog Food For Sensitive Stomach See Amazon.com for best selection and value. #commissionsearned
Before we reveal these dog foods, get an overview of digestive sensitivity among dogs first.
Causes of Sensitive Stomach in Dogs
Determining the exact cause of pain your dog feels in his tummy can be difficult. You might need the help of his vet to better understand what he is going through. However, some common causes are not that difficult to notice. 
Lactose Intolerance
Like humans, lactose intolerance is also common for dogs. This may come from the dairy foods you give to your pooch. Foods with cheese, milk, and other dairy products are some sources of lactose that you need to check.
The undigested lactose will pass to his stole in the whole form. This will result in an upset stomach. So, choose dog food for a sensitive stomach to better his nutrition.
Fructose Malabsorption
Dogs, like humans, also experience diarrhea when they have eaten some fruits. Fructose malabsorption is the inability of your pooch to properly digest fruits. This may lead to soft stools and digestion problems. 
Food Intolerance
There might be certain ingredients or substances in his diet not properly absorbed or digested. Unluckily, almost all dog foods may contain ingredients that may cause intolerance. Should this be the case, take him to a vet clinic for a checkup.
Consequently, he will undergo a thorough examination of proper medication.
Normal Intestinal Flora Disruption
The intestine of your canine is full of various bacteria that help break down the food they eat. These microorganisms produce substances that aid his digestion. Certain bacteria may be overwhelmed by the other bacteria upon the disruption of his normal intestinal flora.
In turn, this results in substances that are less friendly to digestion and issues with his absorption and digestion. 
Gluten Intolerance
Also common in humans is gluten intolerance which can happen to your doggie at any time. His stomach is unable to break down gluten. Gluten is a rich source of protein in grains such as wheat. It is now difficult to find dog foods free from gluten and soy.
Switch him to a new food if you think he is intolerant to gluten. Similarly, rule out gluten as the cause if is still showing intolerance even when he is consuming a grain-free food. 
Now. how will you know if your pet's stomach is sensitive?
Symptoms of Stomach Sensitivity in Dogs
As mentioned earlier, visit a vet for a proper determination of the cause of stomach sensitivity. While it is possible to figure out what to exclude from his food, a proper diagnosis from a vet clinic is still crucial. Some tests may be necessary to get the best results.
Meanwhile, there are some symptoms you can investigate. These are:
Lack of appetite

Poor body condition

Weight loss or unable to gain weight

Vomiting

Loose and watery stool

Abdominal discomfort or pain

Flatulence
So, the content of dog foods is a common cause of sensitivity. What are these ingredients?
Dog Food Ingredients Causing Sensitive Stomach
Check the specific ingredients in dog food causing his upset stomach. You already have an idea of its possible symptoms now. Get a vet appointment if you want a precise diagnosis. Now, it is relevant to look at the particular ingredients. Take note that they are the primary components of his diet.
Gluten
Dogs with gluten intolerance may have difficulty digesting gluten. Gluten is the kind of protein sourced in grains. This specific grain includes corn, soy, and wheat. Fortunately, many dog foods in the market these days are gluten-free. This is good news as you can now switch the pup's diet to any of them. 
Dairy Products
When your pal finds in difficult to digest lactose, he is likely intolerant to lactose. The reason behind this is his insufficiency of the enzyme lactase. Any food containing dairy products is not that easy for him to digest. 
Fruits
The fructose sugar content of fruits is difficult for some dogs to digest. Primarily, this is due to the insufficiency of carrier molecules that are supposed to be in their small intestine. Because of this, the level of fructose in their gut becomes high making their stools loose and watery. This may also lead to dog diarrhea. 
What then are the ingredients and some factors to look into in dog food for sensitive stomachs?
It's positive that your beloved dog has a sensitive stomach. Consequently, be careful in the food you are giving him. Depending on the cause of the sensitivity, the following items are some considerations you may check-in finding the best food to feed him.
Limited Ingredients
It would be unlikely to have your pet an upset stomach if his food has fewer ingredients. Fewer ingredients are equitable to fewer causes and possibilities for an upset stomach. You will see some changes to his digestion when you give him food with fewer and gentler ingredients. 
On the other hand, never limit his diet too much as he still needs to have it balanced and well-rounded. Taking out the unnecessary additives may somehow pacify his stomach. 
Lower Protein Level
An upset stomach may not be a food allergy, but it helps lower protein level in your pooch's diet. Consequently, this would be a great help to his sensitive stomach. The larger size of proteins can give his stomach more time to work while digesting it. Take this seriously especially if he is already having digestion problems. 
So, lowering the amount of protein in his food can make his digestive system work efficiently.
Probiotics
Dog foods with probiotics aid the digestion process of your dog as it balances the good and bad bacteria in his gut. Probiotics ensure more efficient digestion and are great in dealing with sensitive stomachs. Find a high-fiber diet or ingredients like pumpkin or anything that can harden his stools.
Absence of Grains
Grains contain gluten that is not easy to digest for some dogs. Grains may include but are not limited to corn, soy, and wheat. Put him on a diet free from gluten if he cannot digest these grains. There are now a lot of gluten-free foods in the market to choose from though. 
Digestible Carbohydrates and Proteins
Make sure that all the ingredients in his food are digestible especially carbohydrates and proteins. Lamb, potatoes, brown rice, and chicken are some of the ingredients that are easy for most dogs' stomachs. These could be worth checking in a dog food then.  
Reviewing Options for the Best Dog Food for Sensitive Stomach 
1. Purina One's SmartBlend Sensitive Systems Formula
Chicken is one of the most common ingredients contained in dog food. This ingredient is rich in protein and most dogs have a positive reaction to it. However, it can have an adverse reaction to your pet if it is fed along with corn.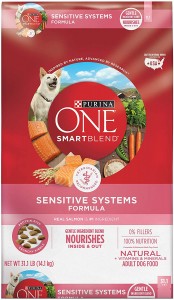 As a consequence, food allergies may arise. Symptoms like vomiting, hot spots, and loose stool may follow. While it is difficult to find corn-free dog food, Purina One developed SmartBlend Sensitive Systems Formula to make it available. 
The formula is based on salmon manufactured for dogs with food sensitivities and digestive issues. This easily digestible dog food can be best for dogs sensitive to lamb, chicken, and beef. 
Also, it can be given to large breeds having problems with shedding. It is a rich source of vitamins to boost the joints and immune system of your pooch. 
Special Features:
Main ingredient is real salmon

Contains minerals and vitamins for joint health and immune system

Comes in a crunchy kibble

Has Omega-6 fatty acids

Contains vitamin E
Pros:

Good for dogs with sensitive stomachs

Does not need prescription upon purchase

Improves dog coat

Veterinarian recommended

Easy to digest

Promotes skin health

Cons:

Strong fishy smell

Small kibble size which may not satisfy large dogs
2. Hill's Science's Diet Sensitive Stomach & Skin Adult Wet Dog Food
Hill's Science's Diet Sensitive Stomach & Skin Wet Dog Food is formulated for the healthy digestion of canines. Basically, this wet dog food contains salmon and vegetables for the optimum skin and digestive health of your furry pal.
It has natural fibers that promote easy cleanup of his stool. Its vitamin E and Omega 6s-content nourish his skin and give luster to his fur.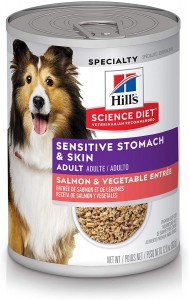 The wet sensitive stomach dog food promises well-balanced nutrition for your pooch's improved digestive systems. Its natural ingredients include potatoes, chicken broth, and green beans.
It also contains turkey, pea protein, and carrots. In fact, these ingredients have an exclusive blend of vitamins and other nutrients supporting his immune system.  
Specific Features:
Formulated for dog's skin health and easy digestion

Comes with natural wet ingredients

Contains probiotic fiber

Omega-6 fatty acids and Vitamin E
Pros:

Natural formula

No artificial flavor, preservatives, or color

Improves skin health and coat

Ease of digestion

Optimal nutrient absorption

Good for adult dogs

Cons:

Not recommended for nursing or pregnant dogs and puppies
3. IAMS Proactive Health PATE Dog Food
Wet formula IAMS Proactive Health PATE Dog Food is high in moisture content with balanced ingredients. These substances are good for canines with upset stomachs.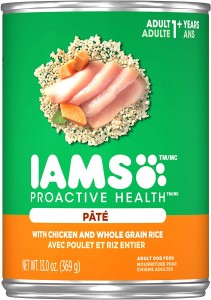 This is less expensive dog food. It comes with high-quality animal protein, minerals, and vitamins for a strong immune system. Its adult maintenance makes it the favorite food for dogs according to fur parents 
This could be the best senior dog food for sensitive stomach with omega fatty acids for a shiny coat and soft and healthy skin. It has rice and chicken to improve its taste making it irresistible for pets.
Moreover, its wholesome grain offers the required carbohydrates for your dog's overall health. 
Specific Features:
Classic pate meal

Formulated with hearty natural ingredients including rice and chicken

Rich in high-quality animal proteins, minerals, and vitamins

Contains omega fatty acids
Pros:

Good for sensitive stomach

Natural ingredients

Supports a strong immune system

Promotes soft coat and healthy skin

Good taste

Recommended for adult canines

Cons:

Not recommended for puppies
4. Purina Pro Plan FOCUS Classic Sensitive Skin and Stomach Dog Food
With its special formula, Purina Pro Plan FOCUS Classic Sensitive Skin and Stomach Dog Food fulfill the distinctive needs of your pooch.
This canned dog food is rich in salmon, which is a great source of protein with omega-6 fatty acids for a healthy coat and skin. It contains digestible carbohydrates for ease indigestion. 
This best dog food for sensitive stomach and skin has high-quality ingredients. They include chicken beef, digestible rice, salmon, and real turkey. Its primary nutrients support the lifestyle, life stage, or size of your pet.
In fact, many choose this formula for overweight or less active dogs. Its balanced nutrition improves his immune system. 
Specific Features
The formula contains rice and salmon

Rich in fatty acids

Natural ingredients

Promotes nutritional care
Pros:

Helps dogs with sensitive stomachs

Ease in digestion

Balance nutrition for a strong immune system

No artificial flavor or color, soy, or wheat

Supports a healthy coat and skin 

Cons:

May not be great or puppies
5. Nature's Recipe All-Natural Easy-to-Digest Dog Food
Special dry kibble Nature's Recipe All-Natural Easy-to-Digest Dog Food is designed for dogs with difficulty in digesting their original blends. This can be the best puppy food for sensitive stomach.
The first ingredient of this dry dog food is chicken meal, a significant source of protein necessary for the dietary needs of your pooch.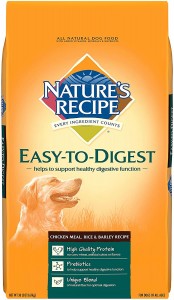 It sticks only to natural ingredients and specialized fiber blend for better digestion. These substances promote a healthy stomach and improve digestive function. 
You will not find any filler ingredient in this food such as wheat, soy, and corn. Thus, this best dry dog food for sensitive stomach has additional minerals, nutrients, and vitamins. These substances are crafted with barley and rice to fuel his big life. 
Specific Features:
Formulated with all-natural ingredients

Chicken meal as its first ingredient

Fiber blend for digestion
Pros:

Helps the digestion of stomach-sensitive dogs

No added wheat or corn

Fiber content

No poultry by-product meal

Highly digestible

No preservatives or artificial flavors

Cons:

Chicken can be an allergen to some dogs

No whole meats
6. Purina Pro Plan FortiFlora Veterinary Supplements
Give your best friend Purina Pro Plan FortiFlora Veterinary Supplements for specialized support. The probiotic dog supplement is formulated to manage his dietary function.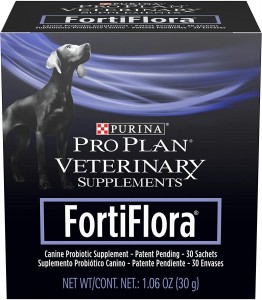 Administer the supplement to your pooch by adding the powder to his regular food. It supports the health of his digestive system. Its microorganisms promote intestinal microflora.
It has a propriety microencapsulation process. As a result, the process boosts the survival and stability of these microorganisms. These microorganisms enhance the intestinal microflora of your pooch.
This leads to his solid poops and mitigates an upset stomach. Meanwhile, it has antioxidants to support the health of his immune system.
Specific Features:
Probiotics as supplement

Dietary function management

Intestinal microflora

Microencapsulation process

Contains antioxidants
Pros:

Helps manage dogs' dietary management

Great for dogs with diarrhea

Promotes normal intestinal microflora

Enhances stability

Cons:

May not be great for dogs with complications
Final Remarks
As a fur parent, seeing your dog struggling to digest his food is heartbreaking. You may find it difficult to determine the next thing you need to do. First of all, find the cause of his upset stomach. This will help the vet in his diagnosis and for his proper medication. Possible reasons for stomach sensitivity may include switching of food, allergies, and any other medical issues. 
Our Top Pick
Our verdict for the best dog food for sensitive stomach goes to Purina One's SmartBlend Sensitive Systems Formula. This dog food comes with all-natural ingredients. Along with its vitamins and minerals, its gentle ingredients nourish your pooch's health in and out.
You need not worry about potential allergens. This dog food has zero percent when it comes to fillers. Also, it can be fed to any breed and size of dogs.
No matter your choice, make sure that it is the best sensitive stomach dog food for your best friend.
Featured Image Source: by illumination on Unsplash