Secure Your Pup with These 8 Best Dog Gates for Stairs: A Comprehensive Review
Having tripped over your competitive furball several times on the stairs who thinks racing you down is a fun sport – it's time to set up some boundaries.
Even if it comes in the form of dog gates for stairs.
According to Foter Magzine, dog gates for stairs are a perfect preventive solution for dogs that keep trying to make it to one floor up, create havoc and return like a canon ball.
With so many suppliers offering great dog gates, you may think getting one is easier than stealing candy from a baby. But it's not.
Dog gates come with so many specifications. You may buy one and get to know it is not meant for stairway protection.
Tough crunch, right? Why worry when we are here with our guide on the 8 best dog gates for stairs?
Our top pick is Yacul Extra Tall Dog Gate for Stairs Baby Gates with Auto Close Door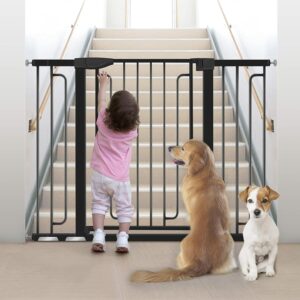 Our "dog gate for stairs" guide is based on their working model, price, outlook, and durability. Read and get safety benefits for life. 
8 Best Dog Gates For Stairs – 2023 Review
Here is a list of some of the worthiest dog gates for stairs of all time.
Brace yourself as we take you on a journey to get to know the best ten pet gates for stairs in the market.
Best Dog Gate For Stairs See Amazon.com for the best selection and value. #commissionsearned
1. Yacul Extra Tall Dog Gate for Stairs With Auto Close Door – Top Pick
Best Overall Dog Gate For Stairs 
Here's to all the parents of hurdle jumpers out there, Yacul Extra Tall Dog Gate for Stairs Baby Gates with Auto Close Door is just what the doctor ordered.
The dog gate for stairs is a great solution for pet owners and new parents who want to keep their pets and children safe from staircase accidents.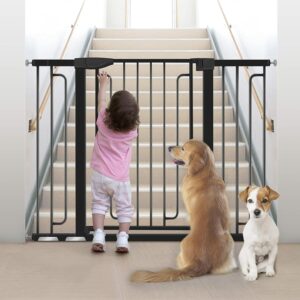 With a height of 36 inches, it can keep serious escape artists accept defeat.
So if your dog is a good jumper, you need this stair gate in your life. Keep in mind that 51.5 inched width is the maximum limit.
Yacul Extra Tall Dog Gate for Stairs works on the pressure-mount principle. For those looking for no-fuss installation, your search stops here.
Within 5 minutes, your gate is ready for use and you won't even need any tools for the process. 
One thing to note down here is that you may find a gap latch and the frame before installation.
Don't fret as it is not a malfunction. Everything will fall into the right place once the installation is complete.
So basically the gate is designed to keep safety as the top priority. It comes with a double-lock safety release.
This lock is easy for adults to open but impossible for the dog to figure out the mechanics. 
Specific Features
Protection against 150-pound impact

For all sizes and breeds

The distance between bars is 2.75 inches

Pressure mount installation

Auto close small pet door

Tools required for installation included
Pros
Comes with an auto-close gate

No-fuss installation process

Double lock system for extra safety

Comes with metal reinforcement slots for more stability

Adjustable width feature
Cons
Auto-close gates need vigilance when the pet is around
Check Yacul Extra Tall Dog Gate for Stairs Baby Gates with Auto Close Door for more info. #commissionsearned
2. Cumbor Safety Dog Gate for Stairs With Auto Close Gate – Award Winner
Critically Acclaimed Best Dog Gate For Stairs 
Cumbor Safety Dog Gate for Stairs With Auto Close Gate is another great dog gate that offers solid protection for your furry friend from trip and fall accidents that happen on the stairs.
That's not only us who think highly of this dog gate. The product has won the mom's choice award for its double lock safety. 
You can place the gate at the bottom of the stairs or at the top, however, and wherever you like it. One thing is certain – it won't compromise on safety along with the comfort of use.
Cumbor Safety Dog Gate for Stairs is more than 30 inches tall which seems like a suitable height for athletic dogs as well.
The bars are strategically placed to avoid any kind of accident for your curious pet like the head being stuck between the bars or something like that.
The walk-through gate has a perfect size, not like the gates that allow only one person to hardly pass through it.
It has ample space for you to pass through it while carrying your doggo (if the need may arise).
Cumbor Safety Dog Gate for Stairs With Auto Close Gate is white sturdy steel based on the pressure mount mechanism.
So needless to say you won't have to go through the turmoil of a complicated installation process.
Specific Features
Double latch auto close lock

Pressure mounting and drill installation

29.5-inch minimum and 46-inch maximum wide opening gate

White steel sturdy material

All extensions and tools included

Withstands pressure up to 150 pounds

Suitable for all breeds
Pros
24-hour online support available
Supports drill installation and pressure mounting
All extensions included in the package
Strong enough to bare the impact of aggressive dogs
Versatile design can be used in any open space
Cons
Installation direction could be clearer
See more here Cumbor Safety Dog Gate for Stairs With Auto Close Gate #commissionsearned
3. PETMAKER Home Dog Gate For Stairs – Quality Reassured
Most Durable Dog Gate For Stairs 
Petmaker is known for its quality and innovative dog products and PETMAKER Home Dog Gate For Stairs is no less. It is a reliable and sturdy solution to keep your pet safe and secure on the stairs.
The gate takes the shape of an accordion that lets it fold and place in any place where you don't want your dog to go.
It is lightweight just for the reason that it can be easily transported from one point to another.
This gate is designed to fit openings up to 42 inches wide, making it ideal for various staircases in your home.
It is made of durable wood and features a grey finish that will blend in with any decor. It is available in 3 sizes.
If you have a small to a medium-sized dog at home, PETMAKER Home Dog Gate For Stairs is best suited for them.
As the 24-inched tall gate is hard for these sized dogs to jump over and climb the stairs. It features a door with a latch so that you can easily open and close the gate without having to remove it entirely. 
It is a free-standing gate so the installation process is negligible. And you get to have mark-free walls.
So the dog gate is sturdy enough to bar your medium-sized dog from going up and is the best buy for those who are finicky about drilling holes in the walls.
Specific Features
Freestanding gate

Durable wood with a white finish

23-inch tall 

Suitable for small to medium-sized dogs

 Foldable design for easy storage

Anti-slip rubber base to avoid floor scratching
Pros
Comes in three stylish designs
Portable and can be moved anywhere where it's needed
Foldable for easy storage
Rubber bumpers base to avoid damage to the floor
Cons
The minimum fitting space should be 45 inches wide
The freestanding gate may not be able to withstand aggressive pressure
Check it out PETMAKER Home Dog Gate For Stairs #commissionsearned
4. BABELIO Metal Pressure Mounted Dog Gate For Stairs – Most Enduring
Toughest Dog Gate For Stairs
BABELIO Metal Pressure Mounted Dog Gate For Stairs is another pressure-mounted gate that has won Mom's Choice Award and made it to our prestigious review list for excellent reasons.
It's good-looking, it's sturdy and it's a perfect dog gate to have at the base of your stairs.
Made of an all-steel structure, this gate is designed to withstand aggressive shaking and is equipped with a double lock to prevent fall hazards. 
So don't freak out about the dual locking. We promise you, it's completely hassle-free and speedy for you.
BABELIO Metal Pressure Mounted Dog Gate For Stairs comes with two extensions so that you can have the custom width that you require.
The pressure mounting is easy to install and has a kit included to make things further simpler.
The best thing is this dog gate is equipped with a wall protector that won't let the gate damage your walls.
Specific Features
29-inch min to 48-inch max gate width

Available in a variety of colors

Product weight 220 pounds

Installation mode: pressure mounting

All steel material

One-hand release and auto close

Gate supports two-way swing
Pros
Double lock protection
Convenient one-hand release lock 
Sturdy all-steel design
Auto close gate 
Two extension kits available in the package
Cons
Not tall enough for energetic jumping dogs
Installation directions need to be more concise
See more information BABELIO Metal Pressure Mounted Dog Gate For Stairs #commissionsearned
5. Summer Extra Tall Safety Dog Gate For Stairs – High Barrier
Most Effective Dog Gate For Escape Artists
Has your doggo signed up for the Olympics? No Problem. We have just the thing for them.
If you install Summer Extra Tall Safety Dog Gate For Stairs, there is no way they can jump this hurdle. So this gate is perfect for large dogs who have good jumping capabilities. 
Summer Extra Tall Safety Dog Gate For Stairs is made from sturdy steel with a beautiful arch design – great for adding flair and height.
The dog can be installed with a pressure mount and hardware mount (tools included). Choose whatever suits you best. The wide door opening makes using it very convenient.
Specific Features
Sturdy metal construction

Pressure mount and hardware mount

2 extension frames

Auto close and open door

Product weight 16.5 pounds

36-inch tall and 28 to 38.2-inch wide

20-inch wide door

Suitable for all breeds and sizes

Available in three colors
Pros
Includes two extension frames
Can be used at the top of the stairs as well
Auto close and open feature
Available in three colors to match any home interior
Cons
Customer service can be more vigilant
Grab your today here Summer Extra Tall Safety Dog Gate For Stairs #commissionsearned
6. Carlson Extra Wide Walk-Through Pet Gate For Stairs – Certified Safety
Best Dog Gate For Stairs With Highest Safety Standards
Carlson pet products are known for their reliability. We highly recommend Carlson Extra Wide Walk Through Pet Gate For Stairs for your fidos safety on stairs.
The gate is made from sturdy steel to withstand aggressive pressure as well.
The highlight is that the Carlson dog gate includes multiple safety lock features that are certified and meet ASTM standards.
Carlson Extra Wide Walk-Through Pet Gate can be pressure mounted as well as hardware mounted. It totally depends on the owner's choice.
This is a highly multipurpose gate that can be used anywhere in the house other than the stairs. The gate is rust-resistant so technically you can use it outdoors as well.
Specific Features
Suitable for medium to large dogs

30 inches tall and 29 to 36.5- inches wide

Includes a 4-inch wide extension

Small 8 X 8-inch gate included for pets

Free 30-day return
Pros
Easy close door included
Safety lock feature for enhanced safety
Non-toxic finish for chewers
Reasonably priced
Cons
No auto close door option
Certain gaps may allow determined dogs to pass through it
Why wait? Give your fur baby deserve it Carlson Extra Wide Walk Through Pet Gate For Stairs #commissionsearned
7. MYPET North States Windsor Arch Pet Gate For Stairs – Relaxed Comfort
Best Dog Gates For Stairs High Protection
MYPET Windsor Arch Pet Gate For Stairs is a great doggie door for gateways that can be used for stair entrances.
It is a pressure-mounted gate but comes with extra wall cups if you want extra strength and security.
The dog gate has a triple-lock security system. So you just sit back and relax as your pet ain't going anywhere to create menace.
The gate features a one-hand operation to open and close the door. 
MYPET Windsor Arch Pet Gate For Stairs is made from strong steel so it can withstand tantrums thrown by aggressive dogs.
The matte bronzy finish makes it look appealing with any home decor.  All in all, if you don't want to compromise on safety and at the same time style, then this gate is your best bet.
Specific Features
28.5-inch tall and 28.5 to 38.5-inch wide dog gate

Heavy-duty metal built

Bronze finish

Triple lock safety

One-hand door opening operation

Dual-sided door opening

Product weight 7.5 pounds

Two extensions included
Pros
Rubber bumpers to protect the floors from scuffs
One-hand operation feature
Triple lock security
The door opens in both directions for convenience
Cons
Latch is made of hard plastic
Installation instructions are a little complicated
Find out more here MYPET Windsor Arch Pet Gate For Stairs #commissionsearned
8. COMOMY Durable Dog Gate Easy Walk Thru For Stairs  – Auto Locking
Best Dog Gates For Stairs Boosted Safety Standards
COMOMY Durable Dog Gate Easy Walk Thru For Stairs is another great quality dog gate for stairs.
The good news is that this dog gate is highly compatible and can be used in multiple spaces around the house.
COMOMY understands how your loved ones are important to you and that is why they have made this gate from the sturdiest steel that can take the impact of 200 pounds of weight and a dual auto locking system.
COMOMY Durable Dog Gate can be installed via pressure mount but if you need more security, there is the option of hardware mounting with all the equipment in the package.
Not only stairs but you can use this gate anywhere where you want to stop your doggo from going.
Specific Features
Pressure and hardware mount installation

Sturdy steel built

30-inch tall and 29.5 – 40.5-inch wide gate

Auto close door

Two-way opening

Double lock for added safety

White-colored
Pros
Easy mini walk-through gate
Auto close door with 180-degree operation
Wide compatibility gate
Black and white color option
Cons
A little on the expensive side
Vigilance is required for sizing 
More info COMOMY Durable Dog Gate Easy Walk Thru For Stairs here #commissionsearned
Buyer's Guide For The Best Dog Gate For Stairs – 6 Unmissable Factors
When you are out there buying a dog gate for stairs, don't forget to size up your choice based on the below-mentioned factors. 
1. Type Of Gate
When you start your search, you'll come across various styles or types of pet gates.
You need to make up your mind about the kind you will go for. For that, you need to have some know-how about each type. We have categorized them into three types.
Freestanding Pet Gates are the quickest and easiest when it comes to stairs dog gates because you don't need any mounting for them as they stand on their own. Just place it in the required spot and voila! You are good to go. Best if you want a temporary barrier. They are adjustable in size and are a breeze to move from one point to another. 
Hitch – Wild soul at home? Nah, we wouldn't recommend free-standing gates in such situations. These are lightweight and the entire gate can be easily knocked down by a determined doggo.
Pressure Mounted Gates are easy to install also and are a sturdy option for a stairway barrier. You don't need to hire a handyman or drill holes in the wall for installing these gates. They work on the adjustable tension mounting principle. These gates are a good option especially if you are traveling or living in a place for a temporary duration. 
Hitch – These gates stop working at a certain pressure. Stepping over the gate is your option to move around with these gates and that can be tricky.
Hardware Mounted Gates are the sturdiest option for dog gates for stairs. Aggressive dog? No problem. Your dog will need an iron will and these gates still won't budge. These gates are highly recommended if installed at the top of the stair flight. They are mounted to the wall via screws or other additional hardware.
Hitch – You may not be comfortable drilling holes in the wall. The installation process is complex and may require help from a professional. Taking them down is equally tedious.
2. Installation Process
The installation process depends on the type of dog gate you prefer to buy and the severity of protection you require.
Installing a pet gate starts from something as simple as unfolding the gate and making it stand and can get as complex as hiring a handyman to drill holes for mounting it in the wall.
Analyze your requirements first. This will help you decide what sort of dog gate you need to stop your dog from climbing up the stairs.
Look for what sort of setup that gate requires. Decide accordingly.
3. Size
Size matters. It is an important factor if not the most. You wouldn't want to end up buying a sturdy piece just to know that your dog can easily jump over it.
What a waste of effort and money that would be. The easiest way to cater to this problem is to go for a dog gate that is at least a few inches taller than your dog's height. 
This will prevent him from jumping over the gate. Also, don't underestimate your dog's jumping skills.
You may also want to add a few inches for that. Similarly, measuring the width of your stairway entrance is equally important. 
Some gates require additional space to swing open. While some are directly installed in the confined space.
Keep this aspect in mind when measuring up the new gate. This will also ensure maximum your furry friend's maximum safety.
4. Sturdiness
Whilst you research dog gates, you will come across three to four materials from which most gates are made up of.
Wood, metal, plastic, and then the last is a combination of plastic and mesh. Now if your dog is big on chewing stuff or going through a teething phase, we wouldn't recommend buying wooden gates. 
Similarly, a plastic gate will be like a toy for an aggressive big buff. Metal can be a good choice in such scenarios.
Metal dog gates are heavy. If you are looking for portable type dog gates for placing in spaces where you require protection, metal won't be a good idea.
Size up the pros and cons and then go for a suitably built dog gate for stairs.
5. Safety And Locks
If you are eyeing a dog gate and seems it is a 10/10, do a double-check. This time weigh the dog gate based on the safety it provides.
For that purpose, check the locking mechanism. It should be sturdy enough so that your dog wont be able to open it.
Intentionally or not! But at the same time, it should be easy enough for you to open without any struggle. 
Also, check the dog gate for any rough or pointy edges. This can be quite threatening to your dog's physical well-being.
With a critical eye, check if the gaps in the gate are strategically placed. The next thing you know, your curious dog's paw or head is stuck between the bars. You definitely wouldn't want that happening.
6. Appearance
This factor counts a lot, especially for people who are big on aesthetic home interiors and they want every addition made to their house to blend in with the color palette and design.
That is where the outlook of the dog gate matters. The other half who doesn't care can skip reading this part. 
From material to colors, when you start looking for dog gates, you'll be spoilt for choice. You will find something that will complement your decor.
Modern contemporary looking or country style interior, you will find the right match. A word of advice here; don't compromise the safety of your dog while preferring style.
A dog gate is meant to protect your dog. Make sure the one you pick, does that the best.
FAQs
Here are the answers to some of the most asked questions about dog gates for stairs.
How do you block a dog from stairs?
A sturdy dog gate installed at the base of the stairs is your best bet to block a dog from climbing stairs.
It is a sure-shot method to save your scampering dog from trips and tumbles that happen mostly in stairway accidents.
While it does restricts your dog's entrance, the dog gate for stairs does not bar you from using the stairs. These stair gates come with latches or locks that you can open effortlessly but not-so-effortlessly by your dog.
Some gates have hinges that make their doors automatically close behind you ensuring no trespassing.
What gates are best for dogs?
A dog gate that ensures the dog's safety is the best gate for dogs.
Having said that, hardware-mounted gates are the best and most sturdy option that ensures maximum safety.
Cumbor Safety Dog Gate for Stairs With Auto Close Gate offers both hardware installation and pressure mounting.
The quality is excellent and offers great security with an auto-locking door system and double latch lock. Its outstanding quality has landed this dog gate with critical acclamation. 
What type of gate is best at the top of the stairs?
Overall, the most secure and safe option for the top of the stairs is a hardware-mounted gate.
It's important to choose a gate that meets safety standards and is specifically designed for use at the top of stairs.
Always follow the manufacturer's instructions for installation and use, and regularly check the gate to make sure it is still securely anchored to the wall.
Do I need a dog gate for stairs?
According to AKC's article on Boundary training, it is essential to teach your dog how to be a civilized part of a household.
And there is no better tool than a dog gate for stairs to imply such boundaries. Also, your circumstances and dog behavior hold the answer to this question.
If your dog is in its early years and belongs to a small breed, then yes, getting a dog gate for stairs is necessary. Because the risk of falling and getting hurt is more. If your dog is going through some kind of behavioral training that requires barring it from running up and down the stairs, then again yes, you do need a dog gate for stairs.
Even if you don't have such issues, installing a dog gate for stairs is a good step toward your dog's safety and protection.
Conclusion
Dog gate stairs are known for providing safety and barring your dogs from flight accidents.
Not only that but they also are quite helpful in restricting them from going to places where you don't want them to roam freely.
Our comparative review landed us with some of the best dog gates. Out of which, Yacul Extra Tall Dog Gate for Stairs Baby Gates with Auto Close Door is our top pick for being an all-rounder.
It's sturdy, has a great locking system, and can keep aggressive dogs out of the boundary line. 
The second to come in line is Cumbor Safety Dog Gate for Stairs With Auto Close Gate. This gate has won critical acclamation. Need we say more? 
The last runner-up is PETMAKER Home Dog Gate For Stairs is best known for longevity and lasting quality.
How helpful did you find our review? Leave a comment below to let us know or simply visit our blog if you are interested in knowing more about the latest tip, tricks, and inside scoop on the doggo world.
We promise you there is no place like Bulldogology to have that tail-wagging fun you and your doggo are looking for.