Picture this: Salty sea breeze ruffling through your hair on a sailboat, your pup woofing with excitement, and you living the best nautical life.
Sorry to pop your bubble here but does your pup own a life jacket?
Your aquaphilic dog makes a great captain but it needs the best dog life jacket for being safely out there in the sea.
Don't have a clue about what to get? Fret not, as this article is a thorough review of the 10 best dog life jackets, their special features, things to consider when buying one, and a guide on how to use them. You'll be able to choose the ideal dog life vest for your best buddy once you've finished reading this article.
Hopefully, things get less complicated with our guide to choosing the best dog life vest.
We chose Ruffwear Float Coat as our top pick. If you are looking for top quality with no compromise on safety, then this should be your pick too.
The second to make it to our list is the Vivaglory New Neoprene Sports-Style dog life jacket, which offers first-grade comfort and safety and is a best-seller among dog owners.
Outward Hound dog life jacket makes it to our list for offering great quality at the most affordable cost.
10 Best Life Jackets For Dogs
Here is a quick glance over at the 10 best dog life vests.
Best Dog Life Jacket. See Amazon.com for the best selection and value. #commissionsearned
Reviews of Best Dog Life Vests
We are pretty sure the splash of a variety of dog life jackets out there is overwhelming. But don't you worry and buckle up for the 10 best dog life jackets extensive review that follows. Just for you!
1. RUFFWEAR Float Coat Dog Life Jacket – Top Rated
Best Dog Life Jacket for Top Quality and Reliability
The Ruffwear Float Coat Dog Life Jacket is what you need if you are looking for top-notch quality and reliable safety. 
This dog life vest is made from clever engineering, aiming to provide maximum comfort and safety to your dog. 
Its PVC-free, GAIA foam panels are soft, comfortable, and flexible. This allows free-range motion which makes it very easy for the dog to move around and stay afloat in water. 
The outer material used is water resistant, making Ruffwear Float Coat fit for all types of rigorous water activities like sailing, kayaking, surfing, boogie boarding, swimming, and more.
The webbing of the dog life vest does not stretch out much when drenched in the water, hence maintaining the shape and size all the time.
Another worth mentioning feature about Ruffwear Float Coat is that it comes in a wide range of sizes. This feature accommodates all sizes and breeds of dogs. So whether you have a small poodle or a big canine, you will find something for your dog.
How could we forget to mention the perfect placement of the sturdy handle that makes pulling your dog out of water simply effortless? The low-lying handle is enhanced with reflective accents and a light loop for better visibility underwater or in dark.
Another added feature that makes Ruffwear Float Coat stand out is the under-belly floatation. This keeps your dog afloat. The buckles and straps are hidden for further precautionary measures.
There are so many color options to pick from. From yellow, orange, red, or blue, you can choose one that makes your doggo look even cuter.
Specific Features
Made from PVC-free and flexible GAIA foam panels

Sturdy for tough water sports

Telescoping neck closure for added comfort

Comes in a wide range of sizes

Easily washable material 

Eye-catching colors to choose from
Comfort is the key feature of this jacket

Underbelly buoyancy is top grade

Covered buckles and straps for added safety

Iridescent material added for more visibility
This jacket is an expensive buy for ones with a small budget
2. Vivaglory New Neoprene Sports Style Dog Life Jacket – Best Seller
Best Dog Life Jacket For Comfort And Safety
For more than 15 years in the pet product industry, we can expect nothing less from Vivaglory New Neoprene Sports Style Dog Life Jacket. 

It is a great dog life jacket for casual swims and water sports. This product mainly focuses on comfort while providing adequate water safety.
Let's start with the sizing first. Vivaglory dog life vest comes in a variation of sizes that starts from XS to XL. This product's sizing is based on the ribcage girth measurement. 
Keeping this aspect in mind when purchasing the life vest will come in handy as this will avoid any confusion and will help you pick the right size life jacket.
The base material is neoprene which is waterproof and lightweight. This helps in the free-range movement for the pet hence not making them uncomfortable. And most importantly, it provides good buoyancy. The material that comes in contact with the dog's skin is soft and irritation-free. 
Vivaglory dog life jacket comes in six bright colors that make it attractive and serves a dual purpose for great visibility. Top and side reflective accents glow in the dark to provide added safety measures.
This dog life vest has a triple adjustable strap fastening security. The adjustable straps help in customizing the fit according to the required size. The side release adjustable buckles are easy to open and close. A low-lying and strong handle is placed at the top for emergency pull-outs.
Specific Features
Built-in D-ring for leash attachment

Made from materials to keep dog's skin healthy

Sleek built for added comfort

Sturdy buckles and stay-put velcro straps

Offers triple protection with added straps

Extra padding for more buoyancy
Offers a 90-day warranty

Offers 24/7 customer support

Heavy duty fastening system for added safety

Made from easy-on-skin material

Good on pocket
The velcro attachment placement is not suitable in some models

Not for heavy-duty water sports activities
3. Outward Hound Dog Life Jacket – Best Value
Best Dog Life Jacket For Affordable Cost
Outward Hound Dog Life Jacket is another name to make it to our list of best dog life vests. 
We don't need to say much about the quality of the life vest when the name "Outward Hound" is attached to the product. 
While going for Outward Hound, remember that the sizing for this brand is based on the dog's girth. This might cause some confusion but they offer a very clear and descriptive measurement chart for sizing assistance. 
But it does cater to all sizes and breeds of dogs. Whether small, lanky, big, or long, they have a fit for every size. 
The adjustable straps feature help more in a snugger fit. The adjustable buckles are easy to open hence helping in quick wear and take-off. And speaking of straps, it comes with not just one but two rescue handles to pull your pup out of the water.
The best is yet to come – the front float and the side pads pitch into the perfect buoyancy. The front float feature is a great help in keeping your dog's face from getting in the water. Outward Hound is made from neoprene which is an ideal material for waterproofing and is extremely lightweight.
Of course, this goes without saying that it comes in beautiful neon colors, patterns, and reflective strips. Eyecatching, reliable, comfortable, and affordable; we couldn't ask for more in a dog's life vest.
Specific Features
Neoprene side panels for added buoyancy 

Available in all sizes for small and large dogs

Comes in attractive colors and reflective strips

Comes with not one but two rescue handles

Extremely lightweight

Front float feature makes your dog's head stay above the water level
Affordable price

Quick release buckles

Good range of sizes available

Front float feature for keeping the dog's head afloat
Absence of metal ring to attach the leash

The standard sizing can vary a bit
4. Timormode Reflective Dog Life Jacket – Supreme Durability
Best Dog Life Jacket That Lasts Long
If you want a durable product that lasts years for your pup, then choose Timormode Reflective Dog Life Jacket.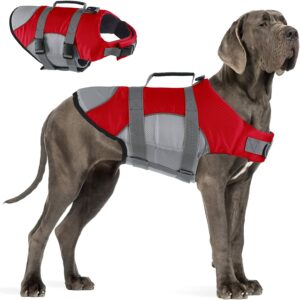 It actually calms your pup down with the comfort and supports it provides in the water, especially if it is a new swimmer. 
This dog life vest is a great buy if you are on a budget. It offers a great price range with no compromise on the quality. 
With an outer covering made from nylon and professional high-density foam material, expect ample floatation. The material is tear-free which makes your buy a long-lasting one.
The beautiful neon-colored jacket is enhanced with fluorescent trims that glow in the dark for more visibility. With heavy-duty D-ring and secure and sturdy buckles, the fastening system for this jacket is quite reliable.
We suggest being a tad more vigilant for sizing so that there are no exchange issues after you get your product.
Here is an insider – if the size of your pup lands between two sizes, choose the bigger one.
The overall creative design of the Timormode Reflective jacket does not affect your doggo's movement, in water or land. Not only that but it makes your furry friend look like a superstar.
Specific Features
Made from polyester and nylon for great water resistance

Superior buoyancy and durability

Available in 5 sizes

Beautiful variety available in colors

Flexible material for free range motion

Strong grab emergency handle
Lightweight and durable

Great floatation for new swimmers

Convenient buckle system for quick release

5 sizes available
Not for extreme water sports activities

Actual color may vary from what is shown
5. ThinkPet Dog Life Jacket – Effortless Buoyancy
Best Dog Life Jacket Focusing On Stamina Building 
Get ThinkPet Dog Life Jacket if you want a tireless flotation for your dog. With a premium dual-layer EVA foam pad, you cannot expect less. 
You will find everything a dog life jacket should have in this jacket plus a few more.
ThinkPet life jacket offers intensive buoyancy which lets your dog stay in the water for a longer period without losing stamina. 
This quality aids in helping the pet learn to swim quicker without restricting the dog's free movement.
This jacket best suits medium-sized dogs although they do offer size variations. With quick-release buckles, the jacket is not a hassle at wearing or taking off. The adjustable straps help in a more snuggish fit. 
The added feature of detachable head support keeps the dog's head afloat. This ensures added safety and tackles the pet's apprehensions about staying in the water.
The top grab handle and safety leash control make this jacket more preferred. ThinkPet life jacket retains heat and keeps your dog warm from cold water. It also protects your furry friend from harmful UV rays.
Last but not least, the color and the large reflective accents make your dog look like a star. And adds to the clearer visibility of the jacket as well.
Specific Features
Superior buoyancy with EVA layering

Made from neoprene, nylon, and vinyl 

Highly reflective side panels

Quick release buckles 

Detachable velcro strap for easy machine wash

Low lying top emergency pull handle 

Metal D-ring lease attachment facility

Removeable head support
Provides ample warmth 

Better control for your dog

Guaranteed safety

Large reflective straps for more visibility

Head support keeps the dog's head out of water
Sizes tend to be on the smaller side

The price is somewhat on the expensive side
6. ASENKU Dog Life Jacket – Most Suitable For Cold Protection
The Best Dog Life Jacket For Maintaining Body Warmth
One of the cutest-looking dog life jackets you will find on the market is the ASENKU Dog Life Jacket. 
The catchy pattern and shark fin design make it one of a kind. But the cuteness doesn't overshadow the jacket's functionality.
In fact, the designs make it easier to spot your dog in the water and in the dark with the bright neon colors and reflective trimmings. 
Are you the one preferring subdued colors? ASENKU dog life jacket also offers that too.
Coming to functionality, the outer layer is made of a ripstop which makes it waterproof. ASENKU dog life jacket is quick drying and insulates the warmth of the body, making it a perfect choice for people living in comparatively colder regions.
The design is beautiful yet practical with adjustable belts and quick-release buckles placed at the ideal spots. The top handle is convenient for quick grabbing and the sturdy D-ring is good for attaching a leash for walking your dog.
Their sizing is mainly based on the dog's chest girth size and lesser on the weight. It is suggested to go for the bigger size if your dog's measurements land between two sizes.
Specific Features
Creative and eye-catching patterns

Polyester, nylon, ripstop, and mesh makeup water-resistant jacket

Outstanding head support 

Offers six sizes

Emergency pull-up handle

D-ring for leash attachment

Mermaid tail and shark fin stylish appearance
Protection against cold

Versatile design

Quick drying and draining material

Affordable life jacket

Open for suggestions
Size not apt for big or plumpy dogs
7. Kuoser Dog Life Jacket with Reflective Stripes – Premium Sizing
Best Dog Life Jacket For all Shapes And Sizes 
From Pitbulls to Chihuahuas, Kuoser Dog Life Jacket With Reflective Stripes caters to all breeds and sizes of dogs.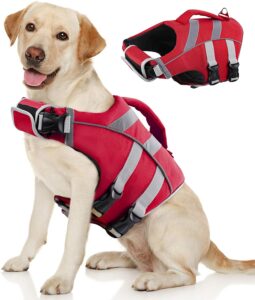 The jacket is sturdy and made to cater to heavier dogs as well. It is made from durable and highly buoyant material. 
But that does not mean you have to compromise on your dog's free movement on land as well.
Another noteworthy feature of this Kuoser life jacket is the buckle craftsmanship which is extremely easy to plug in or plug out. 
The velcro straps prevent the hair of the dog from getting stuck in the buckles. A good grip handle and D-ring is also available for more security and ease.
Specific Features
Sturdy and easy buckle design

Enhanced reflective trims add value to safety

Heavy duty D-ring for leash control

Made from EPE foam for excellent buoyancy

Caters small dogs to large dogs

Comfortable neck opening

Adjustable straps for a snug fit
Offering premium sizing for all breeds 

Flexible material offers free range motion

Quick drying fabric
Not made for rigorous water sports

No head support present
8. Queenmore Dog Life Jacket – Simple Yet Practical
Best Dog Life Jacket For Practicality
Queenmore Dog Life Jacket is not just a safety jacket for your dog, it's also for buoyancy and comfort, the jacket is made up of good quality material with polyethylene foam stuffing.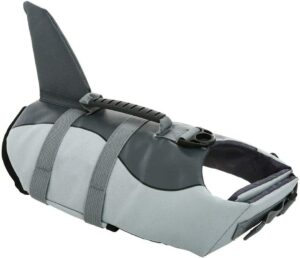 We cannot say that it is as good as neoprene but does an adequate job. Yes, for larger-sized dogs the buoyancy might not be as efficient as for small dogs.
One of the many remarkable safety features of this Queenmore jacket is the rubber emergency pull-out handle. It provides a secure grip that is anti-slip. 
The buckling up and velcro system are secure as well as quick to open and close. The presence of a D-ring is very useful for not letting your dog stray around to far-off places.
With the Queenmore dog life jacket's unique design, your doggo will be the center of attention with the crowd.
Specific Features
A stand-out shark fin design 

Made from durable oxford cloth polyethylene foam

Cater to all sizes of dogs

An excellent grip handle for pull-out

Quick and easy to wear and take off
Unique design for more visibility

Rubber safety handle for a stronger grip

A mighty under-belly support
Buoyancy levels may be inadequate for heavier dogs
9. MIGOHI Dog Life Jacket – Quick Drying
Best Dog Life Jacket For Added Breathability
Migohi Dog Life Jacket is best known for the premium fabric the company uses. It's lightweight, breathable, and dries up very efficiently. 
It is lined with good quality EVA lining that provides improved floatation.
For quality assurance, each Migohi jacket is passed through rigorous testing. 
The buckles are made of high-quality material which is effortless to use. They are concealed especially under the belly and around the neck so your dog doesn't chew them off. The sturdy top handle is soft and offers a great grip.
All in all, the Migohi dog life jacket is great swimming assistance for every dog breed and caters to all sizes. Yes, XXL dog life jacket size is also available. Just measure your dog and their support team will refer you to the best fit for your doggo.
Specific Features
Made from waterproof, quick drying, and non-toxic material

Comfortable for neck positioning

Comes with high-quality buckles made from PVC

Hidden neck and under belly buckles for added safety 

Sleek and stylish outlook

Sturdy D-ring for attaching the leash
Made from quick drying and draining material

Enhanced buoyancy 

Neoprene neck support

Concealed buckles for added security
Might cause skin rash

Difficult to put on the mid-section velcro strap
10. Kurgo Surf n' Turf Dog Life Jacket – Maximum Versatility
Best Dog Life Jacket For Multi-Functioning
Kurgo Surf n' Turf Dog Life Jacket is a multifunctional jacket that will not only act as a life jacket but also as a raincoat for your dog. 
This will come in handy especially if you live in a place where weather conditions are cloudy mostly. The floatation layer is removable hence transforming it into a raincoat.
Kurgo Surf n' Turf life jacket is made from a rip-resistant material which enhances the durability of the jacket. And that makes it suitable for tough water sports activities. 
The jacket is machine washable since it is made from nylon which is good water resistant as well. But do not expect the jacket to be lightweight.
Their sizing range is from XS to XL, thus making it an ideal life vest for both large dogs and small dogs alike.
Specific Features
Steel D-ring available for leash attachment

Easy machine wash

Three points of strap adjustment for a snug fit

In the process of an upgraded version with more specs

Available in a good size range

Reflective strips for added visibility
Serves dual purpose (acts as a life jacket and a raincoat)

Comes with two traverse emergency pull-out handles

Offers a lifetime warranty
Lacks dog's belly support
Things to Consider Before Buying The Best Dog Life Jacket
Many dogs are good swimmers but it does not mean that they are drowning hazard-proof. Like humans, they need to wear life jackets especially when subjected to deeper waters for longer periods.
Shopping for doggie vests is not like shopping for apples and pears. You have to critically consider some factors to snatch the best one for your pooch.  
Here is a list for you to go through. Know, learn and act!
Buoyancy
Buoyancy is the numero uno factor to keep in mind when buying a jacket for your dog. Your eyed life vest should have ample buoyancy to hold your dog's body weight afloat yet does not restrict the free movement.
For that, you need to check the weight specifications mentioned on the jacket and your dog's weight as well.
Durability
Check what material the life jacket is made of. First off, it should be durable and flexible. These factors prevent easy rips. Usually, neoprene or vinyl is considered the right material for a life jacket.
Well-Built handles
A sturdy top-grab handle or two side handles are an essential part of a dog life jacket. Why? These handles help you to pull your dog out of water when needed. 
Just make sure the handles are tough enough to manage your dog's weight when pulling out of the water. The presence of a D-ring on the life jacket is useful for attaching a leash. 
Size
The right fit ensures comfort and safety. Make sure your dog's life jacket is a snug fit. While most dog life jackets come with adjustable straps, that does not guarantee a good fit. 
A good fit will keep your dog safe by staying sung yet allowing your dog's body to move freely. You can have your dog's measurements of neck, chest, and body length for absolute certainty.  
Easy Wearability
Whether it's everyday clothes or safety jackets, easy-to-put-on stuff is always on everyone's preferred list. The jacket you are planning to buy should come with a quick release, and good quality buckles so that it is convenient to pull off or put on.
Color 
The colors added to a life jacket are not just for beauty. They serve as a safety precaution. Vibrant colors help in clearer visibility. Locating your pooch might become a dash easier with reflecting colors in the water. 
Some jackets serve the purpose more with reflecting edging and pipings added to them. And your dogo will look much cuter kayaking in a super-lit safety outfit.
Putting a Life Jacket on a Dog – A Step-by-Step Guide
The weather is still warm and perfect for a dip in the cool water. You got a perfect life jacket for your dog. And now you can do all your water activities with your furry friend. 
But wait, do you know how to put it on your dog correctly? Since it's all new for you, here is a step-by-step guide on how to put a life jacket on your dog.
Prep 
Start by prepping up your furry friend. A doggy treat perhaps or anything that catches their attention would do. 
The whole purpose is to calm them down and give them something more attention-grabbing than a weird-looking thing with buckles and straps. A wagging tail or a generous lick would be your go-ahead sign.
Unbuckle
Since you have your doggo's approval, it's time to take things one notch up. Figure out the whole jacket. Unbuckle all the straps. Now fully extend and adjust them according to your need. 
Position
Make sure that your dog is in a standing position. Now place the jacket on the back of the dog. While doing so, make sure that it sits close to the dog's neck.
Adjust
It's time to buckle up. If the jacket has a chin strap, position and fasten it first. Then comes the underbelly. Fasten any buckles or flaps that you see under there. Make sure that you carefully secure the velcro flaps and the buckles.
Check For Fitting
Always remember the two-finger rule. To check if the jacket is a perfect fit, there should be only space for your two fingers to slide between the dog and the jacket. Also, ensure that the jacket doesn't slide down to the rear of your dog.
You can prevent this by keeping the jacket 1-3 inches away from its tail. Dogs need to freely move their tail to keep them afloat.
Conclusion 
Not every dog is a swimmer. Even if it is one, taking precautionary measures when doing any water activity is the sanest thing to do. We are sure you wouldn't want to risk your furry friend's life in any way. 
Hopefully, things get less complicated with our guide to choosing the best dog life vest. 
We chose Ruffwear Float Coat as our top pick. If you are looking for top quality with no compromise on safety, then this should be your pick too.
The second to make it to our list is the Vivaglory New Neoprene Sports-Style dog life jacket, which offers first-grade comfort and safety and is a best-seller among dog owners.
Outward Hound dog life jacket makes it to our list for offering great quality at the most affordable cost. 
Remember: "The best" is the one that fits your dog's needs the most. 
Still want to do more research?Check out this related article A Helpful Guide For Choosing Your Pet's Best Bulldog Life Jackets 
Featured Images Source: Karsten Winegeart on UnSplash