Dogs can be very active and some of them can even be aggressive. This may lead to dehydration, which is why you need a dog water bottle any time to quench your dog's thirst.
Follow through this article as we discuss and review dog water bottles in varying styles like water dispensers with drinking nozzles, squeeze hydration flasks, travel water bowls and bottle combos, and more.
List of the Best Dog Water Bottles
Here's a quick list of the best water bottles for dogs:
Best Dog Water Bottle See Amazon.com for the best selection and value. #commissionsearned We are yet to dig deep into these dog bottles. Let's have some facts about the product first.
Why Need a Water Bottle for Dogs?
While not all pets or dogs need water bottles, bringing or having a water source during trips, outings, or long walks on hot days is quite essential. It would be a good idea to get a bottle with easy to carry and dispense design.
You might prefer one with integrated bowls or nozzles that are functional and compact to carry wherever you would want to go. Your furry best friend will stay hydrated and would be extra peppy with a freshwater source whatever dog water bottle you will choose for him.
Remember, your pup would not get nutrients to stay healthy if he does not drink enough water. This may cause trouble in food digestion, which can be dangerous in the long run. It is important to keep your pooch hydrated to prevent illnesses such as kidney disease.
The risk of dehydration aggravates when he is outdoors and active like when he's at the beach, on walks, or on hikes. Worse cases may result in loss of skin elasticity, dry gums, depression, sunken eyes, and loss of appetite.
How to Use a Dog Water Bottle
Typically, a portable dog water bottle is used by pouring or squeezing the water into a bowl where the dog drinks. Most water bottles have a bowl integrated or attached to the top to fill water easily.
There are bottles featuring an easy-to-use and compact design. Some have nozzles instead to allow him to drink directly from the bottle. Bottles with this feature can even be mounted in crates to prevent leaks and spills especially when traveling.
However, some canines will not drink out of the bottle. Be patient and take one step at a time with a bit of encouragement and coaxing.
This helps adjust the way of giving him water anywhere. Also, it would be a good idea to pop in his favorite food into the water so he will drink from it.
Yes, water bottles for dogs are as significant and as useful as their other essentials for health. And as such, you need one for your beloved furry companion. There are things you should keep in mind when going to the market to pick the best one for him then.
Considerations When Buying a Dog Water Container/Bottle
Before purchasing, it is important to look into the features of the water bottle that's right for your pup. Check the following factors:
Purpose
Dog water bottles may differ in sizes and shapes, so evaluate first the purpose for it. A lightweight bottle would be viable if you enjoy short walks with your dog.
You might need a bottle with a smooth exterior if he plays or hikes a lot with you. Select a bottle with over 20-ounce water capacity for long walks and trips. This will make certain that he won't go thirsty anytime.
Material
Consider the material making up the dog water bottle from stainless steel to plastic. Know why and how one differs from the other.
Plastic – Many pet parents would not prefer plastic bottles since they are not eco-friendly. However, most of these bottles are manufactured with materials that are BPA-free, making them hygienic and safe for your pet. They are lightweight and easy to carry on long hikes and walks.
Stainless steel – These bottles are mostly in demand and common among others. The water inside the container remains fresh and cool. However, the downside of this material is that it is heavier and not handy.
Portability
You may want to ensure that the bottle is easy to carry. If you are planning to walk your pet around all day, make sure that the bottle will not cause any trouble.
Try to consider containers that come with clips, straps, or carabiners for easy attachment to your backpack or belt.
Safety
A good container needs to be safe as your pet will be drinking from it. See to it that it's made from approved pet-safe materials. Note that even little nooks can fester, making the bottle difficult to clean, and worst, put him at risk.
Leak-proof
Make sure that the bottle does not have a leakage as it may contain either a hot or cold water for your dog . Oftentimes, bottles have a double or single lock to prevent leakage. Mistakes can happen to either of them so secure the lock properly. Chances are, water may continuously drip.
Ease of Cleaning
Water bottles naturally get dirty and stinky since they serve as your day-to-day companions. Consider their cleanliness to ensure the safety and hygiene of your pup's water intake.
Most of the bottles reviewed below are dishwasher safe though. However, there are still other bottles that need not be put inside the dishwasher without damaging it. You just need to read their label first before placing it inside.
Capacity
Never underestimate the water capacity of the bottles, especially the portable ones. Small and medium-sized containers are suitable for short trips or walks.
Invest in bottles that are a bit pricey if you are fond of much longer walks, running, or playing with your pal. This may require bottles with a larger storage capacity. So, the right size is dependent on his size, his activity, or the season.
Drinking Feature
Most water containers for dogs are manufactured to have a dispenser, bowl, or cup feature. This allows your four-legged friend to easily lap up the beverage and would not require you to bring an extra bowl.
Having a lid that serves as an additional cup is beneficial as separate bowls can get more space and get messy. It would be more convenient to pick one that you can control the release of water.
Another feature to check is its function to retract water to remove waste. Get a bottle that has a filter if you do not want to retract dirty water into the container. Of course, it should make the drinking session of your pup comfortable no matter its design.
Now, let's test your learning with our review of the top bottles for dogs below.
Top Water Bottles for Dogs
Choose the right bottle for your dog here:
1. Highwave AutoDogMug Portable Bottle with Bowl
Keep your dog hydrated and healthy on your next adventure with Highwave AutoDogMug Portable Bottle with Bowl.
This portable dog water bottle is perfect for any outdoor activity whether it be at the beach, to the park, or an all-day hike.
Just squeeze the container to fill its attached bowl on top with fresh and cool water. Its carrying strap is so convenient as it attaches to your backpack or slips over your wrist.
The product is made from food-grade polypropylene and BPA-free plastic for lasting quality and safety.
It has a very innovative and thoughtful design that fits most automobile and bicycle cup holders. This makes it easy to store while traveling.
Specific Features:
Made from BPA-free materials
Has 20-ounce capacity
Features built-in travel bowl
Comes with a one-handed hydration system
Design for convenience
Available in different colors
Pros:

Durable product
Mess-free and easy to use
Excess water returns to the container
Food safe
Comfortable straps
Dishwasher safe

Cons:

Strong plastic odor
Does not work with the other bottlenecks
2. Tuff Pupper PupFlask Travel Water Bottle
Stainless steel-based, Tuff Pupper PupFlask Travel Water Bottle can store 24oz of liquid.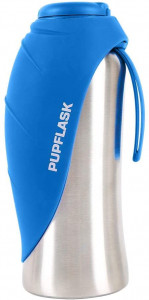 Its thick silicone leaf folds up and around the container that is convertible to a bowl for drinking. The water funnels back into the container and the leaf flips down when drinking is done. You can bring it with you wherever you both venture.
The bottle comes with eco-friendly and safe materials such as its food-grade silicone top and ABS bottle that is BPA-free.
It features a sleek design as well as a simple operation, thanks to its reversible leaf-form bowl that rests flatly over when not in use. This means that no water is put to waste and no leaks.
Specific Features:
Environmental-friendly materials
100% stainless steel-based bottle
Leaf-shape reversible bowl
Large container
Pros:

Simple operations
Safe and convenient to use
Easy to assemble, use, and store
Durable
Dishwasher-safe

Cons:

Does not work with the other bottlenecks
3. CareHome Dog Water Bottle with Collapsible Water Container and Slow Feeder Bowl
It doesn't matter where you would want to go with your pooch for days, so long as you have the CareHome Dog Water Bottle with Collapsible Water Container and Slow Feeder Bowl.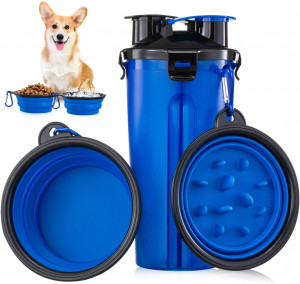 This package is already complete for travel with its 2-side container: water bowl and feeder bowl.
The bottle is hygienic in water feeding as dipping your finger into the water is necessary to keep the water and feed him.
The product is safe to use for its high-density polyethylene food-grade safety material.
Its food bowl serves as a slow feeder container that slows down his eating and mitigates an overeating behavior.
The bottle is sturdy and functions well even in tough environments. Also, it is leakproof, which is imperative when traveling.
Specific Features:
Has a unique design
Designed to be more hygienic than the other water bottles for dogs
Comes with a collapsible slow feeder bowl and water bowl
Made from BPA-free material
Good for long travels
Available for pets other than dogs
Pros:

Hygienic water drinking
Convenient and portable
Beneficial for travels and adventures
Leak-proof
More durable
Easy to use

Cons:

It may not be suitable for short walks as its additional bowls add extra weight
4. Lixit Top Fill No Drip Large Dog Bottle
With its 44 oz capacity, Lixit Top Fill No Drip Large Dog Bottle can be the drinking item for dogs from medium to large size.
This large dog water bottle is a top fill, which is removable from its bracket for refilling. It is manufactured with an extra-large tube to comply with the water requirement of large pets. Its content can last through the night.
The dog has a lid on its top allowing you to fill the bottle even without getting it out from the cage. This makes it right for crate mounting.
Its no-drip valve is functional and can be rebuilt whenever there's a leak. Also, the bottle is flat on its sides that you can mount inside or outside the cage. It even has a huge open-ended clamp making the bottle easily removable from the pet cage.
Specific Features:
Designed and manufactured for large dogs
Features lid on top
Has no-drip valve
Holds 44 oz of liquid
Dual mount
Assembled in the USA
Pros:

Durable
Easy to use
Portable and good for travel
Easy to clean
Serviceable

Cons:

Can be too big for puppies or small breeds
5. Korpet Walking Puppy Outdoor Water Bottle
Though this container is good for puppies, Korpet Walking Puppy Outdoor Water Bottle can also be functional for large-size dogs.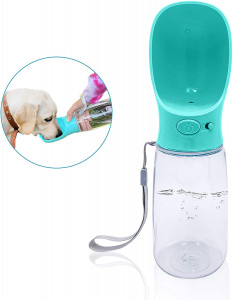 The bottle is manufactured using high-quality and safe food-grade material.
It features a silica gel ring with two security systems for leak prevention. It fills as much as 19 oz, which is just enough for long walks with your pet.
You can operate this bottle with one hand. Just press its button to fill the water and press again for a refill.
Carrying it is very easy as you can hang it with your hand and or simply put it inside your dog travel bag. Hand carry is made possible with its carry straps.
Special Features:
Designed and made for puppies and large dogs
High-quality food-grade materials
Leak-free with lock water
One-hand operating system
Highlights security system
Pros:

Durable
Functional for outdoor activities like walking and adventures
Leak-proof
Easy to carry, clean, and store
Safe to use

Cons:

It may not be recommendable for extra-size pets.
6. PetSafe Pet Gravity Automatic Water Dispenser or Feeder
Whether you need a feeder or water container for your pooch, PetSafe Pet Gravity Automatic Water Dispenser or Feeder would be the best choice.
This automatic dog water bowl also functions as a feeder other than as a water station.
It comes with a removable stainless-steel container that is dishwasher safe and easy to clean.
If you are a busy fur parent, this item can be great for his everyday use or weekend trips with you.
The food and water station are available in three sizes (small, medium, large) so there's no problem whatever be his weight or height.
With its stainless-steel bowl, you will have an assurance that it is more hygienic compared to the plastic containers.
Remove it from the base then cleaning would be smooth and easy. Additionally, its reservoir has a wide opening for easy cleaning with a brush.
Moreover, this automatic water and food dispenser is modern in style and has space-saving footprints making it ideal for garages, laundry rooms, kitchens, and other areas indoor.
You may buy a pet water filter (sold separately) to remove unwanted sediments, odor, and chlorine from his drinking water.
Special Features:
Gravity water and/or food dispenser
BPA-free plastic construction
Comes with a stainless-steel bowl
Available in different sizes (small, medium, large)
Functional for any pet other than dogs
Pros:

Durable and sturdy
Pet safe
First gravity water feeder
Easy to clean
Dishwasher safe
Hygienic water container

Cons:

It may not be advisable for long trips since it does not have a strap for attachment.
7. Gulpy Jr. Dog Water Dispenser
Make your outdoor adventure with your cute pooch convenient with Gulpy Jr. Dog Water Dispenser.
Among the other dog water bottles, this dog water dispenser is available in 20- and 10-ounce sizes. This system makes it a portable and convenient option.
The container folds into its built-in tray, filling water when flipped open and squeezed. This creates an easy bowl for him to lap water.
You will be giving him a fresh drink of water with just a flip of your wrist. This product will please your thirsty love one.
Specific Features:
Made with a flip open and flip close system design
Built-in belt clip
Portable water dispenser
Automatic seal that makes it leak-free
Available in 10-ounce and 20-ounce capacity
Bottle grip that is slip-proof
Pros:

Portable
Convenient to use
Handy and quickly refills
Great for transportation with its belt clip
Easy to clean

Cons:

Can be easily broken and not that durable
8. LumoLeaf Portable Water Bottle for Dogs
Make your companion comfortable wherever and whenever with LumoLeaf Portable Water Bottle for Dogs.
The bottle has a unique feature that ensures leak-proof seals. It is portable with a foldable cup that makes it easier for your pet to keep hydrated when outdoors.
Water dispensing has never been a breeze with its molded design.
The container serves as a healthy alternative to parks' public water bowls. Many pet owners consider it a significant travel accessory. Also, it is universally compatible with any area and for any pet.
Specific Features:
Molded design in one piece
Highlights a reversible leaf-formed bowl cap
Has the leak-proof hermetic seal
Functions as an alternative to water bowls in public areas like dog parks
Has a capacity of 20 ounce
Available in different colors
Pros:

Portable
Food-safe silicone construction
BPA-free
Works with 38mm and 30mm bottlenecks
Dishwasher-safe
Comes with an aluminum buckle

Cons:

Made from plastic material
Excess water does not return to its container
Bottomline
Choosing the right water bottle for your furry companion is not that easy. There are factors you need to check and weigh to make sure that the bottle meets the drinking requirement of your pooch. The specifications, functionality, and proper use are just some of your considerations.
Our Top Pick
Among the dog water bottles or containers presented above, Highwave AutoDogMug Portable Bottle with Bowl stands out as it has the features most dogs and their pet owners look for.
It is the best dog water bottle since it is portable, safe to use, convenient, and available for all sizes and breeds of dogs.
Which among the dog water bottle choices above you think is the best for your pal?
Featured image source: Petr Urbanek on Unsplash