Dogs get bored easily and often wander in places that pique their interests which makes them susceptible to various dangers. If you are living near the streets, your pet is at greater risk of getting hit by fast speeding cars.
Some people may also forget to lock gates whenever they leave their homes which will expose dogs to a series of dangers.
In addition, your neighbors may not appreciate seeing your dog roaming around their houses since they may leave pees and feces on their properties. The best solution is to limit their roaming space by installing a fence that keeps them within your property and safe from speeding cars.
You cherish your dog's freedom and space.
Still, you have to protect it: cars pose a considerable danger, and your neighbor may not appreciate your dog roaming in his/her yard.
Choosing a dependable electric dog fence is the right solution: it is a humane, safe way to accustom your furry companion with boundaries. Making the right choice is challenging, so we're here to present you with the answers to the most commonly met questions regarding electric dog fences as well as the top products in the category.
But where can you find a dependable fence that best suits the needs of your dogs?
Electric Dog Fences to Consider Choosing From
Extreme Dog Fence System is a particularly versatile fencing system that is also waterproof. It delivers a uniform signal, and the installation process is a breeze.
PetSafe Wireless Pet Containment System is a waterproof and portable electric fence for dogs.
It is effortless to set up. Also, the collar can be easily adjusted based on your dog's size. This wireless electric fence for dogs has exceeded the expectations of many dog owners.
Meanwhile, the SportDOG Brand In-Ground Fence System provides coverage of 100 acres. It is also waterproofed, well-made, and surprisingly durable.
The invisible dog fence cost is quite important for dog owners. So, you should know that both SportDOG in-ground fence system and PetSafe Wireless System cost $259.95.
It's a decent rate considering the quality and the features they offer.
Another top product on our wireless dog fences list is PetSafe Elite Little Dog In-Ground Fence. This is a fencing system that works for small dogs, in particular. In fact, it was created with this purpose in mind.
And lastly, the PetSafe Stubborn Dog In-Ground Fence is designated for dogs that have a strong personality. If training your dog to stay inside the yard didn't work until now, this might.
Best Electric Dog Fences See Amazon.com for best selection and value. #commissionsearned
Reviews of the Best Electric Dog Fences
1. Extreme Dog Fence System
For Extreme Dog Fence System, when a dog wears a collar that receives a signal from the transmitter that can be placed in basements and garage.
The collar beeps as a signal when the dog gets closer to the electric fence which is buried several inches from the ground.
Dogs will receive a mild shock every time they get closer to the buried electric fence which is assured to be not harmful to the health of dogs.
The mild shock is used as a tool to teach dogs not to cross the boundaries, which is believed to have a positive result with constant training.
This invisible fence extends from 500 of wire to 1500 feet of wiring. That makes it extremely versatile.
Five correction levels feature the receiver collar. So, if you want, you can keep the system at low power.
We found this feature really convenient.
The kit embodies a surge protector. This is functional in case of power surges or lightning strikes.
In addition, it consists of an underground dog fence wire, waterproof slices, and other essential elements.
The waterproof durability of the system is another attraction point. That has been highlighted in many customer reviews.
The wiring is genuinely extensive. Another element that was widely appreciated by dog owners.
As noted by one customer, the uniformness of the signal is excellent. So it doesn't interfere with other electronics you're using.
The bottom-line?
We think this is a top product, just like other customers that chose this fencing system.
Sturdy, well-made product

Easy installation

It is consist of 500 to 1500 feet of wiring

It features five correction levels in the receiver collar

It includes a surge protector which is extremely useful in case of power surges and lightning

The fence is waterproof which makes dogs safe from electrocution whenever they get wet

The kit includes essential elements such as underground dog fence wire and slices which are waterproof

The fence can be used using low power
A little bit heavier than others

The system isn't rechargeable
Extreme Dog Fence System See Amazon.com for best selection and value. #commissionsearned
2. SportDOG Brand In-Ground Fence System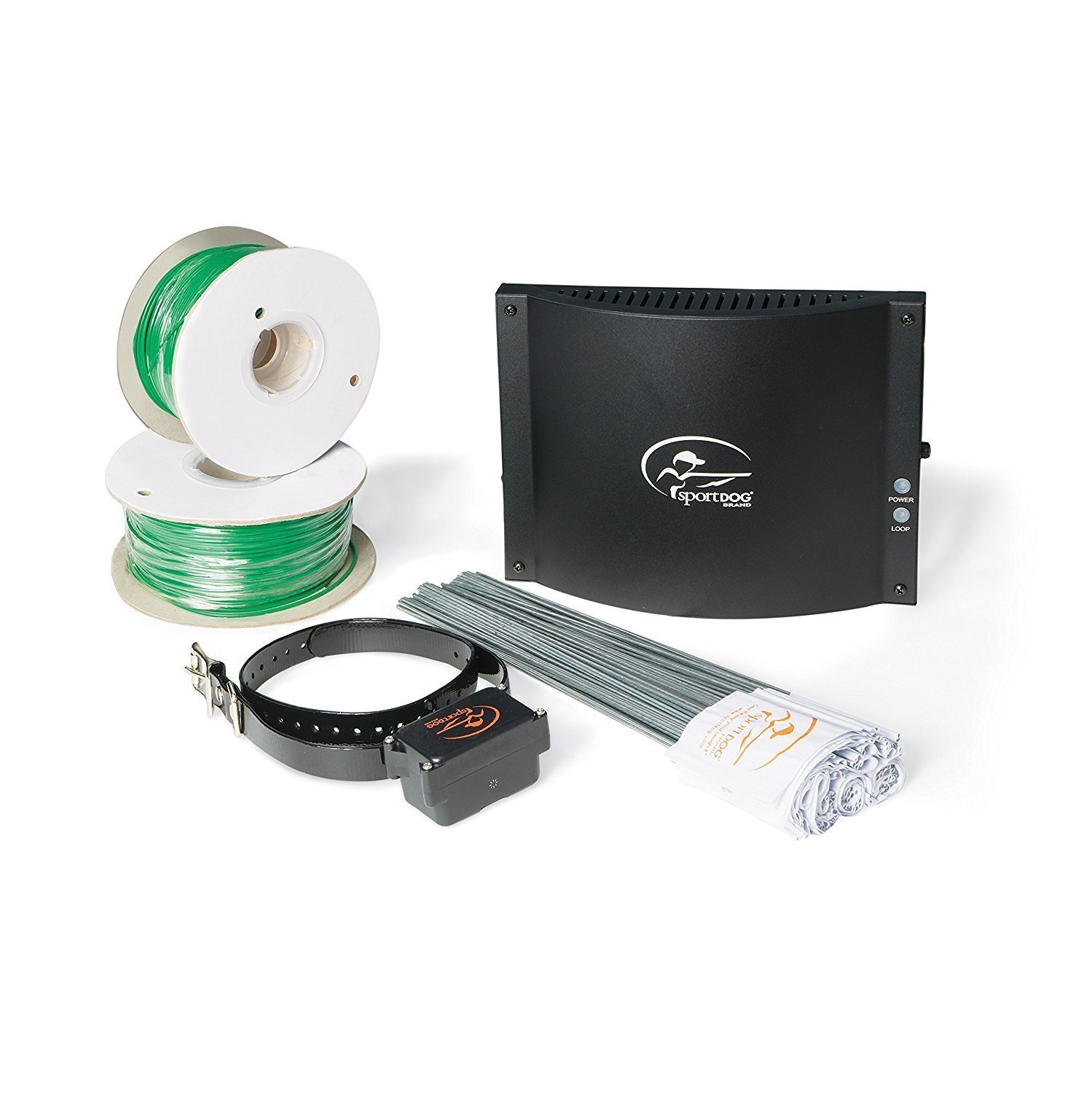 There are numerous types of fences for dogs. One of them is an in-ground pet fence.
SportDOG Brand product might be the best invisible dog fence for you considering the features it presents.
Firstly, it has the highest range of coverage – up to 100 acres. So, this pet fence is fitted for people who have large properties and live in rural communities.
You can use it with multiple dogs if you buy an extra SDF-R receiver. As a proud owner of more than one dog, this may be a decent choice.
The collar is 100 percent waterproof and ranks high regarding durability.
It is fitted for dogs that weigh over 10 pounds. Also, the system is featured by an anti-linger function.
What does this entail?
This function is meant to deter your pet from draining the battery intentionally. Also, the system presents an audible and visual wire break alarm in case anything happens to the electric pet fence.
This feature boosts the safety of the system.
While browsing for numerous electric dog fence reviews, we found that they are unanimously positive. They praise the overall quality of the product.
Many customers outline that this system has enhanced their relationship with their pups.
Plus, after approximately two weeks, most dogs have learned to steer clear of the fence area.
Well-defined, clear containment perimeter

Varied compatible collars. You can use this underground fence with dogs of many shapes and sizes

Durability
SportDOG Brand In-Ground Fence System See Amazon.com for best selection and value. #commissionsearned
3. PetSafe Wireless Pet Containment System
This wireless invisible fence is a great option if underground fencing isn't your first pick.
Firstly, PetSafe Wireless is a high-quality product that comes at a cost-effective rate. Secondly, considering it's a wireless electric dog fence, you needn't worry about burying wires.
In other words:
You'll have this above-ground electric fence for dogs up and running in no time. After testing the product, we concluded it's effortless to set up.
In addition, we found that most dogs learn to abide by their new containment boundaries in less than two weeks. So, it might be a good product for you if you want to keep your dog in the yard without a fence.
Another feature we think owners might find useful is that every collar can be adjusted independently.
So, you can ensure that it suits your pup's temperament and size.
With every dog containment fence, we browse for customer reviews. That aids us to deliver unbiased, comprehensive information to our readers.
So, most customers praise the quick installation process of the system. What you need to do is plug in your transmitter, establish the boundaries, and adjust the collar.
Then, you may proceed with the training.
Other users liked overcorrection protection. This ensures that your dog never gets a static correction for longer than 30 seconds.
So, if your pet exceeds the hidden barrier, the electric stimulation will stop after 30 seconds. Some say this is the best wireless dog fence.
Portability: easy to relocate

Quick set-up

Very little maintenance
Covers a limited area of 0.5 acres

It's not rechargeable

It isn't quite efficient in yards with numerous trees and metal sheds
PetSafe Wireless Pet Containment System See Amazon.com for best selection and value of wireless dog fence. #commissionsearned
4. PetSafe Elite Little Dog In-Ground Fence
Those looking for dog fence options to keep your little buddy safely contained might find this product adequate.
The system offers four adjustable levels of static correction. These are accompanied by a beep only mode.
It's crucial that the collar receiver is fitted for your furry companion. Small dog owners should establish whether the collar is comfortable and appropriate for their pets.
The Elite Little Dog in-ground fence delivers lightweight and small collars.
So, your little dog remains contained. Plus, the collar is comfy, being manufactured with a small dog's needs in mind.
The majority of people that purchased this product were relieved to find this top dog fencing system. They highlight it is equally efficient and safe.
Users also indicate that the installation process is straightforward. Also, the original battery of the system has a long life.
One particular customer said that after 14 months of using the system, it still functioned on the original battery.
When it comes to training the pups, dog owners were happy that the process was easy. This is reassuring for dog owners who are still doubtful of opting for a wireless dog fence large area.
Unlimited number of dogs can be on the system

Compatible collars to fit dogs of all sizes

Customization: it ideally suits each yard
Proprietary battery attached to the receiver collar

Lack of pre-installed battery backup for the transmitter
PetSafe Elite Little Dog In-Ground Fence See Amazon.com for best selection and value of wireless dog fence. #commissionsearned
5. PetSafe Stubborn Dog In-Ground Fence
As the name already implies, PetSafe Stubborn Dog in-ground fence is designated for stubborn dogs. So, the correction levels are stronger than the ones of a regular receiver collar.
Bulldogs are notoriously popular for their stubbornness. So, many owners may find this fence to be the right alternative for this breed.
The transmitter of this dog fence is lightweight, small, and easy to use. There are two indicator lights on it.
These lights inform you of your system's power and whether the boundary loop is intact or not.
This characteristic is important since indicator lights let you know if the system is functioning correctly.
While looking at invisible dog fence reviews, we found that many dog owners found this fence extremely helpful.
In fact, many were hopeless and thought that training their dogs to stay inside the yard is almost impossible.
Still, when they gave Stubborn Dog in-fence a try, this completely changed. For the best, of course.
Run Through Prevention

Well defined containment perimeter

Completely customization
Too powerful for dogs under 20 lbs

Non-rechargeable collar

The collar wears out quickly
PetSafe Stubborn Dog In-Ground Fence See Amazon.com for best selection and value of wireless dog fences. #commissionsearned
Why Get the Best Wireless Fence for Dogs?
For starters, electric fencing for dogs is a great option if you want to limit your dog to a particular area. Some dogs can get easily bored, which triggers them to explore its environs.
Also, allowing your dog to roam exposes your pet to a series of dangers, such as getting injured, attacked, or lost.
On that note, statistics indicate that, in the US, about 1.2 million dogs die in car accidents.
That isn't the best scenario considering that your dog is helpless in front of a speeding car, for instance. Living with such thoughts is stressful.
When you choose a product that is specifically tailored to your dog's needs, the results are consistent. Make sure you factor in your dog's weight, stubbornness, and coat thickness.
Electric Fences for Dogs Pros and Cons
One common question that most owners ask themselves is the following: are electric dog fences safe? This issue is entirely explainable:
Knowing the advantages and disadvantages of a wireless pet fence is crucial to your pet's well-being.
These are our pros:
Numerous neighborhoods are restrictive when it comes to traditional fencing systems. (this is one of the reasons behind the popularity of electric dog fences)
Careless people often happen to leave the gate open, which may expose your pet to unnecessary dangers.
The best electric fence for dogs is storm proof. If your dog gets in contact with water, it won't be electrocuted.
Cons:
Vocal training is still necessary.
How Do Electric Dog Fences Work?
Electric dog fence systems consist of an additional wire that is buried several inches deep. The dog also has to wear a collar.
Here's what happens:
A transmitter based in your basement or garage delivers a signal to the receiver collar. When the dog gets close to the perimeter, the collar beeps a signal.
When your pet gets overly close to the fence, it receives a mild shock. The effect the shock has on the dog isn't severe.
The question that imminently follows is, do electric fences work as in aiding your dog in learning those boundaries?
When combined with consistent training, we consider that this practice might bring positive results.
This practice reinforces in your dog's mind that it should stay at a distance from the barrier. We believe that voice and leash training is crucial in all aspects, this included.
Bear in mind, however, that your pet should be at least six months of age. It should be acquainted with basic commands.
How Much Is An Electric Fence for Dogs?
The price of a wireless pet fence depends on various elements.
In other words:
You can purchase a basic electric fence system for about $200. This might be the right choice for many pet owners.
Still, there are other options that qualify for the best electric dog fence. These can be more expensive, reaching $400.
These often present a surge protector, an additional boundary wire, extra collars, dog fence staples, so on and so forth. That's why the invisible fence cost is higher.
So, how much are electric fences for dogs?
In a nutshell, the price of an electric fence for dogs varies from $200 to $400 or more.
By and large, the Extreme Dog Fence System accounts for a top choice for dog owners who wish to cover a large property and still enjoy maximum performance.
What Are the Advantages of the Extreme Dog Fence System from Other Electric Fences
The advantages of the extreme dog fence system are:
– The wireless dog fences product is extremely versatile since the wiring range of its invisible fence is wide
– The system is durable which makes it usable for a very long time
– It has an excellent signal which does not cause trouble for other electronics installed in the house
– It contains extensive wiring
– It is well-made and can be easily installed
– It is very convenient to use
With Extreme Dog Fence System, you do not need to constantly monitor the whereabouts of your pets. Your mind will always be at ease knowing that they are safe from injuries since they are confined to a particular area in your property.
Why would you leash your dog when Extreme Dog Fence System keeps them free and safe at the same time?
To Sum it up for Dog Invisible Fence
We focused on adding five products that would fit various needs: large yard, small, or stubborn dogs, and wired or wireless systems.
That's because we know that each buyer has different needs. Before you make a choice, make sure you weigh the pros and cons related to the electric fencing system.
Which electric dog fence is most likely to be right for your furry pet? Have you used one of our recommended products and would like to share your experience with us?
Feel free to leave your personal thoughts in the comment section below! If you've found our article insightful, please like and share!