You noticed your furry pal straining to get up or have less stamina during playtime. Take this seriously as he might have osteoarthritis or arthritis. Get aid with our list of the best joint supplements for dogs.
Joint supplement for dogs is among the treatment options suggested by the veterinarians. These products are available in various formulas and with different brands. How will you find the one that is the right and the best for your dog? We will help you out with the following best dog joint supplement review.
Best Dog Supplements for Joints
From the great number of dog joint supplements in the market today, we narrowed them down with this list:

Best Joint Supplements For Dogs See Amazon.com for best selection and value. #commissionsearned
9 Best Joint Supplements for Dogs
1. Nutramax Laboratories Cosequin Maximum Strength Joint Support Plus MSM
Nutramax Laboratories Cosequin Maximum Strength Joint Support Plus MSM contains natural ingredients. Its natural ingredients include sodium chondroitin sulfate, magnesium, and glucosamine hydrochloride.
These ingredients are key players in joint health maintenance and improve joint function.
The MSM content of the formulation helps repair joints and connective tissue.
The supplement comes in chewable tablets which makes it easy to administer to pets. Dogs usually take it as treats.
Also, many veterinarians recommend this product for the mobility improvement of any dog.
Specific Features:
Contains quality ingredients (MSM, glucosamine hydrochloride, sodium)
Chewable tablets
Comes with manganese too
Pros:

Exceptional substances, higher compared to the other brands
Veterinarian-recommended
Easy to administer

Cons:

Can be expensive
May have an artificial flavoring content
2. The Missing Link Joint & Bone Superfood Supplement
Believe in the power of omega essential fatty acids with The Missing Link Joint & Bone Superfood Supplement.
The formula has organic kelp that gives your best friend essential minerals, micronutrients, and vitamins. Its organic ingredients are carefully picked for their purity, safety, and efficacy.
This superfood is specially manufactured to make sure that the pup is fed with the best possible food nutrition.
A spoonful of this contains glucosamine which is significant in the establishment of strong joint stiffness and bones caused by activities and exercises every day.
The organic superfoods, flaxseed, and organic kelp are combined with boosting essential antioxidants, minerals, vitamins, and fatty acids.
Specific Features:
Contains non-GMO ingredients
Supports the health of dog's bones and joints
Has balanced omega fatty acids
Has kelp benefits
Comes with superfood ingredients
Pros:

A complete meal of dogs
Has natural food ingredients
Rich in minerals and vitamins

Cons:

Free from MSM with substantial glucosamine level
Not really dedicated to joint health for dogs
3. VetIQ Hip & Joint Maximum Strength Chews for Dogs
Make your dog happy and enthusiastic no matter the activity with VetIQ Hip & Joint Maximum Strength Chews for Dogs. This joint supplement is available in the form of chewable tablets which are infused with chicken flavor favorable to canines.
It is manufactured to make sure that his joints and hip are of maximum strength.
The product has a triple-action formula that maintains muscles, builds cartilage, and lubricates joints.
It has a mixture of inactive and active ingredients like dried chicken liver, dried whey, and fish oil.
It is easy to bite and to swallow supplementing the daily diet of your pet.
The dosage system of the supplement is very flexible making it suitable for dogs of any type. It keeps their tails wagging and restores their freedom.
Specific Features:
Triple-action formula
Ingredients (MSM, krill, glucosamine)
Veterinarian-recommended
Joint and hip health
Dog joint care supplements
Omega-3 fatty acids
Pros:

Quality ingredients
Effective elements
Supports healthy muscle and connective tissue
Healthy joint movement
4. Extend Pets Nutritional Supplement for Dogs
Extend Pets Nutritional Supplement for Dogs is manufactured to reverse the effects due to the joint damage.
It repairs the cartilage and joints of your pet, provides joint support, and improves overall mobility.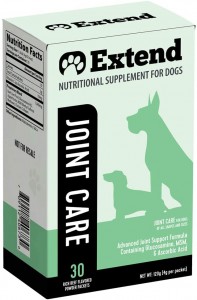 The ingredients found in the supplement include methylsulfonylmethane, ascorbic acid, glucosamine, and chicken collagen.
Moreover, it tastes a beef flavor that makes it ideal for pets having picky eaters.
Special Features:
Quality ingredients (glucosamine, ascorbic acid, chicken collagen, MSM)
Delicious beef flavor
Health supplement
Pros:

Optimal health for joints
Tasty beef
Easy to administer

Cons:

Some dog breeds might not like the beef flavor
5. Pro-Sense Hip & Joint Solutions Advanced Strength Chews
Treat your buddy's joint issues with Pro-Sense Hip & Joint Solutions Advanced Strength Chews to gain back his enthusiasm.
The formula contains vitamin C, chondroitin, MSM, and glucosamine which offers advanced support for his joint and bone health.
Its advanced strength formulation safeguards his joints from daily wear from nose down to his tail though cushiony cartilage nourishment and protection. This includes those joints in his hips, back, shoulders, and elbows.
Each chewable tablet of this supplement has a natural flavor with brewer's yeast making it an easy treat.
It can be a good choice for dogs in large breeds. Also, it is effective and safe to use for any breed, size, or age of the dog.
Specific Features:
Advanced formula for joint and bone health
Comes with vitamin C to promote dog's collagen growth
MSM content for movement and flexibility
Has glucosamine for healthy cartilage
Pros:

Supports joint and hip support
Helps alleviate severe joint damage pain
Treats arthritis
Prevents new joint6 damage or pain development
Improves joint and mobility functions

Cons:

Varying packaging which may mislead buyers
6. Dechra Veterinary Phycox Soft Chews Canine Joint Support
Let your dog quickly recover from mobility impairment with Dechra Veterinary Phycox Soft Chews Canine Joint Support.
This is attributable to its 3X Phycox formula that functions as a COX-2 inhibitor to mitigate inflammation and discomfort.
It has a balanced mixture of natural ingredients for total body health maintenance and improvement.
Each chewable tablet contains glucosamine HCI, flaxseed oil, phycox, and citrus bioflavonoids.
It also comes with Omega fatty acids, creatine, turmeric, and MSM.
Specific Features:
Quality ingredients (glucosamone HCI, flaxseed oil, phycox, etc.)
Soft chews
Patented formula for joint health support
Pros:

Natural ingredients
Easy to give to dogs as a treat
Effective and safe
Has age range descriptions for all life stages

Cons:

The smell may be horrible for some dog breeds
7. Lintbells YuMOVE Glucosamine Joint Health Supplement Chews
Make a tail-wagging difference for your stiff pal with Lintbells YuMOVE Glucosamine Joint Health Supplement Chews.
This is a premium joint supplement formulated to soothe his stiffness, to help his mobility, and to support his long-term joint health.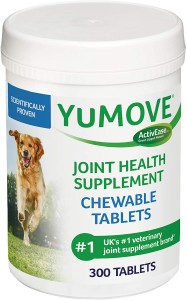 The chewable tablets are simple, tasty, and easy to give to dogs with its all-natural ingredients of green-lipped mussel and glucosamine.
They include manganese to support collagen formation in your dog's tendons, ligaments, and cartilage. In addition, their advanced formula offers super-concentrated Omega-3s to soothe stiff joints.
Specific Features:
Premium joint supplement
Natural ingredients (glucosamine, green-lipped mussel, manganese, Omega-3)
Contains hyaluronic acid for shock absorption and lubrication support
Pros:

Easy to chew
Improves mobility
Soothes stiff joints
Tasty
Easy to give

Cons:

May not be suitable for small breeds
8. America BioSciences Dog Gone Pain (DGP) All-Natural Chews
Support the joint health of your pal with the America BioSciences Dog Gone Pain (DGP) All-Natural Chews.
This joint relief for dogs helps improve his energy level, flexibility, and overall health with no strong medicine-associated side effects.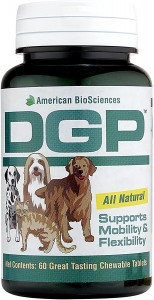 The formula contains turmeric, bromelain, papain, and feverfew. Also included are wheatgrass, Boswellia extract, and marine collagen extract.
The all-natural DGP chews support the flexibility and mobility for your pet while easing it eases his joint aches and discomfort.
They improve his life as it uses the finest ingredients supporting joint health.
Moreover, they are safe, effective, and quick that does not need expensive and harsh medications.
Specific Features:
Natural ingredients (Boswellia extract, turmeric, cayenne, celery seed, etc.)
Proprietary blends for overall blends
Enzymes
Quality of life
Unique formula
Pros:

Maximum absorption
Safe to use
Effective chews
Quick
Eases discomfort

Cons:

May not be too strong for puppies
9. Innovet Pet Products Advanced Mobility Formula
Enhance and improve your pet's joint pain with Innovet Pet Products Advanced Mobility Formula.
The product contains fish oil, salmon palm fruit oil, powdered cellulose, and mixed tocopherols.
Among other ingredients are glucosamine, green-lipped mussel, and rosemary extract.
The joint supplement supplies the body of your pet with essential enzymes and nutrients for bones, cartilages, and joints.
It is manufactured to repair the damages due to his rigorous activities and aging.
Also, it promotes strong bone health and its regeneration damage by cartilage disintegration for years.
It supports the repair and strength of the bones surrounding the joints.
Specific Features:
Quality products
Natural ingredients (glucosamine, lecithin, flaxseed, hemp extract – hemp oil for dogs)
Superfood
Boost immunity
Pros:

Supports mobility
Science-based formula
Multi-faceted
Safe to use
Soft chews
Take note of these joint dog supplements and include them on your list. Now, when you're in the pet shop or any store for the purchase, consider some factors.
Factors in Choosing the Best Dog Joint Supplement
As mentioned above, these joint supplements for dogs are formulated with varying ingredients. Which ones are best for your dog?
Ingredients of the Best Joint Supplements for Dogs
Firstly, find these ingredients when buying the supplement right for your dog:
Glucosamine
This chemical compound helps produce cartilages, tendons, and ligaments in a dogs' body. This then aids in the health of their joints.
Chondroitin Sulfate
Chondroitin sulfate is a building block that is one of the components making up some cartilages. Supplying dogs with this ingredient will help rebuild some damaged cartilages effectively and quickly. It helps mitigate any damage in the future. This is a good supplement for older dogs as its production declines as they age.
Omega Fatty Acids
Do dogs need omega 3 fish oil for dogs?
Yes! Omega fatty acids aid in skin health, brain function, and proper eye development of dogs. Primarily, they are used for the mitigation of joint inflammation for pain relief caused by osteoarthritis, injuries, or dysplasia.
Methylsulfonylmethane
Methylsulfonylmethane or MSM functions as a pain reliever to prevent inflammation. This makes this ingredient beneficial in dealing with arthritis, and other joint problems in dogs.
Hyaluronic Acid
This acid is important in ensuring the full function of your dog's joints with every movement your buddy makes.
The acid helps prevent pain in your joints due to insufficient synovial fluid in his joint capsule. It increases fluid elasticity and eases bone gliding.
Also, this acid is involved in his tissue repair while boosting his skin structure elasticity and hydration.
Vitamin C
This vitamin for dog joints is important in the overall health of your dog's joints as it stimulates collagen synthesis and secretion. It improves the overall integrity of his bones, tendons, joints, and ligaments.
In fact, it plays a significant role in neutralizing free radicals. Be careful when giving this vitamin C-containing supplement to your pal even though no doses are recommended. Also, vitamin C is not a threat to his health though since it can be dissolved in water.
Green Lipped Mussel
Green-lipped mussel triggers the production of glycosaminoglycans. This is required to produce more omega-3 and cartilage levels. Substantial quantities for months are necessary to make this possible though.
Dog Joint Supplement Administration
Secondly, look for a supplement that is easy to administer to your pet. Fortunately, most of the best supplements for dogs discussed in this article are formulated in the form of chewable tablets. For picky eaters, make certain that this supplement comes in some flavors.
Type of Supplementation
Thirdly, the type of joint supplements since they are available in different types with their corresponding pros and cons.
Tablets
Joint health supplements for dogs in tablet form are good especially if your dog is finicky. Combine the tablet with his treats so he can swallow it.
Chewable
Basically, this supplement is in the form of a treatment containing the ingredients of the supplement. This is available in various natural flavors that are appealing to dogs. It is also more palatable for your doggie. There is no need for you to shove the tablet down to their throat during administration.
Liquids
A liquid supplement would be the best option for dogs with difficulty in administering supplements. The supplement in this form should be poured over your dog's food. Since some supplements are in different flavors, select for one which is favorable to your pet.
Powders
Powder supplements are like liquids as they need to be combined with the food of your dog. On the other hand, these supplements for dogs' joints can be referred to as a hit-or-miss since some dogs do not want their texture or taste.
Whichever form of joint supplement you choose, just may sure to check the directions on how to give it to your pal.
Right Supplement Dosage
Fourthly, the right dosage of the supplement that your dog should take. Always check the guidelines and instructions from the supplement before even giving it to him. Check whether the ingredients are toxic or not for his health.
Remember, there are components that may have unfavorable effects on him when administered in huge quantities. See to it that you know too well and precisely his weight as each dosage is weight dependent. The dosage should be equitable to his weight to avoid any complications.
Vet Consultation
Fifth, having a consultation with a veterinarian. Sit with your furry pal's veterinarian to discuss his joint health issues. Veterinarians are more reliable in diagnosing his medical state.
They are authorized to prescribe the appropriate and effective medication for him. Moreover, they can recommend the right dosage of your chosen supplement.
Joint Supplement Benefits
Lastly, knowing the reasons for buying the best dog joint supplement. Take note of the stage in your pooch's life where he suffers from pain or has limited mobility when walking or moving. Consequently, he needs aid to get through. The joint supplement will help him to:
Strengthen Immune System
Basically, his immune system protects him from illness, fights disease, and prevents any chronic issues. The nutrients and joint vitamins for dogs found in supplements maintain his system.
Increase Energy
Of course, you don't want to feel sorry for your pup losing energy and vibrance. This is attributable to adapting to his limited mobility lifestyle. It breaks your heart seeing that his excitement is diminished due to pain.
Stop all these by giving him the right supplement developed to treat his joint pain and improve the quality of his life; especially for dog hind leg weakness treatment.
Have Healthy Coat and Skin
Many dog supplements or dog joint pills contain active ingredients for joint relief for dogs. The supplements also have minerals and vitamins to support the health of your pet's coat and skin. They also relieve dry skin and increase his coat.
General Remarks:
Overall, you know your pooch best, so you know when he needs help to cope with the changes in his life including health issues. Know the reason for his lifestyle changes, consult a vet, and find the best supplement for his joint issues.
In our list of the best joint supplements for dogs, we picked Nutramax Laboratories Cosequin Maximum Strength Joint Support Plus MSM as the best. The reason for this is because of the incredible ingredients and quick results for dogs.
You have this list of the best dog supplements for dogs. Now, choose the best dog joint supplement and bring back your best friend's enthusiastic self.
Featured image source: Sebastien Lavalaye on Unsplash