11 Best Tick Repellent for Dogs & How to Choose the Right One
Keeping ticks from the folds of your dog's skin at bay is a definite battle especially if you need to pull an engorged tick. Although tick season used to be in summer or spring, it still occurs anytime and depending on where you live.
Doing this is part of caring for your furry pal, which is why you have to look for the best ways to solving it. Tick repellent is the answer to this problem, so keep reading for the best tick repellent for dogs.
Best Dog Tick Repellent Shortlist
Here's a quick enumeration of the best repellents for dog ticks:
Best Tick Repellent for Dogs See Amazon.com for the best selection and value. #commissionsearned
Before reviewing these repellents, let us have an overview of fleas and ticks and their repellents first.
Flea and Tick in Dogs and Their Prevention
Ticks and fleas are creepy tiny creatures that pester pets. Both parasites attach to their skin by biting then feeding on their blood. They may transmit diseases in 24 to 48 hours as their feeding can last for days. Know how to get them off your dog once these pests infest your pup's skin. To do this, get rid of all parts of their body to prevent infection.
See a vet if your canine gets a tick bite after monitoring him for signs of illness. Discuss with the vet about your pet's vaccination to prevent ticks and fleas from latching on to him.
Good news, you can now also prevent and control ticks and fleas through products like:
Tick sprays – offer residual protection and can be great if you live in wooded areas
Powders – promise easy application but may still be messy and not advisable for dogs with asthma
Tick shampoos – protect dogs during the peak season of ticks
Tick collars – repel ticks by transferring the chemicals onto the skin and fur of dogs.
What is a Tick Repellent?
A tick repellent is a substance that contains active ingredients that prevent and control ticks. These ingredients include IR3535, para-menthane-diol, 2-undecanone, picaridine, DEET, and oil of lemon eucalyptus. Ticks have a sensory organ found on their forelegs allowing them to detect CO2, heat, and odors. Repellents tend to interfere with their sensory organ.
There are also repellents containing plant oil extracts. Their smell helps dissuade ticks from getting into the skin of your dog and biting him. As to which repellent is the best, check the following reviews to help you decide.
Top 11 Tick Repellent for Dogs
Consider the following products to control the ticks of your dog:
1. Bayer K9 Advantix II Dog Flea and Tick Medicine
Treat the tick of your large dog with ease through Bayer K9 Advantix II Dog Flea and Tick Medicine.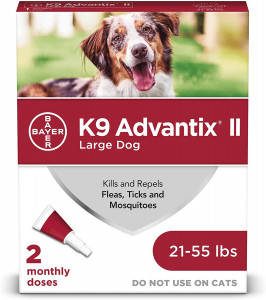 The medicine comes in a tube with instructions for monthly application to protect against ticks, mosquitoes, biting flies, lice, and fleas. It is available for dogs of different sizes, from small to extra-large.
This topical formula offers effective protection against ticks and fleas year-round.
It even both kills and prevents mosquitoes which is absent in other repellents. However, this product should not be used for cats, but for dogs only.  
Specific Features:
Contains active ingredients (permethrin, pyriproxyfen, imidacloprid)
Topical formula with broad-spectrum protection
Application is once every month
Kills and repels ticks, mosquitoes, fleas, and lice
Available for dogs in various sizes (from small to extra-large)
Treats and controls fleas and ticks
Will also kill mosquitoes aside from ticks and fleas
Becomes waterproof after 24 hours of application (enabling dog to bathe and swim)
Easy application on the back of the neck
Effective for year-round treatment and control
The repellent cannot be ingested
Cannot be used on cats
2. Bayer Seresto Flea and Tick Collar
Bayer Seresto Flea and Tick Collar would e a top choice should you be looking for convenience.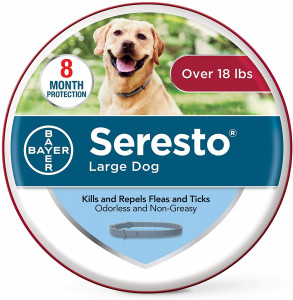 The non-greasy and odorless collar provide your dog protection from ticks and fleas for eight months. It kills ticks and fleas through contact without biting.
Also, it is resistant to water making it very effective even after shampooing, swimming, or exposure to sunlight or rain.
The two active ingredients of this product are flumethrin repels and kills ticks and imidacloprid that controls flea infestation.
These substances are released slowly and continuously in low concentrations. They spread from the dog's head to his toes then to coat, skin, and tail.
Specific Features:
Comes in collar form
Active ingredients include flumethrin and imidacloprid
Offers treatment and protection for eight months
Available for large dogs and cats
Kills and repels ticks within 24 hours after the initial application
Works effectively through contact
Water-resistant
Treats and controls sarcoptic mange and lice
Less expensive
Can be an alternative to ID tags
There is a tendency for the collar to congregate around the dog's neck
3. Tick Ban Yaya All-Natural Tick Repellent
Take away your canine's natural pheromones, which are appealing to ticks, with Tick Ban Yaya All-Natural Tick Repellent.
Instead of using harmful chemicals such as DEET, this organic repellent contains soybean, lemongrass, lavender, and peppermint oils. Its pleasant scent keeps ticks away.
You can spray it directly to his skin or hair without irritation. Also, it gets rid of the annoying gnats and biting black flies.
Specific Features:
A plant-based spray
Comes in a spray bottle that is easy to use
Ingredients are based on organic essential oils such as peppermint, lavender, soybean and lemongrass
DEET-free formula
Has a herbal scent
Available in 4 ounces and 16 ounces
Uses non-toxic formula
Effective for other bugs not just ticks
Nice smell
No greasy residue
Can be for dogs and humans
Safe for both pets and children
May not be as effective as repellents based on DEET
Its odor can be overpowering for some people
Not favorable for cats
4. CapAction Dog Flea/Tick Control
Protect your pup from fleas and ticks with CapAction Dog Flea/Tick Control.
The oral medication against fleas and kills adult fleas. It can be administered once a day whenever necessary. However, a single dose of it will already take effect in just 30 minutes.
This gives him quick relief from the bugs. It is safe for puppies and dogs weighing 2 to 25 pounds and those that are at least four weeks old.
Using the pill is very easy without a mess. Moreover, a prescription from veterinarians is not necessary for this tablet.
Special Features:
Comes in the form of tablets
Oral administration
The main active ingredient is nitenpyram
Use without mess
Effective for small dogs and breeds
Fast-acting
Treats re-infestations
Safe to use
Kills fleas efficiently
Easy to use
Not that effective for flea eggs
5. Adams Plus Flea and Tick Shampoo, 24 Ounces
Other than the adult fleas and ticks, Adams Plus Flea and Tick Shampoo can kill their eggs and larvae, too.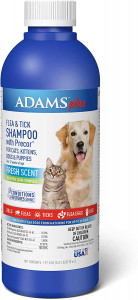 The product offers continuous protection for your dog in 28 days. This makes it a tough repellent that gets rid of his ticks long term. It is the contents of this formula that soothes tick bites including oatmeal, lanolin, coconut extract, and aloe for a relaxing relief.
This pest control formula contains precor, pyrethrins, piperonyl butoxide, and Methoprene. It has a pleasant scent and is available cost-effectively. Its insect growth regulator (IGR) kills and prevents flea development.
Specific Features:
Active ingredients include piperonyl butoxide, Methoprene, and pyrethrins
Suitable for dogs and cats
Available in 24 ounces
Offers 28-day protection
Good for dogs with sensitive skin
Has soothing formula
A pest control formula
Has a fresh and pleasant scent
Effective for dogs and cats
Appliable for sensitive skin
Available for both dogs and cats
Cleans and conditions dog coat
Removes dirt, scales, and loose dandruff
Does not eliminate fleas from home
6. Bayer Advantage II Flea Treatment for 11-20 lbs. Dogs
Veterinarian-recommended Bayer Advantage II Flea Treatment for 11-20 lbs. The treatment is formulated to kill fleas in all stages of their existence without biting.
The waterproof formula offers protection in three ways eliminating flea eggs, their larvae, and the adult ones. This helps break the life cycle of the pest to prevent the re-infestation of your hound and house.
The treatment is in monthly topical application with its pyriproxyfen and imidacloprid ingredients. Its effectiveness starts working in 12 hours up to four weeks, even after swimming or bathing.
Specific Features:
Contains active ingredients: pyriproxyfen and imidacloprid
Veterinarian-recommended
Waterproof formula in monthly application
Protection from 12 hours to four weeks
Made for dogs of medium size
Easy to apply
Kills, eliminates, and prevents fleas by contact
Effective and reliable
Pre-measured application
Free from the poignant smell
May not be strong enough for puppies
7. SonicGuard Ultrasonic Tick and Flea Tickless Repeller
Chemical-free SonicGuard Ultrasonic Tick and Flea Tickless Repeller is a device that is easy to use on the collar of your dog.
The device keeps away parasites for 12 months once activated. It does not contain chemical substances and is non-toxic, which makes it safe for the elderly and the young ones.
Aside from being silent to both pets and people, it does not require reapplication. Moreover, it is designed for preventive purposes.
The gear is ideal against fleas and ticks without harming people and animals. Pests lose their senses and control, preventing them from biting your pooch.
Specific Features:
Ideal against fleas and ticks in dogs and other animals
Comes with imperceptible ultrasonic pulses
Has special non-chemical technology
Long battery life
Harmless to animals and people including kids
No foul odors and harmful chemicals
Tested and proven effective in both animals and humans
Safe-to-use device
Long protection for all season
Waterproof
Some animals may find it uncomfortable wearing it
8. REPEL Lemon Eucalyptus-Based Insect Repellent Pump Spray
If you are seeking alternatives to DEET, picaridin, and permethrin, REPEL Lemon Eucalyptus-Based Insect Repellent Pump Spray's main ingredient may be the next best thing.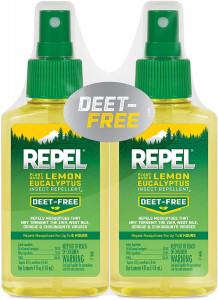 The lemon eucalyptus content of the spray keeps bugs away, smells good, and is not harmful to the environment. Its PMD evaporates from the pup's skin more slowly compared to picaridin or DEET.
On the other hand, it does not stack up to chemical repellents making it less effective in areas with a significant number of ticks and mosquitoes. This is even though it can repel ticks and mosquitoes for up to six hours.
Specific Features:
Made from lemon eucalyptus oil
In spray form
Formula free from DEET
Has refreshing scent
Available in 4 ounces
Protects dogs from ticks and other bugs even during adventures
Keeps ticks and other pests away
Non sticky or greasy solution
Smells good
Offers protection up to six hours
May not be that effective in places with lots of ticks and mosquitoes
9. Rolf Club Flea, Tick, and Mosquito Prevention 3D Collar
Protect your canine and keep him safe from fleas and ticks with Rolf Club Flea, Tick, Mosquito Prevention 3D Collar for six months.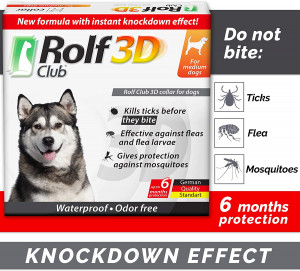 The collar features a German formula offering an instant knockdown effect. This new odorless formula kills both ticks and fleas before they can even bite his skin. It also protects him against mosquitoes.
Thanks to its active ingredients, he remains safe even from insect larvae. Its effect starts within 24 to 48 hours after application and continues prevention up to six months.
Remove it before bathing to ensure its integrity and durability. Although this item is water repellent-protected, complete water submersion is not advisable.
In addition, it is suitable for all dog breeds and sizes from small to large.
Specific Features:
Features new German formula
Equips a 3D protection for dogs
Offers an instant effect
Adjustable collar
Highlights knockdown effect against parasites
Suitable for all breeds and sizes of dogs
Durable design
Formula is odorless
Controls ticks, mosquitoes, and fleas and their ticks
Protected by waterproof repellent
Protection up to six months
Need to be removed before baths
10. SOBAKEN Flea & Tick One Size Fits All Tick Prevention Hypoallergenic Collar
If you find Seresto pricey, SOBAKEN Flea & Tick One Size Fits All Tick Prevention Hypoallergenic Collar would be an alternative as they have the same operation.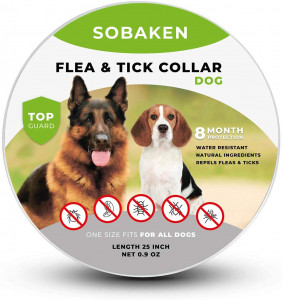 The collar is infused with spearmint oil, citronella essential oil, and clove oil which are notable for repelling various insect species.
You can adjust it and clip off its excess. You will have peace of mind knowing that your furry friend is under protection for eight months 24/7.
The collar stays firm on guard since it is durable and waterproof even after playing under the rain or bathing. Using it is very easy since it is suitable for any dog breed.
It is more effective for you and your pet with its hypoallergenic properties, especially during the summer months. Whether he is small, medium, or large, this tick repellent remains effective 100 percent.
Specific Features:
Hypoallergenic tick and flea prevention collar
Contains new formula
Waterproof
Protection against fleas and ticks
8-month effectiveness
Odor-free
Fits dogs' neck up to 25"
Economical
Improves tick and flea protection and control
Easy to install and use
Protects dogs from ticks and fleas
Waterproof and water-resistant
Eco-friendly
Fits dogs of all breeds and sizes
The effect may take some time
May not be that effective for larger dogs
11. ALZOO Dog Tick and Flea Repellent Shampoo
The natural active ingredients of ALZOO Dog Tick and Flea Repellent Shampoo repels ticks, mosquitoes, and fleas.
Its protection starts from its first application. It does not contain harmful chemical pesticides since it establishes optimum natural repellent protection. The key to its prevention and optimum effect for its early usage as a system.
This shampoo establishes 30 days of the early zone and repellent environment on your dog and around your home before the pests start to bite. You may use it on him before the dog spot-on or with the natural repellent collar.
Special Features:
Contains natural active ingredients
Has essential oils
Has a natural and pleasant aroma
Offers sustainability
Tick and flea prevention
Natural repellent
Safe for dogs with sensitive skin
Easy to apply
Safe to use
May not be that effective for pets with lots of ticks
Tips to Choosing the Best Tick Repellent for Dogs
Ticks on your dog is not fun at all, right? You already have the options; you just need to pick the best. Consider the following:
Active Ingredient
Check the label of the repellent for the ingredients. Make sure its ingredients are not harmful to the health of your pet. Select the product with ingredients that are safe for the environment. Although there are different opinions on which ingredients are most effective, here are the most popular:
Fipronil
Spinosad
Afoxolaner
Nitenpyram
Fluralaner
Method of Treatment
Choose the method that is comfortable for your pet. There are different ways to treat the tick such as shampoo, spray, and powder. Use the measure that will surely cure and control his ticks.
Brand
Be keen and concise in your selection. The high cost of the product does not guarantee its effectiveness. Research about the products on your shortlist. Read reviews about it and see that it is the right one.   
Medication Interference
There are ticks and fleas which can render other medications either poisonous or ineffective. Check with your pup's veterinarian before giving him any medication. This will ensure that your choice is right and works well with his current medicine.
Weight and Size
Some medicine or regimen will work better for canines that are larger, smaller, or of medium size. There are drugs with different formulations depending on the weight and size of dogs. Use the appropriate dosage for your pup. Some breed-specific regimens can be based on their sensitivities.   
Potential Side Effects
FDA considers most tick repellents or medicines safe with mild side effects. On the other hand, some of them may cause serious side effects such as seizures. Be aware of this especially if your pet is already old or is susceptible to seizures.
FAQs
Here are the frequently asked questions by pet owners:
Do tick repellents work for dogs?
Yes, there are some tick repellents used by humans that are also effective for dogs. Take note that there are repellents designed for dogs.
Will peroxide kill a tick on a dog?
Hydrogen peroxide is an alternative to rubbing alcohol in killing ticks on dogs. Place the ticks in a container containing either of the two substances.
How long will a tick stay on a dog?
A tick stays on your dog depending on the tick species, life stage, and his response to the bite. Larvae will remain and feed for three days, its nymphs for three to four days, and its adult females for seven to ten days.
Does DEET repel ticks?
Repellent based on DEET is 85% to 89% effective in getting rid of ticks or insects. So products with this substance help repel ticks from dogs.
How long does it take for a tick to burrow into skin?
Ticks and other bugs burrow into dogs' skin for as long as 30 hours because it has to establish its feeding tube. They bite, draw blood, then drop off. The mouth of the ticks will be under their skin. However, their back parts remain sticking out.
Final Thoughts
Ticks on dogs can be very uneasy not just for your dog but for you as well. There are many products now available in the market, especially in pet shops.
The question is, what is the best one that suits your pup. We have listed and reviewed some of the best tick repellents for dogs for your reference. Setting a dog checkup with the veterinarian for his tick problem would be a great idea too.
If want to try natural means of removing flea from your pet dogs, try these tips!
Our Pick
We have chosen Bayer K9 Advantix II Dog Flea and Tick Medicine as the best tick repellent for dogs for its benefits. This medicine contains active ingredients that repel other insects and bugs other than ticks.
It is effective both in killing and preventing ticks at an affordable price. Although formulated for large breeds, it is also available for small, medium, and extra-large dog breeds.
Which one in the list above is the best repellent for dogs? Weigh the pros and cons of each of them and find out the one appropriate for your dog. Have a great time with your furry best friend then.