Can Bulldogs Swim On Their Own?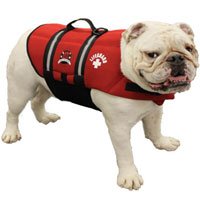 These are very common questions from people who are planning to adopt a bulldog or have one in their home. And the answer is a resounding no.
Understandably, a lot of people don't know this.
That's because in general dogs can swim, and many of them love it. In fact, the way dogs swim is the origin for the term dog paddling. For most dogs, they can just paddle hard enough that their heads don't even have to go under the water.
But this isn't true for bulldogs.
Bulldog Life Vest See Amazon.com for best selection and value. If you're looking for life vest dog reviews, we're compiled and made a detailed review here.
Their physical attributes (you can read about additional features of bulldogs here) prevent them from doing well in the water. Their legs are too short, and that means they can't paddle fast enough so they can float. Their bodies are too robust and wide, and their heads are so massive that for English bulldogs that means they can sink very quickly.
They can drown in a matter of seconds.
And CPR rarely works, which is why you need to make sure you don't allow your bulldog anywhere near your swimming pool or pond.
Even if you constantly monitor your bulldog, one quick lounge can have some pretty horrific consequences. Unless you're carrying him all the time, your reflexes may not be quick enough to prevent him from accidentally falling into the pool when he's playing.
If you have a large pool, then you need to have it fenced so your pet won't fall in. It's like having a baby in the home. But that doesn't mean your bulldog can't join you for some water sports fun.
Some bulldogs actually love to swim, because it's very cool for them.
A better idea is to get a bulldog life vest so he can swim and paddle his feet without the risk of drowning. With a dog life vest, he can move on land or in the water, and even develop a love for swimming.
The dog life vest should fit well
, it should also allow your bulldog to paddle his little legs freely. Since the dog life vest allows him to float, you may not have to be on high alert all the time. You can also enjoy your time in the pool.
Of course, you still need to check him out constantly. Again, a bulldog near a pool is like a child. You need to keep your eyes on him at all times. The vest may slip off, or a kid may accidentally take it off.
You need to monitor him constantly to prevent these kinds of things from happening. But at least with a life vest, you can play with him in the pool without becoming paranoid.
Even though bulldog can't swim like other dogs, they still can have fun in the water.
If you want to spoil your bulldogs, you can buy a dog swimming pool for them. They will be so happy.
For more information on a bulldog life vest, check out our detailed bulldog life vest review blog here. Or get the all-in-one bulldog guide from our blog here.
Do You Own a Bulldog?
Bulldogology loves Bulldogs, our free Bulldog guide is the essentials guide for your perfect Bulldog. Learn how to be the best way to be a proud owner of this awesome breed.
Made for current Bulldog owners and new bully owners!
With our Ultimate Bulldog Guide…
Learn more about your Bulldog, and ready yourself for any health problems
Why Bulldogs shed so much and what you should do
What collars are best for Bulldogs and what NOT to get
Got a hyper Bulldog? See section 8 of this guide on how to get your Bulldog to calm down
What to do with those rosebud ears when your Bulldog needs cleaning
How to feed your Bulldog and the best type of food for this breed
And so much more!