Dog Nail Grinder Best for Your Pet and Useful Trimming Tips and Tricks
Like humans, dogs also need hygiene and grooming; and trimming their nails is part of this. Yes, nail clippers are known to cut their nails but there are many instances and cased of bleeding. 
This is where a dog nail grinder becomes a necessity. Learn more from this guideline of the best nail grinders for dogs along with our dog nail grinder reviews for your reference.
Top Dog Nail Grinders
Here's a quick list of our best picks of nail grinders for your best friend:

Best Dog Nail Grinder See Amazon.com for best selection and value. #commissionsearned
7 Best Dog Nail Grinders and Their Reviews
Before visiting a pet shop for your dog essentials, including the following products in your list.
1. Dremel 8220-1/28-1/28 12V Max Cordless Rotary Grooming Tool
Dremel 8220-1/28-1/28 12V Max Cordless Rotary Grooming Tool is a popular dog nail care kit.
The kit is conducive to the patience of every dog. Its rotation is at two speeds offering a simple solution to the growing nails of your pet.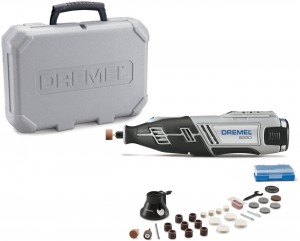 This trimmer provides the freedom to apply pedicure.
It gives access to his nail as easily as possible with its cordless alternative, which can be of great help to large dogs and other pets.
The item comes with patented EZ Twist Nose Cap which changes its accessories easy and fast without using a wrench. Also, its slim and ergonomic body design enables a 360-degree grip for comfortable trimming.
Moreover, this is the best Dremer for dog nails that can be used anytime since it is fast charging for nearly 3 hours.
ts LED light indicates that it is charging. This is why many pet parents consider it as a straight-forward platform giving them effortless experience.
Specific Features:
Slim and ergonomic design
Comes in different speed settings
Compatible accessory and attachment
Removable LI-ON battery
Cordless rotary tool
Compact, durable and powerful
Quick, fast accessory changes
Versatile rotary system

Used alongside other Dremel accessories

Fast charging

 Works quietly and smoothly
Does not overheat
Limited motor power speeds which may wear over time
2. Andis 2-Speed Dog Nail Grinder
Give your furry friend a nice and safe pedicure with the use of Andis 2-Speed Dog Nail Grinder.
The nail trimmer is quick, stress-free, and easy to use.
Thanks to its speed options (7,000 RPM and 12,000 RPM), filing his nails' jogged and sharp edges become safe and efficient.
This enables you to select the appropriate grinding velocity for the nails.
The trimmer makes the grooming session stressful and quiet since it is rechargeable.
It a great quiet dog nail grinder that can be used in dogs of different sizes. Spend a couple of minutes and trimming is efficiently done.
Also, it is lightweight making it easy to carry anywhere, anytime.
Specific Features:
Uses 2 powerful speeds
Packed with power
Can be used in all dog sizes
Comes with expansive sanding small attachment with 2 sanding wheels and a huge attachment with 3 wheels
Easy and quick to use
Saves money and time
Has ergonomic design
Quiet
Automatically stops which can halt the trimming process
3. Dremel's 7300-PT Pet Nail Grooming Tool
Get a fast device to go through your pet's nails with Dremel's 7300-PT Pet Nail Grooming Tool.
Using this trimmer makes it easy to control. It is quiet and can be used anytime, anywhere since it can is rechargeable.
The rotary tool produces power enough to file down his nails even at its low speed.
Its two-speed mechanism can be accessed by flipping its switch in opposite directions.
This will help you prevent speed change that may only freak him out.
It can also be set at a higher speed.
It is a sturdy dog toenail grinder that has one bit for grinding and another one for polishing.
Another great feature of the device is the fact that it does not create high-pitched whine.
As a result, this can be unpleasant to hear about your pet.
Specific Features:
Serves as a dog toenail grinder and groomer for pet nails
Two rotation speeds (to grind and polish)
Rechargeable 7300-PT 4.8V battery
Allows change in accessory
Works cordless
Effective to trim nails of large dogs
Can be used with different accessories from Dremel (bands and sanding drums)
Powerful
Cordless trimming
Easy to control
Rechargeable
Less user-friendly compared to other grinders
Higher settings can cause nails to quickly heat up
Difficulty in-band changing
Feels uncomfortable and heavy to use
4. Hertzko Electric Dog Nail Grinder
Hertzko Electric Dog Nail Grinder is developed with the safe and efficient nail grinding approach of Diamond Bit Grinder.
The grinder can accommodate three openings to trim the nails of large, medium, and small pets.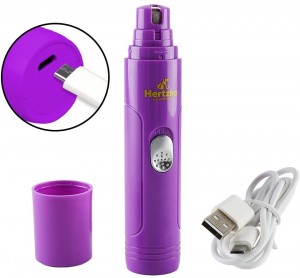 When used, its super muted motor produces less vibration and noise so as not to scare your dog when trimming.
The ease of use and portability of the grinder makes it very convenient to use.
This makes the electric nail files for dogs great to carry while on travel.
Thus, it calms your furry pal while doing the process.
Since its batteries are rechargeable, draining and plugging them into an outlet would not post any problem.
Cleaning it up is easy just remove the piece over its stone.
Specific Features:
Manufactured in diamond bit grinder
Quiet trimming process
Rechargeable batteries with a USB wire
Great tool for travel
Used in dogs of all sizes
Designed with low vibration and noise
Compact and easy to use and clean
Lightweight
Portable and cordless
Less noise and vibrations
Quick recharging
Safe and effective
Affordable price
Not powerful enough
Not that efficient to use in large-size dogs
Low horsepower
5. Safari Professional Stainless Steel Nail Trimmers
Choose Safari Professional Stainless Steel Nail Trimmers if you are buying for an efficient and long-lasting dog trimmers.
The tool is made from high-end stainless steel with quick and clean cut.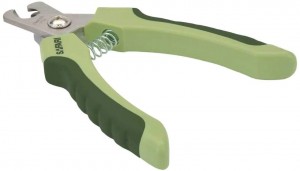 It uses a super-sharp double-bladed cutter having tension spring giving a smooth nail cut.
The lightweight trimmers have two dog sizes for different breeds working well even on thick dog nails.
Their rubberized nonslip grip offers control and convenience. Also, it has a quick-stop guard to provide safety.
These clippers are very sharp, durable, and strong. More so, they can cut through dog nails as quickly as possible.
It is the quiet working of this electric nail trimmer that makes it preferable by some.
The low level of its noise and its vibration helps calm your pet while trimming his nails without irritation and scare.
Specific Features:
Comes with sharp and durable clippers
Made from long-lasting stainless steel cutting edge
Rubber-coated handles for ease in gripping
Can be used for dogs from small to medium in size
Comfort and control with its rubberized grips
Sharp stainless-steel blades
Safety offered by its quick stop guard
Clean and quick cut
Good locking mechanism for safe storage
Quiet operation
May be too big for some breeds
Significant force is required for thick nails
Not great for small puppies
Slow-motion
6. 2-Speed Peroom Electric Dog Nail Grinder
The futuristic 2-Speed Peroom Electric Dog Nail Grinder is specifically designed to be equipped with two grinding wheels and speed settings to serve every dog's nail trim requirement.
Its motor makes certain that the noise created will be at a low level.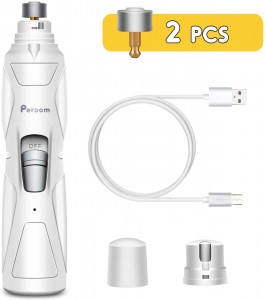 It produces slight vibration to soothe your pet's anxiousness during the process.
No worries about trimming him outside your house or when traveling as it can be charged via USB cable.
Its charging indicator tells when it is full of charge already.
With this device, your canine will be comfortable and at peace when groomed.
Specific Features:
Comes with speed modes (2) and grinding wheels (2)
Slow vibration and low noise level
Rechargeable thru USB
Multiple grinding points
Quiet trimming procedure
Durable diamond bit grinder head
Safe to use
Handy ports
May take some time to charge the device
7. Dremel's Paw Control Nail Grooming Kit
Make quick nail grooming on your pup's claws with Dremel's Paw Control Nail Grooming Kit.
The nail trimming tool is easy to use with its accessories.
Its soft-grip material and cordless design grants freedom and confidence to do the grooming anywhere.
It has a 45-degree paw guard and a dust-collection cap. Its motor produces low noise.
While offering safety to pets, it serves as an alternative to dog nail file or clippers.
This device offers varying grooming options for different nail grinding options.
Changing accessory is made easy with its patented EZ twist nose cap.
Its variable speed slide switch enables precise grooming speed and control for the nail thickness and size of your dog. This makes the tool's use very easy.
You will never worry about running out of power and use it efficiently. Its 4V Lithium-Ion battery is rechargeable thru its USB charger.
Specific Features:
Designed with multiple options for nail grooming
Simple to use
Cordless design makes it lightweight and portable
Multiple grooming options
Rechargeable battery
Easy to clean
Strong but quiet motor
Cordless
Lightweight
Easy to clean
Nail guard tends to scrape against the grinder
There you have it, we narrowed down your list. Now, the next thing you need to consider is to choose the best dog nail grinder for your furry pal.
How to Choose the Best Dog Nail Trimmer
Let's check out which pet nail grinder is best for your pup and decide the one to purchase with the following factors:
Get the right size of your pet
Remember, there are nail grinders suitable for different sizes and those for one size. Before buying a trimmer, be certain that it is the right tool for your canine. An unwieldy and cumbersome device is not preferable. Check both its dimension and load.
Opt for a trimmer that offers a variety of speed settings. Should you choose one that is powered by a battery, be sure that your pup's nail runs more extended to easily crush his nails.
Check its motor power and its power chain length. Note that a maximum of 13000 RMS can result in nail granulation.
Using a grinder that works in silence and quiet, is the best option. It would be better to consider ornament in matters about essential decorations like insurance shell, lock, etc.
Another thing to note is the price of the device. Best products may not always come at a pricey rate. Examine and consider every aspect of the item before investing in an expensive tool.
Design
Choose an ergonomic item and one that offers great comfort. It has to be that one that fits well in your hand. An ergonomic grinder gives a perfect fit in your hand's perfection.
Make sure that it is extreme. As a result, there is a tendency that there might be a decent way to drop it anytime.
Durability
Most probably, your chosen device should be long-lasting for several years.
Your pet can be with you for a lifetime so you would expect the trimmer to work for years.
This can only be achieved if it is made from durable materials like a gemstone grinding drum and a thick plastic. Its grinding tips must be in supreme quality.
Cordless
Most probably, a corded dog nail grinder can save you money. This can considerably limit your option.
However, a cordless version of it is a lot easier to use anytime, anywhere. It is highly recommended to prefer this model but remember to also put into account the strength of its battery.
Acclimate Your Pet to the Grinder's Noise
Turn on the grinder multiple times near your pup so he will get used to its noise. Note the reaction of your pup to the noise and identify the best strategy for use with minimum aggravation. Also, you can hold the tool against him so he can feel its vibration.
Changeable or fixed grinding tips
There is nothing smarter than picking a trimmer that enables its grinding tips to change and become different cornmeal.
Although some cornmeal can be coarser compared to the others, be mindful that excessive coarseness may injure your dog or sand his nail too quickly. This can be prevented if your chosen mill has interchangeable tips.
Overheating
Without a doubt, grinding everything is intense as it requires a lot to maneuver. Facts confirm that many units in the market can be too hot at work.
Your pet will not benefit if the tool is very hot. Excessive heat can burn not just your canine but so with your skin. Meanwhile, the best sander for dogs is easy to use and remains cool from start to end.
When you have already purchased the nail grinder that best suits your dog, ensures to use it properly.
Tips and Tricks on How to Trim Dog Nails
Before even grinding your pet's toenails, remember some things to make the process effective and efficient.
Get Canine Accustomed to the Nail Grinder
First of all, practice small increments when introducing your pal to the grinder. Give him treats every step of the way to recognize his cooperation.
Place his rewards near the tool (make sure it is turned off) allowing him to sniff and get close to it. Once he is at peace with the device, hold it and turn it on and off so he will get used to its sound.
Continue handing him the treats and tapping his nail until he stays calm even when the grinder is on for a longer period.
Start grinding his nails when you feel like he is not resisting the grinder near his nails. Do it slowly and just take enough time until everything is done.
Grind at a Time
Only trim a small part of his nails one sitting at a time. Try to support his toe without squeezing it too hard.
Trim across the bottom then in from the nail's tip. Do this every week to maintain his nails short with ease. Hold the tool higher up to have better control.
Keep Dog Comfortable
See to it that your dog is comfortable in his position while grinding his nails. Take into account the right way to hold the foot of your dog. Try holding his paw that enables you to separate the toes from each other pushing his nail to grind further out.
While some pups sit with their feet out, others want to have their foot bend backward. Try what works for both of you.
Watch Out for Fur
Be sure to hold back your pet's long hair and keep it away from the grinder. An accident can happen anytime which is why keep his out of the tool. You may use an old pantyhose over his foot and push through the nail.
Get Better Grinder Control
Lastly, hold the trimmer higher up, closer to the top portion of the tool. This will provide better control while grinding his nails.
Final Remarks
Generally, it is the safety and health of your canine to consider first when checking for the best dog nail grinder. This guideline and pet nail grinder reviews are of great help for decision. So go ahead and choose the one that fits right for your best friend.
For our top pick of dog nail grinder, Dremel 8220-1/28-1/28 12V Max Cordless Rotary Grooming Tool is the best.
The device has good factors to consider in selecting the best nail grinding machine for dogs. These include but not limited to durability, efficiency, design, and rate.
Featured Image Source: Meredith Hunter  on Unsplash