Dog's digestive system can be fickle that every fur parent needs to consider the gut health of his or her furry friend. Thanks to the formulated dog probiotic which is now available in the market. This formula is a life-changer for canines with digestive and any other health problems.
Learn more about probiotics and know which products suit your pup.
Shortlisted Dog Probiotics

Best Dog Probiotic See Amazon.com for best selection and value. #commissionsearned
What you should know about probiotics for dogs?
What are Probiotics?
Primarily, probiotics are formulas containing gut-friendly bacteria. These bacteria are beneficial microorganisms found in the digestive tract and other parts of a dog's body. They help balance your pup's internal environment for disease prevention and health promotion.
Probiotics help break down food digested by your best friend. Their main goal is to maintain good bacteria's healthy level.
They stimulate vitamins and nutrients, prevent gastrointestinal problems, and fight off possible pathogens. Also, they boost his immunity after antibiotic treatment, dog yeast infection, illness, or any other stressors.
What Do Probiotics Do?
Many clinical trials and studies show positive results on the benefits offered by probiotics to canines' health. Certain probiotic species are particularly beneficial for them.
Bifidobacterium and lactobacillus help manage yeast production and development and support their immune system. These probiotics mitigate stress, improve food allergies and diarrhea, and prevent anxiety. Additionally, they affect their emotions and mood.
Probiotics help in the management of different illnesses such as kidney disease and inflammatory bowel syndrome as they specifically lessen pain and inflammation.
Also note that the probiotic supplements for dogs come in capsules, chews, and powders. Check their labels as their usage frequency and dosage recommendations are provided.
What does Probiotics Do for Dogs?
Dogs need probiotics for the maintenance of intestinal microbial balance. Although canines can naturally maintain digestive microbe balance, imbalance occurs that aid from probiotics is critical.
Many pets positively respond to this supplement of beneficial microbes to bring balance to their digestive microflora.
Other than the beneficial effects of dog probiotics mentioned earlier, they have a significant role in the overall health and well-being of dogs.
This formula strengthens the skin and fur appearance of dogs, reduces their bath breath, and improves their mood. It reduces upset stomach and supports their dental health. Moreover, probiotics help minimize the side effects of antibiotic intake.
Probiotics can also be helpful to puppies. They can keep the good health of their immune system and lessen constipation, digestive tract infections, and diarrhea.
Remember that a healthy gut means better coat, breath, and skin. Thus, probiotics make your buddy feel and look better.
On the other hand, probiotics may have an adverse reaction to some dogs, especially sensitive ones. It is then advisable to consult a vet before giving your pooch probiotics.
Best Probiotics for Dogs
Now, here are the best dog probiotics we have narrowed down for you:
1. Purina FortiFlora Pro Plan Veterinary Probiotic Supplements
Give your best friend a daily dose of Purina FortiFlora Pro Plan Veterinary Probiotic Supplements the easiest way possible.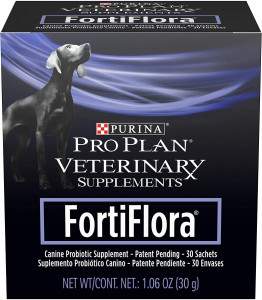 The formula has pre-measured packets making sure that he is getting the proper nutrition in addition to his diet.
It helps improve health issues like gas, tear stains, or diarrhea. Its taste is so good that he will unlikely to complain when fed.
Administering this effective and safe dog probiotic supplement is so simple by just adding its powder to his regular food.
It is great for his digestive health with its live microorganisms which promote intestinal microflora.
Also, it comes with antioxidants, supporting his immune health especially in establishing a good intestinal microflora.
Specific Features:
Veterinarian recommended
Uses microencapsulation process
Comes with good taste
Available in powder form
Contains antioxidants and live microorganisms
Pros:

Keeps good nutrition
Promotes normal intestinal microflora
Supports digestive health
Promotes immune system
Lessens gas
Tasty
Safe to use for all dog types and sizes

Cons:

May not be enough for picky and sensitive dogs as it is in powder form.
2. NUSENTIA Super-Premium Probiotic Miracle for Dogs and Cats
Stay focused on the quality of the probiotic while considering your budget with NUSENTIA Super-Premium Probiotic Miracle for Dogs and Cats.
This affordable powder formula is safe for both cats and dogs, offering extra convenience and savings. It guarantees the improvement of the gastrointestinal health of your pup.
Poor digestive health-related symptoms like vomiting, body odor, diarrhea, fur loss, and diarrhea are less likely to occur.
The supplement is a blend of probiotic and prebiotic. It helps the digestive system more stable, causes a healthier gut, and improves the immune system especially when given as a daily supplement.
Most importantly, this is a natural dog probiotic free from artificial additives, flavors, dairy, and gluten. This makes it a good choice for pets of all sizes, ages, and breeds.
Since it is in powder form, it would be effective to sprinkle a scoop of the formula over the food or drink of your pet once daily.
Specific Features:
A powerful supplement with 360 billion colony forming units (CFUs) in a jar
Comes in powder form
Available for all breeds, ages, and sizes
Approved and recommended by veterinarians
Pros:

Prebiotic and probiotic blend
Promotes digestive health
Relieves gas, tummy issues, and any other digestive system distress
Budget-friendly
No artificial flavors and additives
Gluten- and sugar-free

Cons:

Can cause tummy problem to sensitive dogs
3. FloraZil+ MultiProbiotic Dog Food Spray
Simply give your canine a daily dose of healthy probiotics with FloraZil+ MultiProbiotic Dog Food Spray.
This spray formula not only offers convenience but also supplies beneficial bacteria for his overall health. Each milliliter of this formula contains at least 750,000 CFUs.
A single dose depends on his size, smaller pets get as much as three sprays while their larger counterpart gets 4-6 each meal.
The formula comes with probiotics that support your pup's healthy digestion. Its viable microorganisms populate in his gastrointestinal tract actively benefiting the host.
In fact, it has 11 species of healthy bacteria. A functioning digestive system is significant for optimal health.
You may apply the spray directly on his food for a breeze administration. This will be the easiest and simplest way for you to ensure that his digestive process goes well.
This is why many veterinarians and fur parents prefer this spray formula for their pets.
Specific Features:
Comes in a spray form
Available for all breeds, ages, and sizes
Recommended by veterinarians
Pros:

Improves overall health
Promotes digestive health
High-quality product
No artificial flavors, additives, gluten, sugar

Cons:

May not be suitable for sensitive dogs
4. Pet Naturals of Vermont Daily Probiotic Digestive Support
Keep the digestive system of your lovely canine healthy with Pet Naturals of Vermont Daily Probiotic Digestive Support.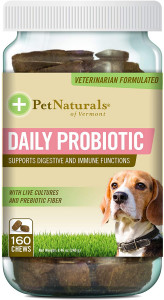 The formula is rich in digestive enzymes and significant probiotics supporting his digestive health.
It is available in duck flavored chews administered daily countering daily stressful conditions and other digestive-associated challenges.
The chews contain a mixture of probiotics and prebiotics to support immune and digestive functions. Prebiotic fibers are of high quality supporting digestive health, regularity, and gut flora.
Meanwhile, the probiotics are beneficial in terms of flatulence, bad breath, and gassiness troubles in your pup.
Every chew also contains soy lecithin, rye flour, protease, cellulase, and aloe vera gel concentrate.
However, it does not contain wheat, corn, and any other artificial ingredients which can cause stomach trouble.
Specific Features:
Contains a blend of prebiotics and probiotics
Comes with natural ingredients
Free from artificial ingredients or any additives
Available in chews
Formulated with duck flavor
Good for dogs of all breeds and ages
Pros:

High-quality prebiotic fiber
Supports gut environment
Promotes healthy digestive system, healthy coat, and immune system
Helps mitigate issues on bad breath, flatulence, gassiness, and other related issues
Helps solve nervous digestive problems, breed, and environmental issues
Veterinary recommended

Cons:

May not be advisable for dogs sensitive to duck flavor
5. Probios Probiocin Oral Gel Tube for Pets
Maintain the digestive system of your pooch healthy with Probios Probiocin Oral Gel Tube for Pets.
This probiotic supplement supports proper bacterial balance in the lower part of his intestine. It is beneficial for adult and newborn dogs and other pets. Giving him this gel keeps his natural immunity and his appetite normal again.
The nutritional content of the formula includes corn starch, sodium silico aluminate, silicon dioxide, and mixed tocopherols.
Ingredients such as dried lactobacillus Plantarum, sucrose, soybean oil, and dried lactobacillus acidophilus are also included in this formula.
The gel is making a balance between the pH in your dog's gut, gut microflora, and nutrient absorption. Administering this formula is so easy.
Specific Features:
Contains live and viable microorganisms (10 million CFUs)
Rich in probiotics
Full of nutrients
Lactic producing bacteria
Natural ingredients
Vitamins and minerals
Pros:

Maintains a very healthy digestive system
Keeps a healthy gut pH
Easy to take or administer
Promotes balance between gut microflora and nutrient absorption balance
Keeps natural immunity

Cons:

May not be enough for large breeds
6. Premium Care Digestion and Gut Health Probiotic Treats
Ensure the overall health of your lovely canine with Premium Care Digestion and Gut Health Probiotic Treats on his diet.
The product is specially formulated with good enzymes and probiotics to strengthen his gut health, immunity, and overall health.
This dog probiotic contains tasty and soft chews with an infusion of delightful chicken flavor. Its natural ingredients restore bacteria in his gut and support brain function.
The supplement keeps your bestie's immune system in its maximum function. It backs the assimilation of vitamins in his body.
This is why many vets and pet parents consider it ideal for all sizes and breeds of dogs.
Among the ingredients of this formula aside from probiotics include rice bran, enzyme blend, rosemary extract, sunflower lecithin, oat flour, inulin prebiotic, and coconut glycerin.
Another good news is, it is free from dairy, corn, soy, and artificial colors and flavors.
Thanks to this all-natural probiotic, which relieves your buddy from many illnesses. These include, but are not limited to, diarrhea, constipation, allergy, upset stomach, and hot spots. This dog probiotic also enhances his immunity, digestion, and overall health.
Specific Features:
Contains all-natural ingredients
Comes with advanced probiotic strains
Rich in nutrients and vitamins, and enzymes
No artificial additives, colors, and flavors
Free from soy, corn, and dairy products
In chicken flavor
Available for dogs of all sizes and breeds
Pros:

Maintains good bacteria
Promotes overall health
Offers nutritional digestion
Supports immune system
Keeps healthy digestion
Relieves dog diarrhea, constipation, gas-related issues

Cons:

May not be appealing to dogs resistant to chicken flavor
7. BlueBiology Veterinarian Formulated Canine Probiotic Soft Chew
Boost the immune system of your lovely pet with BlueBiology Veterinarian Formulated Canine Probiotic Soft Chew.
The formula contains eight probiotic strains and two billion CFUs, which is proportionate enough to promote his digestive health.
t is made from natural ingredients such as pumpkin and sweet potato. Its Inulin prebiotic content promises the survival of probiotics.
No need to worry as it is free from fillers, dyes, or additives.
Among the probiotic strains of the formula include Bacillus coagulans, Lactobacillus plantarum, Bacillus subtilis, Lactobacillus casei, Bifidobacterium bifidum, Lactobacillus fermentum, and Lactobacillus reuteri.
These strains are beneficial in keeping the beneficial levels of probiotics in your dog's body. Also, they support his immune and digestive health.
You can be sure that it is safe for him with its 100% natural ingredients and since it is made in a cGMP facility. This only indicates the healthy probiotics in store for your pet.
Specific Features:
Comes in soft chews
Rich in natural ingredients
Contains probiotic strains
Has prebiotics
Veterinarian formulated
Available for all breeds, ages, and sizes
Pros:

Prebiotic and probiotic mixture
Promotes a healthy digestive system
Boosts immune system
High-quality product
No artificial flavors, additives, colors

Cons:

May not be appealing to pets resistant to chews
8. Thomas Pet Bio Case Plus Pancreatic Support Supplement (Best Probiotic Supplement for Pancreatic Support)
Support the pancreatic health of your dog by giving him Thomas Pet Bio Case Plus Pancreatic Support Supplement.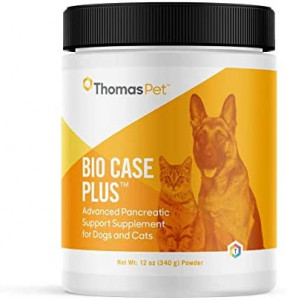 This is a digestive supplement containing enzymes of higher levels along with bioavailable vitamin B12 and probiotics.
Such enzymes are greatly beneficial to his pancreas, coat, and skin. It has an intrinsic factor that supports pets deficient from B12 supplement.
Probiotic Lactobacillus Acidophilus and L-glutamine maintains his gastrointestinal tract and gut flora.
The additional intrinsic factor aids his body in absorbing vitamin B12. Consequently, the B12 supplementation need of your pooch is supported.
The formula is critical in nutrient absorption in his digestive system. This allows him to receive the necessary nutrients from his food. Just sprinkle it over his food and you will be amazed how it can get him back on track.
Also, it provides assistance to the digestion of proteins, fats, and carbohydrates.
Specific Features:
Has high potency, pancreatic enzyme powder
Contains beneficial digestive enzymes
Beneficial probiotics and L-glutamine
With vitamin B12
Rich in vitamins and minerals
Available for pets older than six weeks
Pros:

Supports the digestion of your pet in proteins, fats, and carbohydrates
Assists nutrient absorption
Boost energy
Helps vitamin B12 absorption
Maintains a healthy gut
Optimizes the levels of bacteria in the gut
Offers high supplementation of enzymes

Cons:

May not be suitable for pets younger than six weeks
You already know the significance of dog probiotic and the best ones. How will you choose the right formula for your dog then?
What to Look for in the Best Dog Probiotic
While there are no guidelines on the ideal dog probiotic formula, the following factors need to be kept in mind.
Bacterial Strain Diversity
Several bacterial strains in a product have the opposite effect of what you want for the health of your dog's digestive system. Veterinarians recommend starting with some strains then work up on a gradual basis.
It is significant for a product to have a mixture of Lactobacilli and Bifidobacteria species since both are already studied for the effects.
Clear and Clean Labeling
Labeling transparency is associated with shelf stability and potency guarantee. The products need to disclose the ingredients, such as the additives.
This is significant to know, specifically if a canine is allergic to any substance or ingredient. This helps prevent supplements containing allergens. In addition, try checking whether the probiotic has guaranteed ingredient analysis.
Number of CFUs
Probiotic products contain varying numbers of CFUs. Some of these products have hundreds of millions while others have billions in every serving. This can be misleading as getting a product with 400 billion CFUs is easy to interpret as exceptional.
The right thing to do is to read between the lines since the value usually encompasses the whole product, not just a serving.
It is the insufficiency of knowledge on how much every dog needs and not really the amount of CFUs. Identifying the sufficiency of a billion of CFUs for their benefits on dogs.
It is wise to frequently begin with a smaller CFU number although fur parents may not have any idea of the natural beneficial bacteria in the guts of dogs. Try increasing the dosage to 200 million CFUs with the absence of beneficial effects within a time frame.
Shelf Stability and Potency Guarantee
Choose a probiotic that is stable, not just a potent one. These supplements originate from living microorganisms that seem to lose potency or decay. Find the reputable manufacturers, as well as the products developed in the U.S.
Consideration of Different Approach for Pet with Chronic Digestive Troubles
While probiotics are essential in mitigating pets' digestive issues, simply adding the formula may be insufficient for more critical problems.
Why not try a fecal microbiota transplant which delivers a community of microbes to pets. This can be done through an enema in a clinic or through an oral capsule at home.
The Bottomline
Just like in choosing other dog supplies and supplements, picking the best dog probiotic can be a daunting task for fur parents. The guidelines provided above, however, will be helpful in making your selection as easy and as quickly as possible. You can always consult your vet as well for an excellent opinion. There are actually a lot instore for your pooch out there.
Our Top Pick for Dog Probiotics
For us, Purina FortiFlora Pro Plan Veterinary Probiotic Supplements is the best probiotic supplement for dogs because of its exceptional features.
This supplement is easy to administer, rich in probiotics, and vitamins, and minerals. Its probiotics are great in the mitigation of digestive system-related issues. Also, it is available for use by dogs of all breeds and sizes.
Now, it is your turn to look for the best dog probiotic for your furry friend.