Dogs are man's best friend, so to speak. We would want them to be with us all the time. However, there are long walks and far places they would be unable to accompany you. Which is why dog strollers are developed to keep them going without straining their legs. Spot the best pet carriage for your pooch from our list below.
Best Dog Strollers in the Market
We narrowed down the best strollers for dogs with their specifics:

Best Dog Strollers See Amazon.com for best selection and value. #commissionsearned
Dog Stroller Reviews
Of the myriad strolling devices for doggies, we review the best ones for your reference. Take a look at the following reviews as each stroller has features offering health benefits and comfort to your pooch.
1. Gen7Pets Regal Plus Pet Stroller
You and your furry best friend are almost always out and sometimes his walking stamina is limited. Never worry as Gen7Pets Regal Plus Pet Stroller is specifically designed to serve this purpose.
The stroller is made from water repellent fabric and other durable materials making it viable for different environments.
It offers more than enough for heavier or more than one small pet.
This product comes with a comfort pad, an expansive mesh fold-up cover, and secure zipper storage for his supplies and treats.
Its low front allows small pets to get a better view without gaps at its zipper connections. This can be a great tool for your long walks with him.
Specific Features:
Combined designed for mobility and style (360-degree convertible wheel)
Smart collapsible canopy
Under basket
Front shock-absorbers
Adjoining brakes at its rear wheel
Back fabric pouches
Smart features for a leisurely stroll

Lightweight and collapsible making it easy to carry and store

Comfortable for both pets and their fur parents

Affordable

Secure zipper connections

Well-ventilated
Can be too narrow for the other pet breeds
2. Pet Gear Ultra Lite Travel Stroller
Go for the Pet Gear Ultra Lite Travel Stroller should you and your pet need a smooth and easy stroll.
This carrier is developed to cater to small pets weighing 15 lbs.
It can be the best stroller to use on your trips with its lightweight and portable features.
Cleaning the stroller between trips is made easy with its removable interior liner.
You can fold it into its compact size in seconds. Its height enables tall dog owners to push their pets with comfort.
Specific Features:
Lightweight and portable
Large wheels to ease strolls
Mesh ventilation
Fully-assembled
Better viewing

Easy to open and close zippers

Comfortable

Easy to carry and store
3. Pet Gear Zipperless 3-Wheel Pet Stroller
If you are that sporty type and you want to carry your pooch in your fitness spree, Pet Gear Zipperless 3-Wheel Pet Stroller is the answer.
Unlike the typical strollers in the market, this dog running stroller comes with 12-inch wheeled offering smoother rides.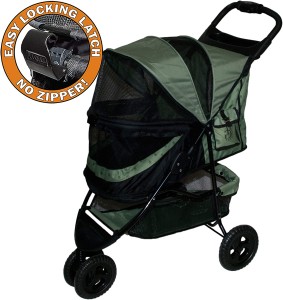 Its air pump is enough to fit in the spacious cargo basket with pet supplies and treats along with your stuff.
The stroller is a 3-wheeler carriage that emphasizes its stability and tipping that depends on the activity level and size of your pet.
It can be saggy though as it carries heavier breed. It has air ride technology functions like that of the car shocks.
With its no-zip entry, getting in and out becomes a breeze keeping your pet from potential escape. No worries when you are on an incline walk or a hike. It is also great to use in different environments.
Specific Features:
Durable material (water-resistant Denier nylon)
Wheels (inflatable air ride)
Easy locking system
Panoramic view window
Easy open and close system

Breathable material

Comfortable with its elevated paw rest

Stable even in rough terrain
Flimsy and shallow cup holder

Non-resistant to weather

Troublesome front wheel
4. BestPet
Foldable 3 Wheels

Pet Stroller

Take your pal with you for a ride and enjoy beautiful days outside in the BestPet Foldable 3 Wheel Pet Stroller. Other than its roomy space, this carriage also has a lot of undercarriage storage compartment and a two-cup holder. It is specially designed for both dogs and cats.

The stroller is so lightweight that you can take it along with you anytime, anywhere.
It has a foldable feature for easy storage when not in need and quickly load when you are about to go again.
It is spacious allowing your friend to enjoy the breeze and view around.
There are mesh screen windows on its front and back making it free from bugs.
It comes with seat belt and rear security brakes to ensure his safety.
Your next visit to his vet, to shopping store, or even to daily walks will be so easy.
Rain or shine, you don't have to worry about its waterproof rain hood.
Specific Features:
Tri-wheel design
Zippered mesh screen window
Waterproof, weatherproof rain hood
Assembled seat belts and rear security brakes
Dual cup holders
Sturdy built

Smooth ride

Convenient to both load and unload
Can be difficult to assemble

Plastic wheels

Shallow compartment
5. Paws & Pals 3-Wheeler Elite Jogger Carrier
Paws & Pals 3-Wheeler Elite Jogger Carrier fits both dogs and cats from small to medium breeds.
The stroller is manufactured from high-quality materials of polyester fabric with a lightweight metal frame.
This product has a waterproof rain hood along with mesh screen windows for better ventilation.
It has a leash clip to ensure the safety and security of your pet. There are 3 different colors for you to choose from.
Comfort is provided with the carrier's color cushion no matter how bumpy the road can be.
Bugs are kept away with its ventilation front and side panels.
Also, it comes with undercarriage storage space for supplies and two cup holders to keep you both hydrated.
Small breeds will have a great ride with this stroller.
Specific Features:
Durable materials (polyester fabric)
Folding system for storage and transport
Hooded top window and mesh screen windows
Easy multiple entries
Leash clips
Spacious undercarriage
Improved pet ventilation

Foldable and lightweight design

Easy compartment access

Excellent insect-proofing and weatherproofing

Safe ride
May have poor front-wheel construction
6. ibiyaya 3-Wheel Big-Size Dog Stroller
Make your pampered dog's stroll regal with ibiyaya 3-Wheel Big-Size Dog Stroller. This is a way of an elegant conveyance for your large pooch.
While it is designed and developed for canines weighing up to 65 pounds, it remains lightweight and durable.
You can expect a silky-smooth ride for your four-legged friend in different terrains.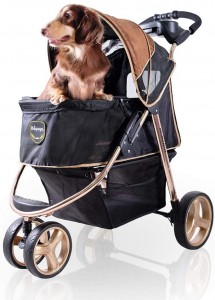 This is brought to you by its all-wheel suspension alongside its front locking swivel wheel.
Loading him becomes easy and quick, thanks to its accessible front and rear entrances of this large dog stroller.
It collapses through a button making it viable for travels. This only means that this carrier is always on the go.
Although designed for large breeds, the stroller is more convenient for smaller dogs making it a puppy stroller too.
It does not even require an assembly. It is also easy to clean-up.
Specific Features:
2 access openings (front and rear)
Can accommodate up to 65 lbs.
3 windows (front, rear, and top)
2 interior tether
One-touch rear brakes
Removable pad
Thicker zipper

One-hand folding mechanism

Easy entry or access

Suitable for large dog breeds

Convenience
May have a slight issue in its zipper
7. ibiyaya 4-Wheel Double Pet Stroller
State-of-the-art ibiyaya 4-Wheel Double Pet Stroller is in its aluminum oval tubing style.
The carriage is suitable for small dogs as well as cats. It can take a maximum of 13.2 lbs. load going up and 33.10 lbs. load going down.
Its zippered mesh screen windows enable you to keep an eye on your pooch while giving him enough ventilation.
With the swivel front wheels of this carriage, visiting the park or traveling anywhere would be easy and comfortable.
It features a one-hand fold system that fitting it into your car's trunk becomes easy.
You will never feel worried about the safety of your pet with its safety tether and rear brakes.
Also, it has additional space for his toys and necessary accessories on its collapsible storage and multiple compartments.
Specific Features:
Durable materials (aluminum)
2 safety tethers
Lightweight aluminum frame
4-way canopy opening
Detachable inner pad
Convenient

Easy to clean and store

Safe to use

Spacious

Comfortable for walking and strolling
Having 2 pets in one carrier may not be comfortable for some pets
So, what do you think of the dog strollers mentioned above? Still, have no idea which one is the best for your furry best friend? Continue reading.
Factors for Good and Best Dog Strollers for Dogs
When looking for the right dog stroller, consider the following:
Measurement of Your Pet
Before even going to a pet shop or any store offering strollers, measure the size of your dog first. Remember that like humans, dogs also vary in size, and the carriage claiming to serve a certain weight may not suit his size.
Its carry capacity alone is not the whole of the best pet stroller. Other considerations to look into are whether it can handle his height when standing, sitting, and lying down.
Durability of Materials
No one wants his pooch to be unsafe and insecure in a carrier, right? Well, you have to make sure that you are not getting him so.
See to it that the materials used in the product you are about to purchase are durable and of high quality.
This may be offered at a higher cost but there would be a guarantee that you will receive the best out of it.
Safety Specs
Depending on where you would want to tag along with your pooch, the stroller needs to have extra safety features like reflective lining or safety flags for maximum visibility.
It should have a durable fabric acting as a protectant from the other pets along the way. At least two of its wheels should come with easy-lock brakes.
Plenty of Space
The space of the product has to be relative to the size of your dog. Its cabin compartment should give them enough space to lay down, curl up, or sit comfortably.
Meanwhile, it should not be huge enough for them to feel insecure. The bottom of its interior should be soft and padded for a comfortable stroll every time.
Terrain
Analyze the terrain and climate where you plan to take a walk. Note that rough terrains require a sturdier stroller over smooth terrains like streets or sidewalks.
Unlike dog bike trailers, dog strollers require you to push. So make sure that its wheels are huge enough for ease in pushing it over variable terrains.
There are times when you are not certain of the surface whether it is pavement, trails, or grass. Sometimes, you may have unplanned exploration so you are better ready than sorry.
Water and Weather Resistance
Most often, strollers are equipped with a removable waterproof cover for your dog's protection. Take into account its benefits because the weather is unpredictable.
Choose the carriage that can protect him from the wind, rain, and sun especially if he is sensitive to any or all of these conditions. He should be kept dry and safe regardless of the weather.
Convertible Design
Purchase a carrier that is multifunctional if traveling is likely constant for you and your pup.
There are strollers that are easy to convert to bike trailers or travel kennels. There are even options if you have multiple pets to carry with you.
Weight Capacity
Of course, you would want to get a stroller that can be used by your dog at his exact or near the full-grown size. Plan ahead for its long-term use upon buying.
You may also think of carrying your pet's friends when considering the weight capacity. It is better to make adjustments on its needs ahead if you think of taking several dogs.
Easy Storage System
Prefer an item that is easy to collapse and fold compact for transport or storage. A lightweight and easy to store carrier can be the best option if you are going from your vehicle to any trail, and back. Aim to make life easier for both of you.
Multiples
Look into dog carriages with separate multiples if you have more than one pet. Some pets may not always feel comfortable to get along with the other pets.
Be better prepared with a separator for the stroller to ensure that everyone is comfortable. This will go hand-in-hand with its weight capacity for convenience.
Tires
Check the tires of the item. You have to be sure that they are fit for their usage. Opt for dog strollers with large tires having good traction when you want to use it on a jog.
Tires made from EVA of plastic foam are doable for walking through the park since they are lightweight. Meanwhile, the traditional air-fill rubber tires could be the best choice for convertible strollers which can be used as a bike trailer.
Suspension System
If you are planning to jog with your pal, consider the significance of the stroller's suspension system. This makes his ride easier regardless of the way you use the pet jogger stroller.
It will be easier for you to push it whenever. The best pet jogging stroller will be very helpful when you are doing your regular jog.
Your Physical Capability
Assess yourself on the capacity that you are willing and able to carry. Are you residing in an apartment where stairs might be an obstacle? Do you have any physical issues like muscle pain, arthritis, etc.
Are you planning to transport it by an SUV or car? How much weight will you be able to lift? These questions may be a few but they are important and should not be undermined.
Final Remarks:
At first, you may not seem to realize that you will be pushing your furry pal in a stroller. There will be times when illness struck and this may need your assistance.
Dog strollers are just around the corner to solve your problem. Depending on you and your beloved pet's need, there will always be one to fit.
Our Best Dog Stroller
We identified the Gen7Pets Regal Plus Pet Stroller as the best among the dog strollers on our list.
Our research indicates that this best dog stroller has the features every fur-parent would have to look for in a stroller. It is durable, spacious, has a reasonable price, and other useful specifications.
Tagging your dog wherever you want despite any illness he may have encountered would now be possible with the help of a carriage other than a motorcycle carrier. Any of the dog strollers above may just be what you have been looking for.
You may use our pet stroller reviews as your reference then.
Featured Image Source: Photo by David Gavi on Unsplash