Dog Travel Bag: How to Pick Out a Good One for Your Dog 2023
Kibble, blankets, collars, harnesses, and so on; a lot of products to purchase for your lovely dog. How about when you travel with him? What essentials do you bring with you?
Bet a best dog travel bag should be something that dog owners need to invest in. Without further ado, let us learn more about travel bags for dogs.
Our Top Pick is  PetAmi Soft-Sided Stylish, Comfortable Dog Travel Bag the best traveling bag for dogs
List of the Best Travel Bags

Best Dog Travel Bag See Amazon.com for the best selection and value. #commissionsearned
Before getting detailed information about these travel bags, learning some facts is essential.
The Importance of a Dog Travel Bag
Either by road trip or by plane, a dog bag, carrier or even dog seat covers is worth an investment if you and your furry pal are always on the go. Travel would be a lot easier and convenient for the both of you. A travel bag offers a lot of benefits not just for him but also for you. Here are some of the prevalent ones:
Organizes all the necessary supplies for the trip including treats, toys, and food. Paperwork such as medical and vaccination resources can also be secured while you're on the move.
Provides comfort and warmth especially when there are sudden changes of temperature.
Keeps him safe and sound, giving you peace of mind.
Prevents him from catching colds and getting chills.
Carrying him with the bag will be easier.
Offers enjoyable recreation when shopping and dressing him.
Dog carrier or travel bag is no doubt allowed in airlines.
Travel bags can also be a great gift item for pet owners or lovers.
7 Considerable Features of Best Dog Travel Bags for Canines
Of course, a dog owner would not purchase an item without proper knowledge of it and its features. Get a hint on what bag suits your buddy right. Check the following factors.
1. Design
Although this is a personal preference, the design of the bag depends on the travel style. Most bags for travel can be carried through handles while some are more versatile.
You have options to wear a bag as a backpack, a crossbody, or a duffel one. Base your choice on the length of time you are carrying the bag.
The item with a handle would be doable if you will just carry it to and back the car. Get a crossbody bag or backpack for frequent and long walks. Ensure a bag with a rear sleeve to attach to your luggage if you fly with your dog often. This can be an alternative to dog travel luggage.
2. Size
It would be a great idea to have extra space in your bag although bringing unnecessary stuff is not advisable. Consider how many dogs you need to bring supplies for, their size, and the time you need to be outdoor.
Like babies, dogs need many things when you travel. Try to bring the following food, portable water bottle, blanket, records/information, and first aid kit.
3. Storage
Consider the size of the bag before purchasing it. See to it that it can have enough space for storage when not in use. Be wise in fitting everything essential to the travel bag.
Usually, it would be best to pick one that has three compartments or sections. Take note of features like mesh, enclosure, and zipper to secure everything.
4. Food Accessories
Unlike standard traveling bags, the feature of a doggie travel bag for food accessories is critical. Some of these bags have water and food bowls.
They usually are collapsible and lightweight bowls simplify your travel because storing them is a lot easier. Sometimes, they come with food bags for the safety and freshness of pet food during the trip.
5. Water Resistance
This may not be vital for some, but a waterproof bag can be a wise option. Such an option will ensure that everything inside the bag is well-protected in case it rains. The safety of your pooch will not be at risk here.
6. Machine Washability
It is typical for anything around your pet to get messy and dirty. This goes the same for travel bags designed for him. Looking for a machine washable bag is highly recommended to keep your bag clean. This will simplify your cleaning operation during and/or after your trip.
7. Included Products
Most of the travel bags for canines come with some perks such as blankets, dog bowls, first aid kits, and toys. These extra products can be to your advantage. You can get them free of charge rather than purchasing them one by one.
Keep these factors in mind as we go to the next process.
Dog Travel Bag Reviews
Below are the specifications of the top canine travel bags and their reviews.
1. Petami Soft-Sided Stylish, Comfortable Dog Travel Bags
Tag along with your furry pal with you with comfort anywhere with Petami Soft-Sided Stylish, Comfortable Dog Travel Bag.
This versatile bag has handles and straps that can make it a handheld bag or backpack. It is very functional with its large compartment inside to store his toys, treats, and more.
Its soft padded straps will not tire your shoulders even when you are out for long days. Quickly grab the bag on your way to the car or anywhere out with its hand straps.
This is a stylish bag that is in unisex gray color so no matter the gender of your pet, it is just okay.
It has cylindrical collapsible dog food carriers and bowls. Travel is never easy with this carrier whether you are going by train, air, car, or by hiking.
Specific Features:
Quality-wise bag
A carry-all bag
Made from durable products
Excellent accessories
Doable compartments and divisions for supplies
Multifunctional (backpack, handheld bag)
Comes with collapsible dog bowls
Available for dogs of all breeds and sizes
Has different colors
Durable
Versatile
Fully waterproof
Machine washable
Easy to carry and wash
Can be baggy if you carry everything inside the bag
2. Overland Mobile Dog Gear Weekender Backpack
Purchase Overland Mobile Dog Gear Weekender Backpack, a quilted travel bag that highlights both the quality and style of your pooch.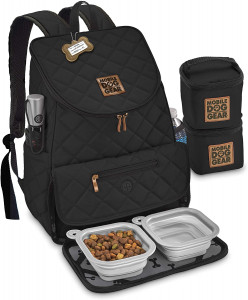 This backpack is perfect to pack the belongings for weekend travels and adventures.
This functional backpack highlights padded backstraps, a front zip pocket, and a large main compartment. It supports your pup's mealtime with its lined food carriers, silicone bowls, and placemat.
Carry him with you on a plane because these dog travel bags meet the carry-on requirements of most airlines.
Also, this travel dog luggage has travel accessories offering an organized luggage system. This makes your travel simple and easy as well as secured with its ID tag.
Specific Features:
Ready-to-go backpack
Quilted design
Has multiple pockets, silicone bowls, food carriers, and large storage
With high quality
Mobile dog carrier
Adjustable padded shoulder straps
Available for all dog sizes (small, medium, large)
High-quality materials
Easy to carry anywhere
Water-resistant and waterproof
Machine washable
Safe to use
Multiple compartments
Can be a bit pricey compared to other pet owners or parents
3. Unique Dog Shoulder Bag Style Traveling Luggage
Many dog owners will be amazed by the many features of Unique Dog Shoulder Bag Style Traveling Luggage making its spotlight among the others.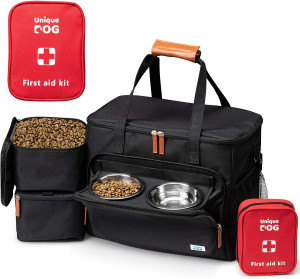 This traveling bag for dogs has a 23L storage space enabling it to store as much as 20 cups of kibble. It has an elevated bowl stand that helps in digestive-related issues.
This item has a first aid kit and bowls made from stainless steel. The bowls are insulated keeping dog food fresh.
They are easy to wash and usable for different functions and long-term usage. Among its other features include a first aid bag, food storage, and other accessories.
Special Features:
Distinctive and stylish travel bag
All-in dog accessories carrier
Comes with stainless steel bowls
High-quality materials
Multiple compartments (front pocket, internal lid pocket, side mesh pockets)
Elevated bowl stand
Available for dogs in different size
Sturdy
Multifunctional
Water-resistant and waterproof
Adjustable food bowl angle
Safe to use
Easy to clean and store
Can be too big for short travels
4. Tidify Water-Resistant Weekender Bag
The versatility of Tidify Water-Resistant Weekender Bag makes pet owners love it.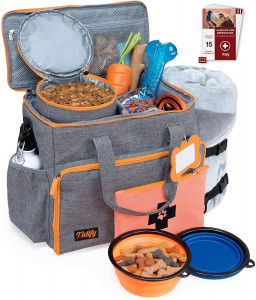 It comes with collapsible water bowls, a waterproof picnic blanket, and food containers.
You will have several options in carrying it like a backpack, crossover, and a standard bag. Its three divisions help with the organization of its content. Carry it comfortably when you are flying, camping, or road-tripping.
This bag allows you to pack up everything necessary for your next trip. Your pooch will feel comfortable with the bonuses.
The dog food containers of this bag are large enough to carry food for a week for dogs with sizes from small to large. No worries carrying the bag anywhere as cleaning it up through the machine. Plus, this travel bag is available for dogs from small to large.
Specific Features:
Made in durable materials
Has 2 collapsible bowls, 2 food containers, and a waterproof picnic blanket
Versatile design (backpack, shoulder bag, or handheld)
Many compartments
Fully waterproof
Excellent accessories and divisions
Neat
Fully machine washable
Durable
Versatile
Easy to clean and store
Comfortable
Would be uncomfortable for pet parents to carry many stuff or things
5. Arca Pet Modern and Stylish Organizer Backpack
You and your pooch travel a lot and bring a lot as well; the Arca Pet Modern and Stylish Organizer Backpack could be the best for you.
This bag holds it all with its 11 organized pockets including a cell phone pouch, front mesh storage, poop bag storage, anti-theft wallet compartment, and tablet pocket. Accessing all these is very easy even when you are on the go.
Fashion and style? You need not compromise as these are the other excellent highlights of this bag for you.
Run with it if you need to go to the grocery, take it for a casual hangout with friends, or wear it when going to the office.
This makes it a one-apparel-fits-all fashion product. You can even carry it with you on air travel since it is an airline carry-on compliant.
Other than its premium quality, it is comfortable, convenient, and very stylish. It also has a food bag and two collapsible silicone bowls that are BPA-free.
This gives you both joyous memories in vacation, travel, car, camping, and outdoor.
Specific Features:
Made in premium quality materials
Several compartments for essential pet items
Has organized pockets
Modern and stylish
Airline carry-on compliant
Comes with 2 bowls and a food bag
Durable
Convenient and comfortable
Easy to use and store
Bag that fits all
Can store all the items of your pet
Can be more than enough for short trips.
6. High Road Organized Supply Bag with Waste Dispenser
Get those supplies for your pooch organized with High Road Organized Supply Bag with Waste.
The dog supply bag is made of 500D polyester making it great for a hike on a hillside or stroll on the beach.
It has different compartments, exterior pockets, and storage pockets. Its outside pockets hold collars, water, toys, and leashes. You can clean it easily since it is lined.
The spring closure of its main compartment keeps your pet out of the treats. You will not worry anymore if he poos anytime because the bag comes with a waste bag dispenser.
This means that you can be organized with the supplies while you and your best friend are on-the-go. You may also consider this an alternative to a bag with many compartments but in small size.
Specific Features:
Made from 500D polyester and other quality materials
Has five compartments
Water bottle holder
Waste bag dispenser
Spring closure at the main compartment
Durable construction
Great organizer of pet supplies
Easy and convenient to clean
Comfortable
Easy to carry and store
It may be small for long trips
7. Unicreate Hilike Premium Tote Organizer
Unicreate Hilike Premium Tote Organizer has enough space to store all the necessary supplies for your furry pal for a trip for one week.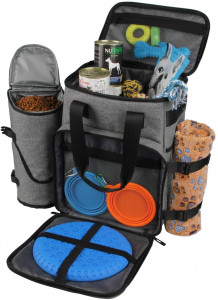 The bag comes with different pockets of different sizes giving you flexibility in organizing the accessories.
Toys, leash, pee pads, cooling mat, etc. will have a significant area inside the bag. It features an organized luggage system for outdoor activities, traveling, and/or walk in the park.
The 22.5L storage capacity of this bag allows you to keep 1.3 kilograms of dog food. This is neatly packed and secured inside with its zippered pocket.
Its backpack straps are attachable. Also, this product highlights a dog blanket and frisbee.
Specific Features:
Made from durable materials
Has multiple pockets of different sizes
Includes dog food carriers, silicone collapsible bowls, tote bag, etc.
Food storage
Adjustable shoulder strap
Offers flexibility
Promotes organization
Convenience in carrying and storing water, food, and treats
Security
Easy to clean
Good for hiking, traveling, and other outdoor activities
Can be too big for short walks or short-time trips
8. Teamoy Double Layer Shoulder Bag
Need more space for the necessary items to bring with you on your long trip with your furry friend? The Teamoy Double Layer Shoulder Bag would be the best answer.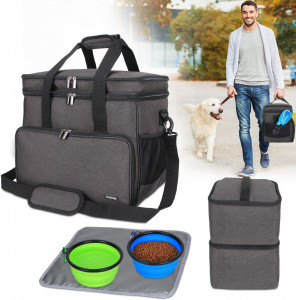 It allows you to carry items like his toys, leash, chews, pee-pads, diapers, medicine, and more.
There's enough space for everything in its front pocket, internal pockets, top and main section, and side mesh pockets.
Its matching padded shoulder strap is adjustable to the necessary length for your physical structure. Lighten your burden to have a more enjoyable leisure time with him with the bag's padded handles.
You may rest the bag through the pull-up handle of a suitcase with its attached luggage sleeve. It comes with collapsible bowls, a placemat, and a lined food storage bag.
The bag is also available in different colors such as black, purple, gray, and blue.
Specific Features:
Made of premium quality products
Compatible with the carrying systems of a suitcase
Zippered compartments
Padded handles
Adjustable strap
Available in different colors (black, purple, blue, gray)
Spacious storage
Unique double-layer design
Multiple pockets
Easy to clean and fold placemat
Easy access
Lightweight
Versatile for many occasions
Compartments may be too much for short trips
9. Bundaloo 5-Piece Dog Supplies Travel Bag
Never compromise the daily essential supplies of your dog with Bundaloo 5-Piece Dog Supplies Travel Bag.
Bond with him anywhere with convenience as you packed these essentials and keep them safe inside the bag.
Its 5-piece set keeps the day-to-day necessities of his essential products organized. This will keep you away from the hassle of stuffing several items inside your backpack.
The bag has enough space to store water, toys, food, frisbees, leashes, etc. It offers easy and quick access inside the bag with its deep side pockets and zippered inside pockets.
Keep yourself away from messy feeding time using its collapsible bowls. Moreover, carrying the bag is made more comfortable as its adjustable padded straps offer a cushion to your shoulders.
Specific Features:
Lined carriers for food and treat storage
Carrying bag for daily dog essentials storage
Collapsible bowls for water and food
Multiple pockets
Padded handles
Durable materials
Spacious for the storage of pet essentials
Keeps food fresh
Handy to carry around
Easy and quick to access inside items
Durable built
Comfortable and convenient to use
Lightweight carrier
Very functional
Compartments, pockets, and extra space may not be practical for quick or nearby trips.
Bottomline
Like humans, every dog deserves a best dog travel bag that suits him right and he needs many things. Thanks to the manufacture of a dog travel bag, carrying these essentials will not be as a hassle as it was years ago.
The specifications, reviews, and guidelines provided above will surely help you narrow down your choices and decide which of them are the best.
Our Top Pick
We named PetAmi Soft-Sided Stylish, Comfortable Dog Travel Bag the best traveling bag for dogs because of its durability, functionality, and availability. Many pet parents approve of the total features of this bag and its functionality without compromising its style and comfort.
Hopefully, the information above will help you decide which dog travel bag is right for your lovely dog.
Featured Image Source: Emerson Peters on Unsplash