Whether your dog is recovering from surgery/injury, any illness, or just need aid for walking, get him the best dog wheelchair. Dogs too need some physical exercise and enjoyment with the family through mobility support.
There are a bunch of options available in pet shops and other stores but that is the least you should worry about. Here we reviewed the best dog wheelchairs we found in the market. Follow us through with additional tips and guidelines to help you identify the right walking aid for your furry little one.
9 Best Wheelchairs for Dogs
Here's a quick list of our top selections of dog wheelchairs:

Best Dog Wheelchair See Amazon.com for best selection and value. #commissionsearned
Dog Wheelchair Reviews and Guidelines
We narrowed down the best dog wheelchairs and reviewed each of them so you can decide which one suits your pet.
1.
HiHydro Cart Dog Wheelchair
Get back the mobility and self-confidence of your furry friend with the help of HiHydro Cart Dog Wheelchair. The wheelchair is specifically manufactured for the rehabilitation of pets with a hind leg disability.
It is available in six sizes, which are adjustable to fit your dog right. Just measure his width and height for the right size.
The frame of the pet chair is made from aluminum alloy. Although it is lightweight, it remains durable and will not hold your best friend back from moving freely.
To help your pet walk with his four legs, let him use it as a cart.
It may also serve as a suspension wheelchair enabling their hind legs to hold up using straps. Also, its settings allow you to select options for the best comfort of your pet.
Specific Features:
Designed for hind-leg handicapped pets
Available in 6 different sizes
Made from a lightweight non-rust aluminum frame
Adjustable length and height
Can be used as a cart
Breathable mesh-based harness
Durable

Lightweight

Rust resistance

Comfortable harness

Hind-leg rehabilitation
Some assembly is necessary to put the wheelchair together
2. Walkin' Wheels Wheelchair for Back Legs (70-180 lbs.)
Veterinarian designed and approved Walkin' Wheels Wheelchair is available in different sizes. The wheelchair is suitable for dogs weighing 70-180 pounds.
It has a leg with a length between 3-15 inches long.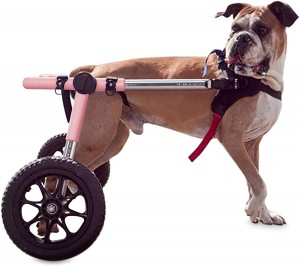 Its lightweight and durable frame can hold an adjustable harness for maximum comfort.
When it comes to its wheels, they are composed of dense foam with rubber on their outer layer to prevent any puncture. This allows your four-legged friend to happily explore outdoors other than inside the house.
You can adjust the wheelchair in length, width, and height. This gives your pet the support he badly needs.
Specific Features:
Can fit dogs with a weight between 70 and 180 pounds (medium to large-size dogs)
Washable parts
Dense foam wheels
Available in various colors
Easy to store, clean and transport
Veterinary approved
Durable product

Lightweight aluminum frame

Fully adjustable

Offers comfort

Wheels are suitable for any terrain
May not be suitable for smaller dogs
3. Walkin' Wheels Wheelchair for Back Legs (50-69 lbs.)
Give your pet a happy and healthy life with Walkin' Wheels Wheelchair for doggies weighing between 50 and 69 pounds. This exact wheelchair supports the back legs of your furry friend letting him play, run around, and enjoy quality time with the rest of the family.
The aluminum frame of the product is lightweight enabling him to move with ease and comfort.
Its wheels are made from a dense foam with rubber treads for any type of terrain.
Just fold the wheelchair flat and you are good to load it into the car to travel or put it in storage.
All of the other parts such as its wheels are washable. This makes the item easy to clean-up.
Thanks to its patented adjustable design, you need not worry if your dog is in medium or large size to have a perfect fit.
It is also adjustable in length, width, and height to make sure that it is comfortable and mobile throughout the stages of his life. Just like the other pet wheelchairs from Walkin' Wheels, this one is also veterinary approved.
Specific Features:
Veterinary-approved wheelchair
Perfect fit for dogs weighing 50-69 pounds
Wheels are made from dense foam
Comes with washable parts
Adjustable patented design
Giving pets and their pet parents a happy and healthy life

Offers comfort and mobility

Easy storage, transport, and clean-up

Perfect fit for medium-large size dogs
Small dogs may be uncomfortable using this
4. Newlife Mobility's Two-Wheels Adjustable Dog Wheelchair
Wheelchair cart Adjustable Dog Wheelchair from Newlife Mobility can be a great option for dog breeds in medium size.
The wheelchair has soft 3D harnesses to secure your pup and give him optimal mobility.
Its leg stirrups hold the legs up whenever he cannot use his rear limbs.
Using the cart is made easy with its adjustable system making it suitable to your furry friend's size.
It has a belly band specially made to protect his spine. Another interesting feature of this cart is its durability as it fits dogs in need of more support. Also, it boosts more confidence when moving.
Specific Features:
Fits medium-size pooches
Easy to use and adjust the colorful harness
Great wheelchair for breeds in need of back leg support
Adjustable system through a push button
Has an aluminum frame
Lightweight

Offers optimal comfort

Durable

Adjustable

Cost-effective
A bit complex wheelchair assemblage

Not that durable
5. Walkin' Wheels XS Dog Wheelchair for Back Legs
Give your cute pooch support to his injured back leg with Walkin' Wheels XS Dog Wheelchair. This small doggie wheelchair enables him to enjoy life with the rest of the family.
It keeps him moving anywhere without minding his handicapped legs.
Its frame is made from a durable, lightweight aluminum material that makes it very stable. The dense foam of its wheels has rubber treads that prevent any puncture so he can have great exploration anywhere.
Storing this mobility support is as easy as well as its cleaning and transport.
It fits into your car that easy so the whole family can travel with him anywhere, anytime. If your pet is between 2 and 10 pounds, you can adjust this mini wheelchair to fit him right to make sure he would be comfortable.
Disabled and/or injured dogs would be happy in every stage of his life to stay active and have a great quality of life.
Specific Features:
Suits pets in small breeds from 2 to 10 pounds
Frames in different sizes
Durable and lightweight aluminum and urethane materials
Fully adjustable in length, width, and height
Made from durable materials

Lightweight

Fully adjustable

Comfortable

Convenient to use
A little complicated instructions
6. Jump 2-Wheel Adjustable Dog Wheelchair
This fantastic Jump 2-Wheel Adjustable Dog Wheelchair is great for dogs of all sizes.
This wheelchair for dogs is adjustable enabling you to move its width, length, and height for the right fit.
It is developed with 2 quality wheels that are puncture-proof for different surfaces. This way, your pet can move outdoors and indoors with ease.
The straps are very comfortable making sure that he will be secured.
This can be referred to as a great item for the rehabilitation of dogs with injured hind legs.
The aluminum material of the wheelchair is so lightweight which is why it is very portable. Without any effort, he can pull it to maneuver. You can even install it for an instance.
Specific Features:
Built-in lightweight aluminum alloy
Secured straps
Adjustable height and length
Easy installation
Two pneumatic wheels
Lightweight

Outstanding construction for high performance

Enhanced support

Powerful wheels

Ease in mobility
7. Newlife Mobility Quaz Four Wheels Dog Wheelchair
This new adjustable Quaz Four Wheels Dog Wheelchair from Newlife Mobility is specifically made for full body or foreleg support.
With its different elements, you may find this canine wheelchair distinct compared to the other existing doggie wheelchairs.
This model comes with wheelsets which include little casters at the front. Its support system has a lightweight frame and a belly band for the spine.
The wheelchair has adjustable harnesses offering optimal mobility and comfort. It is available in 7 sizes to cater to the rehabilitation of your furry friend's handicapped forelegs. Also, it has a free beautiful leash.
Specific Features:
Made from durable materials with its lightweight, aluminum frame
Comes with fore-leg rehabilitation and hind-leg support
Four wheels
Has free belly band
Free leash included
Diverse product with various options for forelimb and full-body support

Available from large to extra small

Easy to carry pets outside

Durability

Adjustable harness
Its straps and joins on the metal frame can be ugly

Can be very complex and pet parents may find it a struggle to maneuver
8. ZXPAG Lightweight Dog Wheelchair
The newly updated ZXPAG Lightweight Dog Wheelchair is specifically designed for small-sized handicapped dogs.
The wheelchair helps hind-leg injured pets walk with ease and comfort.
Its materials and craftsmanship are upgraded with a lightweight aluminum alloy frame. It comes with adjustable harnesses that have soft wraps.
This model is so light that your doggie can carry it with you. Whether he has a leg or hip issues caused by medical ailments, the wheelchair improves the quality of his life.
Also, taking it apart and putting it together is so easy. You can even install it yourself. Although it is particularly developed for pets with hind leg disability, your pet can still use it for mobility. Just raise the chair's hind legs.
Specific Features:
Specially designed wheelchair for hind-leg disabled dogs
Upgraded materials and workmanship
Made of durable and lightweight materials
Easy to carry and transport
Easy to install and store
Durable

Lightweight

Improves mobility

Alleviates pain

Improves health
Maybe not suitable for large-size dogs
9. GaoFan's Adjustable Support Dog Wheelchair
You might want your dog to be always secured and may be uncertain when he can break his forelegs or hind legs.
GaoFan's Adjustable Support Dog Wheelchair is doable as a support stroller for pets experiencing disability of paralysis either or both their foreleg, hind leg, or forelimb.
This can be the answer to pets with difficulty in walking properly. It is this model's lightweight that makes it easy for your pal to move around.
The pet wheelchair is made of high-quality aluminum alloy material.
This premium material can promise durability and lasting service life. Both independence and confidence are what your pet can get from using the stroller. Just follow the instructions provided and you are good to go a long way.
Another good news is the wheelchair's removable structure making it convenient to store and carry. It can also make the mobility and exploration of your little friend like that of a normal dog.
Specific Features:
Designed for ease in the mobility of pets with foreleg, forelimb, or hind leg disability
Made in durable and lightweight premium materials
Quality material
Convenient to use and store
Portable

Durable

Easy to assemble and disassemble

Convenient and independent walk

Easy to move around
May not be comfortable for small breeds
Guidelines in Purchasing the Best Dog Wheelchair
You have got the list above but you only need one for your precious dog. Pay attention to the following factors to help you through.
Right Diagnosis and Prognosis
First of all, know the right diagnosis and prognosis of your dog's physical disability to ensure that you purchase the one that suits your pet right. It is good to get one that serves its purpose.
As presented above, there are different dog wheelchairs to choose from. Identify the medical condition or issue of your pet first then buy the model that can make him comfortable.
Limb Size of Your Dog
Measure the height, length, and weight of your pet. Although some manufacturers offer one size fits all products, a wheelchair designed for large dogs may not be suitable to their smaller counterparts.
Paying visits to companies offering various sizes would be a great idea. Consequently, obtaining an accurate weight for him is critical to ensure that he does not exceed the specified chair capacity.
Getting the exact dog wheelchair that fits for him is very significant. You would prefer one that will make him comfortable.
To put ease to his disability issue is crucial which is why you have to know the right measurement. This will make you relieve his stress. You would not want to pick one that does not fit, right?
Quality and Cost
The second consideration is the quality of the material, which can sometimes equate to the cost of the wheelchair. Be cautious not to compromise the quality of the product if you favor a pocket-friendly option. There is nothing wrong with the less expensive chair just remember the other significant factors.
Note the comfort of your pet while having consideration of the product's cost. There are still choices with both quality and cost.
Materials Used
Another thing to take into account is the composition of your selected leg support. This determines its durability as well as its great performance.
A model with a lightweight frame will be convenient and easy to carry and transport. You might also want one that is resistant to sun, rain, and any other destructive elements.
It would be great to choose a wheelchair for dogs that is as light as possible while remaining durable and sturdy. Its primary purpose is to give support to your pet with great comfort.
Check whether all its contact points are padded or soft. Is it adjustable enough? It has to be so to suit your dog well.
Remember, be meticulous about the specific features of your choice. Make sure it serves its expected workaround.
Customizations
As mentioned earlier, it would be good to have a wide range of wheelchairs based on the average weights and dimensions of most dog breeds. This provides greater customization to pets.
You can guarantee the quality of the wheelchair if it comes with enough harnesses and adjustable straps for a customizable fit. The chair should precisely fit around the weight-bearing joints and spine of your pal as he may spend several hours strapped inside the chair. Consider every aspect of its fit.
Final Remarks
As much we would not want our pet to end up in a dog wheelchair. However, tragedy strikes in no time, and the available alternative is to get him the best dog wheelchair.
It is difficult and heartbreaking to see him struggle in moving around, but if your chosen wheelchair is right, the quality of his life would be a lot better.
Our Top Pick
After evaluation, HiHydro Cart Dog Wheelchair stands out from the rest of the wheelchairs in the list. This is our best dog wheelchair because of its quality, durability, functionality, and versatility.
When it comes to cost, it has the most efficient and reasonable price. It also meets most of the pet parents' wheelchair requirements.
You are now ready to visit the pet shop near you for the best dog wheelchair for your best friend.
Featured Image Source: Calvin Ma on Unsplash