Top 9 Dry Shampoo for Dogs: How It Works and What You Need to Know
While bath time can be a fun and exciting activity for some dogs, it can be a two- or three-person job for some. Fur parents know that a regular bath for their pups is necessary as the smells they accumulated can be unbearable.
However, some dogs are reluctant to bathing. Worry not because a dry shampoo for dogs is now available in pet stores or department stores.
Yes, there are a lot of these canine dry shampoos in the market to choose from. The next thing you need to know then is how to pick the best dry dog shampoo.
How will you be certain enough that it is the right one for your canine companion? Does dry shampoo work for him or would you rather stick to organic dog shampoo? What do you think? There's one way to find out then. Just read through and let us guide you.
Best Waterless Shampoo for Dogs List
Here are the dry dog shampoos we collated and reviewed for you:

Best Dry Shampoo For Dogs See Amazon.com for the best selection and value. #commissionsearned
Before discussing each of these waterless shampoos, let's have an overview of what dry dog shampoo is and how it works. 
What is Dry Shampoo?
Dry/waterless shampoo has surged in popularity because it is a water and time saver when bathing your pets especially those resistant to get wet. The shampoo is a cleansing product that does not require rinsing with water.
It has active ingredients based on starch or alcohols to soak up the sweat and oils from your hair. It absorbs excess sebum, eradicates dirt, and has a deodorizing effect.
There are different types of dry shampoos for canines.
Sprays and aerosols – These products have apple cider vinegar, honey, and Cocamidopropyl.
Foams – Massaged against the direction of hair growth to get rid of adhered dirt and muck. 
Powdered cleansers – May include Zea mays, essential oils, and sodium bicarbonate. Use through product distribution unto the pet's coat. They require thorough brushing to get rid of the excess dirt and powder.
Dry shampoos are a great way to keep your furry best friend fresh in between his baths giving his coat a terrific smell.  
How Does Dry Shampoo Work?
Waterless shampoos for dogs work depending on their active ingredients. Basically, they function through the absorption of build-up sebum or oil in the coat of your dog. Their main base ingredients clay and starch absorb excess moisture.
Some scents and fragrances help control odor. The absorbent properties they contain bind to dirt particles which make them easier to eliminate when you wipe or brush his fur.
They have pH-altering substances that encourage the right bacteria and discourage those who are smelly. 
It would be a good idea to give your pet waterless baths in-between times. Also, it is great to discuss this before he contaminates your furniture.
Let's go focus on our list of the best-rated dog dry shampoos in the market.
9 Best Dry Shampoos for Dogs
Turn stressful bath time into a fun activity for your pooch with any of the following waterless shampoos. 
1. Warren London's Dry & Waterless Deep Cleaning Dog Shampoo
Tame the smell of your furry buddy and keep his coat look great with Dry & Waterless Deep Cleaning Dog Shampoo from Warren London. The shampoo contains natural active ingredients keeping him tidy in between baths.

It is easy to apply and pat into his coat because of its light spray consistency. Spray this no-rinse formula on your desired area and soak it in before whipping the clean. You may also let it air dry.
This dog dry shampoo's natural green apple scent smell makes it the best deodorizer. It is very convenient in keeping him fresh on the go or when traveling. 
Specific Features:
Convenient dog shampoo

With a subtle and refreshing scent of green apple

Easy to use and clean without rinsing

Offers scent that lasts for hours

Works on different dog coats
Usable between your pooch's full baths

May not have an effect on existing flea treatments

Does not contain detergents, parabens, or soap

Dispense fine mist
Scent left on dog coat after spraying may not be that strong
2. Bio-Groom Waterless Bath No Rinse Shampoo
Bio-Groom Waterless Bath No Rinse Shampoo is an easy-to-use shampoo that does not require rinsing and wetting. This wipe-off shampoo keeps your dog smell great and clean when his traditional bath is not possible.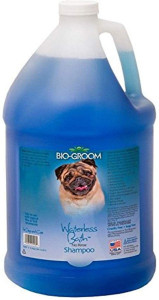 It removes stains, cleans gently, and valuable for quick touch-ups as it does not change the dog coat appearance. Many use the shampoo when bathing is not convenient for your pet. 
The no-rinse formula does not contain alcohol and it is tearless. It is safe to use when your pet is having tick and flea treatments.
With its sustainable, biodegradable, and plant-based formula, it is also safe for the environment other than your pet. Top groomers and breeders highly recommend it to pet owners. 
Specific Features:
Does not contain coat- and skin-drying alcohol

Comes with pH-balanced and tearless formula gentle on pets

Scented with chamomile, lavender, and lanolin
Useful for dogs unable to have proper baths

Preferred for quick touch-ups

Environmentally friendly

Gentle to dog coats

Makes fur shiny and soft
Some fur parents find its scent very strong
3. Vet's Best No Rinse Dog Dry Shampoo 
Make sure that the fur and skin of your paw look healthy every after a bath with Vet's Best No Rinse Dog Dry Shampoo. The foam uses natural ingredients including neem oil, aloe, and oatmeal.

It puts emphasis on his health making it easy to clean off any debris and dirt. Massage the foam into his coat to moisturize his skin and prevent it from flaking and drying out. 
The all-natural ingredients of the shampoo provide him with a full cleaning experience spectrum. It does not affect the existing flea treatment of your pooch. You can even use it as a preventative formula for him. 
Also, it keeps your pooch clean between the bathing sessions.
Specific Features:
Contains natural ingredients (neem oil, aloe, and micronized oatmeal)

Easy, simple, and quick to use formula

Use on a dog at least 12 weeks old
Provides healthy fur and skin on dogs

Can be applied to dogs aged 12 weeks and above
May have a sticky and clumped feeling on your dog's fur when used 
4. Burt's Bees Waterless Shampoo Spray with Honey and Apple
Fulfill the needs of your paw's texture and overall health using Burt's Bees Waterless Shampoo Spray with Honey and Apple. This pet shampoo has the highest quality natural ingredients nourishing his skin.
The shampoo enhances the shine of his coat while soothing his skin. You can use it on both puppies and adult dogs since it does not contain colorants, sulfates, fragrances, or harsh chemicals. 
The shampoo's apple content nourishes the skin while its honey content boosts the shine of his coat. It features a balanced pH for his skin's overall health. Just spray it to your dog from the back towards the upward direction the leave it in his coat. 
Just a caution not to spray it in his face to avoid eye irritation.
Special Features:
Comes with natural ingredients (honey and apple)

Use for puppies and adult dogs

Recommended by many veterinarians
pH balanced

Nourishes dog skin

Boosts coat shine
May irritate eye when accidentally sprayed to it
5. BioSilk For Dogs Moisturizing Shampoo Spray
Restore the luxurious shine and touch of your pet's coat by using BioSilk For Dogs Moisturizing Shampoo Spray when bathing him.
The waterless shampoo nourishes the coats of your pup with ingredients that will soothe his skin without damaging it. Since it is pH balanced, it will not mess with his skin's natural oils. Also, it gets rid of the smells, so you need not sniff his stinky scent.
It comes with a mixture of soy proteins and silk with almond oil for coat and skin nourishment, oatmeal extracts for cleansing, and aloe vera for soothing.
Use this formula between his baths to ensure that he remains fresh. It does not contain parabens or any other harmful ingredients. This entails that the shampoo can be used in the baths of canines aged eight weeks and older. 
Moreover, this spray only requires simple brushing without wiping using a cloth.
Specific Features:
Contains deep-moisturizing components

Has heat protectant when your dog's coat is blow-dried

pH balanced formulation

Has fresh scent

Can be a great detangler

Suitable for all puppies and dogs at least 8 weeks old
Available in a bundle of one or two

USA-made

Detangles hair mats from mild to moderate

Smells fresh

No wiping required

Restores moisture

Great for the itchy skin
This is not a tearless shampoo

May not be able to completely remove fur tangles and knots
6. Lilian Ruff Quick Dry and Tear Free Shampoo Spray
Get your pooch smell fresh and all clean again with Lilian Ruff Quick Dry and Tear Free Shampoo Spray. This dry shampoo for dogs does not need any water and combing of his fur. It stays in his fur for deodorization, and to keep him smelling fresh for a longer period. 
Like coconut and lavender, natural oils are used to avoid skin irritation. The dry shampoo may serve as a tick and flea repellent.
It incorporates essential oils' benefits because of their conditioning and skin-soothing properties.
Specific Features:
Contains natural essential oils

Comes in spray

No dyes, sulfates, preservatives, and parabens

Free from gluten
Repel ticks and fleas

Convenient to use

Good for dogs with a sensitive stomach

Has a long-lasting scent

Keeps the dog smell fresh

Gentle and effective
May not be workable for heavy soiling

Its spray nozzle may not function well after several uses
7. Wahl Oatmeal Formula, No-Rinse Shampoo with Coconut Lime Verbena
Use Wahl Oatmeal Formula, No-Rinse Shampoo with Coconut Lime Verbena to mitigate stress and keep your pet clean. This dog shampoo for dry skin is pH balanced to avoid natural oil disturbance produced by his skin.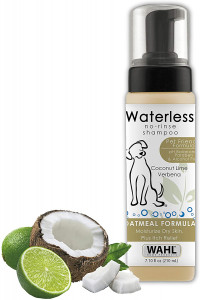 Primarily, it cleanses and soothes dog skin. It uses plant-based ingredients to make sure that natural ingredients will not harm or irritate his coat or skin.
Harmful chemicals like parabens and alcohol are not used in this shampoo. Just pump the foam onto him, massage in, and wipe and comb out some debris and dirt. It prevents puddles in stressed-out dogs and in the bathroom.
Specific Features:
Does not contain harmful, damaging ingredients

Has coconut lime verbena

Comes with ingredients based on plants

Designed and developed for all types of canine coats
pH balanced

Eliminates stress

Available in oatmeal and lavender scents

Removes debris and dirt

Has fresh scent

No residue

Has odor control

No rinsing requirement

Allergy-friendly
Its cleansing effects may not last for long

It has a lingering and strong smell unfavorable to some pets
8. Miracle Care Miracle Coat Waterless Shampoo
While a little expensive, Miracle Care Miracle Coat Waterless Shampoo is worth an investment. The waterless shampoo contains pharmaceutical-grade, natural ingredients that are effective and safe.

It eliminates built-up residue, freshens, and moisturizes the coat and skin of dogs. Another thing is that it provides your pooch with conditioning qualities leaving his coat easy to deal with. 
The spray is applied to your friend with no physical contact with his coat or skin. It serves as a rinseless pup cleanser. Note that it is safe to use on dogs of different breeds and sizes. Actually, this product offers fast relief for dogs with dry skin.
You will have a shinier coat with lesser mats over a long period of time, especially if he has long hair.
Specific Features:
Available in spray form

Applicable even without physical contact

Rinseless cleanser for dogs

With quality ingredients

Developed for canines no matter the breed and size
Cleanses dogs with no rinsing

Good for pets with dry skin

Offers fast relief

Easy to use

Has a fresh and clean traditional scent

A good detangler

Penetrates very well up to the undercoat
Has too much lather

Not recommended for dogs with existing damaged skin
9. Begley's Natural Waterless Pet Shampoo
Use Begley's Natural Waterless Pet Shampoo to give your pooch a natural bath. This all-natural shampoo contains ingredients benefiting his skin and coat. It does not have parabens, phosphates, synthetic fragrances, chlorine, dyes, or other damaging ingredients for your pal.
This waterless shampoo allows you to bathe him wherever and whenever needed. You just have to spray him, massage into his coat, and brush it out. 
Finally, this shampoo friendly to the environment and serves as a green alternative to dog bathing. 
Special Features:
Contains natural ingredients

No harmful ingredients (parabens, phosphates, synthetic fragrances, etc.)

A green alternative to bathing

Environmentally friendly

Waterless design

Available in citrus, tee tree, oatmeal mango, and lavender scents
Easy to use

Different options for scents

Not harmful to the environment
Should be wiped out of the dog's fur every after use
In conclusion, dry shampoos for dogs have become a popular alternative for pet owners who struggle with the task of bathing their dogs. With a wide range of options available in the market, it can be challenging to choose the best one for your canine companion.
By understanding how dry shampoos work and what you need to know, you can make an informed decision that is best for your furry friend.
Whether you opt for a dry shampoo or an organic one, it is important to prioritize the comfort and well-being of your pet.