Your dog may be struggling with painful joints, anxiety, or any inflammatory conditions. Definitely, your pooch needs treatment so he will feel better. But, of course, you'll want it done the safer way. This is where hemp oil for dogs takes its toll on his health needs. Learn more about this natural alternative to a potentially harmful pharmaceutical and our top picks of hemp oils.
List of Hemp Oils for Dogs
Here are our top picks for the best hemp oil:
Best Dog Food For Shedding See Amazon.com for the best selection and value. #commissionsearned
These products will be discussed further below. Meanwhile, let's have some facts about hemp oil first.
What is Hemp Oil?
Generally, hemp oil is a natural dietary supplement with various health benefits to dogs other than humans. The oil is derived from hemp plant seeds, hence, it is also called hemp seed oil.
Meanwhile, cannabidiol (CBD) is extracted by cold pressing the stalks, seeds, and/or leaves of the same plant.
The oil is a great source of dietary nutrients such as fatty acids as well as antioxidants. It promotes the digestive health of your furry friend, keeps him limber, and increases his cognitive function.
It soothes joint pain, connects to cancer prevention, and combats anxiety. This is why many fur parents are switching to this natural supplement in relieving the seizures, pain, and other ailments of their pet.
Hemp Oil vs. CBD Oil for Dogs
While hemp oil offers wellness and medicinal properties to benefit dogs, CBD oil, which comes from the hemp plant as well, also provide them healthy nutrition. Some manufacturers use both terms interchangeably.
However, they are not the same. CBD oil comes from all hemp plant parts including stalks, leaves, and flowers. It might be confusing, but it is also a type of hemp oil. On the other hand, hemp oil or hempseed oil is only extracted from the seeds of the same plant.
As to which is better, it depends on your expectation of the product. Although CBD oil is non-psychoactive, it has medicinal benefits to dogs like pain relief and anxiety reduction.
On the other hand, hemp oil has balanced fatty acids Omega 3 and 6, which are significant in a dog's nutrition. Both fatty acids work in controlling inflammation in his body.
Hemp Oil Benefits for Dogs
Many dog owners turn to the all-natural hemp oil because of the amazing benefits of its properties to dogs. Let's take a look at hemp oil's benefits:
Promotes Vitality with Its Gamma-Linolenic Acid-Content
The holistic gamma-linolenic acid (GLA) component of hemp oil helps build a substance that is significant for joint health and other body functions. It supports skin health by moisturizing his skin, managing weight, and digestion. Also, it promotes immune system function and cellular health.
Offers Omega Fatty Acids Workable for Dogs at Any Age
Omega fatty acids are great for dog's health and these acids can be sourced from great ingredients such as hemp oil. This is one way of adding Omegas to your pup's diet. Omega-rich supplements support skin health, aids with immune response and cardiovascular function, and promotes joint and hip health.
Great Source of Vitamins, Minerals, and Protein
Hemp seeds are abundant in minerals, vitamins, and protein. They are a source of proteins with an essential amino acid. Other significant ingredients from these seeds are healthy minerals and vitamin E that boosts immune function, skin health, and overall nourishment.
Improves Coat and Skin Quality
Both Omegas 3 and 6 fatty acids make your dog's coat and skin healthy. This is could be the reason why hemp oil is a common ingredient in soaps and cosmetic products. Many veterinarians also recommend products with hemp oil to mitigate skin issues like granulomas or atopic dermatitis.
Reduces Inflammation
Hemp oil may serve as an anti-inflammatory agent as it provides a balance between fatty acids Omega-3 and Omega-6. This balance is important for a healthy and proper inflammatory response. Its anti-inflammation properties help treat and prevent allergies, infections, injuries, and other health problems.
Is Hemp Oil Safe for Dogs?
Whether in the form of CBD oil or hemp oil, hemp is safe for canines so long as you stick to products containing less than 0.3% or no THC at all. CBD oil may have side effects but not as much as those of anxiety medication and painkillers.
CBD oil overdose may cause your pooch to stumble while walking or can be extremely lethargic to him but will stop after hours. If you strongly believe that CBD extract can make his life the best, try to consider which form is the easiest.
Moving forward, which is better, CBD oil or hemp oil? Since you now know the difference between both oils, choosing the best one for your pup would be easy. You and your dog's vet know better what is good for him.
Let's go deeper into our list of hemp oil products.
6 Hemp Oil Products for Dogs Reviewed
Take a look at the following hemp oil items when going to the pet shop or market.
1. Pittie Cool Pure and Natural Hemp Oil
Keep your dog calm and stress-free with Pittie Cool Pure and Natural Hemp Oil. This formula of hemp oil has a calming effect to relieve him from separation anxiety, natural aggressiveness, fear from a storm, travel issues, and other anxiety-associated problems.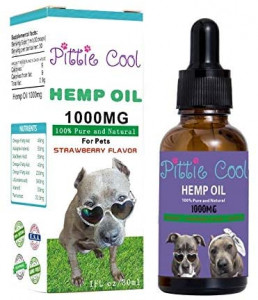 It is its anti-inflammatory properties that relieve his joint pain other than achieving more energy, mobility, and agility.
There are other health benefits it gives to pets such as seizure and epilepsy mitigation, itchy skin relief, and gastro-intestinal issue, and nausea management. It even promotes healing and stimulates his appetite.
With the use of a proprietary extraction process, the product takes pride in providing the purest and most organic hemp oil for any pet (dogs, cats, etc.).
Its nutritional value is nonetheless very high with its phytochemicals, essential oils, flavonoids, omegas 3 and 6, vitamins A and D, terpenoids, and trace minerals.
Many veterinarians recommend it too for its compliance with the world's highest manufacturing standards.
Specific Features:
Pure and natural formula for pets
Contains hemp oil extract with full plant profile
Has omega-3 and omega-6
Rich in vitamin A and vitamin D
Beneficial ingredients include essential oils, phytochemicals, flavonoids, and trace minerals
Veterinary recommended
In strawberry flavor
Keeps pets cool and calm
Improves sleeping habit
Stimulates appetite with its strawberry flavor
Relieves inflammation and pain
Alleviates anxiety
Enhances mood
Soothes itchy and dry skin
Offers joint and hip support
Its strawberry flavor may not be appealing to some picky pets.
2. Ultra Oil Skin & Coat Hempseed Oil Supplement for Dogs
Carefully formulated Ultra Oil Skin & Coat Hempseed Oil Supplement for Dogs offers a mixture of essential nutrients for the healthy lifestyle of your pooch.
The supplement relies on healthy fats including Omegas 3, 6, and 9 to keep his fur and skin in its optimal form. These immune-boosting fatty acids offer optimal digestion and make his coat soft and shiny.
Also, they have been associated with mental function and mood as well as his overall wellness.
With its proper ratio of careful formulation, fur parents can use it in conjunction with the other commercial foods for dogs and other homemade diets.
Other perks from this supplement are its non-components including herbicide and pesticide, gluten, and GMO. It may also serve as a natural anti-oxidant that mitigates waste and toxins from his body.
Specific Features:
Healthy pet formula
Contains natural ingredients like hemp oil, fatty acids (Omegas 3, 6, 9)
Has essential nutrients
Gluten-free, GMO-free, free from pesticides and herbicides
Versatile use for all dog breeds
Keeps pet healthy
Supports the function and circulation of the cardiovascular system
Lessens irritation
Supports metabolic rate and energy levels
Safe and can be effective to dogs of any breed
Environmental-friendly
Supports immunity levels, normal inflammation response, and organ function
It may not be enough for some dog breeds with nutritional issues since it is just a supplement, not a treatment.
3. Nature's Synergy Hemp Oil and Melatonin Calming Solution & Pain Reliever
If your buddy can hardly relax or go to sleep, give him Nature's Synergy Hemp Oil and Melatonin Calming Solution & Pain Reliever.
This formula primarily contains oil from hemp seeds organically grown in the U.S. Alongside melatonin, both are tested and proven pure, safe, and effective in keeping him calm and relieved from pain.
It has fatty acids Omega 3, 6, and 9 supporting his skin, immune system, coat, and heart. Such a balance in these acids helps improve his overall health and wellness.
The product serves as nature's prescription for the relief of whatever pain he may be suffering from.
Its anti-inflammatory properties are the main ingredients in relieving pain due to inflammation and arthritis.
This makes him more playful and active all-day especially as he gets older. It is free from gluten making it safe for any dog breed.
Specific Features:
Pure organic hemp oil and melatonin
Formulated with essential fatty acids (Omega-3, Omega-6, and Omega-9)
Has anti-inflammatory properties
Organically extracted in the U.S.
Contains health ingredients
No fillers
Promotes healthy skin, coat and body
Relieves stress and anxiety
Promotes healthy sleep patterns and relaxation
Safe and effective
Relieves pain
Offers satisfaction to all breeds of dogs
It may take some time for the complete health benefits of the formula to appear and take effect.
4. Downtown Pet Supply Premium Organic Hemp Oil
Mitigate the pain and anxiety of your furry loved one with Downtown Pet Supply Premium Organic Hemp Oil. The hemp oil is organically derived from hempseed along with chlorophyll.

Such ingredients help balance his digestion and mitigate stomach aches. The oil also relieves arthritis, joint pain, and swelling.
Its natural ingredient Omega 3 and 9 fatty acids help manage his anxiety and stress. The oil is safe to use as it is approved by the FDA and manufactured in the U.S. It is a very effective organic formula to use as it does not contain GMOs, additives, or preservatives.
Specific Features:
The main ingredient is hemp seed oil
Has natural fatty acids (Omega-3 and Omega-9)
FDA-approved
Contains chlorophyll
Acts as a pain reliever and anxiety solution
Reduces anxiety
Relieves stress
Balances digestion
Mitigates stomach aches
Safe to use for all dogs
Preservative-free, additive-free, and GMO-free
Lessens joint pain, swelling, and arthritis
Supports a shiny coat and healthy heart
May only relieve arthritis or other health issues but not totally heal them.
5. Stirling Bacon-Flavored Pure and Potent Hemp Oil (Dogs and Cats)
Is your furry friend being anxious whenever you go out or somewhere, leaving him behind? Does he suffer from leg or hip pain? Stirling Bacon-Flavored Pure and Potent Hemp Oil for Dogs and Cats can help him feel better.
This CBD oil is specially formulated for dogs and cats to lead a happier and healthier life. Its main ingredients are hemp extract from Kentucky hemp, natural flavoring, and MCT oil.
The product's MCT oil is the best carrier of CBD oil on the market as it is water-soluble, more bioavailability than CBD carriers based in oil, and protects the CBD.
It helps him calm and have a sound sleep. Also, it has a natural flavor with bacon essential oil but without additional sugar.
It helps in the management of your pet's pain as it works with his endocannabinoid system. Its anti-inflammatory compounds are so powerful which give him a better feeling. It reduces his joint and muscle pain and keeps him relaxed.
Specific Features:
Comes with natural ingredients (premium hemp oil, natural flavors, and MCT oil)
Available in bacon flavor
Non-GMO, organic, vegan
Tested for purity, potency, and safety
Has inflammatory properties
Alleviates anxiety
Eases daily stress
Mitigates joint and muscle pain
Water-soluble
Satisfying bacon taste
No artificial flavor
May not be favorable to pets not into bacon
Not manufactured for the diagnosis, treatment, or cure of any disease. Check your pet's veterinarian for proper medication.
6. Pet Nutrition Hemp Oil Dietary Supplement
If your four-legged best friend is suffering from a seizure, Pet Nutrition Hemp Oil Dietary Supplement can be a great help.
The dietary supplement contains anti-inflammatory properties that can help with his aches and pain caused by arthritis or any other illnesses, even seizures.
Its premium organic hemp oil keeps him away from constant barking, separation anxiety, and stress. The hemp oil extract is suitable for all sizes and breeds of dogs.
This pet nutrition is formulated to promote the natural sleep of your pal and to support his mood. It is universal and very safe to use as it is free from GMOs, gluten, and THC.
Other than its natural hemp content, it also has vitamin E and Omegas 3, 6, and 9 for him to stay healthy. Such could be the reason why many pet owners trust this product and order more.
Specific Features:
A dietary pet supplement
Formulated from premium organic hemp oil that helps relieve seizure
Has anti-inflammatory solutions
With multivitamins (Omegas 3, 6, 9 and vitamin E)
Non-GMO, gluten-free, THC-free
For dogs of all sizes and breeds
Offers relief for dog's seizure
Helps with aches and pains (knee, nerve, or joint pain and arthritis)
Relieves anxiety
Promotes calm sleep and boosts mood
Safe to use and universal
Strengthens overall health
Only a nutritional supplement to relieve seizure pain, not a treatment.
Wait, we're not done yet. Yes, you have the list of products to consider in your next visit to a pet shop or department store but how will you know it is the best for your beloved canine?
Choosing the Best Hemp Oil Guidelines
The products presented above are your prospects, and the next thing to focus on is getting the best one. Consider the factors below then.
Ingredients
Of course, no pet owner would want to harm his buddy, right? Check out the product's label for its ingredients. Select the item that is natural. The item should not contain fungicides, pesticides, and solvents.
Know where its manufacturer has grown and extracted the hemp oil. Also, determine whether it is a CBD oil or hemp oil. The extraction process is relevant to its being organic.
Concentration
Take note that the active ingredients and the concentration are not the same for products manufactured for dogs and humans. Dogs' endocannabinoid system is more complex than that of humans.
This indicates that products with THC have a stronger and harmful effect on them. While gummies are okay for human consumption, their artificial sweetener is toxic for canines.
Price
While it is true that the quality and purity of hemp oil come with an equivalent price. This may not always be the case for all products but mostly. Purchase the best one you think right for your buddy no matter the price.
Remember, you are getting a product that will strengthen his health. The possible issue of going for a cheaper option is receiving a knockoff product. This may even endanger his health in the long run.
Product Test
Make sure that the product you are about to purchase has been tested for its quality and passed the quality assurance test.
Consider an item that has undergone a third-party laboratory test. This will help determine the amount of ingredients that the hemp oil product contains. Also, the test will show the oil's potency and traces of the other contents in it.
Bottomline
Hemp oil products discussed and reviewed here are properly researched. They are the best among the other products. Detailed information along with their reviews are provided to help you decide which one suits the health and nutritional needs of your pooch.
Our Top Pick
With its many benefits and its safety and universality, we name Pittie Cool Pure and Natural Hemp Oil as the best hemp oil for dogs. This all-natural and organic product makes the life of your dog carefree and happy.
Its nutritional and overall health benefits are the perks that every fur parent will surely want for his/her pooch. It's appropriate for all dog breeds and sizes. Moreover, it is available in the market at a very reasonable price.
Besides, hemp oil for dogs, they also have calm soft chew as a good option for dogs that love eating treats. 
Check this article on 5 calming foods to help relax your dog, if you want to know more about what else you can do for your dog. 
Now, go to the shop or market and find the best hemp oil for dogs that is right for your furry pal.