Sale!
Dog Poop Bags Extra Thick Pet Waste Bags with Handles
From $22.99
Keep your yard and community clean with our premium pet waste bags! Made from durable, leak-proof material, these bags are strong enough to handle even the messiest of cleanups. Convenient and compact, they fit easily in your pocket or leash. Say goodbye to unpleasant odors and unsanitary conditions, and show your love for the environment by choosing our eco-friendly pet waste bags. Each 270-count pack comes with 7×13 inches bags that are large enough to accommodate waste of any size, and equipped with handles to make tying and disposing a breeze. Make picking up after your furry friends messes a hassle-free task with Bulldogology's Pet Waste Bags with Handles.
DURABLE POO BAGS: These 20 microns thick bags are designed to be both leak-proof and tear-resistant, ensuring a clean and hygienic experience during walks or travel with your furry companion.
CERTIFIED RECYCLED MATERIALS: The biobased cornstarch used to make the bags are both USDA and ASTM D6400-certified for their compostable nature, making them an eco-conscious choice for cleaning up after your pet.
COMPOSTABLE DOG WASTE BAGS: Made largely from cornstarch, which means they'll break down when thrown away unlike traditional plastic products, giving something back to the planet rather than sitting in landfills for eternity.
UNSCENTED DOG BAGGIES: There will be no extra steps required, just grab your dog's business in a dog waste bag and toss it out.
RECYCLED PACKAGING: We ensure that each and every dog poop bag is packaged in fully recycled and recyclable cardboard. This way, you can buy our poop bags for dogs with the confidence that the packaging will actually do some good after disposal.
Trust us, when it comes to cleaning up your pet's mess, Bulldogology's DURABLE DOG POOP BAGS are the ultimate solution. CLICK TO VIEW STANDARD BAGS
Free shipping on orders over $35!
Pet Verified and Approved
Hassle-Free Easy Returns
100% Money Back Guarantee
Secure Payments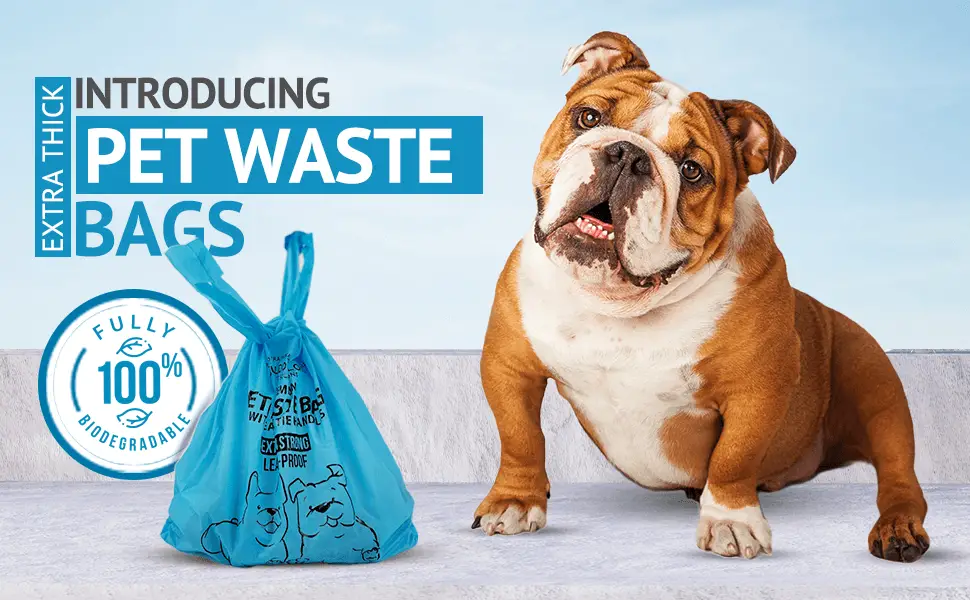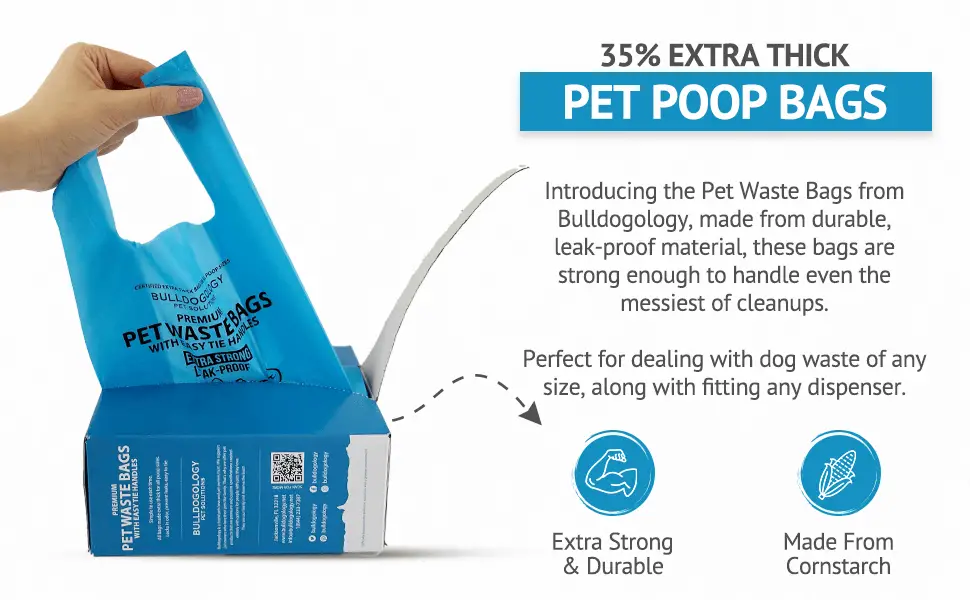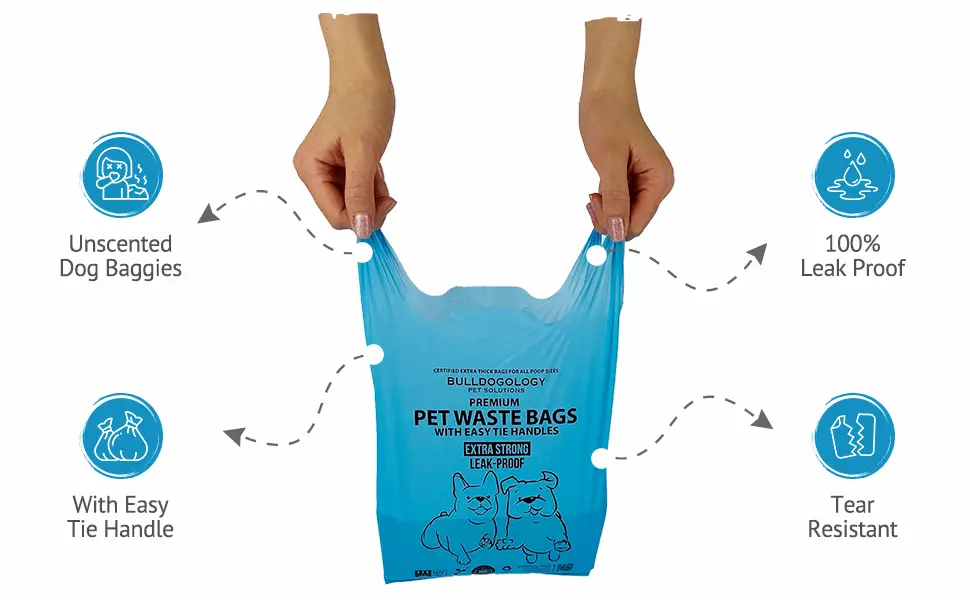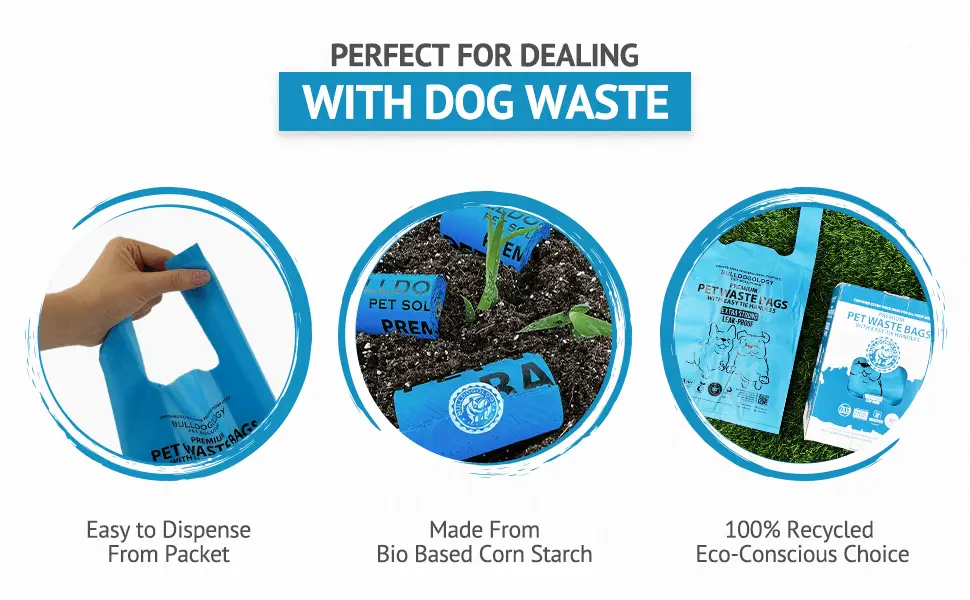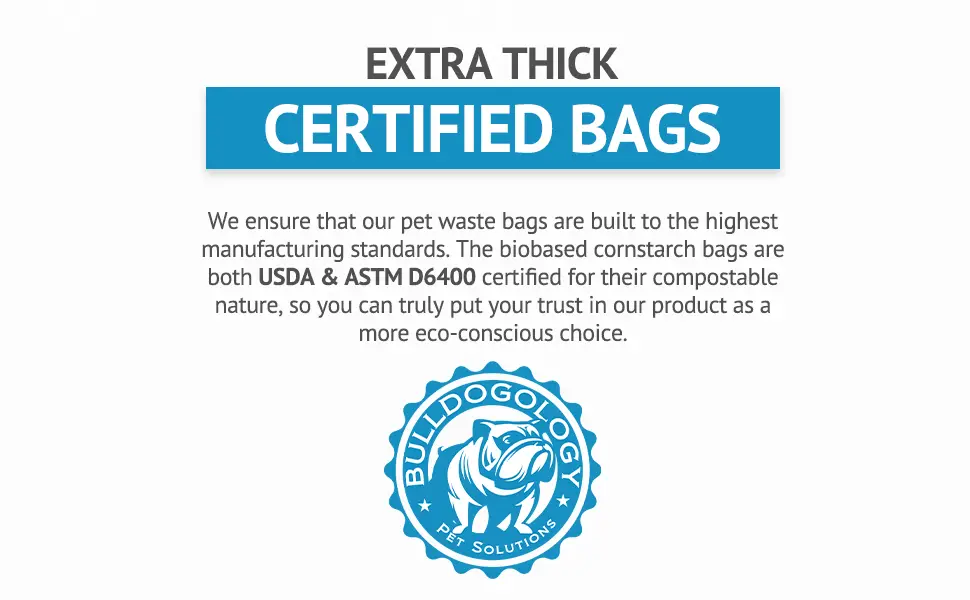 In other words, our dog poop bags are not just the "scoop" of the poop, but also a sustainable and eco-friendly option for cleaning up after your furry friend. And if for any reason you're not satisfied, we offer a money-back satisfaction guarantee, so you have nothing to lose and only a cleaner yard to gain.
What Customers Are Saying...