Top Rated Puppy Pads
That Works!
Puppy pads are designed with 6 layers of super absorbing, odor-blocking, and leak-proof layers for maximum floor protection. No more leaky dog pee pads that don't absorb. Enjoy pet parenthood without the stress of unwanted pet mistakes.
Shop The Best Dog Pee Pads
with Adhesive Tabs
Why Pet Parents Are Raving
About Bulldogology Pee Pads
Quickly turns liquid into gel keeping your floors dry all day long
Built-in attractant to help train your dog when you're not around
Instantly eliminates the stinky smell to keep your home fresh
More absorbing materials with Bullsorbent® Polymer
Perfect for indoor and outdoor use, use it as food and water mats, for kennels, or even when traveling
Optional adhesive tapes to help keep your pet from making a mess
Over 1000+ PAWSOME Reviews
Check What They're Saying About Us!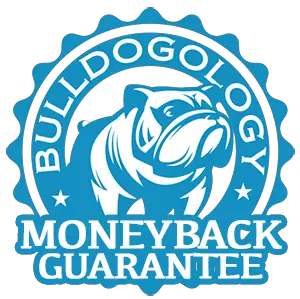 100% Satisfaction Or Your Money Back
If there are defects or whatever reason you're not satisfied, we'll send you another box free of charge or provide a full refund. That's how confident we think you'll love our product!
Uncover Why Bulldogology is The Best Pet Pee Pads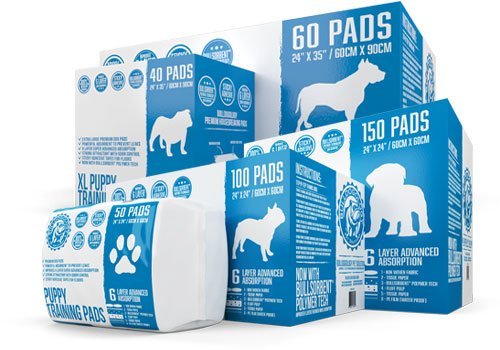 We know how much you love and adore your pet. And with owning pets, comes great responsibility. One of them is to potty train your pet so your house remains tidy and the pet stays safe and sound.
Bulldogology dog training pads provide the best option to pet owners with thick and absorbent pee pads to teach your dog or cat housebreaking even if you are at work or busy otherwise.
Here is why Bulldogology pee pad is a must for a pet owner:
6-Layered Thick Absorbent Dog Pee Pads
Bulldogology puppy pads comes in 50, 40, 60, 100, and 150 count large 24″ x 24″ inches and extra-large 24″ x 35″ inches.
Plus our black pads come in large or extra large, with carbon-activated charcoal pet potty training pads that are 6-layered and 3x thicker which instantly absorb liquid and turn it into the solid residue.
The innovative 6-layer design of the pad includes non-woven fabric, more than 7g+ SAP, Bullsorbent© polymer technology added, full fluff pulp, waterproof PE film, and 2 layers of quilted tear-resistant.
Leakproof Super Absorbing Wee Wee Pee Pads Layers
Bulldogology super absorbent and quick drying dogs wee pad features leakproof pulp and first-class Bullsorbent© polymer technology quickly absorbs mess and then turns it into solid for easy removal.
Dog Training Pads with Optional Adhesive Sticky Tape
Dog pee and potty training pads ensure housebreaking by pets much easier and come with strong adhesive tape that prevents pads from moving around and keeps your tiles, floor, and carpets safe from pee.
Potty Train with Odor Control and Floor Protection
These fast absorbent first-class disposable quilted dog pee pads effectively control odor, bad smell, and prevent tracking all over your house.
Plus, these dog pads prevent leakage due to leak-proof plastic gel and keep your floor neat and clean.
No smell or lingering odor with these disposable puppy dogs pads!
Puppy Training Pads with Built-in Puppy Attractant
Pee pads are perfect for busy dog owners, and the built-in attractant in these puppy pee pads attracts your dog and keep them housebreaking even if you are not around.
Our dog pads are larger than standard pads and protects a great surface area—a great option for huge and giant dogs.
The enhanced absorption of dog pee pads keeps your house fresh, and does not allow the unpleasant scent to spread around.
Our puppy pads help you in potty training your pet in the best possible way.
Easy to put to work as you just need to place puppy pee pads near pet food containers, crates, and kennels.
The built-in puppy attractant will coax the pet to these dog potty pads so not much effort is required.
Puppy Pads with the Most Absorption Capacity Ever!
Bulldogology large dog pee pads are capable of absorbing up to 7.5+ cups of liquid while an extra-large dog potty pad has the capacity to absorb 9+ cups of liquid. This tremendous capacity of super absorbent pee pads is leak-proof barrier and ultra-absorbent gel that prevents the seeping of liquid to surfaces and also effectively controls odor. 
Each dog pee pads converts the liquid into a gel which means no spilling or stains making it easy to clean.
All six layers of the pad ensure quick drying and full conversion into gel form making it a mess-free and time-saving process so you can enjoy the extra time playing with your pet instead of having to clean up.
Potty pads for puppies have been produced using toxin-free and anti-bacterial material making pee pads safer for your puppy.
The fabric of the potty pads is tear-resistant and thick enough to hold the excreta for a long time. The smooth surface of the puppy training pad is designed to make sure the paws of your small dog are protected and don't get caught up in the fabric of the wee pads.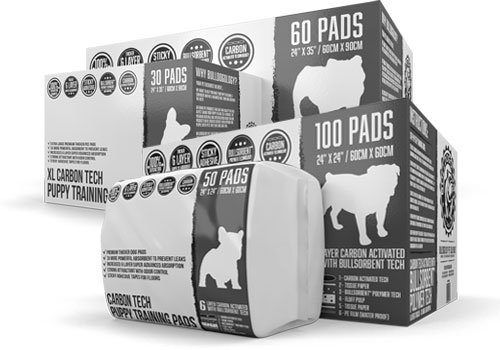 Ultra Absorbing Charcoal Black Puppy Pads that Holds!
The black pads are formulated by carbon technology that's 3x thicker!
100% more absorbent than a regular puppy pad to protect your floors, carpets, tiles, and other surfaces from stains and smells.
Made even more SAP with our NEW Bullsorbent technology and ultra-thick layers of absorbent materials, not only that they are leakproof. Blocks neutralize and control odors and prevent leakage or tracking.
Bulldogology training pads allow you to housebreak your dog, even when you are not at the house. The puppy attractant layer creates a powerful attractant scent for dogs, so your pup will quickly learn to use the potty pad when indoors.
Intended for indoor or outdoor use, the pads are ideal for any time of year and species of dogs or pets.
Includes optional adhesive sticky tape to hold the pad in place and to keep your pup from moving the pad or slipping.
Bulldogology Pee Pads are The Best Choice
Instantly absorb and turn liquid into gel, resulting in quick drying of floors.
Prevent moving and leaving a huge mess on floors, tiles, outside grass, or carpets as these pee pads are wide and long enough.
Eliminate and neutralize odors swiftly to keep your home smelling fresh and clean.
Perfect for busy dog owners, attractant puppy pads to help housebreak your dog even when you are not around.
Multiple uses that are great for kennels, crates, food, and water mats, in an outside setting, potty training, and perfect for indoor use.
You will never have a single leak issue with dog training pads due to their excellent leak-proof design. Bulldogology training pads for dogs are also ideal for cats due to their multi-purpose design and functionality.
Bulldogology potty pad product is highly useful. All sizes and counts wee pad set is a long-term investment as your dog or cat learns housebreaking in the safest and fastest way possible.
Your pet deserves the best and we at Bulldogology are offering the best.
Guaranteed Satisfaction Or Your Money Back
Try the #1 premium pet training pads with free shipping +35$ plus free returns, risk-free!