Tips on Traveling with Dogs on Trains: The Ultimate Guide in 2022
Traveling with dogs on trains can be quite challenging. However, with some simple preparation and doing some precautionary measures beforehand, the entire process can be painless, even enjoyable.
Moreover, trains have become a popular mode of travel for many people. Amtrak's official pet policy allows dogs to travel as long as they are less than 35 pounds and be able to fit within a pet carrier.
There are also a few other rules that need to be followed regarding dogs in train but their main focus is on ensuring everyone's comfort at all times by keeping the environment pleasant.
Nevertheless, traveling with your canine friend is lots of fun and in truth is a great bonding experience. However, you need to ensure certain things before onboarding your pet inside a train.
Stay right there are and read some guidelines and tips to hop on a train with your pup.
But before heading to the guidelines, let's learn some basics first.
Pet Travel and Pet Carrier
Planning to take your best friend on a road trip?
You're not alone.
Whether you're heading cross-country or just across town, taking your fur baby along for the ride can be a great way to bond and create memories that last a lifetime.
However, it's important to consider how much your dog will enjoy the trip before you hit the road. If they are prone to anxiety around strangers and new places, being packed in a car with lots of strange sounds and sights may be too much for them to handle—and that goes double for long trips!
For these dogs, it may be better for them to stay at home and enjoy some playtime with a pet sitter who can give them one-on-one attention.
However, if your dog is used to traveling or just really loves going for rides in the car (bonus points if he or she likes sticking their head out the window!), then the open road is calling!
Here's great news.
Amtrak trains accept pets. The bad news is that the rules and regulations can be complicated and confusing. So let us help you get started!
Amtrak's policies differ depending on which train service you're using, so make sure to check out the different options below.
Amtrak Cascades has a unique pet policy. You may find these rules on their website.
All other Amtrak cascades trains have one standard pet policy though.
Amtrak Thruway Connecting Services (buses) also have a pet policy, though it differs slightly from the standard Amtrak policy. Check it on their website.
Now, if you're annoyed dragging your dog through the train station, fret no more. A pet carrier is an answer.
Your pet carrier attaches to your luggage and lets you bring your pets with you for a train ride—no matter if they're small, large, or even amphibious. Now you can relax on those long train rides and bring your pup along for the ride!
Pet must be kept inside the carrier while onboard the train. However, this rule comes with some exceptions.
Service dogs that are trained to assist passengers who have disabilities can travel with their handler throughout the train. Cats and small dogs can travel in the same carrier together if they are both small enough to fit inside a single carrier.
Also, emotional support and psychiatric service animals may be permitted outside of a carrier but must remain on leash at all times.
Tips for Traveling With Dogs on Trains
You're heading out of town and your pup is coming with you, but as soon as you step onto the train, you're hit with conflicting feelings of both excitement and nervousness. After all, there's a lot in store for both you and your little furball on this trip.
So, let's get rid of some of your stress.
Talk to Your Pet's Vet Before Leaving
You want to bring your small dog or cat on board, so now what? Talk to the vet before you leave.
The first step is to check in with the vet and make sure your pet is healthy enough for travel.
Your vet can help you keep track of your pet's vaccines and other health records, which are required for all pets traveling on our trains. The vet can make sure your animal is healthy enough for travel.
Also, the vet may be able to give you recommendations on how to keep your dog safe while traveling, including tips on how to keep him comfortable while he's in the kennel.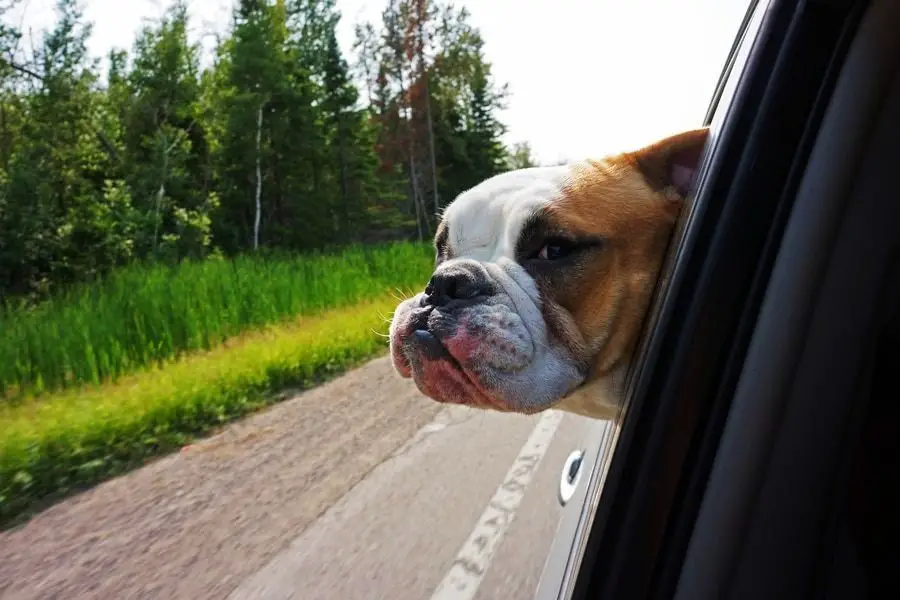 We understand that it can be difficult or even impossible to take your pet with you on some trips, but if it's possible, we strongly recommend it!
Traveling with a pet can strengthen the bond between you and your furry companion, and it helps ensure that the two of you will have safe, happy experiences together for years to come.
Learn Railway Requirements
Most trains and railways' pet policy allows small pets to travel for free in the cabin or for a fee in the baggage car on most Amtrak trains. You want to keep them by your side, so here are some tips on how to make sure that happens:
Pets Allowed Amtrak Trains and Thruway Connecting Services
Pets are accepted on most Amtrak trains and Thruway connecting services except for the Acela Express, Amtrak Cascades, and certain trains in the Northeast Regional and Keystone Service. Check out Amtrak's Pet Policy for details.
Dog Breed Eligibility
Several breeds of dogs are not allowed on the train, so make sure to check Amtrak's pet eligibility list before you book your ticket.
Dog Size
Small dogs (under 20 pounds) and cats for $25 each way. Larger dogs are allowed, but they must be crated (maximum size: 19″H x 16″W x 27″L), must not weigh more than 75 pounds, and will count as your carry-on item. A maximum of two pets can travel with one passenger in Business Class; there is no pet limit in Coach Class.
Pet Policies in Cities
A few cities that Amtrak travels to do not accept pets at all, so make sure to check Amtrak's pet policy before you book your ticket.
Number of Pets
You can only travel with one pet per passenger, so if you have more than one furry friend, plan accordingly!
Cats and Dogs
Only dogs and cats are allowed on board, and only small dogs can ride in the cabin (max 20 lbs).
Pet Vaccination Documents
Make sure your pet is up-to-date on all their vaccinations, as well as any required treatments and certificates for travel. If you have questions about this, please contact your veterinarian before booking your trip.
Check-in Time
Check-in early! Pets must be checked at least 30 minutes before departure if traveling without a carrier, or 45 minutes before departure if traveling with a carrier.
Pet Carriers
Give them their own space! You can purchase an approved pet carrier or use one that meets our dimensions, which are as follows: 17 inches long × 12 inches wide × 10 inches high, or less than 19 inches long × 14 inches wide × 11 inches high if the carrier has wheels.
Your pet is eligible!
Organize Your Train Travel with Pets
Now that your dog is allowed by his vet and eligible based on the railway policies and pet release paperwork, it's time to pack.
Only bring the essentials to maintain a smooth ride with your pooch. Here's what you need to pack for your pet days before your travel schedule:
Pet carriers
Pet ID tags
Seat belt harnesses
Travel water dispenser
First aid kit
Playsets or toys
Portab;e litter boxes
Pet microchips
Vaccination documents
Also, make sure to have your tickets with you once you're at the station already.
Give Your Pet a Gentle Introduction
While your pet is picture-perfect of good behavior at home, things may be different in an environment new to him like on a train.
Help your pooch adjust to this new environment for his sight. Give him a good introduction to the place. You may try the following:
Set good routines and be aware of the dos and don'ts in traveling.
Make him socialize with the other animals or people.
Prepare him for strange sounds and unfamiliar sights.
Practice him in short sessions and increase the time from there.
Introduce him to new things as safely and as many as possible.
Encourage positive behavior when traveling even just in parks nearby.
Reinforce rules to him.
Reduce Your Pet's Anxiety around Train Noise
Traveling with your pet on a train can be difficult if they are afraid of loud noises. However, by preparing ahead of time and working with them, you can help reduce their anxiety about the train noise.
Consider these steps:
Go for a test ride with him.
Take him on a day trip so you can assess how well he manages the motion, noise, and excitement.
Ask your vet if it's okay to give him calming medication.
Train your dog to stay in his carrier.
Keep him calm and comfortable.
Get him used to the sound of a train.
Give him some treats before boarding and during the trip.
Make sure he has his favorite blanket or pillow in the carrier.
Know the Things To Do When Dogs Suffer From Travel Sickness
The train is a safe, convenient, and affordable way to travel with your dog. But just as humans can get travel sickness, so can dogs.
Dogs can suffer from travel sickness and it can be equally as unpleasant for them. All dogs are different, some cope much better than others and some don't suffer at all.
This guide will help you prepare for your dog's journey by train.
Try these measures to prevent motion sickness:
Take frequent short walks with your dog.
Ensure your dog is relaxed and comfortable before travel.
Keep dogs inside their carriers when traveling by train.
Choose a seat on the train that is not facing the direction of travel.
Give your dog an anti-sickness medication at least 30 minutes before you start to travel.
Limit their treats and food before the trip.
Missouri River Runner Amtrak Train Service
If you are planning to go to Missouri, you can now travel with your small dog through the Missouri River Runner Service. Note that pets are only allowed to be in a carrier placed under the passenger seat (the one he's traveling with).
The Service requires every traveling pet to comply with the following:
Have a maximum weight of 20 pounds, including the carrier.
Remain in the carrier throughout the trip.
Only one pet for each passenger.
Service pets will be allowed for free.
Only five pet reservations are lotted per train on a first-come-first-served basis.
Traveling with Service Animals on Train
Service animals are those trained for a certain task for a person with a disability. These animals are permitted in areas where humans are allowed inside the train.
As a pet owner, the Amtrak cascades crew may ask you about the task your service dog performs. There are carry-on pet guidelines you may consider.
Be mindful of the animals and pets not considered service pets. Among them are:
Search and rescue dogs
Comfort animals
Police dogs
You need to have control of your service dog once onboard the train. Any personnel may ask you to keep him out from the station premises or en route.
In case he is out of control, and you would want to continue to train travel, arrange local animal control for his custody. Another option is to continue your Amtrak cascades travel at a later date or time.
Your dog must be on the floor, under your seat, or feet. He is not permitted to sit on beds, seats, or in the aisle.
FAQs on Traveling with Your Dog on Train
When traveling with your pet by train, here are some of the frequently asked questions you may encounter.
What Are the Pets Allowed on the Train?
You can bring your pet on the train (and at some point, you don't even need a pet carrier)!
Some railways accept a dog or two small dogs and cats if they are in the same kennel. If the animal is traveling in a kennel that fits under your seat, it can ride on your lap. If the animal's kennel won't fit under your seat, it must be placed at your feet and not obstruct any aisle.
In some railways, pet travel is not allowed in business class, sleeping cars, cafe cars, food service cars, or baggage cars.
There are a few other things for pet owners to keep in mind:
If you're bringing a pet, you must check-in with an agent at least 30 minutes before the scheduled departure time.
Pets can only travel on trains that are equipped with onboard restrooms and not on thruway connecting services.
You're responsible for all injury or damage to persons or property caused by your pet.
However, there are also some restrictions on what types of pets are allowed on Amtrak trains. So, be sure to look into Amtrak's pet policy before heading out!
Can You Travel With a Dog by Train?
Yes, you can bring your small dogs and cats onboard Amtrak trains. And if you have a larger pet, you can use Amtrak's Thruway Connecting Services to find a bus service that will take both you and your four-legged friend to your destination.
If your dog is bigger than 20 pounds, he will need to be in a crate and ride in baggage.
Are Large Dogs Allowed on a Train?
Large dogs are allowed on the train, as long as they meet our pet policy guidelines. Pet must be in a carrier that can fit under the seat in front of you. Carriers should not exceed 19″ long x 14″ wide x 10.5″ high.
The total size of the kennel cannot exceed 24" L x 17" W x 12" H and must be able to fit under the seat without blocking any aisle(s).
Can Dogs Stay in a Coach Class on the Train?
Small dogs are welcome in the coach cabin on most trains.
Their pet carrier should be a soft-sided or hard-sided kennel that can fit under the seat in front of you. The kennel must be leakproof and well ventilated.
Your dog must be able to stand up, turn around and lie down in a natural position in the kennel. The pet must remain in the kennel at all times while onboard.
Large dogs are welcome to travel with you in Business Class, but they cannot travel in the coach cabin or the baggage car.
Is Amtrak Friendly to Pets?
Yes, Amtrak is friendly to pets. However, there are some exceptions and conditions to the service.
Pets must be in a carrier that is leak-proof and well ventilated, small enough to fit under your seat, and that does not block any pathways.
For your pet's safety and comfort, they cannot be taken out of their carrier while the train is moving—this includes stops!
The following breeds are not allowed on the train:
American Pit Bull Terrier
American Staffordshire Terrier
Bull Terrier
Staffordshire Bull Terrier
Rottweiler
Husky-type breeds (Siberian Husky, Alaskan Malamute, and Wolf-hybrids of these breeds)
Ready to go now?
Conclusion
Bringing pets on a train can be done quite easily, by simply meeting a few requirements and having the proper supplies. Pets should always have some form of identification and rabies vaccines when they travel; this is readily available in most places.
If you are thinking about booking a trip with your pet, it is best to start making arrangements far in advance of your departure date for the best selection of seats.
We have compiled a list of steps above that will help you make your journey safe and easy.