9 Best Puppy Food for Small Breeds: Tailored Nutrition for Growing Canine Stars!
Oh, hello there puppy aficionado! 🐶 If you're reading this, chances are you've got a pint-sized pup eagerly waiting at home (or perhaps at your feet) for the best nutrition possible. 
After all, small dogs mean BIG personalities. 
And these little dynamos deserve nothing but the best when it comes to what goes in their food bowls. 
But here's the rub: With a plethora of options swamping the market, how do you decide which doggy dish will make your fur baby's tail wag the most? 
Fear not! This guide is here to chew on the details so you don't have to. Onward, fellow puppy parent!
Our top pick is Royal Canin Small Puppy Food.
1. Royal Canin Small Puppy Food – Best Specialized Nutrition
Tailored Tiny Tidbits
Leaping from raw delights, we land in the meticulous world of Royal Canin Small Puppy Food.
Crafted for those little bundles of joy expected to weigh between 9-22 lb as grown-ups, this food is like a bespoke suit – tailor-made to perfection. 
It's not just about size; it's about a specialized blend that fuels those fleeting puppy zoomies and rapid growth spurts.
So, if your pup is more of a "small wonder" with big nutritional needs, Royal Canin has rolled out the red carpet just for them!
Specific Features:
Specially tailored for small breed puppies expected to be 9-22 lb adults

High energy content to match the unstoppable energy of small breed pups

Kibbles are tiny enough to fit snugly between those little jaws

Rich in antioxidants and essential vitamins

Proteins that are easily digestible and added prebiotics
Meets the specific energy demands of small-breed puppies

Designed kibble caters to fussy eaters and tiny mouths

Fortified to support a robust immune system

Ensures smooth digestion and maximizes nutrient absorption
Might be on the pricier side given the specialized formulation

Some pups might take time adjusting if switching from another brand
Check Royal Canin Small Puppy Food for more info. #commissionsearned
2. Instinct Raw Boost Puppy Grain-Free Recipe – Best Raw Infused
Natural Nourishment Nuggets
Swinging into our next pick, we present the Instinct Raw Boost Puppy Grain-Free Recipe, a delightful fusion of high-protein kibble and tantalizing freeze-dried raw chicken chunks.
Think of it as giving your puppy a backstage pass to the world of gourmet canine cuisine. 
Made with cage-free chicken, this is the real-deal fuel your puppy needs to chase tails, fetch balls, and sometimes, their own shadows!
Specific Features:
Prime Ingredient: Cage-free chicken for boundless energy

Grain-free kibble coupled with freeze-dried raw chicken bits

Infused with calcium & phosphorus for those growing teeth and bones

Enriched with DHA for brilliant brain and eye maturation

Power of Raw: Minimal processing, abundant real meat, and wholesome food ingredients
Perfect blend of kibble and raw, catering to both flavor and nutrient needs

Ditching grains, potatoes, artificial colors, and preservatives

Probiotics and omegas thrown in for that extra health boost

Suitable for small to large-breed puppies
Premium price tag for the quality offered

Might take some pups a while to adjust to the raw bits
See more here Instinct Raw Boost Puppy Grain-Free Recipe #commissionsearned
3. Diamond Naturals Small Breed Puppy Food – Best All-Natural
Precious Pup Nutritional Nuggets
Gliding through our culinary journey, next on the palette is Diamond Naturals Small Breed Puppy Food.
Imagine feeding your puppy something as valuable as diamonds, but thankfully, not as hard on the teeth. 
Designed for the growing needs of tiny troopers, this food offers a nutrition-packed punch. If Mother Nature had a puppy chow recipe, this would be it.
Tailored with cage-free chicken, it's like a five-course meal for those tiny paws!
Specific Features:
High-quality proteins are derived from real cage-free chicken

Packed with fruits, veggies, and antioxidants for that extra oomph

Kibble: Just the right size for small breeds, filled with the goodness of probiotics

Contains DHA for cognitive development and clear vision

A proud USA-made product from a family-owned and run business
Amino acid profile supports the growth of lean and strong muscles

Beautiful blend of fatty acids ensures a shiny coat and healthy skin

Absence of any fillers, artificial flavors, colors, or preservatives

Backed by the trust of sustainable ingredient sourcing
Might take a meal or two for some pups to get accustomed

Premium ingredients mean a slightly premium price tag
Check it out Diamond Naturals Small Breed Puppy Food #commissionsearned
4. Blue Buffalo Life Protection Formula – Best Antioxidant Blend
Guardian of Pup Health
Switching gears from our delicious Diamond dish, let's dive into the rich tapestry of antioxidants with the Blue Buffalo Life Protection Formula.
This is the five-star dining experience your petite pooch has been pawing for. Imagine a menu designed by Michelin-starred chefs but for dogs—yeah, it's that good. 
First off, we're talking real meat and fish, not some rendered mystery "meat meal." Picture premium turkey taking a curtain call, with salmon and duck in supporting roles. Drooling yet?
Here's the kicker, folks. This delicacy isn't just delicious; it's a veritable superfood salad. 
Boasting 20+ natural ingredients like antioxidant-rich blueberries and brain-nurturing omega-3s, it's the health-conscious choice for your little buddy. 
And let's not forget the fiber-rich pumpkin to help that digestive tract run as smoothly as a Tesla. All while being minimally processed to keep those vital nutrients as fresh as your dog's morning breath!
Specific Features:
Made with real de-boned meats and fish

Tailored for small breeds with balanced protein, fats, and minerals

Contains DHA and EPA omega-3s for brain and heart health

Packed with probiotics and pumpkin for optimal digestion

20+ natural superfoods like blueberries and broccoli

Expertly crafted with no grains, by-products, or artificial additives

Minimally processed to preserve natural flavor and nutrients
Premium quality meats and fish make it a tasty option

Perfectly balanced nutrition suited for small breed needs

Brain and heart-healthy with DHA and EPA

Supports digestive health with fiber and probiotics

No grains, by-products, or artificial ingredients for a clean diet
Might be on the pricier end of dog foods

Some dogs may need an adjustment period for the rich flavors
See more information Blue Buffalo Life Protection Formula #commissionsearned
5. Now Fresh Grain Free Small Breed Dog Food – Best Grain-Free Option
Petite Plate Perfection
Swing into the spotlight, our first pick: Now Fresh Grain Free Small Breed Dog Food!
Its gel-infused memory foam offers temperature control technology. 
Since memory foam does tend to emit heat, the Sealy dog bed has a layer of cooling energy gel that normalizes the dog's body temperature by spreading heat away from the contact surface of the mattress. 
Pro charcoal HD foam base sucks away all the odor that you can expect from a dog bed. 
The bio-orthopedic foam and PetRest memory foam are sandwiched between the energy gel and pro charcoal layer for optimal blood circulation and evenly distributing your dog's weight on the bed.
Other than the gel memory foam and other hi-fi tech, the cover is sturdy, soft, and machine-wash-safe. 
The zippers are good quality and hidden to avoid destruction. The base is made of rubber so that your dog can enjoy a draft-free relaxed beauty sleep. 
And yes, the bed has a waterproof liner to save the mattress from absorbing wetness of any kind.
Specific Features
Quad layer includes a coolant layer, odor absorbent layer, and two orthopedic foam layers

Hidden zippers

Waterproof lining

Anti-slip base

Durable and machine wash safe cover

Three-sided bolstered edging

For all sizes and breeds
Cooling layer keep the pup comfortable

The odor-absorbing layer prevents the mattress from reeking

Stylish design
Pricey product as compared to other products in the market

Rigorous snatching may pull the seams apart
Grab your today here Now Fresh Grain Free Small Breed Dog Food #commissionsearned
6. Bully Max Puppy Bundle Pack-High Protein Diet
Protein diet Delight for Furry Puppies
Our next pick is for the little furballs in your life who need their nutrition packed in a pint-sized kibble.
Introducing Bully Max Puppy Bundle Pack, the Rolls Royce of protein joy for petite pups. Not only is it protein-rich, but it's also the ultimate culinary fiesta featuring pork and brown rice.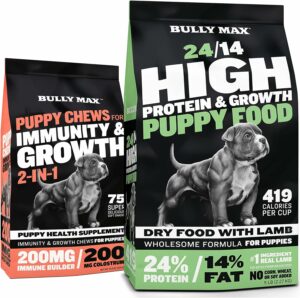 Think of it as the Swiss Army knife of pet foods: multi-functional yet compact. 
With added antioxidants for immune support, probiotics for optimal gut health, vitamins for those sparkling eyes, and omega fatty acids for a lush, Instagram-worthy coat, it's got everything your petite pooch needs. 
Specific Features:
Protein-packed with pork and brown rice

Formulated by expert veterinarians and nutritionists

Antioxidant-enriched for immune system support

Infused with probiotics for digestive health

Fortified with vitamins for eye and dental health

Omega fatty acids for skin and coat wellness

No corn, wheat, soy, or artificial ingredients

Made in the USA with globally sourced, non-GMO ingredients
Specifically designed for small breeds, meeting their unique dietary needs

All-natural ingredients for optimal health

Immune system support makes it a preventative health measure

Skin and coat improvement often noticeable within weeks

Made in a state-of-the-art facility ensuring quality control
May be pricier than other small-breed dog foods

Some picky eaters might need time to adjust to the new flavors
Why wait? Give your fur baby deserve it Bully Max Puppy Bundle Pack #commissionsearned
7. Hill's Science Diet Wet Dog Food for Small Breeds – Best Wet Cuisine
Gourmet Goodness in Every Spoon
Tired of dry options? Why not switch lanes and give your pooch a culinary ride in the fast-flowing rivers of gravy? 
Here's Hill's Science Diet Wet Dog Food for Small Breeds—the Best Wet Cuisine your doggie can dream of. 
Imagine the joy when they find tender chunks of whole chicken liver, pork liver, and even a sprinkle of veggies submerged in a lip-smacking broth. 
That's right, this isn't just food; it's a multi-course meal in a can!
Hang on to your leashes, because we're not done. This delicacy is not just a treat for the taste buds, it's a boon for their bodies. 
The high-quality protein helps your pup flex those lean muscles, while the easy-to-digest formula ensures it's all smooth sailing down there in the tummy. 
Specific Features:
Real chicken and pork liver as the main protein sources

Added brown rice and vegetables like carrots and spinach

Single-serve tray for convenient serving

Fortified with essential minerals and vitamins

Rich in natural oils and fats for healthy skin and coat

Made in the USA, adhering to quality standards
Provides a variety in taste and texture that dogs adore

High-quality protein helps in building and maintaining muscles

Easy-to-digest, making it perfect for sensitive stomachs

Packed in single-serve trays for fuss-free feeding

Well-balanced meal with essential nutrients
May be more expensive than typical dry dog foods

Wheat flour in the ingredient list might not be suitable for all dogs
Find out more here Hill's Science Diet Wet Dog Food for Small Breeds #commissionsearned
8. Wellness Core Natural Pet Food – Best Value for Money
Luxury Dining on a Budget
The search for budget-friendly, premium-quality dog food ends here. Introducing our top pick for Best Value for Money: Wellness Core Natural Pet Food. 
Now, don't let the 'value' tag fool you. This is not your run-of-the-mill kibble; it's a gourmet buffet on a budget. 
First up, it's grain-free. No corn, wheat, or soy here—only premium proteins like responsibly sourced turkey and a cornucopia of nutrient-rich superfoods.
Specific Features:
Premium protein from responsibly sourced turkey

Nutrient-rich superfoods for balanced nourishment

DHA guaranteed for brain development

Antioxidants for immune support

Probiotics for digestive health

Calcium and phosphorus for healthy bones

Made in the USA with globally sourced, non-GMO ingredients
High-quality ingredients offer robust nutrition

Grain-free and free from poultry by-products

Supports both cognitive and physical development

No artificial colors or preservatives

Excellent value for money without compromising quality
May take some time for pets to adjust to grain-free formula

Manufactured in a facility that also processes grains, which might be a concern for extremely sensitive pets
Get the latest updates Wellness Core Natural Pet Food #commissionsearned
9. Nulo Frontrunner Small Breed Dry Dog Food – Best for Active Pups
Turkey-Licious Treats for Tiny Trotters
As we wrap up our canine culinary tour, we present a product made for those pups with a penchant for the playful.
Does your fur baby have a habit of turning every walk into a mini-marathon? 
If so, meet Nulo Frontrunner Small Breed Dry Food – the fuel your four-legged sprinter needs to stay ahead of the game.
Let's face it, behind every great dog is a great meal. And this one promises to propel your pet to the front of the pack.
Specific Features:
Exquisite combo of turkey, whitefish, and quinoa, neatly packed in a 14 lb bag.

Stellar formula with a whopping 77% animal-based protein teamed with ancient grains. The Olympics for dogs, anyone?

Enriched with taurine and essential amino acids for peak cardiovascular health.

BC30 probiotics that champion digestive well-being, ensuring your pup's tummy is as happy as its tail.

Ancient grain supremacy ensures your pet feels satiated, avoiding overeating and weight issues.
An ensemble of turkey and whitefish promises a delectable taste most dogs can't resist.

High protein content for those energy bursts – perfect for the park prowlers and backyard ball chasers.

Digestive support that ensures the inside feels as good as the outside looks.

Mindful ancient grain inclusion for controlled portions and weight management.

Proudly manufactured in the USA with a clean ingredient list—no nasty surprises here.
The high protein content might be too much for the lazier loungers out there.

Transitioning from another food? It's best done gradually for optimal digestion.
More info Nulo Frontrunner Small Breed Dry Food here #commissionsearned
Do small breed dogs need special food?
The nutritional values for small dogs' food are no difference in any way from those in any other food for all breeds. 
The kibbles of smaller breeds contain a smaller quantity fish oil to prevent spoilage and vary in a variety of calories and nutrients in each.
In addition to identifying the obesity and pancreatitis in the small dog population as the major causes, a diet containing moderate fat can be beneficial in the long run.
However, we strongly recommend contacting your veterinarian for dietary recommendations.
How We Selected the Best Dog Food for Small Dogs?
The quest to find the finest dog food for our little furry friends was not taken lightly. 
With countless options on the market, ensuring top-notch nutrition and a happy, wagging tail was our main goal. 
Let's dive into the meticulous process we undertook to make certain that our top picks truly shine above the rest.
Nutritional Needs Assessment
Small dogs may be tiny in stature, but their nutritional needs are gigantic!
We delved deep into understanding the specific requirements of smaller breeds. These pups often have a faster metabolism, demanding a diet rich in protein and beneficial fats. 
Moreover, age, activity level, and unique breed-related concerns also played pivotal roles in our evaluation.
Ingredient Quality and Sourcing
Not all ingredients are created equal. We pored over ingredient lists to ensure that the primary components were of high quality.
This meant prioritizing foods that featured real, whole proteins and avoiding fillers or controversial ingredients. 
Additionally, we sought out brands that were transparent about their sourcing and upheld ethical and sustainable practices.
Taste Test – Paw Approved!
It's not just about what's good for them, but also what they'll love to gobble down. 
We engaged a furry panel of taste testers (our pets!) to gauge their enthusiasm for each brand best dog foods.
If the bowls were left licked clean, we knew we were on the right track.
Expert Consultations
To ensure our findings were scientifically sound, we consulted veterinarians and canine nutritionists. 
Their expertise helped us validate our choices, ensuring that they not only met but exceeded the dietary requirements of small breeds.
Real Owner Feedback
Lastly, we turned to the most critical audience of all – dog owners! 
Collecting feedback from real pet parents helped us understand long-term benefits and any potential issues that might not have been immediately obvious.
Puppy Food for Small Breeds: Wet food vs. Dry food small breed puppy foods
When deciding which diet to feed your puppy is mainly about dry and wet foods, or combinations of both. 
The clinical nutrition service (part of Cummings Veterinary Medical Center, Tufts University) claims wet meals are easier for dogs to chew and swallow and are an excellent solution for picky eaters.
It is also advisable to keep your dog hydrated and it is good for your pet if your pet has some health issues. 
In wet foods, the protein and fatty acids tend to dominate and may be a great option for a young dog.
In the case of dry food your puppy may have difficulty chewing.
Dog Food for Small Breed Puppies: To Grain or Not To Grain
You may also wonder about grain-free meals. 
Many owners are recommending grainless diets for dogs, as they have a higher percentage of carnivorus canis and can ease the digestive process especially with dogs suffering from grain allergies and sensitivities.
The FDA said grains-free foods could cause heart attacks in dogs, so you must consult with a veterinarian before starting your dog on one.
Single whole-grain dog foods are also a possible alternative and exactly how it appears: dog food made with one single whole-grain rather than multiple grains.
Specific Nutritional Needs for Small-Breed Puppies
Small-breed puppiescan be found in a wide variety of dog breeds. What is common in them?
The boys are tiny. Their pint-sized body has different requirements compared to large-bred puppies. In general, smaller breeds mature faster than bigger breeds.
Puppies are typically introduced to adult foods as soon as they reach about 80 of adult weight.
And the average adult size of dogs is about 9-10 months compared to bigger puppies at a similar stage in the 3-6 month period.
The puppies are shorter in age but still must meet nutritional requirements at this age.
Important Things to Look for When Seeking a Small Breed Puppy Food
Puppies of small breeds differ physically and nutritionally from puppies of bigger breeds. 
Even when the most obvious things appear, it must always be taken into account when picking best wet puppy food ever. When searching for puppy food, be attentive.
Conclusion
Navigating the maze of puppy food options can feel more challenging than teaching your puppy the "stay" command.
But you've done it! With this guide, you're now equipped to make an informed decision about what's best for your mini furball. 
Remember, the right enough food for small breed not only satiates their hunger but also fuels their zesty, boundless energy.
So go ahead, fill that bowl, and let the tail-wagging ensue! Until next time, happy feeding and even happier puppy cuddles!
Our top pick is Royal Canin Small Puppy Food.
FAQs
How Many Calories Does a Small Breed Puppy Need?
Dietary requirements in small dogs vary according to age, weight, and nutritional requirements. 
Depending on what you're pet doing, the activity is a factor. A dog that is working will have much more calories than a couch potato litter partner. 
Calculate how much energy your puppy requires during rest and multiply that by 34. If you need to double it, you should get 71. 
Do not worry if math problems are on your list, Ohio State offers a quick guide for owners.
How Long Should You Feed a Small Breed Dog Puppy Food?
If you are a puppy and you are in need small breed dog foods, you may need an increase in your puppy's size to reduce their size. 
Giant breed puppies can still eat dog food until 24 months, although smaller animals grow much sooner.
When should I switch my puppy to adult dog food?
Adult dogs' meals are nutrient rich but not as nutritious eat puppy food. You should avoid introducing a new dog food too soon for puppies and adult dogs. 
Actually… How soon should I start feeding my dog adult food? Below are some helpful suggestions for switching to adult pet food for dogs. 2. 3.
What do you feed an 8 week old small breed puppy?
3-6weeks: The puppies need to have nutrient rich food to maintain a healthy development.
Feeding adults a fish meal for example salmon meal can deplete a dog of vital vitamins. Four meals per day is sufficient for nutritional requirements.
Do small breed puppies need special food?
The Toys or Mini-Patients have grew faster in shorter periods than other larger breed species compared with larger animals. 
Hence it is essential to have fresh food, of high quality and healthy calories and fiber.