9 Best Dog Shampoo for Sensitive Skin: Gentle Care and Effective Cleaning
Here's a head-scratcher: Ever caught your canine companion constantly itching away, despite having no fleas?
Well, welcome to the sensitive skin club! It's like an elite VIP club that no dog wants an invitation to. 
But fear not, because every problem has a solution, and we've got just the right shampoo-lution for your pup! 
While you might be acing the shampoo game for your locks, our furry friends need their spotlight too. 
With that in mind, let's dive tail-first into the top 9 dog shampoo crafted especially for those with sensitive skin.
Our top pick is Natural Dog Company Itchy Dog Shampoo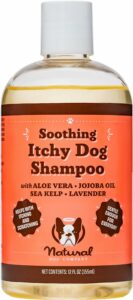 Top 9 Best Dog Shampoo for Sensitive Skin (The List)
When it comes to pampering your pooch, you want nothing but the best. From premium treats to the softest beds, and yes – the right shampoo that won't send them into an itching frenzy.
So, without further ado, let's unveil the magic bottles:
Best Dog Shampoo for Sensitive Skin See Amazon.com for the best selection and value. #commissionsearned
Top 9 Best Dog Shampoo for Sensitive Skin (In Details)
Before diving into the nitty-gritty, let's wash away some common misconceptions. Not all shampoos are created equal, especially when it comes to our dogs.
Just as you'd pick a product tailored to your skin type, your pet deserves the same specialized care.
Think of this as a grooming guide where the stakes are high, but the bubbles are soft and gentle.
Let's lather up the details
1. Natural Dog Company Itchy Dog Shampoo – Best Itch Alleviator
Pamper Pooch with Natural Soothing
Our first pick from the exclusive line-up, the Natural Dog Company Itchy Dog Shampoo, is like a spa retreat for your furry friend. 
Imagine them taking a relaxing dip in nature's very own concoction.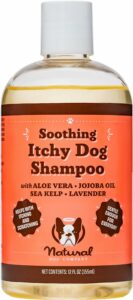 This elixir isn't just any bath treat. It's crafted for those woeful itchy days when your pup can't help but do the scratch dance.
With a cocktail of nature's finest, such as oatmeal extracts and aloe vera, it offers more than just a wash; it's a hug for your dog's irritated skin.
Specific Features:
Hypoallergenic formula ensures minimal allergic reactions.

Sulfate & paraben-free, ensuring only the best touches your pup's skin.

Infused with oatmeal extracts, known for its soothing properties.

A perfect blend of aloe vera gel and jojoba oil for intense hydration.

Comes with the goodness of manuka honey, a natural shield against bacteria.
Provides instant relief from itches and allergies

Promotes healthy, radiant skin with a balanced pH

Packed with natural ingredients that nourish the skin

Shields against bacteria while calming dry skin
Might require consistent use for best results

May not be suitable for extremely sensitive skin conditions
Check Natural Dog Company Itchy Dog Shampoo for more info. #commissionsearned
2. Rocco & Roxie Dog Shampoo and Conditioner – Top Economical Combo
Gentle Cleanse & Silky Coats Unleashed
Our next pick is a delightful two-in-one treat from the house of Rocco & Roxie. Ever wished for your canine buddy to have a spa day without the spa price tag?
Well, this combo plays the dual role of a gentle whisper to their skin and a love ballad to their fur. 
Tailored especially for babies – yes, those sensitive new puppies or older dogs with a princess-like skin demeanor – this soothing shampoo gives a royal treatment without the tears or tantrums.
Specific Features:
Formulated especially for pups with delicate skin.

Enriched with aloe vera extract ensuring silky, moisturized skin and coat.

The restorative touch of rosemary promotes healthy follicle growth.

The calming embrace of chamomile makes it a gentle experience.

Absolutely devoid of parabens, dyes, and drying alcohols.
Provides a tear-free and allergy-free bathing experience.

Natural ingredients make it a safe choice.

Ensures easy application and rinsing, simplifying bath time.

Comes with a 100% satisfaction guarantee.
Might not be as fragrant as some other options.

Best results are seen with consistent use.
See more here Rocco & Roxie #commissionsearned
3. Nootie – Pet Shampoo for Sensitive Skin – Vet Recommended
Cucumber Melon Bliss for Furry Divas
Sashaying onto our list next is the Nootie Pet Shampoo. 
Ever wondered what the sophisticated whiff of cucumber combined with the sweetness of melon feels like on fur? No? Well, your dog's about to show you. 

Besides the luxurious scent, this shampoo is like a therapist for your pet's skin. Imagine the combo of aloe and oatmeal working in tandem to soothe every itch, every discomfort. 
Now that's a formula that not only your pup, but even vets stand by!
Specific Features:
Luxurious cucumber melon aroma that lingers.

Aloe and oatmeal infusion to combat dry, itchy skin.

Boasts a vet-backed formula, trusted globally.

Free from parabens, SLS, and any naughty chemicals.

Proudly cruelty-free, vegan, and crafted in the U.S.A.
Delivers noticeable improvement in skin and coat with just one wash.

Features a long-lasting fragrance, keeping pups fresh post-bath.

Offers an eco-friendly, animal-loving formula.

Comes bolstered with a 100% money-back guarantee.
Might require the complementary Nootie Daily Spritz for a prolonged scent.

Some pets might find the fragrance a tad strong.
Check it out Nootie Pet Shampoo #commissionsearned
4. 4Legger Organic Dog Shampoo – Eco Warrior's Choice
The Organic Glow-Up Your Pup Deserves
Marching forth on our list is none other than 4Legger Organic Dog Shampoo, the veritable choice for every environment-loving, eco-conscious pet parent out there.

In a world full of chemically-induced shampoos, 4Legger takes a brave organic stride, marching to the beat of its own drum. 
Handcrafted meticulously in small batches, this one shampoo bar promises more than just cleanliness – it's about giving your pet a pure, toxin-free glow.
Made with plants and not synthetic concoctions, the essence of oatmeal, aloe vera, and the calming scent of lavender ensures your furball is lathered in nature's best.
If your pupper's been itching like they've got the cha-cha, this shampoo steps in with soothing prowess. 
The delightful blend of organic non-GMO oat kernel is a pure nod to nature's moisturizing magic. 
Specific Features:
Handcrafted with USDA-certified organic ingredients.

Infused with the triple goodness of aloe vera, oatmeal, and lavender essential oil.

Offers genuine relief from itching, thanks to the calming effects of lavender.

Zero detergents, petrochemicals, or synthetic chemicals.

Concentrated formula ensures extended use.
Purely organic, ensuring zero synthetic buildup on fur.

Perfect for dogs of all sizes – be it petite poodles or gigantic Great Danes.

Bestows a shiny, clean, and brightened coat.

Bagged the EcoExcellence Award thrice, proving its premium quality.
The organic scent might not be every dog's cup of tea.

Its concentrated nature requires careful dosing; less is more!
See more information 4Legger Organic Dog Shampoo #commissionsearned
5. Richard's Organics Moisturizing Shampoo – Optimal Moisture Magnet
The Hydration Hero Your Pooch Needs
Diving right into our lineup is Richard's Organics Moisturizing Shampoo. Imagine a spa day for your canine companion. 
This shampoo isn't just about a wash; it's a rejuvenating experience, akin to a moisture-filled embrace. 

Crafted with oatmeal, echinacea, and the sublime touch of sweet almond oil, it's a dream team that promises to quench, soothe, and cleanse dry, irritable fur.
We've all seen our four-legged friends' itch, scratch, and get annoyed by dry skin. 
Here's where this hydration maestro shines – leaving a protective film to combat water loss and guard that precious epidermal barrier.
Specific Features:
Enriched with oatmeal, echinacea, and sweet almond oil.

Crafted to protect and retain moisture in the skin.

Coconut-oil-based formula, ensuring gentle cleansing.

pH balanced and free from parabens, dyes, and soap.

Specially designed not to disrupt topical flea and tick treatments.
Aids in the quick healing of dry and inflamed skin.

Protects against insect bites and plant-induced rashes.

Vet-approved, offering peace of mind for pet parents.

Easy to use with clear, effective results.
Lather needs to remain for a few minutes, requiring a patient pup!

The organic scent might not suit every dog's aromatic preferences.
Grab your today here Richard's Organics Moisturizing Shampoo #commissionsearned
6. Douxo S3 PYO Shampo – Superior Medicated Solution
The Vet's Secret Weapon for Skin Woes
Sneaking into our curation is the Douxo S3 PYO Shampoo – and trust us, this isn't your run-of-the-mill pet cleanser.
Imagine a potion, conjured by top veterinarians, to wage a gentle yet fierce war against infections and dermatological nemeses. 
The top pick for many professionals, this shampoo goes beyond the call of duty, disinfecting and drenching the skin with the hydration it craves. 
Aimed at soothing irritated territories and fortifying the skin's natural defenses, its secret ingredient, ophytrium, is Mother Nature's gift for supple, hydrated skin. 
Soap? Sulfates? Dyes? They've been shown the exit door, ensuring a clean formula for your peace of mind. 
The only catch? Superiority comes with its price tag. But hey, for skin that sings praises, isn't it worth every penny?
Specific Features:
Vouched by top U.S. veterinarians for combatting infections.

Infused with the power of ophytrium for skin fortification.

Targets and reduces yeast counts within a week.

Excludes soaps, sulfates, parabens, dyes, and nanoparticles.
Quick results, with a visible improvement in 7 days.

Backed by professional recommendations.

Gentle yet potent formula for comprehensive skin care.

Complements well with DOUXO PYO Mousse.
Might feel a tad heavy on the pocket.
Why wait? Give your fur baby deserve it Douxo S3 PYO Shampoo #commissionsearned
7. PetHonesty Chlorhexidine Shampoo – Ultimate Relief Master
The Skin Savior Every Pet Deserves
Taking the limelight next is PetHonesty's Chlorhexidine Shampoo. Not just another pretty bottle, it's the equivalent of having a dermatologist in your bathroom cabinet.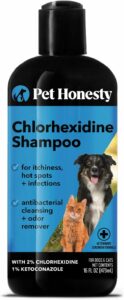 Why? Because when it comes to treating your furry friend's skin hiccups, this shampoo is like the Gandalf of the pet world: an old, wise master. 
Got a kitty or pup battling odorous skin issues? The light cucumber melon scent steps in, not just masking but tackling the root cause.
This vet-recommended concoction not only champions the health of skin and coat but is also a genius at managing itchiness, dandruff, and those pesky seasonal allergies. 
And, while it might lean on the pricier side, think of it as an investment in a future of fewer vet visits and happier, itch-free pets.
Specific Features:
Powered with Chlorhexidine and Ketoconazole for optimal skin relief.

Delightful cucumber melon scent to counteract any funky smells.

Advanced formula adept at detangling fur.

Infused with essential oils for bonus skin benefits.
Efficiently combats various skin-related issues.

Boasts a lovely fragrance that's not overpowering.

Vet-recommended for a trusty skincare routine.

Made in a GMP-compliant facility in the U.S.A.
Quality that may come with a slightly premium price.
Find out more here PetHonesty's Chlorhexidine Shampoo #commissionsearned
8. Burt's Bees for Pets Natural Oatmeal Shampoo – Gentle Skin Soother
Nature's Hug for Furry Coats
Drumroll, please! Introducing our next pick, Burt's Bees for Pets Natural Oatmeal Shampoo.

It's not just the favorite chapstick brand for us humans anymore! If your furball had the power to write a wishlist, this would be at the top. 
Designed to not only clean but also embrace their coat with gentle, natural oils and goodness. 
Think of it as a spa day, every bath day. Dry skin? It's got it covered. Unmanageable fur? No more. 
And the best part, it's got the stamp of approval from millions of pet parents across America.
With the magic of oatmeal, honey, and beeswax, this concoction soothes as it softens. What's not to love? 
And if you're worried about tears during bath time, don't. This shampoo has mastered the art of tearless cleaning.
Specific Features:
Infused with the power of colloidal oatmeal, honey, and beeswax.

Holds the title of America's #1 pet grooming brand.

Crafted to comfort and condition dry skin and coat.
Celebrated and trusted by a plethora of pet parents.

Suitable for all dogs, from puppies to seniors.

Free from fragrances, sulfates, and colorants.
Honestly, your pet might just want more spa days!
Get the latest updates Burt's Bees for Pets Natural Oatmeal Shampoo #commissionsearned
9. Honest Paws 5-in-1 Oatmeal Dog Shampoo and Conditioner – Best All-in-One Care
Ultimate Pampering in One Bottle
Last but certainly not least, we introduce Honest Paws' 5-in-1 Oatmeal Dog Shampoo and Conditioner claim to fame in the canine cleaning category.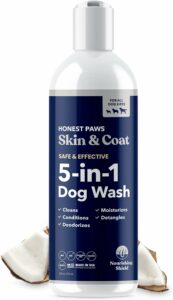 Imagine having a Swiss Army knife but for dog grooming. This product isn't just a shampoo; it's a grooming powerhouse. 
With a whopping five benefits in a single wash, we're talking cleaning, conditioning, detangling, deodorizing, and moisturizing. It's like giving your dog a five-star spa experience, right at home.
Shy away from the chemicals! With 98.25% of its ingredients hailing from natural sources like coconut and palm, this shampoo is practically a tropical getaway for your pet's fur. 
And if you're after more than just a fantastic wash, there's a bundle that pairs perfectly with dog shampoo for itchy skin too. 
All while ensuring your fur baby gets the best of what Mother Nature offers.
Specific Features:
One bottle, five stellar benefits.

Boasts a high 98.25% natural ingredient content.

Compatible bundle offer for the ultimate care routine.
Truly natural with ingredients you can trust.

Multipurpose formula saves time and ensures thorough care.

Quality assurance with its USA-made tag.
Your dog may start expecting luxury spa days more often!
More info Honest Paws' 5-in-1 Oatmeal Dog Shampoo here #commissionsearned
How We Selected the Best Dog Shampoos for Sensitive Skin?
Selecting the best products for our furry friends, especially those with sensitive skin, is no small feat. 
Our dogs' health and well-being are paramount, and choosing the right shampoo can play a crucial role in maintaining their skin health. 
Here's a behind-the-scenes look at our meticulous selection process.
In-depth Research
Before even beginning to shortlist, our team dived deep into understanding the common issues associated with sensitive dog skin. 
From dryness, and itching, to inflammations, we took note of it all. This helped us filter out the beneficial ingredients and those that might be potentially harmful.
Ingredient Analysis
One of the most critical steps in our process was analyzing the ingredients. 
We sought out products that had a higher percentage of natural ingredients, avoiding those with harmful chemicals and irritants. 
Ingredients like oatmeal, oatmeal and aloe vera together, and chamomile were highly favored given their soothing properties.
Veterinarian Recommendations
While our research is comprehensive, we understand the value of professional insights. We consulted with veterinarians to get their take on the best products. 
Their recommendations provided valuable insights into what truly works and what might just be marketing fluff.
User Reviews & Feedback
Real-world feedback is invaluable. We pored over reviews from dog owners who have already tried these products on their pets with sensitive skin. 
This gave us insights into the product's efficacy, any potential side effects, and overall satisfaction rates.
Brand Reputation
We considered the reputation of the brand in the pet care industry. 
Brands with a longstanding history of providing quality products were favored, but we didn't discount newer brands showing promise with innovative solutions.
Cost-effectiveness
While the price wasn't our primary concern, we wanted to ensure that our selected shampoos offered value for money. 
High-quality ingredients, impressive results, and reasonable pricing were our trifecta for selection.
Talk to your vet about the best shampoo for Dog's skin irritation or itchy skin
Your veterinarian should immediately diagnose your dog. 
If dry skin indicates more serious health problems such as bacterial infections or fungicides, your veterinarian can treat the condition with minimal difficulty.
Often the dryness caused by allergic reactions is more difficult to treat. If your dog suffers from sensitivity to food, it might be necessary for you to have a diet. 
Puppies with allergies to air and environment are usually managed, rather than cured, if they are treated for the disease.
According to your veterinarian, the problem with the dryness of the dog's coat can often be treated with soothing dog shampoo.
Conclusion
After that whirlwind shampoo-tour, you're probably ready to get your hands (and your dog's paws) wet. 
And why wouldn't you? The right shampoo isn't just about cleanliness – it's about comfort, health, and, well, doggone happiness. 
So, next time your pup gives you that scratchy look, you'll be armed with the best shampoo solutions. Happy bathing to you and your four-legged friend!
Our top pick is Natural Dog Company Itchy Dog Shampoo
FAQs
How can I clean my dog's itchy skin?
Itchy skin can become irritated with the addition of perfume or other harmful ingredients in a pet shampoo. 
Use a shampoo that contains natural ingredients for better skin care and less irritation.
What causes dry skin in dogs?
It may be helpful when your dogs get some mild itchiness, but it may be necessary if you go to an animal hospital to get some antibiotics.
How often should you bathe your dog with dry skin?
It's important you ask your veterinarian what size dogs need for a good bath. Since each pet can differ from another, it's not necessary. 
Nonetheless, if a puppy has skin problems it should bathe at least twice a day depending upon what shampoo you use.
What should I wash my dog with sensitive skin?
Uses shampoo for sensitive skin. Oatmeal shampoo can be helpful in dog skin dryness, while hypoallergenic shampoo is helpful in dog allergies. 
If the veterinarian determines what causes itchy dog skin irritation, your dog may recommend shampooing.
How Often Should You Bathe a Dog With Sensitive Skin?
The dog's sensitive skin needs sanitizing every 3-4 weeks. It can be helpful to see a veterinarian before deciding on the right treatment for a dog's skin problems.
This happens when dogs with sensitive skin can feel temporary relaxation and require regular bathing sessions. 
If you bathe too frequently this can cause further problems — disruptions and aggravating skin conditions.
Do Shampoos for Dogs With Sensitive Skin Work?
Yes. This shampoo is very helpful for sensitive skin. Medications can also improve skin & coat health. 
The vet can prescribe an allergy-free product if you have an allergic to natural dog shampoo.
The dog's shampoo is generally prepared with mild moisturizing ingredients like shea butter and almond oil. 
For preventing allergic reactions, shampoos for sensitive dogs contain organic or natural ingredients.