The 8 Best Flea and Tick Medicine for Dogs 2023
Hey there, fellow dog parent! 👋 Ah, the life of a dog owner—full of slobbery kisses, tail wags, and, alas, the occasional flea and tick. 
Nothing rains on a good game of fetch like the pesky itch and potential health risks these little critters bring along. 
But fret not, you're about to embark on a flea-free journey where the only scratching will be behind those adorable ears. 
Finding the right flea and tick medicine for your fur baby is a ruff job, but someone's got to do it. 
With a myriad of options out there, it's easy to get lost in a sea of sprays, collars, and chewables. 
But just like how every dog has its day, we believe every dog owner should have their handy guide.
Our top pick is CAPSTAR (nitenpyram)
So, grab your leash and your reading glasses—let's dig into the top 8 flea and tick prevention products, shall we?
Top 8 Best Flea And Tick Medicine For Dogs (The List)
Just a heads up, these top picks are the bee's knees. They've been scrutinized, researched, and possibly taste-tested (don't ask, don't tell). Let's jump right into the who's who of flea and tick prevention.
Best Flea and Tick Medicine for Dogs See Amazon.com for the best selection and value. #commissionsearned
Top 8 Best Flea And Tick Medicine For Dogs (In Details)
Hold on to your doggy treats because we're about to dig deeper than a pup burying its favorite bone. You've got the quick rundown of the best flea and tick medications for dogs, but now it's time to
explore the nitty-gritty details
that make these products the crème de la crème.
1. CAPSTAR (nitenpyram) Oral Flea Treatment for Dogs – Best Overall Solution
The Flea Annihilator
Welcome to the upper echelon of flea treatments, folks. This is not your grandma's flea collar; this is CAPSTAR (nitenpyram), the James Bond of flea elimination. 
In less time than it takes to teach Fido to sit (again), adult fleas start biting the dust. 
Imagine that, within 30 minutes, you can witness those pesky fleas falling off as though they've heard your dog just became a flea-free zone.
Specific Features:
Begins killing adult fleas in 30 minutes

Effective for rapid flea infestations

Perfect for reinfestations—can be redosed daily

Available over-the-counter

Suitable for dogs and puppies 4 weeks and older weighing between 25.1-125 pounds
Ultra-fast action

No need for a prescription

Perfect for both initial infestations and reinfestations

Safe for puppies as young as 4 weeks
Not a long-term preventative solution

Maybe on the pricier side for ongoing infestations
Check CAPSTAR (nitenpyram) for more info. #commissionsearned
2. Adams Plus Flea and Tick Shampoo with Precor – Budget-friendly Option
The Economical Spa Day for Fido
Okay, folks, imagine this: you're scrub-a-dubbing your four-legged friend in the tub, and voila! You're also making those fleas and ticks bite the dust. That's what we call multitasking.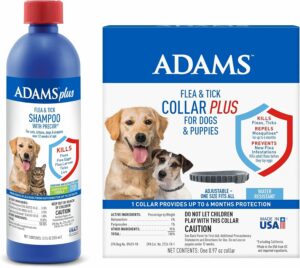 Adams Plus is like the Swiss Army knife of flea shampoos—cleaning, treating, and pampering all in one go. 
And speaking of go, a little of this stuff goes a long way. Don't think for a moment that "budget-friendly" equates to "sub-par." 
Not only does this shampoo kill adult fleas and their unborn counterparts, but it also leaves your pooch's fur softer than a baby's bottom. 
Add to that a fresh scent that says, "I'm more spa day than stray," and we've got ourselves a winner.
Specific Features:
Kills adult fleas, flea eggs, ticks, and even lice on contact

Formulated with aloe vera, lanolin, coconut extract, and oatmeal for sensitive skin

Infused with a pleasant scent

Provides up to 28 days of reinfestation prevention thanks to Precor, an Insect Growth Regulator

Part of a broader range of Adams products to offer comprehensive flea and tick control
Multiple killing actions for comprehensive coverage

Sensitive skin formula leaves pets comfortable

Long-lasting prevention against reinfestation

Affordable and cost-effective

A trusted brand with proven performance since 1975
Might require multiple applications for severe infestations

Not a substitute for long-term preventative measures
See more here Adams Plus #commissionsearned
3. TevraPet Activate II Flea and Tick Prevention for Dogs – Best Full-Spectrum Prevention
The Triple-Threat Protector
Our next pick is like the special ops team of flea and tick prevention: swift, efficient, and thorough. 
TevraPet Activate II isn't just playing whack-a-mole with adult fleas; it's wiping out eggs and larvae too. This is full-spectrum prevention, folks!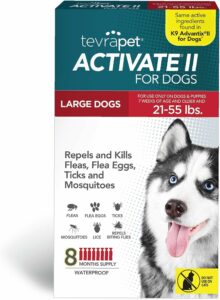 The three musketeers of active ingredients—Imidacloprid, Permethrin, and Pyriproxyfen—take care of business before your dog even knows what hit 'em.
Specific Features:
Utilizes three fast-acting active ingredients for comprehensive prevention

Vet-approved to repel and kill fleas and ticks on contact

Breaks the flea life cycle within 12 hours of application

Waterproof solution offers 30 days of protection
Full-spectrum, covering fleas, ticks, and larvae

Easy to apply

Long-lasting protection

Made in America
May not be suitable for dogs with skin sensitivities

Pricier than basic treatments
Check it out TevraPet Activate II #commissionsearned
4. PetArmor Plus Flea & Tick Collar for Dogs – Best Long-lasting Collar
The Six-Month Sentry
Swipe left on those pesky, short-term solutions; it's time to swipe right on our next pick—PetArmor Plus Flea & Tick Collar for Dogs. This isn't just a summer fling; it's a committed relationship with six full months of full-body protection.
And don't sweat the small stuff (or the big stuff); this one-size-fits-all marvel adjusts to the love of your life, whether they're Chihuahua petite or Great Dane grand.
Specific Features:
Fully adjustable collar suitable for all dog sizes

Water-resistant formula effective against fleas, ticks, eggs, and larvae

Contains Deltamethrin and Pyriproxyfen, vet-quality active ingredients

Provides continuous protection for up to 6 months
One collar offers half a year of peace (and fewer baths)

Easy three-step application process

Effective full-body protection

Suitable for all dog sizes
May not be the best option for dogs with sensitive skin

Requires purchase of a two-pack for full-year protection
See more information PetArmor Plus Flea & Tick Collar for Dogs #commissionsearned
5. FRONTLINE Plus Flea and Tick Treatment – Best Over-the-Counter Topical
The Flea Whisperer
Ever wish you could just snap your fingers and make all those fleas and ticks vanish? While we haven't mastered that wizardry yet, our next pick, FRONTLINE Plus, is pretty darn close.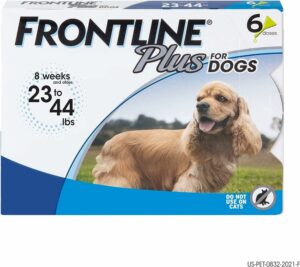 No need to scout for a veterinarian's script; this over-the-counter sensation is your month-long ticket to a flea-free Fido. 
And let's be honest, nothing says "good dog parent" like killing fleas, not just the freeloaders but also their eggs and larvae.
Specific Features
Fast-acting, waterproof topical solution

Formulated with fipronil and (S)-methoprene

Kills fleas, flea eggs, and flea larvae

Effective against ticks that can transmit Lyme disease

Suitable for dogs as young as eight weeks, weighing 5 pounds or more
Month-long protection in one easy application

Over-the-counter availability

Trusted brand with over 20 years in the market

Suitable for both dogs and cats, so it's a household-wide solution
Requires consistent monthly application for optimal results

Might not be suitable for pets with certain skin conditions
Grab your today here FRONTLINE Plus #commissionsearned
6. Seresto Large Dog Vet-Recommended Flea & Tick Treatment – Best Vet-Approved for Large Dogs
Long-lasting Flea Fighter for Large Canines
Our next pick will have you howling with joy! The Seresto Large Dog Vet-Recommended Flea & Tick Treatment is nothing short of a canine miracle-worker.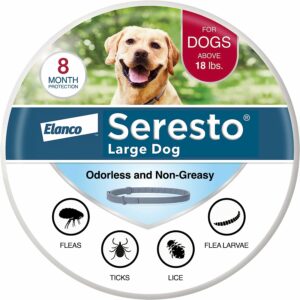 Best Vet-Approved for Large Dogs, it's like a superhero cape for your furry friend—except this cape fights off tiny villains for eight straight months!
Vet-recommended and a popular choice among dog and pet owners everywhere, this flea and tick collar gets to work within 24 hours. 
And here's the kicker: it kills and repels fleas by contact, meaning those little buggers don't even have to bite your pooch to meet their doom. 
No fuss, no muss, and absolutely non-greasy!
Specific Features:
Vet-recommended for powerful and effective treatment

Long-lasting protection for up to 8 continuous months

Number 1 selling non-prescription flea and tick brand

Immediate action, starts working within 24 hours

Repels and kills fleas on contact, no biting required

Stocked by over 8,000 vet clinics nationwide

Hassle-free, non-greasy, and easy to use
Extremely long-lasting, which means fewer things to remember!

Starts working almost immediately, so you're not left hanging

No need for fleas to bite to be effective— a big relief for your dog

Backed by vets and stocked in thousands of clinics

User-friendly design that's easy to put on and leave on
A bit on the pricier side, but you get what you pay for

Not suitable for small dogs or puppies under 7 weeks
Why wait? Give your fur baby deserve it Seresto Large Dog Vet-Recommended Flea & Tick Treatment #commissionsearned
7. Advantus (Imidacloprid) Chewable Flea Treatment – Best Chewable Option
The Chewy Flea Fighter
Ah, chewables! The doggy equivalent of candy, but with way more utility. Meet our next pick: Advantus (Imidacloprid) Chewable Treatment, the one-hour wonder for flea annihilation.
Imagine getting your pet from itchy to comfy in less time than it takes to binge an episode of your favorite TV show. 
And guess what? No prescription needed. It's like getting VIP access without the velvet rope.
Specific Features:
7 soft chews included in each package

Begins killing adult fleas within one hour

Safe for daily use if needed

Suitable for dogs and puppies aged 10 weeks and older

Convenient, tasty soft chews

No prescription required
Ultra-fast acting, offering relief in just one hour

Extremely convenient, thanks to the chewable form

No vet visit required, a hassle-free experience

Suitable for daily applications, for those stubborn flea infestations
Doesn't offer preventative care, it kills but doesn't prevent

Not a comprehensive flea and tick solution; may need to be supplemented with other treatments
Find out more here Advantus (Imidacloprid) Chewable Treatment #commissionsearned
8. VECTRA 3D for Dogs Flea, Tick & Mosquito Treatment – Best Triple-Action Defense
The 3D Defender for Your Doggo
Our last pick, but certainly not the least, is VECTRA 3D. This treatment is like the Swiss Army knife of pest prevention — it tackles fleas, ticks, and mosquitoes! 
In just 5 minutes, this topical elixir starts disrupting those annoying flea dinner parties on your dog's skin.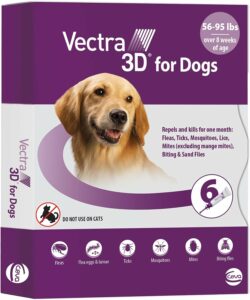 And for those of you keeping score at home, it annihilates fleas in just 4 hours. No fuss, no mess, and—dare we say it—no bites!
Specific Features:
Effective on dogs 56 to 95 lbs and at least 8 weeks old

Begins reducing flea bites in just 5 minutes

Kills fleas within 4 hours

Repels fleas, ticks, and mosquitoes

Quick-drying, fragrance-free formula

No prescription required
Offers fast-acting relief, starting with flea bite reduction in mere minutes

Triple-action protection against fleas, ticks, and mosquitoes

Easy to apply and dries quickly

Waterproof after just 24 hours
May not be suitable for smaller dogs or puppies under 8 weeks

Does not treat mange mites
More info VECTRA 3D here #commissionsearned
How Do Dog Flea And Tick Treatments Work?
The best flea treatments and treatment for dogs and ticks can vary from product to product. 
Flea shampoos and chemical treatments kill parasitic fleas and ticks by touching them but do not help with a new infestation.
Using a sanitizing spray on pets skin kills flea and ticks within a few weeks. Many contain hormone reversals to inhibit the hatching of larvae. 
This can help prevent the spread of parasite re-infection over longer periods.
What to Look for in Flea and Tick Prevention Products for Dogs?
Choosing the right flea and tick prevention productfor your four-legged friend can feel like navigating a maze, especially with so many options available.
Here's a handy guide to help you sniff out the best protection for your pooch.
Effective Killing of Fleas
First and foremost, you want a product that works. Look for treatments that are proven to kill fleas quickly and effectively. 
The faster the product can knock out these pesky parasites, the better. 
Targets Both Adult Fleas and Eggs
Not all flea treatments are created equal. Some deal only with adult fleas, leaving the eggs untouched. 
For comprehensive protection, go for a product that targets both adult fleas and their eggs. This stops the flea life cycle in its tracks and offers longer-lasting relief.
Chewable Options
If your dog detests topical flea medicine treatments or has sensitive skin, chewable flea treatments can be a great alternative. 
These usually come in the form of tasty chews, making it a treat rather than a chore for both you and your pet.
Suitable for Your Dog's Skin
If your dog has skin sensitivities, it's crucial to choose a product that won't exacerbate the issue. Look for treatments that are hypoallergenic or specifically formulated for sensitive skin. 
Long-lasting Protection
It's not just about instant relief; you want the peace of mind that comes with long-lasting protection. 
Check the duration of effectiveness on any product you're considering. Some offer protection for a month, while others might last for several months.
Easy to Apply
Let's be honest, applying flea treatment can be a struggle, akin to a wrestling match with your fur baby. 
Look for products that are easy to apply, whether they're a topical treatment or chewable. The less fuss, the better.
Vet-Approved
While over-the-counter options can be effective, it's always a good idea to choose something vet-approved for your dog. 
Consult your vet for recommendations tailored to your dog's specific needs.
In summary, the ideal flea and tick prevention product will be effective, long-lasting, and suitable for your dog's particular requirements. 
After all, your dog isn't just a pet; they're family. And family deserves the best.
What Are the Types of Flea and Tick Medicine for Dogs?
When it comes to keeping your dog flea and tick-free, the sheer number of options can be as overwhelming as a pup let loose in a toy store. But fret not! 
Here's a quick rundown of the various types of flea and tick medications:
Topical Treatments
Topical treatments are applied directly to the dog's skin, usually between the shoulder blades or at the base of the neck. They're waterproof, long-lasting, and start working within hours. However, they can be a bit messy.
Flea Collars
These are collars infused with chemicals that repel and kill fleas and ticks. They offer long-lasting protection, but are not always effective on severe infestations.
Chewable Flea Treatments
These are oral medications in chewable form. They're great for dogs that dislike topical treatments and provide fast-acting relief. Plus, who doesn't love a tasty treat?
Oral Tablets
Unlike chewables, these aren't flavored and may require a "pill pocket" or hiding in food. They offer fast-acting, short-term relief and are often used for severe infestations.
Shampoos
Flea and tick shampoos kill pests on contact but offer no long-term protection. They're good for immediate relief, but not a long-term solution.
Sprays
These are applied directly to the fur and skin. They're not as long-lasting as other options but can be useful for a quick fix.
Powders
These are sprinkled over the dog's coat and rubbed in. While they're not as effective as other treatments, they can augment other methods for better results.
Injectable Medication
These are given by a vet and provide long-term protection. They're convenient and fuss-free, but may come with a higher price tag.
Each of these options has its pros and cons, so it may take some experimenting to find out which is best for your pup. 
Always consult your vet for the most effective and safe treatment for your four-legged friend.
Conclusion
Well, there you have it, a comprehensive guide to help you make an informed choice for your furry friend. 
Our top pick for flea medicine for dogs for the best overall solution is CAPSTAR (nitenpyram) Oral Flea Treatment for Dogs.
It's fast-acting, easy to use, and promises to make your pooch a no-flea zone.
Your dog deserves to be as carefree and joyful as they make you feel—so go ahead, get them the protection they need!
FAQs
Is Seresto harmful to dogs?
The U.S. News Service reported that an alleged saresta flea collar had been linked to tens of thousands of deaths. 
There is an ongoing alleged case that 2,500 pets had been murdered. Elanco released an official statement stating it was safe.
The AVMA followed suit. The EPA urges pets to read the entire label prior to using seresto flea collars and take all directions carefully. Veterinarian care may include additional information.
Can I get flea and tick medicine without a vet prescription?
No prescription required. This medicine can often prevent as many parasites from forming as a flea or tick product can.
Do flea collars work?
Yeah. Flea cuffs have been used to treat skin conditions, but are generally not as useful as topical or oral treatments or topical. 
It is designed to protect stray and small dogs against fleas and ticks and offers an 8 month protection plan.
Lay recommends flea collars for dogs who aren't tolerant to any type of flea treatment.
Which is better NexGard or Frontline?
Unlike most of the others they differ in access. Frontline Plus can be ordered online and Nexgard requires prescriptions.
Nexgard's effect is faster acting and gives your dog faster pain control.
What do vets recommend for flea and tick control?
Vets recommend long-lasting flea and tick treatment to the majority of pets but if the problem persists, you might need other flea and tick treatment.
A younger or ailing animal may have difficulty using topical or oral flea and tick treatments and some pets will require more frequent treatment in the event of serious flea infestation. 
Veterinary specialists often suggest flea shampooing or flea combs. Follow your vet's flea prevention instructions closely.
What is the fastest way to get rid of fleas on a dog?
How do fleas affect dogs? Use flea shampoos or quick-acting pills to kill them immediately. Keeping your dog's fleas in check is a good method to remove fleas. 
It is possible to remove flea infestations using these methods but using an effective antibacterial is a must.
Several approaches work well to treat fleas. Both short term and long term.
Whether you are a new pup parent or a seasoned dog lover, Bulldogolgy has all the latest on how to take the best care of your fido. Come bark up our tree and be a part of the best online dog community.