The type of relationship you have with your lovely furry friend can be so deep that you want nothing more than to be together anywhere, anytime. Going on a vacation is a great time to bond with him. Make sure your trips are as comfortable, safe, and easy as you can by bringing along travel must-haves, including a dog travel crate.
When you go on a trip, whether for leisure or business, most often, we would suggest you get one for your pup.
There are many considerations to look into before you even go for a purchase of dog crates. Manufacturers design and create different dog kennels to satisfy the needs and demands of dog owners.
Get essential information from this article as you go through your reading about dog travel crates.
Quick List of the Top Dog Travel Crates
Let's narrow down the best among the best of the travel dog crates in the market today:

Best Dog Travel Crates See Amazon.com for the best selection and value. #commissionsearned
We'll provide reviews of these dog crates below. For now, let's get you some basic facts about dog travel crates first.
What is a Dog Travel Crate?
Also called a travel carrier, a dog travel crate offers an enclosed, safe space for your furry buddy for comfortable travel.Unl ike a home crate, this carrier also has features that are also helpful to humans, other than dogs, especially in preventing crash impact.
No matter its size, every dog owner will have an assurance of a secure and den-like retreat to his or her dog for rest, relaxation, and sleeping.
Types of Crates for Dogs
Yes, travel dog kennels come in different styles. Each of these crates holds its own merits and demerits. This is the primary reason proper and keen assessment of their specifications and features is critical even before buying one.
In most cases, dog owners purchase crates depending on their travel needs with considerations for the size of their dog. Account for the specifications of the following crates below:
Plastic Dog Crates
These portable dog carriers are lighter compared to their wired counterparts. If you are traveling with your pooch by air, this style would be your best option.
Among the features of a plastic dog crate include its wired front door and hard plastic shell.
Holes or slits around its sides help provide ventilation for your pup. It has a removable tray where you can put their food inside. Cleaning it is so easy, though more hands-on maintenance is necessary.
Also, this kennel offers better insulation during cold weather, although it may not be a good option for warm months.
But there is a limitation as to the visibility of this kennel. Depending on your pal's personality and behavior, this may pose a problem or risk to his usage.
This crate can trap odors which may not be ideal especially if he is likely to eliminate inside the crate with a soft or hard shell.
Tent or Soft-Sided Carriers
A soft-sided crate is an answer for pet owners in search of extremely lightweight crates. You can easily fold it down for transport or storage anywhere, anytime. This crate offers ventilation, greater visibility, and a sense of security inside the car or plane.
It can even be a good option for puppies not into chewing. Try to opt for it if you go camping or hiking or if you are packing up a suitcase with it.
This type of carrier is more popular as people commonly take small dogs when they travel. Soft-sided carriers are ideal for your small dog.
You can even stow them under the seat of airlines. If you're set to go on a quick trip, they would be a great option as they are easily packable and lightweight.
However, a soft carrier may not be the best for large-sized and heavy dogs. It will not hold well against those who still have to go through crate training. You may choose another style if both you and your pup travels in a car.
It can be a better alternative as a temporary cage than just leaving him alone for the entire day. Also, it is not advisable for small nervous dogs as they may chew through the mesh paneling.
Hard-Sided Carriers
Most pet owners associate hard-sided crates with travel pet crates, which are traditional plastics. These carriers are functional, durable, and offer great dog protection in a crash or any other accident.
They are beneficial for dogs large enough, long vehicle rides of over 6 hours, or for those traveling in an airplane's cargo hold or that of a car. Often, they are more comfortable for large dogs due to their solid base and sturdy sides.
Also, these carriers are more resistant to any damage caused by chewing. They provide the best protection for dogs during car accidents like crashes or in cargo holds.
Wire-Style Dog Crates
Dog trainers usually use this type of carrier as it offers a clear sight of your buddy all the time. We can usually find it in veterinary hospitals, dog shows, and kennels. The maximum airflow promised by this type gives proper ventilation for superior comfort.
Meanwhile, it can be heavy and a hassle when getting inside a car. Your dog may also feel anxious seeing activities he need not partake in while inside the car. When this happens, you need to calm him down with oil.
Wearable Carriers
In modern days, wearable crates for dogs have become famous among fur owners with little pups. These carriers are a great option when you walk through airports.
However, take note that most airlines require stowing pooches under the seat while onboard, but this would not be possible when using this type of carrier.
Reinforced Crates
Special hard-sided carrier reinforced crates use reinforced synthetic materials or metal. These carriers are manufactured for specific breeds that can chew through standard hard-sided crates.
Account for the restrictions of airlines on the dog breeds they allow for transport or the conditions of their transport.
Some airlines may designate some dog breeds as dangerous and require you to use IATA CR82 certified special crates that offer maximum protection in times of a crash.
The next thing you should ask about is the right size of the best dog kennel for your pet.
Metal Dog  Crates
With their airflow and better visibility features, it's no surprise why people like to refer to metal crates as the most durable among the rest of the styles.
A fixed metal pet travel carrier is ideal for aggressive dogs or those in need of a greater security level. It can withstand almost anything thrown to your pet aside from being chew-proof.
Keep in mind, though, that sometimes this style is not lightweight. It may still work pretty well for a permanent fixture where he can go whenever necessary.
Sizing the Crate or Kennel
For portable dog kennels, considering their size is significant.
They are being sold based on various size conventions, which may range from small to extra-large.
Some crates are manufactured according to the International Air Travel Association's series number. Meanwhile, others are based on dimensions, specifically in inches.
Accurate dog measurement is necessary no matter the kennel's size. This is to make certain that it properly fits your pup. Remember its significance in maintaining his safety while traveling.
Get the right measurement of your best friend in terms of his height, width, and length. Add an extra space enough for him to turn around, lay down, and stand comfortably.
You may follow the steps below for your guide:
Length Measurement–Start measuring from the tip of your pet's nose to the base of his tail. Add 3 inches or half the length between his elbow joint and the floor (for more accurate measurement).
Width Measurement–Get the width measurement across the widest point of his shoulders then multiply by two in inches.
Height Measurement–Measure his height from the tip of his perked ears or the top of his head to the floor then add three inches.
These measurements serve as the minimum internal dimensions, giving your pooch the right fit for the best dog crate.
Also, consider his weight. Since many crates have minimum weight limits for a crate. In case the measurement is between sizes, you may go higher than one size.
Now, do you think you are ready to go to the pet shop near you to get a travel crate for your dog? Maybe? Well, if you have the following factors in mind already I guess you really are.
Considerations When Purchasing a Dog Crate for Travel
Consider the following factors if you go to the market for a 5-star dog travel crate:
The Size that Fits
Look for pet travel carriers with enough space for your furry pet. Choose one that allows him to turn around, lie down, and stand comfortably. An airline-approved size and style of the best dog kennel is a great option for travel by air.
Refer above for the right measurement of a crate.
Offers Good Airflow
Another prominent feature of a decent travel crate is one with good ventilation on its side. Note that some airlines may require a crate with three or four-side ventilation. It would be a lot better to have more ventilated sides.
However, there are no universal guidelines for travel crates yet across airlines. The regulations for pets transported in cargo and those inside the cabin may differ from one airline to another.
And amidst COVID-19, there may be some updates on their policy regarding this dog crate matter because of restrictions.
Check with the airline company first before even purchasing a dog kennel for air travel.
Handles are Comfortable and Sturdy
Make sure that the grips and handles of the carrier are secure. They should not break or snap off while you are carrying them. You should feel comfortable when you carry them. Also, they should not poke or pinch.
Labels are Informative
See that the label of the dog crate has the information for the proper identification and safety of your dog. This will be quite significant in case he gets separated from you other than when traveling by car or air.
You can add arrows for the upright position, a pocket for dog owner information and medical records, and a live animal label.
Potty Proofing
The bottom area of the kennel must be leak-proof, solid, and covered with potty pads or absorbent bedding. This will help keep your pup safe from any harm, crash, or accident.
So, do you think you are now ready to get through the dog carriers mentioned earlier?
Reviewing the 7 Best Dog Travel Crates Today
We narrowed down the best of our crate choices. Let's get to it.
1. Diggs Revol Collapsible, Portable Travel Dog Crate/Kennel
The state-of-the-art Diggs Revol Collapsible, Portable Travel Dog Crate/Kennel offers a safe and comfortable stay for your furry best friend during car or air travel.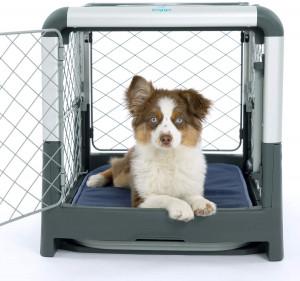 Its supreme ventilation and visibility, non-grated floors, and soft edges make the crate a dream home for him (albeit temporary) while on a car or air travel.
Designed and manufactured with rounded edges, the Diggs Revol two-door crate makes sure your dog won't get hurt during transport. His safety is this kennel's top priority.
The diamond pattern in this two-door crate's metal panels is not just for its looks but with a purpose to keep his jaws and paws from injury.
Another plus for this crate is its fully collapsible feature. You can set it up and fold it down with one hand through its patent-pending design.
Pulling this lightweight out of your garage's storage space and setting it up will make your life as a busy fur parent so much easier.
Stowing it away for extra space would be just as easy. While unfolding it can be a breeze, its lock will remain secured, preventing him from getting out easily.
Also, it comes with a dog crate divider, which makes it a great two-door crate even when he grows older. Many consider the crate more durable than the wire carriers.
It has two doors: the top access for the toys and treats, and at its sides so as not to disturb him. The removable tray inside will also make cleaning so easy.
Specific Features:
Made from hard, durable materials
High-quality standard design
Comes with a puppy divider
Spacious interior for relaxation and stretching
Ergonomically designed doors
Fits dogs weighing 30-50 lbs.
Available in small and medium sizes
Pros:
Portable and fully collapsible
Lightweight
Easy to use and clean up
Durable
Comfortable and roomy interior
Cons:
A bit pricey
No large size available yet
2. LUCKUP Heavy Duty Strong Metal Dog Cage and Playpen
For most large-sized dogs, especially those energetic ones, you will need a stronger crate like LUCKUP Heavy Duty Strong Metal Dog Cage and Playpen.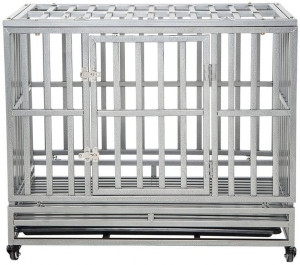 Manufactured with a sturdy steel frame, this cage provides an escape-proof construction.
Aside from its metal bars, the appeal of this crate comes from its ease of assembly. You can put it all together quickly even though it's huge.
You only need eight screws and four wheels to complete the assembly and make it up and functional for your pooch.
The dog cage is available in three colors for different purposes. Its huge front door is perfect for your pet's easy access in and out.
Also, in front is a tiny door for feeding or just petting them, especially when he looks very adorable.
Meanwhile, its small door on the top is set up purposely so you can get him out of the cage easily if you need to.
Thanks to the swiveling castor wheels of this large traveling crate, moving the cage around the house whenever you need rearrangement becomes smooth.
Equipped with removable catch trays, this cage will be easy to clean up and reinstall. It keeps the floors and the entire house clean, too.
Although it's available in various sizes, this travel kennel works for dogs with more than a modest size. This large dog crate offers a lot of space that can accommodate a dog bed.
More so, this item is the best option if you are searching for a crate with the best quality at a reasonable price.
Specific Features:
Made from a hard, heavy-duty frame
Has double door and locking caster design (360 degrees)
Includes hardware pack
Available in various colors and sizes
Has enough room for large dogs
Pros:
Durable, hard, and strong
Easy to access
Offers mobility freedom
Easy to clean
Spacious
Easy to assemble
Cons:
May be too large for a small dog
3. MidWest Homes iCrate Single and Double Door Metal Pet Crate
MidWest Homes iCrate Single and Double Door Metal Pet Crate is a classic folding carrier that does a few things that a wire crate cannot do.
The kennel provides optimal security for your dog during crate training.
This means that you don't always have to keep an eye on him. Doing so will make sure he feels more comfortable while you don't have to keep worrying about how he's doing.
No more effort is necessary to move this folding pet carrier whenever and wherever you travel. The design of iCrate is so simple as it does not require any tool for its assembly.
Whether you select a small or extra-large one, just flip up the sides of this kennel then clip it together. You can actually do this with your practiced hands in a matter of minutes.
It offers more room for him to move around inside the cage. Nothing will even constrict the airflow in it.
Also, this folding crate is spacious enough to keep him for an extended amount of time and you want to ensure his safety or when he should be out of the way during an unusual situation.
The downside, though, is a determined and ferocious dog could still escape from this folding crate. It can still be a great fit for your pet if he is fine with it.
Specific Features:
Simple and portable design (available in a double door or single door)
Made of durable metal material
Folding crate
Comes with roller feet for floor protection
Has a crate divider panel
Suitable for any dog size with its variety of size dimensions
Pros:
Durable and portable
Easy to assemble and portable
Easy to carry and fold
Safe
Sturdy
Cons:
A strong and determined canine can escape from this crate
4. Petmate Sky Kennel Dog Carrier
Make sure the accommodations of your furry pet is comfortable during your next travels with Petmate Sky Kennel Dog Carrier.
Both the portability and durable plastic construction of this dog crate make it a great travel crate.
Its ventilation openings offer visibility and fresh air from different sides so even larger dogs feel the comfort.
The heavy-duty protection feature comes from its non-corrodible wing nuts and durable plastic shell.
This carrier features a full ventilation system to keep your dog breathing freely while traveling. Its secure locking front door will give you peace of mind as a fur parent.
Regardless of its size, it is designed particularly for more space in moving around the cage. This is possible because of its tall and wide design as it allows him to sit, lie down, or stand.
The Petmate portable crate has features necessary for a happy and safe ride whether you are having a vacation or moving to your new house. This could be an excellent option for flying although there is no airline-approved dog crate.
Specific Features:
Made from high-quality materials of non-corrodible wing-nuts and plastic shell
Heavy-duty construction
Four-way vault door
Clip-on bowls
Tie-down holes, raised interior, wire vents
Strong steel wire
Ventilation openings
Pros:
Durable
Airlie adaptable
Sturdy
Portable
Safe
Offers security
Fits all sizes and shapes with its available dimensions
Cons:
May not be a good fit for enormous dogs during frequent trips but fine for little dogs
5. Sleepypod's Air in-Cabin Carrier for Pets
Soft dog carrier Sleepypod's Air in-Cabin Carrier for Pets is specifically designed to fit into the standard under-seat dimensions of any airline.
This travel bag is a revolutionary crate that redefines in-cabin travel for pets.
It is considered one of the safest options for traveling by car. Its sides can accommodate a variety of size restrictions set by some airlines while complying with the high car safety standards of Sleepyard.
You may expand this travel kennel for small dogs once the plane is in the air so that your pooch can make use of the cage's full range.
Make transportation a lot easier by sliding the trolley pocket on the rolling luggage handle of this collapsible dog travel crate.
Its machine-washable and removable Ultra Plush bedding offers a cozy, soft pet bed or a comfortable snoozing cave away from home.
Buckles on the back and front of this travel crate fit for small dogs help secure the carrier for versatility with the seat belt found in the vehicle's rear seat.
This transforms the bag into a car seat that is crash tested. With the durable materials of crates like this, stain and tears are avoidable.
Specific Features:
Made from a plush interior, tear-resistant mesh, and durable nylon
Soft dog travel bag for air or car travel
Fits little breeds with a maximum weight of 17.5 pounds
Meets TSA and airline requirements
Available in various colors
Pros:
Safe to use by dogs
Collapsible for easy storage
Secured with its seat belt strap
Machine washable Ultra Plush bedding
Water-repellent interior
Padded, soft carry handle
Huge zipper pockets
Cons:
6. Henkelion Soft-Sided Small-Medium Pet Carrier
Travel in style with Henkelion Soft-Sided Small-Medium Pet Carrier as it offers your furry pal the best stay away from home. The pet bag can carry dogs weighing up to 15 lbs.
Many choose this soft dog crate for its versatility, easy storage, and wide access through its side zips.
The safe and convenient design of this cage will surely lighten your travels. It allows you to put the package inside the suitcase for air or car travel directly.
The soft padded handles and shoulder strap of this medium dog travel crate make car storage and carrying so easy.
Cleaning its soft fleece bed is viable, just remove and have it machine-washed. Then you can cleanse the other parts thoroughly with no difficulty.
His safety is a priority of this product with the help of its safety leash, sturdy ABS hooks, and deluxe zippers. These will support and help secure your beloved best friend, ensuring his wellbeing.
Also, this soft dog crate is approved by TSA and airlines for air travel to place under the seat in your front aside from being a dog travel crate for car transport. Hopefully, it fits all airlines although there really are pet carriers that can't fit in the cabin.
Specific Features:
Top-rated travel crate for dogs
Three side zippers
TSA and airline approved
Available in five colors and two sizes
Breathable mesh windows
Side pockets
Cozy mat
Fits small-to-medium size pets
Pros:
Safe
Durable
Comes with an interior safety leash
Machine washable fleece padding
Breathable
Affordable price
Cons:
May not be suitable for huge dog breeds
May be too much to fit inside some airline cabins
7. Gen7Pets Roller Dog and Cat Backpack Carrier
Be always on the go with Gen7Pets Roller Dog and Cat Backpack Carrier as this crate is very versatile.
Use this pet carrier as a backpack, as one with a roller, or as a regular bag depending on your needs. It allows you to pack everything as it has several external storage pockets.
The carrier easily slides under the seats of airplanes making the fly effortless. This soft dog travel crate for a car has wheels that rotate and roll smoothly for an easy ride.
Of course, you would not want to carry a huge pet for an hour (or so) as you connect to your next flight.
Your pal stays comfortable with its front (and top) access doors, an interior safety tether, and mesh windows, making it an excellent dog crate for car travel.
It can carry up to 10 pounds. You can quickly turn it into a backpack for safe and easy travel upstairs, over rough terrain, or escalators.
In addition, this product remains lightweight and soft despite its features. You can always make it as doable travel essential every time you are bringing your furry pet with you. It is something you should not leave when traveling.
Specific Features:
Versatile design (roller, carrier, and as a backpack)
Use for plane or car travel
Pockets for storage
Excellent handles
Comes with a buckle for fastening
Smart zipper canopy
Smart wheels
Smart-fold
Pros:
Durable dog crate
Versatile and convertible
Safe and secure
Air and car travel suitable
Lightweight
Air travel-approved
Cons:
May not be the best option as an extra-large dog travel crate
Which among the dog crate reviews look appealing to you now? We suppose you can now go to the market to find what is best for you and your dog's next trips.
Conclusion
Use the information above to find the dog travel crate that fits right for your best friend. Be wise in picking the travel dog crate that will surely make the trip as comfortable and as secure as ever.
Check all the specifications and match your pet's needs and yours as well. Consider that there are dog carriers for travel by air as well as for land.
Our Top Pick
We choose Diggs Revol Collapsible, Portable Travel Dog Crate/Kennel as the best travel dog crate for its primary features. The dog crate offers security, safety, and versatility during travel—either by air or car travel.
A lot of pet parents have already tested and proven its great functionality and performance for traveling.
Have you chosen or eyed the dog travel crate that's best for your pooch from the dog travel crates above?
Let us know!