Dogs are a man's best friend and you are yearning to keep your furry friend with you all the time. You decide to go down the road for an adventure but you will be riding your motorcycle rather than a car. You need not worry because there is now a motorcycle pet carrier available.
Since there are a lot of carriers for dogs in the market today, you need some help to get the right one. Below are 7 of the best motorbike carriers to choose from.
Best Carriers for Dogs on Motorcycles
Here's a list of the top picks of travel carriers for dogs on your motorcycle:
Best Motorcycle Pet Carrier See Amazon.com for best selection and value. #commissionsearned
Check out our best choice below the article.
7 Quality Pet Carrying Bags and Their Reviews
These are the top 7 carriers that you need to consider when purchasing the best item for your furry pal.
1. Saddlemen Pet Voyager Cargo Bag
This motorcycle pet carrier kit from Saddlemen allows you to tag along with your small sidekick anywhere.
The Saddlemen Pet Cargo Bag comes with multiple vents giving your dog enough fresh air along the ride. Its flaps get him in and out relatively easy. With its spacious inside, it fits small and medium-sized pets allowing them to relax, stretch out, and have a joy-ride.
It has a compartment for built-in water and food trays. You can keep your friend secured to your motorcycle's seat through an adjustable bar strap system.
Also, it has a backpack carrying option whenever you get off your bike. While its long leash helps secure your pet when you are packed, the shorter one is for security while riding.
Key Features:
Comfortable ventilation flaps and water and food compartment
Quick-release mechanism in case of emergencies and for comfort
Roomy pet carrier
Detachable backpack straps
Removable bottom tray for ease in cleaning
Fits to any type of motorcycle

Convertible into a cargo bag

Multiple mounting methods

Sturdy base

Quick and easy configuration and dismounting system

Free water and food bowls

Multiple Vents

Comes with backpack straps
Want to know more detail about this carrier? Click here!
2. K9 Sport Sack AIR Pet Carrier Backpack
Go adventure with your pal with this sporty carrier, K9 Sport Sack AIR Pet Carrier Backpack, wherever and whenever. Keep him secured with this backpack-style carrier through its collar clip and elasticated harness system.
It allows him to face forward to enjoy the view of keeping your hands free. Worry less knowing that he will not come tumbling out the bag.
Other than on hikes, this device keeps him secure on skiing, bikes, or even just when you are walking down the road.
It also has a mesh on its sides for proper ventilation. You may even go stylish with its color variation.
Key Features:
Secure dogs with elastic harness and collar clip
Mesh sides for proper ventilation
Adjustable side pockets
Available in various colors and sizes
Good for cycling, hikes, motorcycle rides, etc.
Cushioned base

Heavy-duty with easy-to-pull zippers

Suits small to medium pets

Highlights well-padded back and pressure-reducing straps for comfort

Armholes lined with neoprene

Curbs dog depression, anxiety or any physical ailment during adventures
Check out this K9 Sport Sack AIR Pet Carrier Backpack now!
3. Versatile PETS GO2 Premium Small Dog and Cat Carrier
Although nonwearable, the PETS GO2 carrier can be one of the best motorcycle accessories considering its versatility. This is one of the small dog carriers which is ideal for your little one. Its construction is sturdy and durable so as not to lose its shape when your pet is already inside.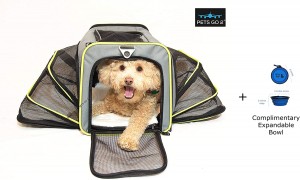 It has a washable and removable comfort pad in the main compartment making your pal relaxed. Secure him with its safety leash. It has lots of openings allowing you to interact with your friend.
Many airline companies approved this product on flights too. Here is more information about PETS GO2 carrier.
Key Features:
Dual zippers on the top panel for ease in loading
Suits pets weighing as much as 20 lbs.
Works as a tote, sling or a top load in any vehicle or on a luggage stroller
Solid outer layer to increase its protection capability
Absorbs bumps for a comfortable ride
Expandable to carry larger animals
Mesh top for air, light, and views

A sturdy base that prevents collapse under the weight of your pet

Comfortable interior

Easy to carry

Available in varied sizes
Can be purchased in a significant amount
Get more information about Pets Go2 carrier here!
4. Multifunctional Pet Ego Travel Carrier
Pet Ego Travel Carrier stands out with its metallic finish that comes with a contrasting black accent. The dog carrying bag is made from hypoallergenic nylon fabric with a padded interior. Your dog stays dry with the carrier's waterproof exterior.
Create a handle with its short straps or transform it into a backpack or sling bag with its long straps. There are also mesh panels at its front and back for better ventilation.
This product goes practical for any type of transportation, either on-air or land. It is UV-resistant which is why it can stand up to long hours of sunlight exposure without damaging. You can take your best friend with you anywhere since the bag is travel-approved.
Key Features:
Multifunctional as a shoulder bag or backpack other than on motorcycles
Resistant to UV radiation
Has waterproof coating
Padded interior and mesh sides for security and comfort
Suits pets with weight up to 20 lbs.
Stylish and sleek design

UV-resistant, waterproof and weatherproof exterior

Cozy interior

Easy to carry

Usable as a sports bag

Front and back mesh panel for airflow

Can be carried in whatever transportation mode
Although it has adjustable straps, they may come loose

Absence of interior pockets
Still can't make up your mind if Pet Ego Travel Carrier is right one for you? Read more here!
5. Texsens Innovative Traveler Bubble Backpack Dog Carrier
Texsens has the edge in manufacturing distinct motorcycle pet carriers including the Innovative Traveler Bubble Backpack. This model is made from PU leather with a bubble-like transparent dome at its center.
The plastic-based dome enables your friend to get a view outside while on the ride. It has two mesh windows continuous airflow to prevent being hot inside.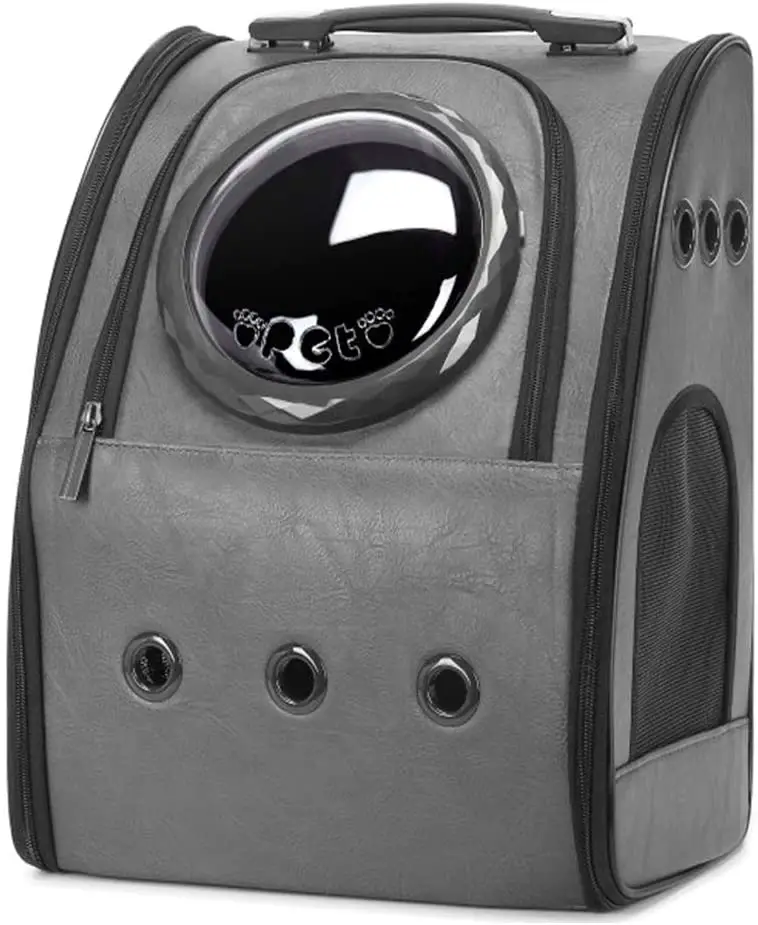 Its multiple entry point features make it very accessible.
This has extra measures against canines who are usually runaways. It gives you an option to tie his leash onto the bag.
The wide and well-padded shoulder straps of this product can prevent strain in your shoulders.
You can also adjust the straps for easy carrying.
Fasten your seatbelt through to keep your pal's safety.
Your pet's weight is evenly distributed over your shoulders and back giving comfort to carry while keeping your own hands free.
This is even comfortable to have your small pet with you on your next visit to a vet clinic or shop.
Key Features:
Fits small cats and dogs
Durable fabric to make the product lasts for years
Unique bubble window for protection
Mesh sides for proper ventilation
Easy to carry
Built-in security leash
Multiple entry points
Available in various colors

Replaceable bubble dome with a mesh window

Proper ventilation

Durable PU leather construction

Non-collapsible base pad
Not capable to attach to bike

Only available in one size
For more information about Texsens dog carrier, Check it out now!
6. Kuryakyn's Portable Grand Palace Motorcycle Dog/Cat Carrier
When you are looking for a motorcycle pet carrier that is both comfortable and safe, this Portable Motorcycle Dog/Cat Carrier from Kuryakyn can be your best option.
The dog carrier bag has a UV-resistant denier textile construction making it resistant to water, abrasion, and heat so you can travel with him on any weather condition. Its frame protects your pooch from all sides.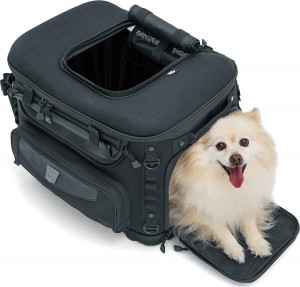 Never worry about your fur-baby to fall or jump out while on the road as the bag's internal leash enables you to strap him in.
There are different mounting options for convenience. You may use its multiple adjustable straps, a sissy bar strap, and D-rings.
Check out the handle at each side along with a removable carrying strap for easy transport.
Moreover, its rigid base maintains its structure to carry even a canine weighing 20 pounds. Just open its top panel so he could head out for a good view of the surrounding.
Key Features:
Rigid structural support internal frame
Easy and clean removable foam cushion
Multifunctional straps for portability
Mesh windows for good viewing and optimum ventilation
Internal frame for additional safety

UV protected

Adjustable internal leash

Inflexible and last long

Removable padded base

Can be turned into a cargo bag
Pet can get out when not properly secured

Sides are less rigid compared to its base
Read more about Kuryakyn's Portable Grand Palace now!
7. Whizzotech Pet Carrier Travel Backpack
If you are in flair fashion for your pal, this motorcycle dog backpack could be the best fit. He will love to ride in this dog back carrier. This bag will keep him secured with its strong harness system alongside its varying design. Its elastic system and zips make it easy for you to get him in and out of the bag.
Thanks to the breathable mesh sides of Whizzotech Pet Carrier Travel Backpack, it keeps him cool and enjoys the outside breeze.
Its fabric is durable which makes it easy to care as you just need to pop it up for washing when in the dirt.
Also, this can be the best pet carrier for hiking or any adventure with your pet as its weight will be evenly distributed leaving your back and shoulder without damage.
Key Features:
Adjustable and convenient zipper
Hand and machine washable
Breathable mesh so pets will be comfortable
Traction clasp buckles
Easy access of its left zips

Open top pet pouch

Useable for cycling, hiking, and walking

Comfortable and convenient
Needs an accurate measurement for your pet to properly fit in
Will Whizzotech Pet Carrier Travel Backpack is the one you are looking for? Get more details here.
Now that you have your motorcycle pet carrier selections, you need to narrow down the list. You need some factors to consider.
Motorcycle Buying Guidelines
While the 7 carriers for the dog mentioned above are the top products in the market, you need some considerations to know.
Motorcycle Type
Know that most motorcycles can accommodate small to medium-sized pets with safety. It would be best to get a bike-attachable carrier for a larger vehicle to give more room to your friend.
This can also be the best option for a large dog carrier. On the other hand, it would be more sensible to get a front-facing bag or backpack for a smaller vehicle.
Dog Size
Most bags come in various sizes but it is likely used for small and medium-sized pets. A huge bag is typically served as a sidecar or a second seat. This can be the safest alternative for larger breeds though.
Get the type of bag appropriate for you then. See the guidelines on how much weight the product can hold. There is a chance that your pal can weigh it down which may break or damage.
Rides and Journeys
An enclosed motorcycle pet carrier might be the right item for miles of a road trip. It makes sure that your pup will not be exposed to intensified weather for a longer time for him to have enough room for stretching.
It could be a great product for continuous journeys since it is usually in airline-approved sizes. Meanwhile, carrying your pal in a harness can be more sensible for short-time trips.
Carrier Types
Pick a motorcycle-friendly item that is suitable for your pooch to prevent any risk of injury. Typically, carriers are in three types.
First, backpacks keep dogs intact without eyes on them. They are for dogs who travel a lot.
Second, enclosed carriers are more versatile since they are suited for biking and hiking. They just need to be attached to the motorcycle without bearing the dogs' weight. Lastly, front carriers allow pet parents to keep a closer eye on their pets in front.
Materials Used
Ensure the durability of the materials used in manufacturing the dog-carrier. Take into account the product's mesh to make certain that it is safe and it offers protection. This is to make sure that it will last for years.
Also, check whether it is waterproof for unexpected stormy weather. Aluminum-based carriers add to the durability of the product.
Another factor to consider is whether the product you are buying is leak-proof. There should be no liquid getting into it. This will only scare your four-legged friend and get him nervous. Also, this will leave your motorcycle dry.
Comfort
The comfort is critical when you mount him inside the carrier. He is less likely to wriggle around which may cause distraction when you are driving. Your comfort is also significant so be sure you feel well with your chosen carrier. You do not want it poking into you when fastened.
Airflow and Ventilation
Keep it cool other than comfortable since your pup will be in a close space for a certain period. This helps prevent him from being overheated and gives him a joy ride.
Good ventilation ensures that he can get enough air to breathe properly. It also gives him comfort. You may choose the product that has several flaps in it for a good ventilation system.
Security
See to it that the item you are about to purchase can keep your pet secured. Check its door and its all other entry options. It has to have a great closing system. Its lock mechanism should not enable your pet to open. Otherwise, he will manage to go out the carrier.
Safety
Safety is a priority especially when your cargo is your furry best friend. You want to make sure that you two will have a safe ride. The carrier will add extra protection for him in case of an accident. No need to worry about any distraction on your driving since he is kept securely.
Fun
As a fur parent, it is your responsibility to offer mental stimulation to your pet. It is less likely for him to act out and become noisy if he is properly entertained. Remember that some dogs cannot get enough of the sounds, smells, and sights when riding a motorcycle. So, make something to keep your pal entertained.
Clean Interior
Oftentimes the exterior is almost always the only part checked because it is pretty obvious. Nonetheless, the interior of the motorcycle pet carrier should also be checked.
Look inside if it is clean. Consider its staples, edges, or any of its sharp items. They may poke your pet's body and worst, wound him. The inside part needs to be padded, comfortable, and soft. No problem if it has a simple design so long as it is of high quality.
Final Remarks
No matter what type of motorcycle dog carrier you are choosing be sure to get the best and the one suitable for your favorite pal.
The information and guidelines above will help you decide which one is right for you. Everything from the interior to the exterior is important consideration every fur parent should look into.
Identify your carrier need for your pet, take into account the features, advantages, and disadvantages of the products reviewed. Keep all these things in mind and weigh them over before purchasing the [easyazon_link keywords="best motorcycle pet carrier" locale="US" tag="motocyclepetcarrier-20″]Best Motorcycle Pet Carrier[/easyazon_link] for your furry pet.
For us, the best pet carrier for motorcycles could be Kuryakyn's Portable Grand Palace since it is versatile – a premium product for dogs and cats.
This bag keeps your furry friend safe and comfortable while you are driving. Its rigid base helps maintain its overall structure. It has mesh windows that allow him to enjoy the ride. Also, the carrier can be converted into a cargo bag.
*Featured Image Source: Karsten Winegeart on Unsplash