15 Best Bulldog Food Bowl Reviews – Helpful Tips To Find The Perfect One For Your Bulldogs
As sweet and as friendly as they are, bulldogs are the dog breed who deserve the best treatment. Of course, you don't want them to mess with their food and water, though they are the disciplined ones. For that, you need to invest in the best bulldog food bowl for your lovely pooch. 
What are your options, by the way?
English Bulldog Food Bowl List 
Best Bulldog Food Bowls See Amazon.com for best selection and value. #commissionsearned
In case you have no idea what a food bowls for French bulldogs or flat face doggies, let us walk you around.
Benefits of Bulldog Food Bowls
If you haven't considered getting a food bowl for your English Bulldog yet, consider the following perks.
Food bowls allow your pet to eat slowly to reduce the risk of over-eating that can lead to vomiting.
A great alternative Dog dishes to slow down eating.

It helps correct his posture for ease of digestion.
A non-tip dog bowl helps minimize food mess
There are food bowls that are difficult to tip over.
With a food bowl, feeding your furry friend will be more efficient.
It also makes his feeding time more comfortable.
You see, French bulldog food bowl for bulldogs are simple yet essential for the healthy, comfortable, and tidy feeding of your pet whenever, wherever. You can also use these to help hydrate your bulldog when he's feeling under the weather.
Bulldog Feeding Bowls and Their Reviews
There are plenty of dog bowls available in pet shops and department stores. Be keen and meticulous in choosing the right one for your furry buddy. Below are our top picks for you to choose from
1. DuraPet Slow Feed Stainless Steel Dog Bowl
You might notice your bulldog eating too fast. While this may sound good, this habit can incur digestive-related issues. Prevent him from experiencing gastrointestinal discomfort, bloating, or choking with DuraPet Slow Feed Stainless Steel Dog Bowl.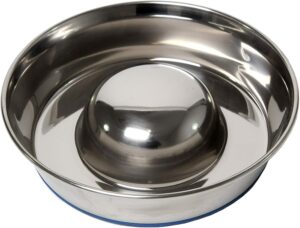 Shop on Amazon
Shop on Chewy
The slow-feed food dish has a solid middle piece enabling him to eat along its edges.
This helps reduce his feeding routine and stimulates his mind. It can promote long-term health benefits for your pup.
You can fill it in with as much as 4 cups of dry food. Thus, it can be an idea for medium-sized bulldogs. 
This bowl is available in various options depending on the size and frequency of the meals. Also, it is dishwasher safe with a permanent ring at its bottom. This is to prevent skidding or tipping. 
Specific Features:
The food bowl is developed with stainless steel
Slows down canine eating to prevent digestive system problems
It has rubber at the bottom to prevent any movement
Available in various designs, colors, and sizes
Pros
Stays put
Durable
Dishwasher safe
Easy to clean
Mess-free
Improves digestion
Cons
May not be the best choice for dogs with their long snouts
2. AmazonBasics Stainless Steel Dog Food Dish
Unlike a plastic food bowl, AmazonBasics Stainless Steel Dog Food Dish does not hold odors or break.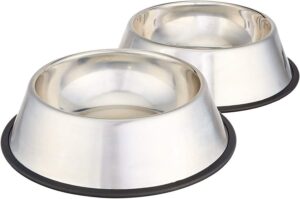 Shop on Amazon
The dish has a holding capacity of 38 ounces. Cats can also use it other than dogs in all sizes.
Many pet parents love it for its durability and healthy feeding benefits. 
The bulldog feeding bowl is resistant to rust hence it can be an alternative to plastic bowls.  
In addition, cleaning the bowl is so easy as it is safe from the dishwasher. It is even very functional with its rubber bottom that prevents skidding and/or tipping while your pooch is eating.  
Specific Features:
The food container is made from stainless steel
Up to 38 ounces holding capacity
A healthy alternative to plastic dishes
Dishwasher safe
Pros
Durable
Scratch-free with rubber base for floor protection
Rust resistant
Easy and simple to clean
Does not retain odor
Cons
If your bulldog is aggressive, he might chew its rubber bottom
3. YMAXGO Single Flat Ceramics Feeding Bowl for Cats and Dogs
Get rid of messy floors with YMAXGO Single Flat Ceramics Feeding Bowl for Cats and Dogs. The feeding bowl is specifically designed for flat-faced or short-nosed canine breeds. This makes it a great choice for your bulldog.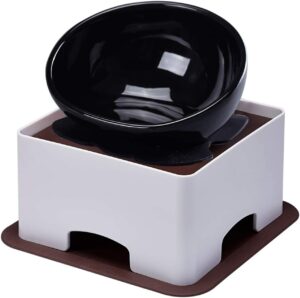 Shop on Amazon
The bowl is made from ceramic material making it durable, rust-free, and odor-free. It has 7 oz. capacity, enough for 2 cups of wet food.
Its oblique design gives your best friend a healthy appetite. One side of the bowl is sloping which enables your pooch to feed on it with ease. Its non-slip mat keeps it in place.
Specific Features:
Made from a ceramic material
Oblique design
Can hold wet food or dry kibble up to 2 cups (7 oz)
Designed for canines with short nose or flat face
Pros
Does not corrode
Mess-free
Skid-proof
Offers proper feeding posture
Durable
Easy to clean
Cons
4. Mlife Stainless Steel Feeder and Water Bowl
Get two bowls at once for your pooch with Mlife Stainless Steel Feeder and Water Bowl.
This set of water and feeder bowl allows him to drink and eat at the same time. Both have a rubber ring at the bottom to prevent sliding and scratches on the floor.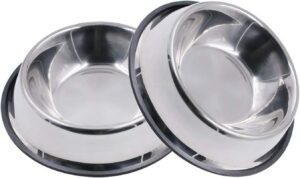 Shop on Amazon
The feeding bowls are of stainless steel material, mirror-polished to prevent food residue stickup or food scrap removal.
They have up to 16 oz capacity. You can also find them in different sizes. 
Specific Features:
Package includes 2 bowls (for feeding and drinking)
Made from stainless steel material
Pros
Durable
Cost-efficient
Dishwasher safe
Non-slip
Flat bottom to prevent tripping
Cons
Possible spillage due to its curved interior
5. Pureness Solid Crock Pet Bowl
Don't worry if you cannot afford a stainless feeding bowl, Pureness Solid Crock Pet Bowl can be an alternative.
This plastic bowl does not easily break and is very durable. The material of the dish is FDA-approved, which is why it is safe for your pet.
Shop on Amazon
The dish has a large carrying capacity of 52 ounces, which makes it a good choice for dogs of large breeds or size.
Its bottom is wide enough for its stability. More so, it is smooth enough to avoid any scratch on your floor. 
Specific Features:
Bowl made from FDA approved plastic
Has carrying capacity of 52 ounces
Wide and smooth bottom or base
Heavyweight
Pros
Durable
Not easily breakable when dropped
Budget-friendly
Great for large breeds
Easy to clean
Simple design and use
Cons
Prone to scratches which may cause bacteria build-up
Vulnerable to chew by aggressive bulldogs
6. Waggo Hand-Dipped Ceramic Bowl
Invest wisely with Waggo Hand-Dipped Ceramic Bowl for your lovely English bulldog.
The material used in making this bulldog food bowl is approved by the FDA.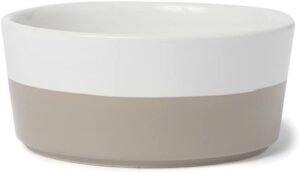 Shop on Chewy
Shop on Amazon
It is safe to use and durable. You need not worry as it does not have lead or any other hazardous substances harmful to his health. 
It is dishwasher-safe and easy to clean.
You can always find a bowl that is suitable for your pet as it is available in many sizes. Choose from small, medium, and large sizes to satisfy the needs of your customers. 
Specific Features:
Made from a ceramic material
FDA approved for safe usage
Available in different sizes (small, medium, large)
Microwave safe
Pros
Heavyweight but not prone to tipping
Multipurpose usage (food and water)
Comes in various sizes and colors
Microwave safe
Tip-free
Cons
7. COMSUN XL Collapsible Food Water Bowl
If you and your bulldog travel a lot or spend more time outdoors, COMSUN XL Collapsible Food Water Bowl can be the best option.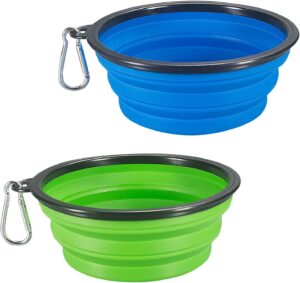 Shop on Amazon
The package includes 2 collapsible bowls for the food and water of your pet. They are made from silicone material, which is harmless not just for dogs but also for the environment. 
Each of the bowls can carry as much as 3 cups of food and water. Its collapsible feature makes it very handy whenever and wherever you go.
Special Features:
Bowls come in a collapsible design
Made from silicone material
Environmental-friendly
Package includes 2 bowls
Pros
Portable
Easy and convenient to use
Reusable
Durable
Safe material
Eco-friendly
Easy to store
Cons
Can easily mold when not properly cleaned
8. Pawfect Pets Elevated Dog/Cat Double Feeder
Stop the back pain, choking, or digestive issues of your pooch with Pawfect Pets Elevated Dog/Cat Double Feeder.
The item includes 2 stainless steel bowls promising a mess-free feeding session every time.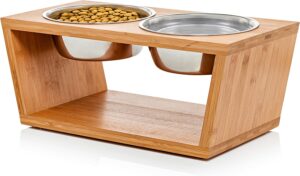 Shop on Amazon
Shop on Chewy
It comes with two extra bowls to wash and swap out whenever needed. Its modern-style stand is made from bamboo, a gorgeous yet sturdy design. 
The bowls are snug-fit keeping him from knocking them out. No scratches will harm your pretty floor with the feeder's anti-slip bottom feature. 
It makes his mealtime healthier and more comfortable. 
Also, this feeder of two bowls and stand works great for medium-sized dogs. It is even recommended for pets suffering from arthritis, back or neck problems, megaesophagus, and aging pets.
Specific Features:
Bowls are of stainless steel material
The stand is made from bamboo and in modern design
Elevated feeder
Comes with two extra bowls for swaps
Available in various sizes
Pros
Spill-free
Mess-free
Durable
Stable stand
Free from tripping
Safe to use
Built to last 
Easy to clean
Cons
A bit expensive
Not available in any other color
9. Yoken Sturdy Stainless Steel Elevated Dog Bowls
The dog bowl with a stand helps pets efficiently minimize the possible damage of cervical spondylosis.

Now, are you thinking about where you can find such a bowl? Here's what I found! Yoken Sturdy Stainless Steel Elevated dog bowls reduce the strain on their necks and joints. 
Shop on Amazon
Therefore, it is especially beneficial for elderly dogs and dogs with muscular or joint problems. 
Moreover, medium and big-breed dogs who have recently been afflicted by cervical spondylosis and other canines of these sizes also benefit from this dog bowl.
Let me lift the veil for you if you are eager to know the material used for this bowl!  
The most important thing is the material which is BPA-Free, detachable, rust-resistant stainless steel. 
A rim that covers the base of the stainless steel bowl prevents water from getting into the groove.
In addition, the Yoken Sturdy dog bowl has a nice thick non-slip bottom that keeps your dog from staying around the feeding bowl. 
One more thing that will surprise you! This lifted dog feeder has non-skid strips made of silicone that completely cover the bottom. So, Your dog's bowl will not move around as it eats.
One more thing! Don't worry about messy spills even if your pet gets extremely excited about mealtime because this bowl features a design that prevents it from tipping over. 
And the thoughtfully curved design of the handle makes it easy to hold up the bowl. This elevated dog water bottle has a cleaner that collects little hair, dust, and dust in them. 
As it's detachable, you can easily refill it without moving the entire unit. Overall, Yoka Sturdy is an ideal dog bowl for fresh water, moist or dry kibble, tasty snacks, and even wet food.
Specific Features:
BPA-Free, detachable, rust-resistant stainless steel material
Non-skid strips made of silicone at the base to prevent slipping.
A rim at the base to prevent entering water from groove.
Thick non-slip bottom to provide friction
Reduce health risks in breeding dogs like cervical spondylosis and joint problems.
Pros
Improve the dog's posture while eating.
Dogs can eat easily
Greater stability than the standard dog bowls
Has a Cleaner to collect Dust and hair
Curved Design
Cons
Compared to more conventional bowls, these bowls are more expensive
It can be difficult to clean feeder stands.
10. Neater Feeder Express Elevated Dog Bowl
Neater Feeder Express dog bowl is a mess-proof dog feeder bowl that features a catch bowl to prevent food from escaping its container. 
Shop on Amazon
Shop on Chewy
Therefore, we added this feeder bowl to our listing as a wonderful option for pets that range in size from medium to giant. 
It comes with two bowls made of stainless steel and has enough space for a considerable amount of food in each one.
Because Of charming hues and a metal body paired with stainless steel material, this dog feeder tops our list as the cutest available option. 
In addition, it's easy to clean, and if you desire a calm setting and plenty of area for your dog to run around in, this option is perfect for you!
Also, This bowl lets Spilled food separate and trapped at the top of the dog feeder. While spilled water flows into the catch basin below, allowing you to maintain your dog's feeding area nice and clean at all times. 
Also, it prevents bloat, slows rapid feeding, lowers vomiting, and boosts metabolism.
In addition, the feeder features non-skid rubber feet, which eliminate the risk of sliding and further splashing. 
What's the result? Overall, the product is perfect for large to medium-sized dog breeds that measure more than 9 inches at the shoulder and weigh more than 18 pounds.
Specific Features:
Mess proof with a catch basin to prevent wastage of food.
Superior quality Stainless Steel material
Cutest design with attractive colors.
Reduce health risks such as vomiting and digestive problems.
Perfect for medium sized dogs having more than 18 points weight
Pros
Construction made of sturdy metal and stainless steel
Height-friendly
Simple to clean and resistant to spills
Save time and Easy cleaning
Non-skid Rubber to avoid sliding risk
Suitable for large and medium-sized dogs
Cons
11. Enhanced Flat-Faced Stainless Steel Dog Bowl
Do you want to prevent your dog's digestive disorders, gas, and bloating issues? Stick with me here!
The Enhanced Stainless Steel Dog Bowl is the greatest choice for you because it features an ergonomic slanted design with ridges that cause less waste, lower gas, less bloating, improved digestion, and good posture.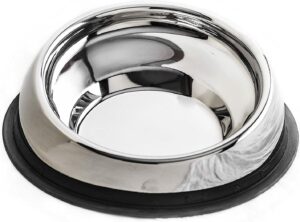 Shop on Amazon
This bowl's easy-to-reach 450-degree sloping ledge significantly reduces the pressure on the pet's spine and stomach, encouraging a healthier posture.  
As a result, this feeding bowl plays a major role in improving health.
Furthermore, the Top Quality Enhanced Dog Bowl is made from veterinarian-suggested superior food grade level 304 stainless steel. 
This type of stainless steel is much more hygienic, non-allergic, and non-toxic and won't accumulate bacteria and smells. Moreover, it can store between three and five cups of kibble.
In addition, The Enhanced Dog Stainless Steel Bowl has a size of 11.5″ wide with 3.5″ deep (29.21 cm wide as well as 8.89 cm deep), which is perfect for dogs that weigh between 55 to 100 lbs. 
This dog bowl features a rubber ring on the base, resulting in a more relaxed pace and a more peaceful feeding experience without slipping and titling. 
Also, It's very simple to clean as you can wash the Enhanced Pet Bowl in the dishwasher. Overall, it's the perfect choice for healthy dogs.
Specific Features:
Ergonomic slanted design with ridges Reduces Dog's Spine and Stomach Pressure due to 450° sloping ledge.
304 Grade Level Stainless Steel material.
Hygienic, non toxic and non allergic without any smell and bacteria.
It can store 3-5 cups.
Perfect for dogs with 55 to 100 lbs weight.
Rubber ring at the base to prevent titling and slipping.
Easy to use and clean in Dishwasher
Pros
Non-porous, making them extremely simple to clean in the dishwasher.
Don't retain any bacteria that could be damaging to your dog's health.
Highly durable and impossible to break.
No need for concern regarding the bowls chipping, shattering, or cracking in any way.
Available in a variety of sizes,
Reasonable price
Don't take up much space.
Have non-skid rubber bottoms
Cons
12. JASGOOD Maze Slow Feeding Dog Bowl
If you want to let your dog eat more slowly and maintain a healthy diet, then the Jasgood Dog Feeding Bowl is for you!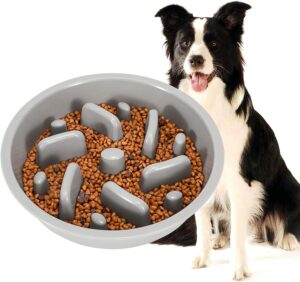 Shop on Amazon
The outer edge diameter of slow feeder dog bowls ranges from 8.25 – 8.5 inches, which enables them to be used in place of a regular 2-quart dish. 
Now it has upgraded the bowl capacity, with the ability to accommodate 2.4 cups, or approximately 19 ounces, of wet food.
Interestingly, this maze-feeding dish utilizes the most common puzzle design, which reduces the amount of time your dog spends eating by almost ten times. 
Therefore, this slow-eating bowl can help reduce bloating, vomiting, and obesity in your dog.
Now, let's shed light on its appearance! Food bowls are available in blue, dark gray, light gray, and black with the elevated feeder replacement bowls. 
However, you can choose whichever color you choose. The curve of this feeder bowl is quite smooth, so it will not harm your pet's mouth. 
This pet slow feeder bowl has 6 rubber feet that can prevent the slip when you place this food bowl underneath the floor directly.
Further, The bowl feet on our bowls are attached to the bottom rather than drilled into the bottom. Because of this, in contrast to other bowls, this bowl can hold both dry and wet food at the same time.
Moreover, The absence of harmful substances like BPA, PVC, and phthalate in the food bowls makes them suitable for use around pets. 
Plus, it's easy to clean as you can clean with little effort using a brush, and it is safe for use on the top rack of the dishwasher. 
Overall, Jasgood maze feeder bowl is one of the best dog bowls to allow the dog for slow feeding and dog aggressive over food.
Specific Features:
Puzzle Design for slow eating and reducing digestive problems.
It comes in Multiple colors
Smooth curve to avoid dog's mouth injury.
6 Rubber feet at the base to provide friction and avoid slipping.
BPA, PVC, and phthalatef Free material.
Safe to use and easy to clean
Pros
Suitable for large dogs
It comes in multiple colors
Compatible with the dishwasher's top rack
Three-cup kibble capacity
Pairs are available for purchase
Cons
Because the rubber feet fall off, they are probably not safe for chewers.
Not particularly long-lasting
Not suitable for small dogs
13. BurgeonNest Slow Feeder Dog Bowls
Here may be what you are looking for. So, Don't Miss out on exploring it.
This type of pet bowl from Nest includes a deep dog dish, a broad pet bowl, a slow feeder bowl, and a silicone mat designed to prevent spilling. 
This BurgeonNest Slow Feeding Dog Bowl is the best option for long-term use and is suitable for your cherished animal companions.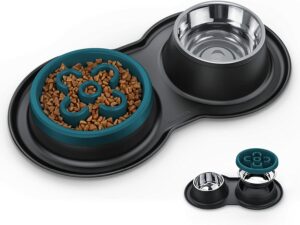 Shop on Amazon
Materials used to produce BurgeonNest slow feeding Dog bowls are of high-strength PP that endure temperatures of up to 464 degrees Fahrenheit.  
In addition, 201 stainless steel with anti-overflow made of silica gel ensures a safe material for dog food use.
Furthermore, The amusing feeder and slow-eating dog bowl prevent indigestion, nausea, and bloating in pets by encouraging them to eat or drink more leisurely. 
And design for the obstruction that resembles a flower will make it easier to consume less food. You can remove the slow feeder dish after noticing your pet has developed healthy eating patterns.
One more thing! Double dog bowls made of stainless steel give you the ability to give food and water to two dogs simultaneously.  
So, You can use the dog puzzle bowl as a topping for one of the stainless steel bowls if your furry dog needs to be encouraged to eat more slowly.
Plus point of this bowl is that The extra-large silicone bottom with a raised outside border will prevent nasty spills & splashes from occurring on your floor. 
The bowls won't topple over or slide about as much when your dog is eating.
Specific Features:
Broad Bowl with the ability to endure high temperatures (464°)
201 Grade Level Stainless Steel Material
Silica gel coating.
Flower-like design
Extra-large silicone base with a raised outside border prevents slipping and wastage of food.
Pros
Reduces the dog's speed while eating.
Reduces the amount of gas and air in the dog's stomach.
Lowers the risk of bloat in certain types of dogs.
Offers intellectual challenge.
Helps to prevent choking, gagging, and throwing up.
Control the amount of food that your dog consumes.
Cons
As your dog becomes bigger, you need to replace them more regularly
14. Van Ness Pets Large Stainless Steel Dog Bowl
Looking for a dog slow feeder bowl loved by many pet owners
Try this brand-new Van Ness Stainless Steel Dog bowl with a capacity of 96 ounces. 

Shop on Amazon
If you come to know about the Material used for its manufacturing, you'll be surprised! 
Here's my point!  The material used in its manufacturing is of high quality and robustness. 
The polished stainless steel of 6 gauges makes it more durable. Who wants to miss out on a durable product? Obviously, no one!
If you see its natural color, it attracts the dog to have a meal with pleasure. After this, It's easy to clean for you by putting it in the dishwasher. 
But if you want to let your dog be healthy, this slow feeder has now solved your problem. Don'tlook out for other useless sites! Instead, choose this best dog bowl and let your dog improve its digestion and become healthy.
The interesting fact is that Non-skid rubber on the underside prevents your dog from slipping. As a result, your pet will easily finish its food without facing any slipping issues.
Are you thinking about the weight of your dog? Don't worry! It is made of robust stainless steel that prevents the bowl from tilting. 
Its length is 10.38, high up the ground enough to prevent food from coming out of the bowl. Overall, it's suitable for both large to medium-sized dogs.
Specific Features:
High quality and robust Stainless Steel material
Natural and attractive color with cute design.
Non-skid rubber at the base to prevent slipping the bowl.
Best for large to medium sized dogs.
Pros
Nonskid rubber
Easy to clean
High-Quality Stainless Steel material
Durable
Natural Color
96-ounce capacity
Cons
The label on the bottom of the bowl is hard to remove
15. Leashboss flat face feeder
Are you worried about your dog's health, or does your dog finish his food in a hurry? Don't worry! It's time to get rid of this problem now!
Look at the Leashboss flat face feeder which is the best for short-snouted pets. 

Shop on Amazon
Now, you can feed your pet safely with this tilted slow feed bowl. 
One more interesting thing about this leash-boss slow feed bowl is that it's ideal for cats and tiny and medium-sized dogs.
If we talk about its design, It has a soft lean, and large rounded maze design, which is best for flat-face dogs. 
Moreover, the maze design keeps your dog busy with the fun puzzle while slowly eating the food. 
Slow eating improves your dog's digestion and it's also helpful in avoiding choking, bloat, gulping, and vomiting.
One of the most important factors of every product is its material from which it is made.  Are you ready to be surprised? Here's the fact that the material of this flat food bowl is good food plastic. 
The plastic is non-slip and has a great grip to keep the feed bowl in place for large dogs. In addition, the used material is of food-grade quality that is not harmful and safe for dogs.
In addition, this feed bowl can take up to 1.5 cups of dry, liquid, and raw food. That's why,  this leashboss is a flat-face feeder that is a great choice for flat-face dog pets like Boston terriers, pugs, and bulldogs. 
Because this slow-eating bowl not only helps your dog to eat comfortably but also it's a non-slip that keeps the bowl in place while using it on the floor or mat.
You'll get pleased to know that this product gives you color choosing options. Now, color choice is up to you! Because you can get your favorite bowl in two colors, blue and grey.
One more thing, cleaning has become easy for you while using this bowl. Because you can clean this bowl easily in a dishwasher because it is Bpa, PVC, and phthalates-free.
Have you tired of browsing a lot of feed bowls for your dog but all in vain? I guessed you're looking for a feeding bowl made with high-quality material and durability? 
Now your wait is over! This USA made flat face feeder is durable and a great replacement for an average dog food bowl with five years warranty. 
So if you want a durable and good-quality flat-face feeder bowl for your dogs, this product is a good option for your short-snouted dogs.
Specific Features:
This face feeder is a perfect option for short-snouted dogs.
This bowl can take up to 1.5 cups of dry food, liquid, and raw food
The material of this food bowl is high-quality food-grade plastic which is safe for dogs.
This flat-face feed bowl has a great grip on the slippery surface, which is also great for large dogs.
Pros
This is a slow feed bowl that improves your dog's digestion and also prevents the issue of choking, gulping, and vomiting.
This bowl is easy to use and easy to clean.
This Leashboss bowl is made of high-quality plastic and has a five-year warranty.
Cons
This feeding bowl has no approvals from cats.
Not so ideal for large dogs.
Given the food bowls above, which one you think is best for your bulldog? Consider the guidelines below for reference.
Purchasing Guide for a Bulldog Food Bowl
Refer to the following factors when you choose and buy a feeder:
Dog Size
Dogs differ in four sizes from a small, medium, large to extra-large. Also, their food intake every meal varies from breed to breed. It depends on how much food dogs eat in a day, large dogs need more food than their smaller counterpart. Therefore, they need bigger bowls than smaller dogs. 
The elevated bowl is good for bulldogs in large or extra-large sizes. This is beneficial for them it gives them less friction on their neck upon eating. 
However, the elevated feeder is not recommendable to small dogs. The good news is, some companies design and manufacture elevated bowls for small breeds. 
Face Structure
Obviously, your bulldog will use his mouth to feed, which is short and close to his face. Keep from bowls with multiple folds and edges as bulldogs naturally have plane faces. The edges will only interfere with his nose upon feeding.
Of course, you would not want this to happen. Make sure to get a bowl that is right for his structure.
Dog Habits
While some dogs are calm and reserved, there are also those which are aggressive and outgoing. They differ in behavior and habits. Prefer a bowl that is made from any material if you have an all-calm furry pal. 
On the other hand, if he is an aggressive type, better buy him a durable one. Stainless steel or ceramic-made feeder would be better. This is to prevent him from chewing or assaulting the dish. 
There are dogs who love to play with their feeder once they are done eating. Feeders made from delicate materials are prone to breakage. So, it would be great to get them a plastic bowl that will not be easily affected when played. 
If you opt for an expensive bowl that is made from delicate materials, keep it after use then.
Moreover, invest in a high weighted bowl is the right dish if you have a naughty buddy. This type of bowl is difficult to tip over so you will not end up messing your floor.  
Feeding Habit and Speed
There are dogs who eat fast or aggressive with food and those who eat slow. The distinctive ones are those who love to mess things whenever, wherever they eat. Feeding your pooch at a rapid speed allows them to swallow large amounts of air, which may develop gas on his stomach. 
You are too lucky if your canine eats his food slowly and peacefully. Choose a simple dish for him. It is not advisable to buy a slow feeder is he already eats at a slow pace. 
A slow feeder dish is the best option if he eats fast to prevent bloating.
Get a mess-free dog bowl if he loves to mess his food here and there. 
Cost of Food Bowl
The amount you should be spending on a food bowl depends on your preference. Buy the expensive and durable item if you have enough money. It is for the best of your pooch, anyway. 
Meanwhile, we recommend a stainless steel or plastic bowl if you are on a tight budget. Bowls made from these materials are also durable. 
Safety of the Feeder
Physical attributes and price may be your first concerns when shopping for a dog bowl. The safety of the product should be the priority here. It is not worth buying if it is not safe.
You can determine if it is unsafe if it is easy to destroy, houses bacteria, difficult to clean, and contain hazardous chemicals. See to it that the item is food-safe to prevent these possible issues.
Durability
Consider the quality of the bowl for it to last longer and to avoid possible issues. Accidents may happen at any time if you choose one that is easy to destroy. You can rest easy without worry if you buy a bowl made from a more rugged material such as stainless steel.
This also posts a budget concern if you keep on buying for replacement bowls. It would be better to purchase the durable one at first.
Ease of Cleaning
Go for a bowl with an easy-to-clean design to get rid of any hassle after your pet's mealtime. Remember, dirty feeders can be a potential breeding ground for microscopic organisms. Make sure that it is always clean before and after use. FDA recommends that the bowl be cleaned with mild soap and water every day. 
Final Thoughts
As protective as you are, you only want to care for every household member. This includes your beloved bulldogs, and you would not want him to mess around, right? Getting the best bulldog food bowl for him would be worth considering. 
We also have this How To Raise A Bulldog article, it will help guide you through any issues you might have while taking care of your bulldogs.
Our Best Choice:
Now, the best food bowl for English bulldogs is OurPet Slow Feed Stainless Steel Dog Bowl. This bowl stands out from the rest of the items presented and reviewed above. It is functional and beneficial for bulldogs of any size. In fact, many fur parents love their overall appearance and performance.
We have given you the information you need, and now it is your turn to get the best bulldog food bowl for your buddy.
Do You Own a Bulldog?
Bulldogology loves Bulldogs, our free Bulldog guide is the essentials guide for your perfect Bulldog. Learn how to be the best way to be a proud owner of this awesome breed.
Made for current Bulldog owners and new bully owners!
With our Ultimate Bulldog Guide…
Learn more about your Bulldog, and ready yourself for any health problems
Why Bulldogs shed so much and what you should do
What collars are best for Bulldogs and what NOT to get
Got a hyper Bulldog? See section 8 of this guide on how to get your Bulldog to calm down
What to do with those rosebud ears when your Bulldog needs cleaning
How to feed your Bulldog and the best type of food for this breed
And so much more!

Featured Image Source: Juan Manuel Martinez on Unsplash