You love your dog around the house but you're also tired of his hair spread all over. His fallen hair sticks to everything which seems to spread faster than you can think of getting rid of it. While shedding is normal, you can reduce its multiplication with the best dog food available in the market.
In this article, you will learn why excessive shedding happens and get some options for dog food for less shedding.
What dog food helps shedding?
Here's a quick list of our top choices:

Best Dog Food For Shedding See Amazon.com for best selection and value. #commissionsearned
Before going into the details of each shed control dog food, let's know first why the fur shedding of your best friend is excessive.
Reasons for Hair Shedding
Excessive shedding in your furry friend can be varied. Normally, dogs shed more when they discard their winter coats during spring.
Some breeds shed faster compared to others such as Labrador Retrievers.
Pregnant dogs or those nursing their pups shed more because of the fluctuations of their hormones.
Something is wrong with your pet's diet if he sheds more than normal for his breed and a certain period of the year. Try to check the ingredients of his food and ensure it has a good source of carbohydrates, Omega oils, zinc, and protein.
Allergy or sensitivity to food ingredients is another reason for over shedding as it can cause skin irritation. Some dog breeds develop allergies as they grow older. Try experimenting with different formulations to find which food is best for your pooch.
Stress may lead to excessive shedding too. Assess some of the possible factors which may cause his stress. Some stress factors may include arguments within the household, separation anxiety, etc.
Moreover, there are medical conditions that can cause a sudden loss of a dog's hair. Some of these health issues are skin infections due to bacteria or fungi, cancer, skin parasites, and immune diseases.
So, let's go ahead with our dog foods for shedding.
Dog Food for Shedding Reviews
Consider the following products in search of the best dog food to reduce shedding:
1. Hill's Science Dog Food for Sensitive Skin and Stomach
Take care of your furry buddy's skin and coat while looking for a shedding control food with the Hill's Science Diet Sensitive Stomach & Skin Dry Dog Food. This diet dog food has limited ingredients of Omega-6 fatty acids, vitamin E, and vitamin C for his sensitive stomach.
The nutrients from the fatty acids greatly contribute to his shinier and healthier coat as they enhance it from the roots. Both vitamins E and C help boost his immune system. Remember that too much shedding can be due to nutrient and vitamin deficiency.
Moreover, these ingredients are easy for your pooch to digest especially when he has a sensitive stomach.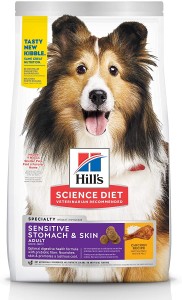 Specific Features:
Super ingredients (Omega-6 fatty acids, vitamins C and E)
The digestible formulation for optimum nutrient absorption
Prebiotic fiber source
Veterinarian recommended
Pros:

Controls fur shedding
Promotes digestive health
Nourishes skin
Easy to suggest
Trusted ingredients
Gentle on the sensitive stomachs of dogs

Cons:

May not be good for puppies
2. Crave Grain-Free Premium Adult Dog Food
With Crave Grain-Free Premium Adult Dog Food, there will always be something nutritious for your dog. This dry dog food is available in different flavors including lamb and ocean fish, lamb and venison, chicken, and lamb.
It is high in protein formulated with his ancestors' diet making it good for your adult canine. Its minerals and vitamins will help control the hair from falling.
The food has an irresistible flavored kibble which is very helpful with the shedding.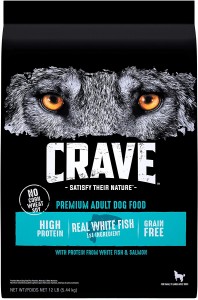 Its carbohydrates are made from quality animal-based protein sources that would help your problem of hair sticking to clothes.
Specific Features:
Made of high-quality animal-based protein
Comes in 4 flavors (lamb and ocean fish, lamb and venison, chicken, and lamb)
Wheat-free, grain-free
Formulated for adult dogs
Pros:

Controls shedding
Provides great energy
Full of carbohydrates
Rich in protein
Tasty and nutritious

Cons:

Not formulated for puppies
3. Iams Minichunks ProActive Dry Dog Food
Get an all-in-one nutritious food for your best friend with Iams Minichunks ProActive Dry Dog Food. This is an all-in-one formula that brings out the best of your pet at any age as it is for all dog sizes and ages.
This dog food is primarily formulated with farm-based chicken mixed with vegetables and ground whole grains. Its added minerals include zinc sulfate which helps promote healthy skin for your dog.
It is also packed with dried beet pulp, green peas, spinach, and carrots.
In addition, the food contains Omega oils from flaxseed with rosemary extract for its flavor.
You may also find a blend of probiotics and fiber in it promoting digestion. This recipe is free from soy, wheat, or any artificial preservatives.
Specific Features:
Farm-raised chicken derived protein
Omega oils from flaxseed
Healthy vegetables (carrots, spinach, etc.)
In kibble size
Veterinarian recommended
Pros:

Controls hair shedding
Can be given to dogs of all sizes and ages
Builds strong muscles
Promotes healthy digestion
Supports a strong immune system

Cons:

May not be favorable to dogs with sensitive stomachs
4. Rachael Ray Nutrish Just 6 Turkey Meal & Pea Recipe for Shedding
Feed your pet with a healthy diet with Rachael Ray Nutrish Just 6 Turkey Meal & Pea Recipe for Shedding. This all-natural dry dog food is a mixture of ingredients sourced from natural products.
The attractive factors why you should choose this formula is the absence of any harmful substances like artificial flavor and color.
It does not contain gluten, corn, soy, and wheat. However, it is rich in nutritious and flavorful goodness.
The ingredients in this formula are easy to digest for your pooch.
This is attributable to its healthy, chemical-free, and pure ingredients. Its limited ingredients of 6 and extra minerals and vitamins help him prevent food sensitivities.
Specific Features:
Comes in a 24 pound of dog food
Contains 6 natural ingredients (peas, turkey meat, chicken fat, pea starch, natural pork flavor, dried beet pulp)
Free from grains
Has extra minerals and vitamins
Pros:

Helps in shedding
All-natural
No artificial flavor and preservatives
Easy to digest
No soy, corn, wheat

Cons:

May cause issues on the stomach for some dogs
Picky eaters may not find it attractive
5. Purina Beneful Grain Free Dog Food
Chicken lover dogs will definitely like Purina Beneful Grain Free Dog Food with its farm-raised chicken ingredient. This is a grain-free dog food that offers your pooch rich nutrition without sacrificing its taste.
The food does not have wheat, gluten, or corn.
As a natural formula, it does not contain any preservative or artificial flavor and no animal by-product.
The shedding dog food becomes attractive to pets with its accents of pumpkin, spinach, and blueberries. It offers a hundred percent balanced and complete adult dog nutrition.
Its wholesome ingredients are mixed with minerals and vitamins to support the overall health of the dog's body. Its crunchy texture will make every meal of your buddy enjoyable.
Specific Features:
Comes in the farm-raised chicken main ingredient
Formulated with wholesome ingredients
Contains essential vitamins and minerals
Free from grain, any fillers, and animal by-product
Pros:

Controls shedding
Gives balanced nutrition to your dog's health
Tasty
Great for over-all health nutrition
Easy to feed

Cons:

May not be favorable for non-chicken lover dogs
6. HealthyCoat Dog Food Supplement
Improve the health and skin condition of your furry pal with HealthyCoat Dog Food Supplement. This dog food supplement is rich in Omega-3, vitamins B and E, biotin, and fatty acids.
These natural ingredients help promote the fur and skin of your dog.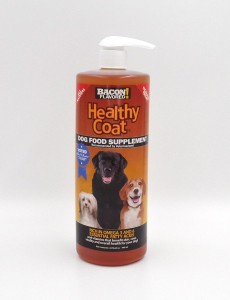 It can answer his problem in the excessive shedding of his coat.
Place this formula over his food during feeding time and he will boost his energy. Also, it gives a bonus for dogs experiencing a sudden lethargic reaction.
Specific Features:
Contains Omega-3 fatty acid
Rich in essential vitamins and minerals
Natural dog food supplement
Pros:

Helps in excessive shedding
Improves skin and overall health
Boosts energy
Easy to give to pooch

Cons:

May not be favorable to some dog breeds
7. Purina Beyond Simply Grain Free Natural Adult Dog Food
Go the extra mile for your best furry friend by serving him the Purina Beyond Simply Grain Free Natural Adult Dog Food. This is a beef and egg dog food recipe with beef as its main ingredient.
The formula has recognizable elements that are trustworthy and notable.
Its ingredients include beef, egg, vitamins, and minerals which are rich in protein, tender, and delicious in texture. These ingredients provide him with nutrition to support a long and healthy life.
This anti-shedding dog food does not come with wheat, poultry by-product meal, corn, or soy.
This gives him a gluten-free and grain-free mealtime option meeting the criteria.
In addition, the recipe is available in crunchy kibble that enriches his mealtime. Its protein-rich shreds are tender which is gives it a genuine flavor loved by dogs.
Specific Features:
Contains beef and egg as main ingredients
Rich in protein
Has essential vitamins and minerals
Free from wheat, soy, and wheat
Pros:

Helps shedding issue
Supports long and healthy life
Flavorful and tasty
Promises a balanced diet
Great for adult dogs

Cons:

May not be given to puppies
Guidelines and FAQ
You now have narrowed down your list of the best dog food for shedding. The next thing you should do is to select the right one for your dog.
Considerations in Choosing the Best Shedding Dog Food
Be aware of the factors you need to consider when buying dog food to help lessen or stop shedding.
Omega Fatty Acids
Fatty acids, specifically Omega-3 and Omega-6 are beneficial for the coat and skin of your canine. He needs healthy skin for the strong growth of his coat. Consequently, this will prevent hair loss and excessive shedding.
Make sure that the food you are giving him contains omega fatty acid nutrients or you can give him fish oil for dogs supplement. This will aid him in rebuilding his fur from within. More so, these essential fatty acids relieve his sensitivities and allergies to food and prevent kidney and heart disease.
Natural Ingredients
Oftentimes, a natural diet is synonymous with a healthy diet of your pooch. As a result, a healthy dog less likely to shed hair. Think natural and find food with a list of ingredients that you can understand. Try both wet and dry dog food if you struggle to decide which to buy. Observe how each type of food lessens his shedding or keeps his fur healthy.
Vitamins
Vitamins and minerals can be the main ingredients or the extra contents of dog food. Regardless of which, these nutrients help balance and control the overall well-being of your pal. While some you can usually find them in the list of ingredients, try looking for them in natural sources like real vegetables and fruits. This is important for dogs under a healthy skin vegetarian diet.
B vitamin or biotin is good in promoting a healthy coat for your buddy. Scientific studies report on hair loss as a result of insufficiency in biotin.
Protein
Generally, protein is derived from kibble meat sources. See to it that the kibble you are purchasing contains quality meat, which his good for fur shedding. Protein is necessary for your pet's energy, digestion, and overall health. This nutrient promotes the health of his coat and skin. More so, it helps him function and keeps him going all day.
FAQ
Here are some FAQs to know if your dog starts shedding hair more than normal.
How much fur shedding is considered normal?
Normal shedding of the fur varies to the age, stage in life, and breed of dogs. Some breeds are known to shed a lot. On the other hand, some hardly shed at all such as Labrador retrievers and Shih Tzu. As a fur parent, you definitely become familiar with the normal hair shedding of your pet.
Does diet lessen the shedding of fur?
While there are dog foods that help dog shedding, they cannot totally prevent the hair fall. Your dog needs a balanced diet containing carbohydrates, fiber, fat, and protein along with vitamins and minerals. A healthy dog will have a healthy coat and his skin normally sheds according to his breed. Deficiencies to essential nutrients will likely result in health problems which may lead to excessive shedding. Zinc and omega oil-deficient diets may cause health problems that can lead to excessive shedding.
Meanwhile, some dogs have an allergy to dog food ingredients. The allergy may show through skin irritation that can lead to too much scratching. Sometimes grooming can be a lead cause to worst shedding. For this reason, you need to contact your vet for the cause of the allergy. Be careful about what you are giving to your dog.
When do I need to consult the vet?
Excessive shedding in dogs can sometimes be an indicator that something is wrong in his health. Such a problem may be an issue that you cannot rectify with supplements and diet. This is the right time for you to get help from experts, the vet, for solutions. If you notice any of the following, the next thing you should do is to call a vet.
Continuous rubbing of hair
Open sores
Continuous grooming or licking of feet
Bumps, scabs, bald spots, rashes
Dry hair (falling out easily when touched)
Continuous rubbing of the face
Persistent red patches on the skin
Constant scratching
Conclusion
You will have a myriad option if you are looking for the best dog food for shedding. Consider the features, pros, and cons of each dog food. Assess the exact needs of your dog and make sure that you are giving him the appropriate solution for his shedding fur.
Our Top Pick:
We pick Hill's Science Diet Sensitive Stomach & Skin Dry Dog Food as the best dog food for shedding. The food has all the contents that every dog with an issue on excessive shedding. Even breeds with a sensitive stomach can eat this food. It is packed with nutritious vegetables, vitamins, and minerals.
If your pal is allergic to something, this dog food gives you confidence that it would not harm your pal's health.
Whatever dog food that helps shedding you choose, make sure that it is the best for your furry friend.
Feature Image Source by Chris Benson on Unsplash