Keep the teeth and gums of your canine best friend clean and healthy dental chews. Like humans, dental hygiene is also a must for dogs. This article will list down the best dog teeth cleaning treats available in the market. Keep reading and be informed.
Quick Picks of Dental Chews for Dogs

Best Dog Teeth Cleaning Treats See Amazon.com for the best selection and value. #commissionsearned
Let's discuss more these dog treats later. For now, may we give you some facts about them?
Overview
As a dog parent, should you consider the oral health of your pup? Of course, you should. He can also suffer from periodontal disease and other dental problems.
Issues in his dental health can result in lost or broken teeth and loss of appetite. The worst case is the damage it can cause to the other organs due to the bacteria caused by diseased gums.
Brushing and cleaning the teeth of your dog are great means for oral health maintenance. Dental chews along with special diets may have oral benefits. However, using these products has precautions.
How Do Dog Teeth Cleaning Treats Work?
Not too many fur parents relish the thought of brushing a dog's teeth. This is the reason some of them purchase dental treats to compromise.
Dogs can establish bacteria and plaque which may lead to tartar within 36 hours. This can lead to periodontal disease, infection, and inflamed gums.
It is also about keeping your dog healthy not just about his nice smile and cavities. So, what do the chews can do? You can prevent bad breath and halitosis or poor teeth if you brush his teeth or give him treats and bones.
Vets suggest cleansing chews and treats as a supplement to keep his teeth in the best conditions. However, they recommend that this should be done in moderation without letting go of the main dental care elements.
In addition, the treats offer fun and environmental enhancement. They keep the pup's teeth clean and healthy.
For the above reasons, pet food manufacturers have launched chew treats that are good for dogs' dental and oral health. There are various types of treats. You may find some better compared to the others.
The thing is, they also have some factors in common. They may contain enzymes that help break down plaque and bacteria damaging them. Also, they may be abrasive enough to clean his teeth.
Dog Dental Treat Benefits
Dental chews come in a number of varieties so there is no reason you cannot find a great treat that your dog can enjoy. While most small treats can be gobbled up by pets fast, dental treats last longer. Your pooch will definitely enjoy the chew and get the following benefits:
Stimulate Saliva Production
The treats stimulate the secretion of saliva to neutralize and prevent plaque acid causing decay. This is very useful ere in protecting your buddy from getting any dental problem.
Acts as Toothbrush
Just rub the chew against his teeth to loosen any food debris. The treat will serve as a toothbrush, cleaning his teeth and gums.
Mitigate Bad Breath
Dental chews are among the most famous treats that lessen mouth odor. Typically, they contain breath fresheners with actual chewing power removing unwanted debris or substances from dogs' teeth.
Your furry pal may have a gastrointestinal issue if he had developed chronic or strong bad breath. Treat it right away before the bacteria enters his bloodstream which may result in a heart ailment.
Prevents Disease Development and Progression
Chews reduces the risk of periodontal disease development and progression. Keep note that this disease is prevalent among dogs and cats. So, never take this disease for granted.
Prevent Tooth Decay
The enzymes found in dog chews are so special that they fight against the bacteria which cause tooth decay. These enzymes are critical in maintaining the oral health of your best friend.
Encourage Chewing
There are things or foods that your dog needs to chew, and the treats will make him motivated to do so. Also, this will be training for him not to chew things like furniture, slippers, or shoes.
Stimulates Mental Health
Dental treats for dogs offer mental stimulation to your pooch and prevents him from getting bored. This can trigger bad or unpleasant behavior.
When Can You Give a Dog Teeth Cleaning Treats?
Treat your dog with dental chews when his brushing or cleaning routine is as challenging as feeding a little one. Keep in mind that dental cleaning remains critical to good oral care. However, regular dental care can be daunting which may result in resistance from your pet.
Try to hand him chews and slowly get him back to his regular brushing or cleaning sessions. This is to say that the chews serve as a way to reintroduce his dental or oral care on a regular basis.
What are the best dog teeth cleaning treats then? Read further.
Best Dental Chews for Dogs
Alright, let's get straight to business. The following are the dental chews you should consider when purchasing one for your lovely canine.
1. Purina ProPlan Veterinary Diets Dental Chewz
Make your pooch smile with his sparkling white teeth with every Purina ProPlan Veterinary Diets Dental Chewz. This dog treat is manufactured to mitigate and control tartar build-up for all adult dog breeds.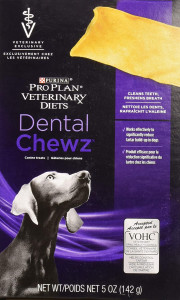 It is specifically formulated for lasting consumption as it is packed with protein. Purina takes pride in crafting it to clean your dog's teeth while refreshing his breath.
The beefhide ingredient of this chew also offers a savory flavor aside from freshening his breath and breaking down tartar between brushings.
In times of boredom, give him this treat which is also an easy go-to item for fur parents like you. Other than a treat, it also helps curb any destructive behavior.
Specific Features:
Manufactured for tartar control
Has beefhide as its main ingredient
Rich in protein and flavorful
Formulated to last long
Available for dogs of all breeds and sizes
Pros:

Help reduce tartar build-up
Easily digestible
Cleans teeth
Freshens breath

Cons:

With its active ingredients, this may not be advisable for puppies
2. Purina DentaLife Adult/Large Dental Dog Chews
For the oral care of your large pooch, give him Purina DentaLife Adult/Large Dental Dog Chews. These dog chews are characterized by an innovative porous and chewy texture that has air pockets.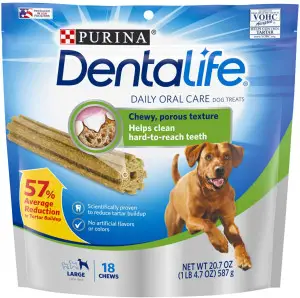 They have a distinct shape featuring ridges cleaning his teeth and gum line. He would love chewing these treats to thoroughly clean difficult-to-reach areas of his teeth.
The nutritious ingredients of these chews reduce and further control tartar buildup. Each pack promises a satisfaction guarantee for its savory chicken flavor.
However, it does not contain any artificial flavor that6 may be harmful to his health. This product is particularly manufactured for large dogs weighing 40 pounds and more.
Specific Features:
Innovative design of treats with a porous and chewy texture
Formulated for dogs of large breeds and sizes
Manufactured to reduce and control tartar buildup
For dogs' oral/dental health
Free from artificial colors and flavors
Pros:

Lessens the development of tartar
Cleans teeth and gums even in hard-reach corners
Freshens breath
Savory

Cons:

Picky dogs may resist its chicken flavor unless they like it.
3. Greenies Original Natural Dental Treats
Train your pup regular dental hygiene with the help of Greenies Original Natural Dental Treats. These natural dog treats help fight tartar and plaque build-up in his teeth.
They come in toothbrush shape with contoured knuckle and tapered shaft to keep his oral and dental hygiene in check.
Their vitamins, minerals, and low-fat contents keep him healthy and help in his bad breath and overall nutrition.
This product is accepted by the veterinary oral health council (VOHC) and highly recommended by veterinarians. It is available in various sizes, which depends on the size of the dog.
Vets suggest giving your furry friend at least one chew every day for fresh breath, health, and dental hygiene.
Specific Features:
Contains natural ingredients like gelatin, vegetable oil, minerals, vitamins, and other nutrients
Every chew has a unique texture
Varying package
High-quality nutritional content
Available for all dog breeds and sizes
Pros:

Fights and controls the build-up of tartar and plaque
Prevents bad breath
Cleanses teeth
VOHC approved
Flexible chews
Chewy texture and tasty
Easy to digest

Cons:

May not be favorable for wheat-sensitive dogs
Fluctuating price
4. Kirkland Signature Grain-Free and Gluten-Free Dental Treats
Always consider the safety of your pal as what Kirkland Signature Grain-Free and Gluten-Free Dental Treats promise.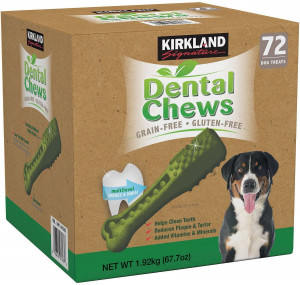 Like Greenies Original Natural treats, they are made from natural ingredients and are free of grain and gluten.
They do not have any artificial flavoring, coloring, or preservatives. Yes, they are within the budget, yet they offer an excellent value.
These treats have a smart design and feature two sides with ridges and nubs to clean your pal's entire mouth.
Their paw grip fits his paw so that chewing them would never be a hassle. At least one chew daily will be enough for him to keep his teeth healthy and clean.
Specific Features:
Contains safe and all-natural ingredients
Comes in a smart shape and with a paw grip
Gluten-free and grain-free
Formulated to prevent and control plaque and tartar build-up
No artificial flavor, color, and preservatives
Pros:

Helps remove tartar and plaque
Cleanses teeth
Freshens breath
Budget-friendly
Safe
5. OraVet Dental Hygiene Dog Chews
Maintain a sparkling smile for your buddy with OraVet Dental Hygiene Dog Chews.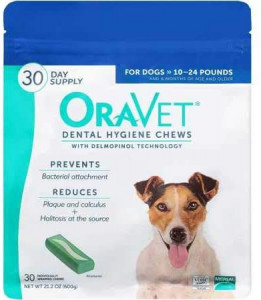 These treats are unique among others because of their delmopinol HCI ingredient. The formula coats his gums, mouth, and teeth with a protective layer to keep the bacteria at bay.
These oral hygiene chews are packed individually and are available in various sizes. Their sizes are determined based on the weight of the dog.
They are moderately firm, which is effective in breaking down the plaque and in cleaning the teeth. Also, they reduce plaque and tartar build-up preventing their recurrence.
Specific Features:
The main ingredient is delmopinol
Contains soy and grain
Available in different sizes for all dog sizes
Serves as a preventive regimen for oral and dental health
Veterinarian recommended
Pros:

Keeps bacteria at bay
Freshens breath and cleanses teeth
Provides and maintains good oral health
Removes plaque and tartar
VOHC approved

Cons:

Not advisable for dogs with loose teeth
May not be suitable for pets with sensitive stomach as it has grains and soy
A bit pricey
6. Blue Buffalo Dental Bones Dog Chew
Blue Buffalo Dental Bones Dog Chew helps soothe the sore gums of your pooch with its smooth texture. This could be a good choice if he is teething.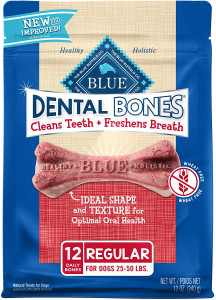 The treat contains DHA, which helps with his cognitive development. Its Taurine content is good for his heart health while its vitamins are for his immune system.
The chew is enhanced with extra minerals featuring healthy and wholesome ingredients. It even boosts his appetite. However, it does not contain chicken or any by-product meals.
It is free from wheat, soy, and corn as well as from artificial colors and preservatives. Other than cleaning his teeth and gums, the dental bone gives him a fresh breath as well.
Specific Features:
Comes in dental bones
Based in potato
Wholesome, natural ingredients (whole ground rice, taurine, dried parsley, chicken flavor, etc.)
Has vitamins, minerals, and other nutrients
No artificial colors, flavors, and preservatives
Free from wheat, soy, and corn
Pros:

Cleanses teeth
Highly digestible
Freshens breath
Maintains healthy gums and teeth
Premium brand
Soft and bendable

Cons:

Cost more than the other dog chews
It may not be suitable for wheat and soy-sensitive dogs
7. Whimzees Natural Grain-Free Dental Chews
If your four-legged pal has food allergies, give him Whimzees Natural Grain-Free Dental Chews. These treats offer various options, which can be a good snack especially if you have many pups.
The variety pack contains all-natural chews without meat products and artificial ingredients. These chews freshen your pet's breath and keep his oral hygiene.
Whimzees boasts the sustainability of their treats. The chews are potato-based and can last-long. They contain non-GMO ingredients without artificial flavors, preservatives, meat, and gluten.
Clinically, they are proven to be effective in mitigating tartar and plaque. Most importantly, these treats are hypoallergenic making them the best option for food-allergic pets since they are grain-free.
Specific Features:
Manufactured for dogs with allergies in food
No artificial ingredients
Non-GMO formula
No meat
Grain-free
Pros:

All-natural
Cleanses teeth and gums
Long-lasting treats
Sustainable
Reduces tartar and plaque
Convenient to use

Cons:

Some dogs may find it difficult to digest
8. Checkups Dental Dog Treats
Keep your dear pup safe while giving Checkups Dental Dog Treats every day. The chews contain omega-3 fatty acids, which is rare among the other treats.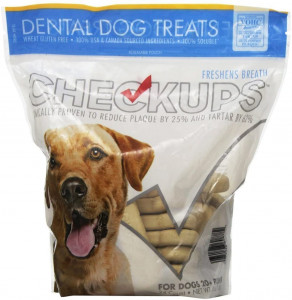 Dividing them is made so easy and that they are very digestible. Clinical studies have proven the effectiveness of these treats in improving the dental health of canines.
This product is VOHC-accepted as it reduces tartar and plaque. It is free from gluten and other ingredients which can result in an upset stomach to dogs. Also, they are proven to help improve the dental and oral health of pets.
Specific Features:
Contains omega-3 acid
Formulated for a safe daily dental health
Has natural ingredients (potato and rice flour, flaxseed oil, glycerin, etc.)
No artificial preservatives, color, and flavor
Pros:

Cleanses teeth and gums
VOHC-approved
Freshens breath
Reduces tartar and plaque
Stimulates gums
Highly digestible

Cons:

May not be that easy to chew
Now, what treats are best for cleaning dog teeth? Some significant considerations should be taken seriously.
Choose the Best Dog Dental Treat Wisely
There are significant things you need to look for when picking the dental chew that suits your pet. These include:
The Quality of Ingredients
Remember that not all contents in dental treats are equally created. Be very careful and cautious as some manufacturers may put additives that are unnecessary.
The VOHC seal
Although the seal is not that important, this approval seal from the council makes sure that the treatment is beneficial and safe for the dental and oral health of your dog.
The Right Size
Vets recommend fur parents pick the product that suits the right size of their canine. This means the treat should be ideal for your pet's body weight. It is also important to check the packaging for proper feeding guidelines.
Dental Health Benefits
Note the benefits offered by the dental treats to the oral and dental health of your pal. Ensure that the ingredients are right for him.
Versatility
Products offered in various sizes and breeds would be a better option. It would be great if your chosen item boosts fun and interactivity.
Bottomline
These are the dog teeth cleaning treats we gathered, studied, and reviewed. Each of them is specially crafted to provide the best possible results to dogs. Investing in one or more of them is not a bad idea.
Always consider his specific needs in selecting the best chew. Your furry friend will have a healthier dental and oral lifestyle and will be very happy.
Our Pick
We choose Purina ProPlan Veterinary Diets Dental Chewz as the best dog teeth cleaning treat because of its uniqueness. The product is effective in removing tartar and plaque as well as in reducing their buildup. It is also safe and easy to give to your pooch as it is free from artificial colors, preservatives, and/or flavors.
Good luck in your search for the right chew among the dog teeth cleaning treats reviewed here.