You might not have realized it but an exercise pen for dogs is useful equipment. Unlike a dog crate, exercise pens more than enough space to play and move around. The best thing here is its ability to contain your furry best friend. More about these dog pens will be discussed below.
List of Dog Exercise Pens

Best Exercise Pen for Dogs See Amazon.com for the best selection and value. #commissionsearned
Let's have some facts about this essential piece of equipment first.
What is a Dog Pen?
Whether you would want a dog pen for exercise or just something for your pet to get some fresh air, there are several types available in the market.
Pens are specifically designed for secure indoor and outdoor containment. You may shop one and choose from a variety of sizes, colors, materials, and fabrics.
Most of these exercise pens are manufactured from connecting panels used in setting up and storing. The materials used in the product vary from nylon to metal to plastic.
Some of them come with mats at the bottom while some just sit directly on the ground or floor. You might be needing one of them if your pooch is a clever escape artist.
How to Use an Exercise Pen for Dogs?
Exercise pens can be used outdoors and indoors to ensure that your canine friend stays put. These pens come with hinges giving you a hint of which shape and size perfectly fit him. They are used in various ways as follows:
Relaxation
As a puppy, he can be bundles of energy roaming and playing around the corners of your house. He needs enough sleep as well so give him a comfortable bed inside his pen for a nap.
Make sure he has a bowl of clean water inside to keep him hydrated. Feeding him in the pen could also be a good idea so he won't be littering anywhere.
Travel
Be prepared and have fun traveling with your pooch by taking an exercise pen with you. A roomy pen with a comfortable blanket and other chewable items may serve as a welcome respite for him.
In turn, you will have peace of mind and get some time to relax while enjoying the scenery.
Playtime
There is no need for him to play outside the house or around it when he can do it in his playpen. Just give him toys he can play with. Make sure they are safe to chew to distract him away from gnawing fingers and furniture. Also, they will help burn off his energy.
Housetraining
When trying to housetrain your best friend, the pen will let you train him a piddle pad or box or will confine him in a limited space.
Take him out frequently to prevent possible accidents inside the pen. This will be an additional tip when you train him to be outside. Always keep him safe whether inside or outside the pen.
Containment
Dog containment can be convenient and quick with an easy to assemble and pre-assembled dog pen. You do not need to install any expensive fencing for this.
Barrier
Other than for safety, exercise pens can be used in creating a barrier to restrict dogs to a yard or house. This aims to manage escape or destructive behaviors in times when the dog is not supervised.
Indoor or Outdoor Flexibility
The convertible panel gates and compact mesh solutions of dog pens easily transition from indoor to outdoor use. No matter where your pet goes, you can always give him comfort and safety.
Medical or Health Safety
Also, exercise pens are beneficial for the health and safety of your pet. They can keep him calm during any illness or after his surgery.
So, what are these pens that you have to take into consideration?
Top 8 Exercise Pens for Dogs in the Market
You guessed it, there are many dog pens available in stores and shops. Let us make your life easier with our list of the best exercise pens for your dog.
1. Richell Convertible Pet Playpen for Indoor and Outdoor
Your furry best friend deserves the best playpen, Richell Convertible Pet Playpen for Indoor and Outdoor, that is durable, versatile, wood-like in design, and simple.
The convertible playpen is a three-in-one pet product that you can use as a square or hexagonal pen, room divider, or a freestanding gate. Fold the panels to create the shape or your preferred function.
The dog playpen includes a lockable swinging door. It also has the option to become a freestanding room divider.
Outdoor or indoor, another perk is that it is customizable to his needs and to that of your home. Its floor tray and comfort mat can be purchased separately with 4-6 panel pens.
Specific Features:
3-in-1 convertible playpen
Available in different options: square and hexagonal pen, room divider or a freestanding gate
Can be a 4- or 6-panel pen
Lockable door
Pros:

Comes with durable materials
Easy to assemble and disassemble
Convertible
Contains dogs that are susceptible to climbing

Cons:

It may not be the best choice for super clever dogs that can open the door
2. MidWest Homes for Pets Outdoor Folding Metal Dog Pen
Keep your pal secure and safe outdoor with MidWest Homes for Pets Outdoor Folding Metal Dog Pen.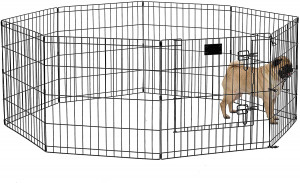 This exercise pen works well outdoor, giving him enough space to hang around and play although it also functions fine indoors.
It provides a durable or sturdy enclosure with an E-coat finish for lasting protection against its secure double-latch door.
The playpen provides him a spacious living area when it is fully expanded. Setting it up is quite simple with ground stakes, thumb-snaps, and stabilizers for easy assembly.
It is very versatile as it can be used for other pets as well, not just dogs. Its e-coat finish is very durable protecting it against rust or other elements.
Moreover, the pen folds flat for its convenient storage when not in use. You may even purchase it with or without a door.
Specific Features:
Exercise pen comes with panels
Has a 1.5-meter enclosed area
Available ground anchors for use outdoors
Includes thumb snaps for easy assembly
Durable e-coat finish and double latch door
Pros:

Secure setup with its double latch system
Easily customizable shape
Different height options for any dog size
Convenient storage
Foldable and easy to assemble

Cons:

It may not be heavy-duty for tough and rough dogs.
3. Petmate Precision Soft Side Play Yard
Treat your pooch right by giving him a versatile and spacious playpen Petmate Precision Soft Side Play Yard. The play waterproof yard ensures his security and safety not just during playtime but also when he is on the road.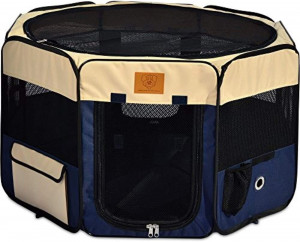 It comes with ground stakes which you may use in securing it to soft ground. Its protected seams and reinforced corners offer additional stability.
The removable top easily zips off and you can remove its bottom floor panel for washing.
The portable exercise pen for dogs can be easily folded down for storage or transportation with its mesh material. This makes this item a great choice when he is on travel.
Its nylon carrying case includes side pockets and a shoulder strap, making it good for transportation.
You would never worry about scratching your floor with the pen's floor is made of fabric. Should you want him just to sit on the grass, just remove its bottom floor panel.
Specific Features:
Heavy-duty playpen
Waterproof design
Durable and quality-wise materials
Traditional travel carriers
Has litter box accessories
Comes with leashes, treats, and other necessities
Pros:

Gives dogs comfort
Offers superior airflow and visibility
Easy to setup
Great for traveling
Keeps animals from jumping off

Cons:

Aggressive chewers may not stand up to its mesh
Some pet owners struggle in collapsing it
4. Pet Trex 8-High Panel Playpen
Keep your pooch relegated to a certain spot in the house or backyard with the Pet Trex 8-High Panel Playpen.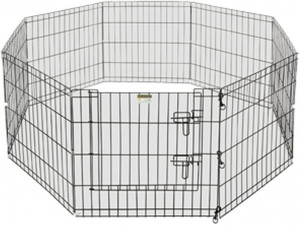 The eight-panel pen will do this trick for you without leaving you empty-handed. No-frills; just the basic, simply designed pen for him.
You can set up this pen in various ways including square, rectangle, or octagon. The equipment has corner stabilizers and ground anchors for durability and extra support.
When bent or exposed to elements, it will not rust because of the electro-coat finish to its heavy gauge wire.
It has eight square panels and double-latch doors for extra security. This won't allow him to undo the latch to go out.
Moreover, the pen is already assembled upon purchase. Just take it out and it is all set. This makes it way better than those you still need to join the panels together, right?
Specific Features:
Has 8 panels (24" high, 24 inches wide)
Double latch door
Comes with corner stabilizers and ground anchors
Finished with electro-coat
Durable materials
Pros:

Spacious pen
Rust-proof
Durable and stabilized
Safe and secure

Cons:

It is lightweight which may be moved by an incessant dog if not properly anchored to the ground.
5. EliteField Two-Door Foldable Pet Exercise Pen
Camp or travel with your pal and bring with you his EliteField Two-Door Foldable Pet Exercise Pen.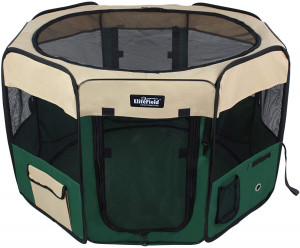 The traveling pen will keep him secure and safe in unfamiliar places. It will provide him a comfortable and cozy spot to sleep on.
This gives him more space and prevents him from feeling suffocated. This soft pen will keep him happy and safe on the trails or the road with its zippered doors.
Cleaning it up is so easy with its removable and washable top cover and floor mat. This is especially beneficial if he gets carsick when traveling.
Also, the playpen can be used indoors when you are not traveling with him. It will not take up storage space since it is foldable.
You just need to pop it open and it will be ready when he is in snooze. It is available in various colors and sizes from which you can choose.
Specific Features:
Traveling soft playpen
Has 2 zippered doors
Available in seven colors and six sizes
Washable top cover and floor mat
Accessory pockets
Pros:

Easy to set-up and fold
Made of quality materials
Durable
Easy to clean
Lightweight and portable

Cons:

The holes of its mesh are slightly bigger which can be torn by the dog and find its way out.
6. Amazon Basics Foldable Metal Exercise and Playpen for Pets
Amazon Basics Foldable Metal Exercise and Playpen for Pets is a good option for both outdoor and indoor use. The playpen stands 42 inches, allowing it to accommodate dogs with height up to 26 inches.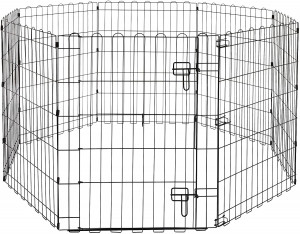 It is made of durable rust-proof iron metal with secure-locking slide-bolt latches and step-through door access.
You can purchase the item with or without a door. Setting it up is very simple as it only requires unfolding and connection.
The metal makeup of this product is of robust quality. It is well-built and sturdy for a pen that is within the budget. Unfold, shape then connect the panels without any tool and you already have it set.
Just unfold it and it's good for proper storage already. It has eight ground anchors that are great and beneficial for outdoor use.
Specific Features:
Outdoor/indoor play and exercise pen
Uses durable and quality material (iron metal with black finish)
Has eight connected panels with enclosure
Has eight ground anchors
Recommended for dog breeds from small to medium sizes
Pros:

Durable foldable pen
Rust-proof
Safe and secure
Easy to set-up and store
Well-built and sturdy

Cons:

Some dogs may be clever enough to open the pen's latches and escape.
7. New World Pet Products Metal Playpen
Keep things simple for your furry buddy with New World Pet Products Metal Playpen. This metal-based playpen offers multiple assembly options at a reasonable price. It has a simple panel model without a door.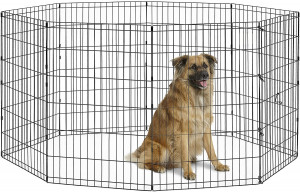 Unhooking one side of the panel is simple. You can order as many panels as you want to and your pooch needs. It can cover dogs with sizes ranging from small to large and height of up to 20 inches.
For a simple playpen, its price is impressive, and its quality is excellent. It has a protective coating to prevent rust and any other harmful elements.
Its assemblage is so simple and easy as it only requires unfolding and it is all set. Simply remove the pen and store it wherever it should be placed.
Specific Features:
Foldable metal playpen
Comes with a protective, rust-proof coating
Has ground stakes, locking thumb snaps
Manufactured for pets (dogs, cats, rabbits, etc.)
Pros:

Durable metal material
Easy and simple assemblage
Rust-proof
Easy to clean and store
Has enough space
Portable and easy to carry
Good exercise area

Cons: 

Dogs may push the panels apart when they are not properly clipped together, so overlap the sides securely.
8. ESK Collection Pet Puppy Cloth Exercise Pen Kennel
Let your puppy feel the comfort of the 600d waterproof material offered by ESK Collection Pet Puppy Cloth Exercise Pen Kennel.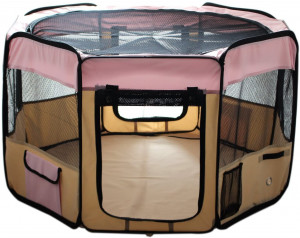 The cloth-material kennel keeps him relaxed since it is breathable. This makes it well for small dog breeds and puppies.
The fabric playpen has plenty of ventilation and shade, with a covered top and mesh panels.
You can unzip its top and bottom to increase airflow. Cleaning it up is made so easy with its waterproof and breathable cloth.
When it comes to looks, many pet parents appreciate the pen as it does not look like a cage.
Many consider it as a permanent home for their pup because it is very comfortable. It offers more room for him to lie down aimlessly and it serves its purpose well.
Specific Features:
Made of high-quality materials (600d waterproof fabric and mesh panels)
Convenient space
Eight-panel designs
Spacious playpen
Manufactured to suit puppies and small dog breeds
Pros:

Convenient playpen
Breathable materials
Simple installation
Easy to store
Waterproof

Cons:

Not suitable for large dogs as they might damage the pen easily
These are our top choices for you to peruse. Hold on, you are not ready to go to the market yet. The next thing you need to consider is to know the factors necessary when picking the best exercise pen. Let us help you out.
Select the Right Exercise Pen for Dogs
The exercise and playpens discussed above differ one way or another. So, you need some points of consideration to get the one that is appropriate for your pet.
Materials Used
Exercise pens for dogs are made from different materials like cloth and metal. Keep in mind that the stronger the material used, the better to hold an aggressive dog.
The metal-based pen would be a better option for outdoor use, especially when doing their exercises though it won't be the prettiest choice.
Durability
The durability of any product would always be a priority. If you think your pooch is the aggressive type, look for an item that he will not easily tear. Select one that would last for months or years.
Easy Assemblage
Of course, spending half of the day setting up the playpen would not be a great idea. It does not matter what the size of your pal or whether you would use it outdoor or indoors. What matters is the simplicity and ease of its assemblage.
Size
We all know that dogs come in all sizes and shapes. While there are large hunting dog breeds, there are innocent toy breeds as well. Know the size of your buddy and tally it with the pen's height.
Bottom Line
Managing the environment of your furry best friend is one way that encourages and maintains good behavior. This is why getting the best exercise pen for him is very critical to give him comfort for a better lifestyle.
Our Top Pick
Richell Convertible Pet Playpen for Indoor and Outdoor is the best exercise pen for dogs based on our assessment. We choose this pen as number one on the list for its durability, versatility, simplicity, and wood-like design.
Also, it fits any dog breed and of any size. This can even be the best choice for the question as to what pen size is best for two dogs. Just buy two units to cover both.
With our verdict and the review of the top products, it is now time for you to find the best exercise pen for dogs, for your buddy in particular.
Featured Image Source: Photo by Mirko Sajkov on Unsplash