The Best Carpet for Pets – 5 Top Picks Your Dog Will Love!
Our pets are already part of our family and whatever we have is also theirs, and what we enjoy, they can as well. But as much as we'd want to share everything in our home with them, our pets can contribute a lot to the wear and tear of our furnishings, especially carpets.
Occasional accidents can happen anytime, even during potty training and carpets can stand against them, but it will depend on the quality of the ones you own.
If worse comes to worst, your furry buddy can even snag his pile with his claws which will cause ugly pulled threads to appear. You need not give up your beautiful carpet, though, you just have to find the best carpet for pets. 
Quick Roundup of the Best Carpets for Pet Owners
 Here are the options for you:
Best Carpet For Pets See Amazon.com for the best selection and value. #commissionsearned
Types of Carpets for Pets
With the different carpets in the market, narrow down your search on the one your dog needs. There are various types of these carpets in the market today.
Wool
The tightly woven natural wool carpet feels and looks luxurious for both you and your pet. They make wool out of renewable and natural fiber.
Wool carpet is available in various styles and colors, and is biodegradable and long-lasting when properly cared for. It is durable, resilient, and better for light to medium foot traffic.
A carpet made of wool does not get as dirty as a synthetic carpet does with its resistance to some natural stains. You must clean and treat any accidents or spills quickly, though, since using a stain-resistant coating will not do the trick. 
Nylon
As one of the most notable carpet material, nylon is easy to clean and durable. The material can maintain the carpet's texture for years.
The fibers of this type of carpet are resistant to abrasion so it can mitigate wear and tear. Although it imitates wool's appearance, it remains more durable with its built-in resistance to stain. 
Olefin
Also called polypropylene, plastic fibers make up olefin carpets. Although previously known as an outdoor carpet, innovations have given its fibers the feel and look of wool.
While its texture is rougher than other types, it can still manage a busy household. It does not fade, is easy to clean, and very affordable. This type of carpet resists static soil, water damage, pilling, and stains. 
Polyester
Synthetic fiber polyester is cheaper compared to nylon and has a soft feel, although it is less durable. The material has a moderate price and is typically suitable for deep-pile, dense carpets in areas with low traffic.
It is resistant to stain and fading. Also, it is available in a wide range of color options. 
Triexta
While triexta resembles nylon in appearance, it remains softer. The material repels moisture damage and stains with its natural hydrophobic feature. 
Now you have an idea about the different carpets available out there, but not yet equipped for a market tour of carpets. There are things you need to consider first, so your next trip to the market would be worthwhile.
Factors in Choosing the Best Carpet for Pets
Yes, finding a suitable carpet can be overwhelming. How do you select the right carpet your pup won't disintegrate within weeks? Learn about the considerations for your search.
Material
As mentioned earlier, every type of market has its own material on which its features depend. Each material varies in terms of softness and affordability.
The materials withstand damage differently as well. You have wide options of carpet fibers to choose from, including wool, nylon, olefin, polyester, and triexta. Just select one that fits your requirements.
Durability
Many pet owners agree that durability is a crucial factor to consider in choosing the right carpet. Pets like to play, scratch, and run, adding to your carpet's damage.
Make sure the carpet you are about to purchase is durable. Keep in mind that the durability of every carpet depends on its style and material. 
Stain Resistance
Carpets specifically designed for pets help prevent them from soaking stains. Stain-resistant carpets have a chemical coating for protection from moisture-wicking properties.
It is advisable to clean spills and other accident-related messes with water and soap solutions. This guide will help you get rid of dog pee on your carpet easy!
Volatile Organic Compounds (VOCs)
VOC exposure can cause health issues such as irritation, allergic skin reactions, and neurological effects. Avoid carpets with these compounds or find one with low VOC for the sake of your health, your family's wellbeing, not just your pet's. Purchase a carpet that is Greenguard certified.
We guess you are ready to shop for the best carpet for pets now.
Top 5 Carpets for Pets
Allow us to help you choose the best item for your four-legged pal.
1. Gorilla Grip Original Ultra Soft Runner Area Rug
Your pet will be happy to lie on Gorilla Grip Original Ultra Soft Runner Area Rug for its ultimate softness, especially for senior pets or those having joint-related issues.
You have an option to put and use it anywhere you want. The tiny grip dots of the rug keep it in place while they minimize any sliding or slipping. Its faux chinchilla fabric traps warmth, making it ideal for cold climates.
The rug is machine washable, so having trapped pet hair on it will not be a problem.
You can vacuum it or just throw it in the washer if it gets sucked inside the machine. It is a portable way in keeping your canine warm other than just comfy.
Specific Features:
Comes with a fabric material
Has durable grip dots
Machine wash and dry
Comfortable and durable
Stays in place
Keeps in place pretty well with grip dots
Good for pets with mobility or joint issues
Cozy for pets
Stain resistance
Incredibly soft
Machine washable
Although it can be vacuumed, doing so can be difficult
2. Amdrebio Grass Green Furry Bedroom Carpet
Make your buddy feel at home with Amdrebio Grass Green Furry Bedroom Carpet. He will think that lounging on this carpet is like doing it in the backyard.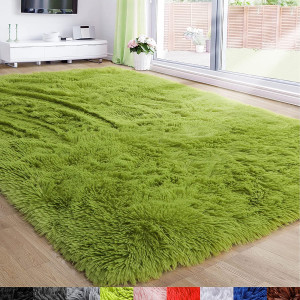 The carpet looks like a patch of grass, which is why most pets lay on it immediately. This rug is budget-friendly and you can use it in rooms. It remains vibrant and bright as its design is to not fade or shed.
Although it is not machine washable, you can still vacuum it with ease. It could be the right carpet if you want to have one that looks like a patch of turf inside your home.
Specific Features:
Fluffy carpet with rubber support
Comes with a soft texture
Available at low prices
Made from durable material
Ultrasoft fabric
Stain resistance
Easy to vacuum
Will not fade or shed
Very affordable
Not machine washable
Pets may confuse it as ideal for potty breaks
3. IvyGrip Brwon Magic Doormat Pet Shoe Scraper Carpet
Keep your pets and other family members in your household safe with IvyGrip Brwon Magic Doormat Pet Shoe Scraper Carpet.
This carpet has super-absorbent fibers, so it soaks in anything. It offers several functionalities as it scrapes off water, mud, dirt, rain, or grass. You can customize its cut to fit your requirements.
You may use the carpet as a pet litter mat for your furry best friend. It has durable non-slip TPR backing which is effective in preventing scuff floors and slip. Its soft fibers and mat make it great for him to eat and play.
Cleaning and maintaining it are very easy since it is machine washable. Hose or shake off with water and it becomes clean again.
Specific Features:
Made from durable materials (polyester and cotton)
Customizable size or cut
Non-slip functionality
Functional for kids, humans, and pets
Machine washable
Durable
Super absorbent
Easy to clean and maintain
Quality made
Soft fibers
Shedding may occur after first use or wash
4. Asrug Soft Faux Fur Fluffy Pet Bed and Pad for Dogs and Cats
Give your canine a comfortable sleep with Asrug Soft Faux Fur Fluffy Pet Bed and Pad for Dogs and Cats.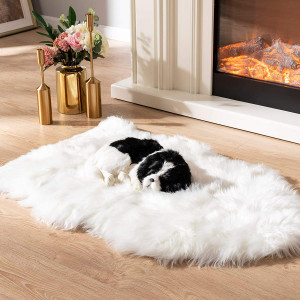 This soft and fluffy mat comes with shag artificial animal wool and polyester on its surface. Its soft ivory suede backing system is like brushed leather.
Cleaning it is easy, and it is washable with cold water using a machine.
Other than throwing your sofa or bed on it, you can lay the mat on the floor so he can have a snuggly sleep.
Also, you can even use it as a seat cushion, a home décor throw add style, bedside area rug, sofa cover, or chair pad.
Specific Features:
Materials used include leather, synthetic fur, polyester, suede, wool, and plush
Animal print
Available in white color
Manufactured for dogs and cats
Comfortable and cozy
Durable
Easy to clean
Machine washable
Multi-functional
May pick up dirt easily because of its white color
5. SincoPet Pee, Training, Absorption Pad for Pets
Treat your lovely canine with SincoPet Pee, Training, Absorption Pad for Pets for ultimate comfort inside your home.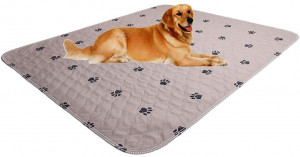 This whelping pad has four layers of polyester knitting surface with anti-slip silica gel at the bottom. Its slip-resistant and leak-proof backing keeps the floors dry.
The pad can even hold liquid over 20-30 times to ensure a dry seat and floor. It is reusable and super absorbent. You can never go wrong with its size as it fits dogs of any size and breed.
Other than a potty-training supply, this pad is great for playpen, litter box, kennels and crates, carrier, and for housebreaking. You can use it as a puppy whelping as you welcome the newest member of the family. Also, it can be placed under water and food bowls for the messy eaters.
Specific Features:
Comes with polyester material in 4 layers
Uses silica gel for anti-slipping
Has free grooming gloves for puppies
Various functions (whelping pad, waterproof training pad for puppies)
Available for dogs of different sizes and breeds
Durable
Machine washable
Fast absorbent
Excellent soaking capacity
Anti-slip
Multi-functional
May easily get dirty with its bright color
FAQs About Carpets for Pets
Pet owners often ask the following questions in finding the right carpet for pets.
What is the most pet friendly carpet?
With carpets for pets, fur parents think the most pet-friendly carpet is one that is highly durable, foot-traffic efficient, stain-resistant, easiest to clean, and affordable.
What is the best type of carpet if you have dogs?
Since natural wool carpets or pads can get more stains, the polypropylene-made type is the best carpet for dogs, especially in high traffic. The carpet should be resistant to dust, spills, and dirt.
Is Berber carpet good for pets?
Although many recommend a Berber carpet, it would not be okay for pets. This carpet is a looped pile that may catch your dog's paws and result in its tear. 
Is Stainmaster Pet Protect worth it?
Carpets like Stainmaster Pet Protect are worth purchasing for its best quality, comfort to your pet, and excellent value for your money.
Does Stainmaster carpet have Formaldehyde?
None. Stainmaster carpets do not have formaldehyde and in the manufacturing process of the other carpets. 
Our Top Pick
Getting a carpet that meets your and your pet's needs and requirements can be daunting. Hopefully, our reviews of the carpet options for pets will ease your selection. 
Amdrebio Grass Green Furry Bedroom Carpet is our best overall carpet for your pet. Made of durable materials with rubber support, it is incredibly soft offering great comfort to your furry pal.
Although it is not the cheapest carpet on the list, it is available at a reasonable price. Also, it can be the best choice for pets with joint issues and mobility.
So, use this guide of the best carpet for pets for your next purchase. Good luck!